Jordan, from California, is a BridgeTEFL online course graduate teaching English in China. In fact, she is now going on her third year as a teacher there! She shared with us about why she chose to go abroad, how she found her teaching jobs, and where she hopes TEFL will take her next.
Jordan, what made you decide to get TEFL certified and teach English?
I wanted to travel the world, but longer than just a week-long holiday. The best way to do so is to live abroad and be immersed in a new culture. With teaching abroad, I knew I would be able to do this, as well as make an impact on the world, so I decided to take my first step and get TEFL certified through BridgeTEFL.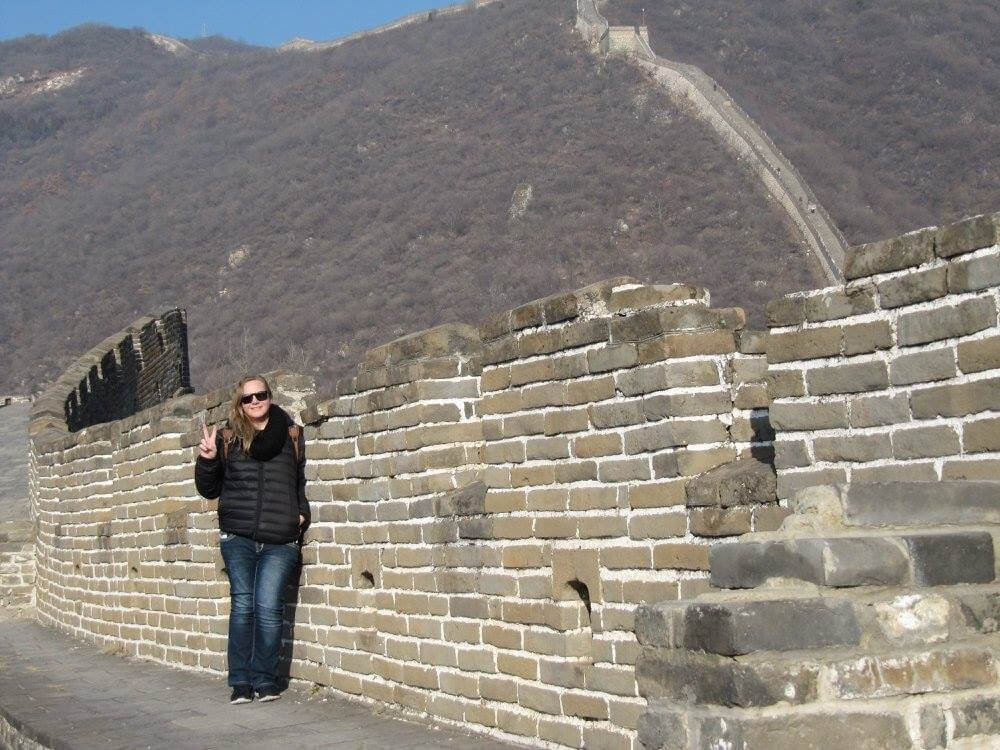 When you think of China, what could be more iconic than the Great Wall? If I had never taken the chance to teach abroad, I probably would have never been able to experience such an awe-inspiring moment.
How did you find your TEFL job in China?
My first job here in Suzhou was through a company called English First (EF). I found the job through a recruiter that helped link me to available jobs in China. Once my year ended at the company, I was looking for more of a traditional school setting job, so just as you would in America, I started looking locally and applying to schools that I found through friends around town. I am now going into my second-year teaching at Suzhou Foreign Language School.
How long have you been teaching there? 
This will be my third year living and teaching in Suzhou, China. I taught one year at EF and now going on my second year teaching at the foreign language school.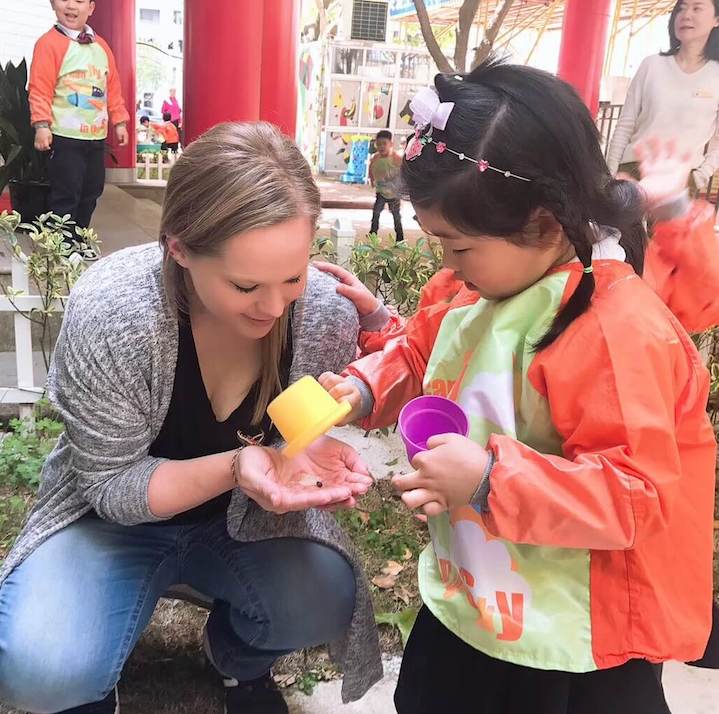 Exploring the nature around our school during the celebration of Earth week was a great way for the kids to have some hands-on experience in learning more about our environment.
What age and level of students do you teach? 
At EF I taught kids ranging in age from 3-14 years old. Now at the foreign language school, I specifically only teach kindergarten (age 6-7). I prefer working with young learners, which is why I chose to exclusively teach kindergarten.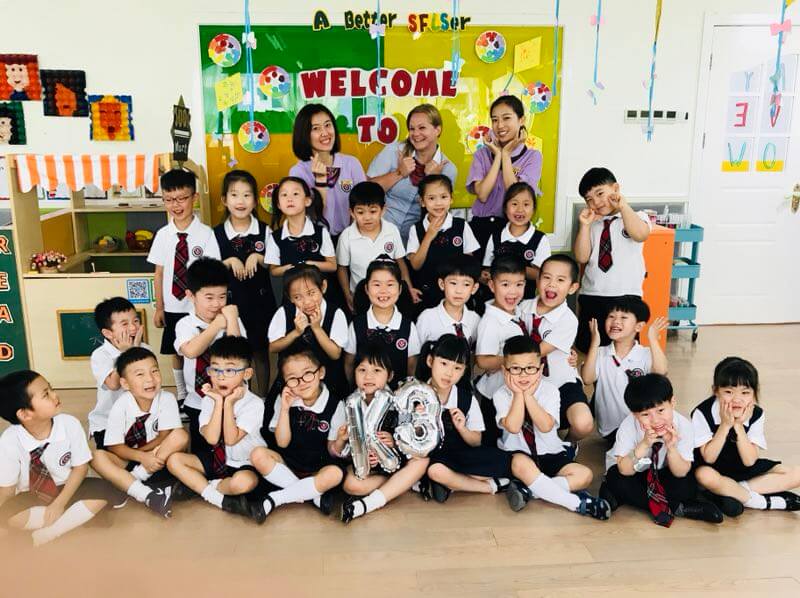 First day back to school!  As China has three years of kindergarten (K1, K2, K3), the teachers follow their same students into each level. This year I was elated to follow all of my same kids into their next (and last) level of kindergarten! Watching my students learn and grow each day is what I truly love about teaching abroad.
In what ways did your TEFL course prepare you for your teaching job?
My TEFL course gave me information on how to understand ESL learners. Having never taught ESL before, it gave me the opportunity to understand the learner's perspective with learning a new language for the first time. It also taught me how to make learning English an interesting and fun process.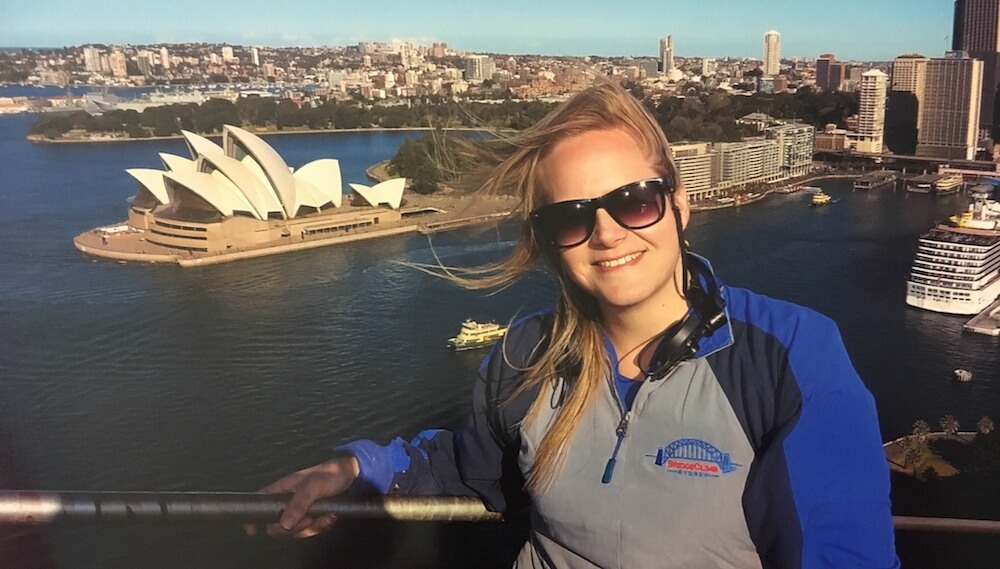 Summer of 2018 I decided to go on an adventure to Australia. Climbing to the top of the Sydney Harbour Bridge with the iconic Opera house in the background was such an incredible, once in a lifetime experience to have!
Where will you go next and what are your career goals? 
After I finish this third-year teaching in China, I plan to move to teach in another country– possibly Thailand, Vietnam or Czech Republic. I would like to teach a few more years abroad and also begin teaching English online on the side. Eventually, this will allow me to continue to do what I love (teaching ESL), while allowing me the opportunity to move back home to the states. I eventually would also like to be a leader for individuals graduating from college guiding them to experience the life of teaching abroad. I think more young adults should experience this amazing opportunity and I would love to be the person to help guide them in that direction.
Are you interested in teaching English in Asia but not sure which country is the best fit? Read this next: Asia Overview: Where Should I Teach English?