Whether you are an independent online tutor, an ESL/EFL teacher at a language school or a language school owner or manager, a good grasp of ELT marketplaces is essential for understanding your students or customers, and for succeeding in an increasingly competitive field.
A decade ago, the idea of online marketplaces, especially for language courses and tutoring, was virtually unknown. Today, these marketplaces saturate the web. E-learning, especially during the last few years of the COVID-19 pandemic, has become mainstream, as both educational institutions and businesses began to embrace the technological possibilities that exist online to support today's students and educators. A deep dive into marketplaces devoted to educational support, particularly for English language learning, highlights an interesting shift from the traditional marketplace business models to a hybrid language school/marketplace model that embraces some elements of both. For educators interested in potential earnings as a marketplace EL tutor, the marketplace pay formula differs greatly from the typical language school, putting the earnings potential into the hands of the teacher. While the English language marketplace may seem like a natural competitor to the language school industry, some experts say the two offer different services that may instead naturally complement one another, providing benefits to both students and educators.
Whether they have a competitive or mutualistic relationship, both online marketplaces and language schools push and pull one another when it comes to providing support to teachers and students and the way English language education providers are run.
What Is a Marketplace?
Like other industries, the English Language Teaching (ELT) industry has seen a boom in online marketplaces, providing products and services such as tutoring, ready-made lesson plans, student worksheets and more.
An online marketplace is an e-commerce site that connects sellers with buyers. More exactly, online marketplaces mediate between supply and demand. Because of their essential role in facilitating business, they take a percentage or fee from transactions. This percentage is often called the "rake."
A few classic examples of online marketplaces are Amazon and eBay, where you (the customer) can find virtually any product from various sellers (the businesses). This list of 100 of the biggest marketplaces includes sites like Instacart, a grocery delivery service, Valve, a video game distributor, and Outschool, a tutor marketplace for school-age kids.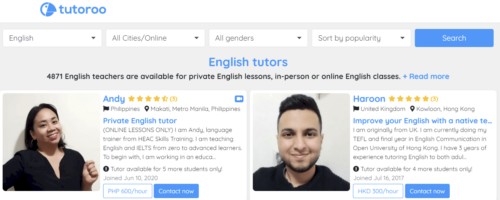 Like other industries, the English Language Teaching (ELT) industry has seen a boom in online marketplaces, providing products and services such as tutoring, ready-made lesson plans, student worksheets and more.
Tutoring Marketplaces Provide Varied Services, Products for Diverse Needs
Platforms like Varsity Tutors advertise courses on everything from academics to test prep for the bar exam. The marketplace doesn't specialize in English language classes, but English as a second or foreign language (ESL/EFL) teaching is one of the many tutoring services offered on the site.
Others include italki, which is an online language learning platform that uses video chat to connect language learners to language teachers. The site provides one-to-one tutoring for learners, and, as an educator, you can earn money as a freelance tutor. Because this site offers language instruction in more than 150 languages, a student could potentially meet with a Chinese teacher and a Russian teacher in the same afternoon. English is just one of many languages offered on the site.
Finally, there are platforms like Cambly, which work exclusively with English language tutors. Cambly offers a variety of courses, including the fundamentals of English, professional development, conversational English and test preparation. Tutors are paid weekly, based on the amount of time spent teaching students.
Below is a table that lists general education marketplaces, world language marketplaces and ELT marketplaces. Some of the marketplaces that are not specifically for English language learners offer elements of English language schools.
| | | |
| --- | --- | --- |
| | World Language Marketplace | |
| | | |
| | | |
| | | |
*These platforms have many elements of an online language school.
At the most basic level, a tutor marketplace helps students (customers) find teachers (businesses) and vice versa. However, as tutor marketplaces like Preply or italki begin to provide more support and infrastructure for teachers, it can be difficult to differentiate between marketplaces and online language schools.
Muddied Waters? The Tutor Marketplace/Language School Spectrum
A pure marketplace has a very hands-off approach. It connects buyers with sellers. It doesn't offer quality assurance, refunds or insurance for scammed sellers.
As tutor marketplaces continue to evolve, platforms and the businesses behind them have added more and more support to add value to their users. As more support is added, however, a tutor marketplace begins to look like an online language school rather than a pure marketplace. This is where the waters get muddied.
Enter the tutor marketplace/language school spectrum.

Our research suggests that while some tutor marketplaces and language schools are distinct in their models, there are also many hybrid language school/marketplaces.
Online language schools like Berlitz represent a traditional model of ELT. Students sign up with the school, which selects a teacher or a class for the student based on a language assessment or specific wants/needs (test prep or English for Specific Purposes [ESP], for example). The teacher is responsible for planning and executing lessons based on the school's preferred curricula or, as in the case of Berlitz, a particular method. These language education providers are extremely hands-on with the entire process, especially when it comes to pricing and invoicing.
Tutor marketplaces are much newer than language schools and have a distinctly different approach to language education. Instead of dictating a curriculum or even a price, the marketplace lets teachers decide for themselves both what to do in the classroom and how to run their business. A pure marketplace would offer little to no support for the teachers aside from a class scheduling system and a way of charging customers; although, now, most offer things like tutorials for how to make a catchy profile or introduction video. According to this model, marketplaces are hands-off with what and how a tutor teaches and usually do not require a teaching certificate.
As tutor marketplaces continue to evolve, platforms and the businesses behind them have added more and more support to add value to their users. As more support is added, however, a tutor marketplace begins to look like an online language school rather than a pure marketplace. This is where the waters get muddied.
Hybrids are a growing trend for online language education. These platforms usually start out as tutor marketplaces (although some like Cambly started similar to an online language school) but have evolved to incorporate different types of support for teachers and students. Marketplaces like Verbling or AmazingTalker, which suggest teachers to students, are especially indicative of a hybrid model, where the platform offers more value-add than a pure marketplace.
As part of our research, we analyzed 21 of the biggest online language education providers against a set of five major criteria.
These criteria asked what kinds of value-add the platform provides and how the platform regulates or fails to regulate tutoring services. The more value-add and regulation a tutor marketplace has, the more it looks like a traditional language school.
Selection, suggestion and listing – How does the platform connect students and teachers?
Pricing – Who decides the cost of the service? The platform (P) or the teacher (T)?
Curriculum – Does the platform provide lesson plans? Are lesson plans mandatory, or can teachers make their own choices?
Qualifications – Does the platform require certifications such as a CELTA, Trinity CertTESOL, or Bridge IDELT?
Class format – Does the platform allow for group classes or just one-to-one instruction?
Marketplaces
| | | | | | | |
| --- | --- | --- | --- | --- | --- | --- |
| | Selection, Suggestion or Listing | | | | | |
| | | | | | | |
| | | | | | | |
| | | | | | | |
| | | | | | | |
| | | | | | | |
| | | | | | | |
| | | | | | | |
*italki does not require a certification, but it gives special status to teachers with a certificate.
**Langu lists tutors' profiles and will also personally suggest tutors for a student who asks.
Hybrids
| | | | | | | |
| --- | --- | --- | --- | --- | --- | --- |
| | Selection, Suggestion or Listing | | | | | |
| | | | | | | |
| | | | | | | |
| | | | | | | |
| | | | | | | |
| | | | | | | |
Online language schools
| | | | | | | |
| --- | --- | --- | --- | --- | --- | --- |
| | Selection, Suggestion or Listing | | | | | |
| | | | | | | |
| | | | | | | |
| | | | | | | |
| | | | | | | |
| | | | | | | |
| | | | | | | |
| | | | | | | |
| | | | | | | |
| | | | | | | |
***Lingoda lists classes but selects teachers to teach them.
****SLC stands for Specialist Language Courses.
| | | | |
| --- | --- | --- | --- |
| | | | |
| Selection, Suggestion or Listing | | | |
| | | | |
| | | | |
| | | | |
| | | | |
Selection, Suggestion and Listing
| | | |
| --- | --- | --- |
| | | |
| Selection is the most traditional method for matching students with teachers. Language schools typically select teachers for certain classes or students. | Suggestion is emblematic of a hybrid platform. Instead of choosing one teacher for one student, the platform algorithm will suggest one or a small number of teachers for a student to choose from. They may also highlight certain tutors as "super tutors." | Listing is the most hands-off approach to matching teachers with students. Instead of limiting students' choices, the platform, usually a tutor marketplace, gives a list of available teachers and their profiles and sorts them by categories such as price, availability, qualifications, etc. |
How Students Find Teachers
There are four platforms that stand out based on the way they partner students together with tutors: AmazingTalker, Verbling, Superprof and Lingoda.
In addition to simply listing tutors' profiles, AmazingTalker has a particularly interesting way of suggesting tutors. Customers fill out a form requesting pricing information, availability and study goals, and AmazingTalker suggests three tutors based on an algorithm. This way of limiting the customer's choice has the benefit of making the platform easier to navigate, especially when there are hundreds of tutors from which to choose.

Verbling, on the other hand, chooses to highlight certain teachers based on their performance in classes according to a rating system. This does not suggest tutors as strongly as AmazingTalker's method, but it incentivizes tutors to be punctual and get good ratings during their classes. Preply and Cambly suggest tutors in a similar way.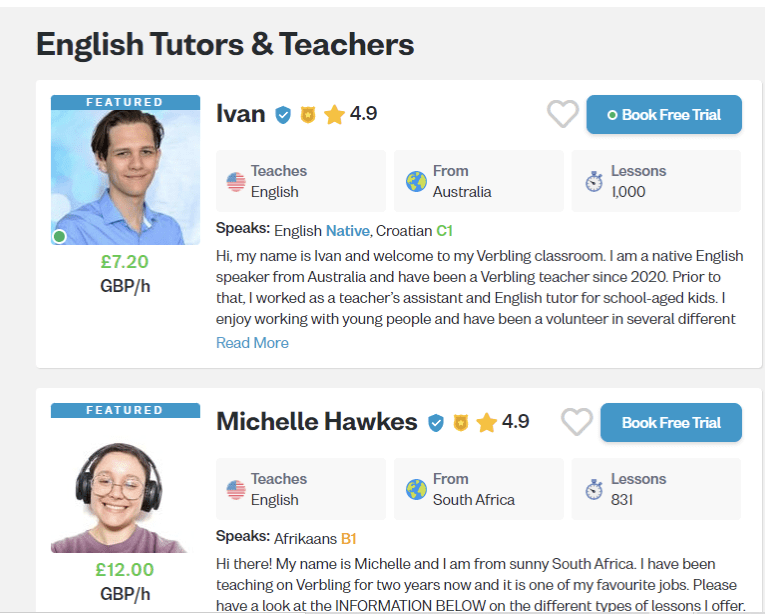 Superprof offers a premium service to boost tutors' profiles, putting them higher in searches and highlighting their profiles. Superprof Premium gives other value-adds in the form of lesson insurance and more data tracking without taking the usual 10 percent lesson commission.
Despite being a language school, Lingoda also has an element of listing in its matching system. The company selects tutors for certain classes, but the students still get to choose their class, and therefore their teacher, from a list. This list is not unlike a tutor marketplace; although, in every other criterion, Lingoda for all intents and purposes is a language school.
By limiting the customer's choice, the platform becomes easier to navigate, especially when there are hundreds of tutors from which to choose.
One potential issue a pure tutor marketplace faces is an oversupply of teachers. This can be confusing for customers who are overwhelmed by the hundreds of profiles on a marketplace. For this reason, many marketplaces and hybrids limit the number of tutors using their platforms.
Hybrids, on the other hand, try to help by suggesting tutors to students, therefore making choosing a tutor easier. It helps students find teachers and gives teachers, who may otherwise be hard to find on a list of tutors, more visibility.
Curriculum: Mandated, Provided or Non-Existent
The majority of platforms are divided on the curriculum issue. Language schools mandate the use of their curriculum or method, but marketplaces typically don't provide any lesson plans and let teachers use whatever they see fit.
Hybrid platforms often provide a curriculum but don't necessarily mandate its use. Cambly provides lesson plans for a variety of different lessons, which students are able to request. However, teachers can use materials, such as YouTube videos or self-made activities, from outside the platform as well.
Pricing, Billing, Customer Relationships and the "Rake"
In general, marketplaces don't dictate pricing and instead let tutors choose their own prices. Language schools tend to have a set price.
Cambly, once again, is an anomaly here. Although it has some elements of a marketplace, such as listing its tutors and not requiring a teaching certificate, it sets the class prices and gives teachers an hourly rate.
The advantage of tutor marketplaces is student acquisition.
Another interesting case is Preply Enterprise, which decides its prices depending on customers' (businesses') needs. This is an indication that, for the B2C segment, Preply has adopted a more marketplace approach, but that for enterprise learning and B2B, the model is to provide added value, dictate pricing and perform like a traditional school. As already highlighted, this includes student acquisition (marketing), curriculum and book development, formation of group classes by level, tutor screening and quality control, etc.
Traditional language schools typically sell packages of lessons, either in learning modules, semesters of study or other packages, to students while offering various refund policies. In a pure marketplace model, the student purchases hours/lessons or packages of hours directly from the tutor via the platform. In some cases, the marketplace acts as an escrow account of sorts, only disbursing funds to the teacher after deducting any fees (rake) when lessons are completed, or in the case of Preply, even allowing students to apply hourly course funds to another tutor of their choice. This begs the question: Who owns the student relationship? The marketplace, the teacher or both?
It's important to say here that these marketplaces and hybrids do not employ tutors on their platforms. Instead, the company allows the teachers to use their platform to teach for a fee.
In a typical business transaction, the business invoices the customer, but most tutor marketplaces (not teachers) invoice the students for the classes they take. What is strange is how a marketplace claims its tutors are independent teachers or businesses and so should bear most of the business responsibilities, but the marketplace still bills the customer, making itself an essential part of the business relationship.
One reason for how tutor marketplaces invoice students might be how tutor marketplaces make money through commission fees. Whenever a tutor teaches a class, the marketplaces take a percentage of their earnings (rake).
Alyse Bukoski is an online tutor, as well as the founder of ESL Diversified, a popular Facebook group for new and veteran online English teachers. In comparing traditional private tutoring and online marketplace tutoring, she said, "Tutor marketplaces are great for flexibility, but the trade-off is the compensation."
A fully independent teacher takes 100 percent of class earnings. However, they need to find their students independently.
This begs the question: Who owns the student relationship? The marketplace, the teacher or both?
Tutor marketplace commission fees can be as low as 10 percent and as high as 50 percent. Some marketplaces also take a 100 percent commission fee on a tutor's first class with a new student, so they can offer students a "free trial."
Usually, a marketplace will charge more if it has a higher value-add for the tutors. For example, if a marketplace offers support such as supplementary materials for students and tutors, or if they help match students with tutors, the marketplace will often charge a higher commission fee.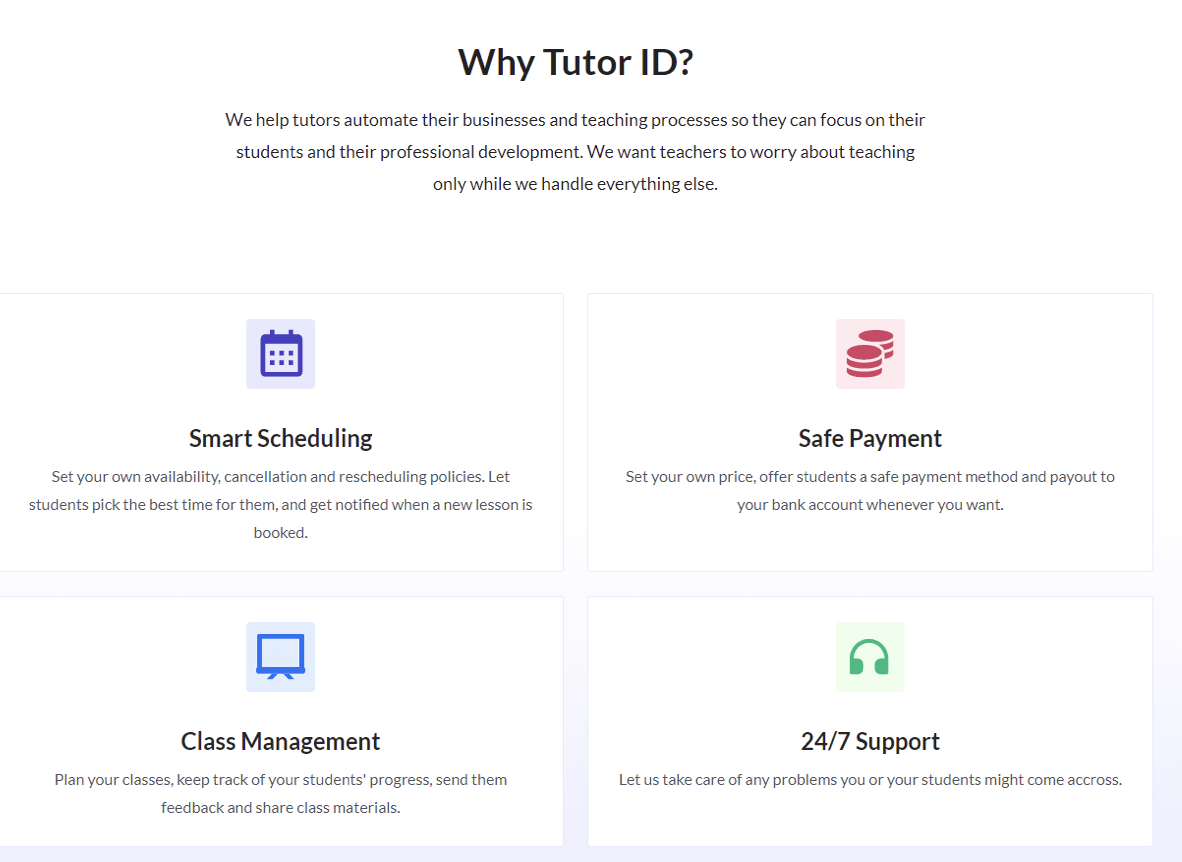 Alyse notes, "The advantage of tutor marketplaces is student acquisition." If you don't know where to find students, or students are having trouble finding you, marketplaces are great places to start. They also often provide infrastructure such as a virtual classroom or a calendar for bookings."

It's hard to argue that marketplaces take an unfair rake when traditional language schools take a larger percentage of each class's earnings. However, there are not as many extra responsibilities, such as making a profile or asking for student reviews, when teaching for a language school. Language schools also have significant overhead costs for administrative staff, facilities, marketing, sales, curriculum and software, which reflects the added value they provide for both teachers and students.
Teaching Certifications: Required or Not?
The language schools we researched all required a teaching certificate from their tutors.
With the exception of Tutor.id, most marketplaces still don't require certifications. However, they might give teachers a special status if they have a TEFL certification. For example, italki requires certifications for "professional tutors," while "community tutors" don't need any experience or qualifications.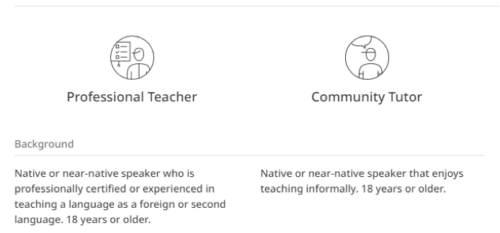 Preply doesn't require a certificate, but it does have a search option for "professional" tutors who have relevant training and certifications. Cambly does the same.
One-to-One or Group Classes
Providing only one-to-one tutoring requires less support than group classes. Individual lessons can be adapted to a specific student's needs and wants, whereas a group class must contend with multiple students' needs and wants. For that reason, pure tutor marketplaces don't often provide the infrastructure, such as a curriculum, for group classes. Language schools, on the other hand, traditionally work more with group classes than one-to-one classes.
Hybrid models like Preply have started providing group classes. It seems students like having peer-to-peer interaction, and, perhaps more importantly, students can more easily afford group class rates. Marketplaces that form groups have a clear value-add for teachers who might otherwise have difficulty aggregating students in groups by appropriate proficiency level and curricular interest.
The online language schools we examined all offered one-to-one classes as well as group classes.
Disruption: To What Extent Do Tutor Marketplaces Disintermediate Language Schools?
E-learning is no longer niche. Since the pandemic, the ELT industry has been moving increasingly online. Instead of simply being a sub-section of the education industry, e-learning is becoming integrated at all levels of education, especially ELT.
In theory, tutor marketplaces are disruptive because they are upending the traditional business margins of the language business. Whereas in a traditional model, the cost of a teacher in a group class at a language school might be 20 percent, leaving the school with an 80 percent gross margin, a marketplace flips these margins, paying out 80 percent of hourly fees to the teacher and taking a 20 percent fee via the "rake." They are simultaneously lowering the cost of teacher-driven language learning to students and increasing the pay teachers make per hour. They have achieved this by lowering the cost of delivery (by reducing services), as well as by reaping the benefits of economies of scale by attending to thousands of teachers and students.
Marketplaces have allowed students and tutors to bypass language schools and engage in lessons with fewer shareholders.
In practice, however, what we are seeing is that these business margins are moving more in the direction of the traditional school model as marketplaces add more value and services and begin to act more like schools.
Some might assume language schools and tutor marketplaces are natural competitors, but not everyone sees it that way. One director of studies we spoke with said they don't compete with tutor marketplaces and online education because they sell fundamentally different products.
Brick-and-mortar schools in the language travel sector offer not only English classes but also cultural and touristic experiences. Especially during the pandemic, these smaller language schools have tried to offer some e-learning while still championing in-person instruction as the best method for learning.
It's hard to see how small, independent language schools could compete online with big names like Preply, Babbel, Lingoda and EF English First.
The cost to enter the online market at scale is also a big concern for smaller schools that might not have the infrastructure in place to teach large numbers of students online, let alone a platform to host multiple classes.
Online language schools are different from in-person schools, however. In contrast with tutor marketplaces, they offer assurances like ready-made curricula, experienced and qualified teachers and an organization to back up their efficacy.
While some in the industry might not see the two as competitors, it's also clear that e-learning has affected language schools' business. Marketplaces have allowed students and tutors to bypass language schools and engage in lessons with fewer shareholders.
Through marketplaces, teachers should, in theory, have higher pay, and students should have cheaper lessons. Meanwhile, language schools must find a way to attract customers, even with more expensive costs and more overhead than a tutor marketplace.
Is Hybridization the Future of Marketplaces?
The future of tutor marketplaces is hard to predict, especially because the industry is relatively young. Ten years ago, it would have seemed strange to have online courses for everything from mathematics to language learning, except as a gimmick. Now, e-learning is ubiquitous.
Increased hybridization is the strongest trend for tutor marketplaces and language schools.
Preply suggested to us there might be continued growth in hybrid models, meaning marketplaces that offer some of the structures of a language school or perhaps the gaming features of language learning apps.
Increased hybridization is the strongest trend for tutor marketplaces and language schools.
Students want to have the creative fun of a conversation class but also the achievement that comes from completing a structured traditional course. Teachers want the freedom and greater compensation that marketplaces often supply but also the support, like ready-made lesson plans, that online language schools commonly provide. Marketplaces are following these demands.
While many tutor marketplaces will expand, some may try to become more specialized too.
There are signs of this happening currently. Clasital is an online language school with elements of a tutor marketplace, focusing exclusively on test preparation for IELTS, IGCSE and A Levels. Specialized marketplaces may also be created for medical or judicial English.
Preply Enterprise is probably the closest platform to a specialized marketplace. Specializing in Business English, Preply Enterprise lets customers (businesses) choose their own tutors, while offering curricula for both tutors and students. At the same time, tutors are given the freedom to choose what they want to do in class.
Verbling also has a B2B Business English marketplace version, although Verbling Enterprise uses the same pool of teachers as the main marketplace. The difference between the two is the administration and data connected with how students from the business are performing.
While many tutor marketplaces will expand, some may try to become more specialized too.
The language school Specialist Language Courses (SLC) offers IELTS and OET preparation courses in addition to courses for medical English. Even though this is not a marketplace, these platforms show consumers are looking for e-learning platforms for their specific needs.
Currently, marketplaces allow students to search for specialist tutors, but there is little oversight or assurance that students are getting the results or product they want. Additionally, the question remains: Are tutors being adequately supported for giving these types of courses? A pure marketplace would simply provide the information and/or algorithm to partner students with teachers and regulate the supply and demand, not provide oversight of tutors' teaching methodologies.
While it's hard to predict the future, we can be pretty certain that tutor marketplaces are here to stay in a post-COVID world. The only question is how they will adapt. TechCrunch wrote last year that "…tutoring platforms can't simply be middlemen that take a cut; they have to be extensive, smart and responsive." There are exciting developments yet to come.