Online ELT Marketplaces: How They Work, What They Charge & How to Make the Most of Them
By Catarina Chase Aleixo
November 5, 2020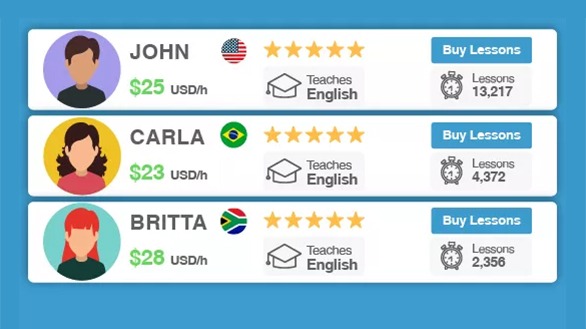 When thriving language–learning app, Busuu, acquired video-tutoring language marketplace, Verbling, back in mid-January 2020, it was perhaps not fully aware of quite how prescient its "double-digit million dollar acquisition" had been. At that point, projections for the expansion of online learning were already robust, with one source expecting the online English language learning industry alone to grow by $14.69 billion from 2020 to 2024. These projections, as we now know, were about to skyrocket. Busuu was positioning itself to tap that market by offering language teaching by over 10,000 tutors registered on Verbling's marketplace to its already impressive arsenal of 100 million Busuu app users.
By the end of March, the Covid-19 pandemic started to drive enormous demand for online learning platforms and ELT marketplaces as entire countries shut down, keeping over 1.3 billion children away from school and requiring billions more employees, including teachers, to work from home. Additionally, millions of service companies worldwide laid off workers as they were unable to continue paying salaries while their businesses were closed to the public. This left massive numbers of people with a lot of time on their hands to teach English online, learn remotely, or both. Tutor and student registrations on online education platforms soared accordingly.
If online language learning had been a growing trend before the pandemic, during lockdown it became practically the only outlet for anyone wanting to brush up their foreign language skills. Established language teaching marketplaces like Verbling and its competitors, including Cambly, SkimaTalk, Preply, Spitball, iTalki, and many more were perfectly placed to step up to this new challenge.
"The pandemic has really accelerated demand for online learning and EdTech, so we have a very positive outlook for Verbling's future – as demand for online tutors continues to grow."
Preply, for example, secured US$10 million in funding at the end of March to expand further in the North American and European markets, just as it saw a spike in teacher and student registrations off the back of the pandemic.
Over the months since governments across the globe sent out their initial stay-at-home orders, and even as many countries tentatively establish a so-called new normal by allowing people back to work and school, social distancing, anxieties about face-to-face education and continuing restrictions on gatherings have buoyed demand for online teaching.
Verbling has seen exactly this trend. "The pandemic has really accelerated demand for online learning and EdTech, so we have a very positive outlook for Verbling's future – as demand for online tutors continues to grow," Adon Lawley, senior brand manager at Busuu told BridgeUniverse. Teacher applications on the platform have seen a similar rise, he says, meaning that competition to attract students is getting stiffer.
Given that this mode of providing language education is here for the foreseeable future, BridgeUniverse has analyzed some of the most popular language teaching marketplaces and spoken to teachers about their experiences using them as well as reached out to the marketplaces themselves to explain their models and how to use each to its best advantage.
When is a marketplace not a marketplace? When it's an online school.
Anyone that has used the web to buy a product, hire a service, or book a hotel, has likely already come into contact with online marketplaces. Probably the most well-known and well-established of these marketplaces is eBay, which connects product buyers and sellers. Similarly, Airbnb connects accommodation owners with travelers looking for a temporary place to stay and Upwork connects service providers with people looking for professionals to assist them with those services. There are hundreds of other websites based on a similar model. In essence, online marketplaces are a meeting point for consumers to find products or services and for anyone who has products, skills, or assets to sell to set out their stall. In all these cases, the marketplaces charge a commission to sellers/providers for using the platform to make their sales.
In the English language teaching (or ELT) space, marketplaces are specific websites for potential students to find teachers and for teachers to showcase their skills and classes to students. Each ELT marketplace has its own unique way of operating and these differences can make it difficult to make comparisons. The first distinction to be aware of, however, is the difference between a teacher marketplace and an online school.
"We connect students with tutors […]. We don't employ tutors. We provide them with the materials and tools they need to teach online."
From a user's point of view, whether they are a student or a teacher, it might not be obvious if they're working with a marketplace or an online school when they start using a platform. Oftentimes students pay the platform directly for classes and teachers receive their payments via the platform, which can make their relationship with the marketplaces even less clear.
Pre-pandemic demand for online ESL teaching, particularly in the Chinese market, led to huge growth in online schools such as VipKid, SayABC, Palfish, and DaDaABC, and COVID-19 has only increased demand for their services. Like in-person schools, online schools hire teachers directly, establish their timetable, and pay them a set amount for classes. They often also provide specific curriculum content for teachers to use when teaching students.
Freelance worker:
A freelance worker (or freelancer) is a non-permanent, self-employed worker who provides products and services to multiple organizations. These professionals can work for as many clients and take on as many projects as their schedule allows. As a freelancer, you can
set your own rates
, process tax payments independently, and choose where to work.
Although they may sign a contract with these online schools, teachers are usually hired as freelancers, guaranteed no set number of teaching hours, and are responsible for paying their own taxes, social security, and other similar fees, in their home countries. This is one way in which these online schools are, in fact, similar to teacher marketplaces, which also categorize teachers as freelancers.
Find out how to get started freelance English teaching online.
Marketplace platforms like Preply, Cambly, iTalki, and Verbling consider teachers to be independent contractors. Cambly's user agreement, for example, states that "Nothing in this Agreement or otherwise shall be construed as identifying [the] Tutor […] as an employee, agent, or legal representative of Cambly or any of Cambly's related or affiliated entities for any purpose, and Student and Tutor […] shall not hold themselves out as employees of Cambly in any capacity." Essentially, these online teacher marketplaces are intermediaries between students and teachers, or as Karde Guner, Tutor Success Lead at Preply says, "We connect students with tutors […]. We don't employ tutors. We provide them with the materials and tools they need to teach online."
Teachers that have been working with the platform for some time agree on this point. "I've been using Preply since 2016. I say 'using,' not 'working at' or 'for,' because Preply is just a platform that does the marketing for you, gives you a payment gateway, and brings you students. They do not employ you. You can set your own price, and there is no specific date when you get your salary. You can withdraw your money at any time," says Milica Vukadin, a professional ESL teacher and blogger interviewed by BridgeUniverse.
Find out more about the different types of online English teaching jobs.
Some marketplaces are pickier than others
Despite not actually employing the teachers that register with them, some ELT marketplaces have stringent requirements for teachers to be accepted, while others rely on students to assess the quality of their teachers based on the profiles they set up on each platform. These types of marketplaces rely on reviews and feedback from previous students to rate teachers.
"If the platform is overflowing with English teachers, you may not be accepted. This is also fair to teachers who are already teaching because it would be unfair to keep accepting people while there are so many teachers without students."
Cambly and SkimaTalk require teachers to be so-called "native speakers," but from any country, while iTalki requires either "native" English speakers or advanced "C2-level" speakers. Preply, on the other hand, does not require teachers to be "native speakers" to use their platform.
When Milica Vukadin started using Preply in 2016, the criteria for acceptance were less demanding in terms of requiring tutors to be native speakers. "You don't need as much experience as I have, but the qualifications, experience, language, or other subject you want to teach will have some impact on you being accepted to teach on Preply. You don't need to be a native speaker of the language you are teaching, but it all depends on what students are looking for at that moment," she says.
In terms of specific qualifications, the platforms vary widely. Cambly, which is a platform set up for students to practice speaking English with native speakers, rather than formal classes, does not require any qualifications to register, and the application process, when open, is simple, according to Christie English, a Portugal-based ESL teacher who registered with Cambly just over a year ago. "The application process was quite straightforward, taking about two weeks from the time of submission to approval. As Cambly is known for having only native speaker tutors, the only qualification as such was actually being a native speaker from the USA," she tells BridgeUniverse, acknowledging, however, that she, "was lucky to join before the pandemic situation, as I understand the application process may have become more competitive now, with fewer new tutors being onboarded."
Preply has no specific qualification requirements for teachers registered. "To become a tutor, it is not necessary to have experience. We provide our tutors with detailed guidelines and specific training on how to create a powerful profile and conduct lessons. Everything we recommend is supported by research conducted by Preply and guarantees success," says the Preply representative. Verbling requires its tutors to be "qualified professional and experienced teachers" and to teach only their native language.
Several of the platforms that BridgeUniverse analyzed, including Verbling, are not currently accepting applications from English teachers because of a high volume of applications due to COVID-19. As Milica Vukadin explains, "If the platform is overflowing with English teachers, you may not be accepted. This is also fair to teachers who are already teaching because it would be unfair to keep accepting people while there are so many teachers without students."
However, this is a fluid situation, as we have noticed that some Bridge Preferred Employment Partners, including online marketplaces and schools, have both closed and opened hiring initiatives in the last months since the COVID pandemic began, in line with the fluctuations in demand for classes and teachers.
ELT marketplace commissions, rates, and fees
All businesses need to make money, and online ESL teaching platforms are no exception. The models they use to charge students and the fees or commissions they charge teachers are unique to each of them, however.
Some pay teachers a flat rate for their time, which in Cambly's case is $0.17 USD per minute of chatting to students, usually in increments of 15 minutes. Their model relies simply on charging students more than they pay teachers. "The payment is exactly as promised, $0.17 USD per minute in a video chat with a student, which amounts to just over $10 USD per astronomical hour.  No compensation is offered for messaging students, however. If a reservation request has been confirmed by a student who doesn't show up, the tutor is compensated for the first ten minutes of that time," explains Cambly tutor, Christie English.
Cambly charges students according to what it calls their "commitment level." The cost goes down the more class time they commit to (a maximum of 60 minutes per day, five days per week) and depending on whether they opt to pay monthly, quarterly or yearly. For the minimum student commitment of 15 minutes per day, two days a week and charged on a monthly basis (which is the most expensive option), Cambly students pay $52 USD per month. Although students are charged on a sliding scale, on this maximum-cost basis, each minute of time with a Cambly tutor costs students almost $0.46 USD.
Preply's model differs from Cambly's and has a more traditional, commission-based approach, in which the marketplace takes a cut of each class taught based on the rate set by each registered teacher. However, it has one main difference from a pure commission model, which is that the platform keeps the payment made by each new student for their first class, no matter what rate is charged by the teacher, and teachers do not receive that first payment and effectively offer the class for free. If a student does not take up classes with the teacher after this "trial class," Preply provides the student with a free replacement class.
"Preply offers a free replacement [class] for students who had a trial lesson but do not wish to continue [with that specific tutor]. When a student purchases their first lesson, Preply's commission is 100% of its value. For all the next lessons a commission fee will vary from 18% to 33% of the hourly price (depending on the total number of lessons the tutor has conducted on the website). We do not charge students," explains the platform's Tutor Success Lead. However, "Tutors on Preply can set their own hourly rate, which can be increased over time. They also have the option to change their price for individual students. There are no limitations when it comes to setting and changing hourly rates. However, Preply does prevent tutors from luring students in with low rates and then dramatically increasing their prices. There are tutors who charge $60 USD/hour and are fully booked. It mainly depends on the subject, tutor's expertise, experience, and reviews," says Guner.
As Milica Vukadin explains, "Preply takes a commission for the first lesson – you will not get paid – and then they take a small commission out of every lesson, so on average, they will take about $2-3 from every lesson, depending on your set price. […] The best thing about Preply is that when students buy lessons, they cannot buy less than six hours. That means that you are really teaching someone, unlike in most Asian companies where you get a new student every lesson, and you never have the chance to get to know them and see what their needs are."
Payment on iTalki is made in credits that work out to one credit per US dollar. According to British ESL teacher, Elizabeth Donaghue, who has used iTalki for over nine years, "Payments are sent out twice a month and can take up to 10 days to receive. There are several payment options open to teachers. I personally use PayPal as it is quick and reliable. You also have the option to withdraw your money at any time and receive it within 48 hours for a $10 fee, which has proven very helpful at times." The platform charges a flat 15% commission on all classes.
Before registering with platforms that allow teachers to set their own rates, it is essential to take into account the fees and commissions they each charge and factor those into the rate you opt to charge your students. Depending on where you live, it's also important to consider exchange rates, as Elizabeth Donaghue points out, being paid in US dollars, "causes some problems for me, being based in the United Kingdom as we do not have a great exchange rate to the dollar so I have to charge quite high prices to make it worth my while using the platform." 
ELT marketplaces are a storefront for teachers but require active promotion
In short, marketplaces offer a place for teachers to showcase their profile, qualifications, and experience and to convince as many students as possible to choose them over another teacher on the same platform.
"If you are not independent enough as an online teacher and you are not sure how to pitch yourself and your skills to students, then you will probably not get booked at all."
"Tutors can attract new students by a personalized profile with a professional photo, an engaging video, and a profile description. We provide free training for all tutors and have expert-made learning plans for English subject tutors. Plus, a virtual classroom for audio and video calls is already integrated within our platform, so tutors don't need to use additional video tools to conduct their lessons," a Preply representative says.
"If you are looking for a quick buck where you don't need to make a lot of effort, then maybe it's better to apply to work for a company that fills your schedule with one-time students," Preply teacher, Milica Vukadin, suggests, adding, "If you are not independent enough as an online teacher and you are not sure how to pitch yourself and your skills to students, then you will probably not get booked at all."
Verbling also recommends "that teachers put time and effort into their profile video, as this is one of the main ways for prospective students to get to know them before committing to a lesson. We also encourage profile bios to give a clear overview of their experience, teaching style, and what students can expect from a lesson with them," says Adon Lawley.
Although platforms are careful to point out they provide training and assistance on how to create and promote your teacher profile, teachers considering registering with online marketplaces need to expect to work hard on promoting themselves and commit to regularly updating their profiles so as to attract as many students as possible. It's also important to be on time for classes, keep class cancellation rates low, and teach to the best of your ability to encourage positive reviews from students.
In conclusion, if you focus your energy on creating an attractive profile on these online ESL marketplaces and set your prices by taking into account the commission each marketplace charges, what you need to be paid for your time based on where you live, exchange rate differences, and your level of specialization and qualifications, ESL teaching marketplaces can prove profitable and worthwhile.
"I have plenty of regular students who have been with me for years, and I earn a very nice salary. […] the only person who decides how things are going to happen is you. If a student likes your personality, and if you have enough knowledge, in their eyes, you will be a huge success," Milica Vukadin says.