Looking to enroll in one of Bridge's online TEFL certification courses? If so, you may wonder how hard the TEFL courses are, what the workload is like, or how you can manage your time efficiently. Don't worry! We asked a sampling of current students and course tutors for our most popular teacher certification courses, the Master Certificate and the International Diploma in English Language Teaching (IDELTOnline™), for their firsthand perspectives, advice, and tips for success.
Bridge 120-Hour Master Certificate
The Master Certificate is an affordable, self-paced certification course for teachers of English to speakers of other languages. All trainees are assigned a personal tutor, like Katie, for guidance and feedback throughout the course.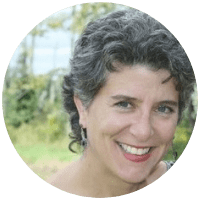 Katie Henley, Course Tutor
What aspects of the Master Certificate course do you find students usually struggle with? How can that be avoided?
I find that the core curriculum (modules 1-12) is the most challenging because there are new skills that we're requiring students to practice, and students may have no previous experience with them at all – lesson planning, for example.
Additionally, many native English speakers find analyzing English grammar and vocabulary quite challenging because they've never had to engage with it in the way we're approaching it here, whereas many non-native English learners find that they've had previous experience in these exact areas, making that particular content easier to manage.
What are 3 tips for students to get the most out of the Master Certificate course?
1. If you get confused about a grammar point, look up YouTube videos on how to teach that grammar point. You'll probably come across a lot of videos teaching that exact point to English language learners so you'll have twice the benefits: learning the grammar point and seeing how it can be taught!
2. If you have a problem you just can't figure out, message your tutor! It's what we're here for. Be specific in your question. Tell us what course you're taking and what module you're working on, and we'll help you work through the challenge.
3. Finally – and this is a big step – if you've never taken a language learning class, I strongly suggest you take one. Take a class online or at a community college or community center. Teaching and learning a language is vastly different than content-based instruction, and ideally, if you're teaching language in a classroom, you should have some experience in learning a language in a classroom. It will also make the content of these courses come alive in a way that merely reading about cannot.
What advice do you have for students to stay on schedule in this self-paced course?
Look through the syllabi for the courses and anticipate how much time they'll take you and schedule them in across three months, which is how long you have for the body of the course. You can get ahead – just don't fall behind!
Remember, tutors don't grade on weekends, and they can't grade more than one module in a 24-hour period (in order to maintain the integrity of the course and our accreditation). Don't leave anything until the last minute!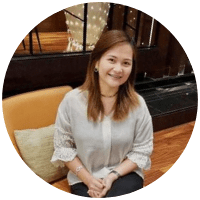 Madelyn Addatu, Master Certificate Student
How much time did you devote to the course each week, and what personal or professional obligations did you have to juggle with your Master Certificate studies?
I'm currently a teacher. In August, during our summer vacation, I allotted a maximum of six hours a week to complete two modules. From September until now, since classes have resumed, I must admit that I could hardly find time to finish a module because even on weekends, I still have some school work to do in preparation for the following week. I have to sacrifice hanging out with friends weekly and postpone for a while planning for a very important event in my life in order for me to complete the course before it expires.
How did you manage your time effectively to stay on schedule with this self-paced course?
When deciding to take this self-paced course, I knew the responsibilities accorded to me. It was challenging when classes resumed. However, my goal of completing this course drives me every day to find time for my studies and finish at least one module a week.
What study habits or strategies do you think helped you succeed in the Master Certificate course?
Since I am most of the time preoccupied with several things and get distracted immediately, whenever I study, I put on my AirPods and listen to music for concentration that keeps me relaxed while reading and completing a quiz and assignment. Also, taking down notes is very important as it makes me remember the important details in the module, thus making it easy for me to answer the quiz questions.
150-Hour Bridge International Diploma in English Langauge Teaching (IDELTOnline™)
The IDELTOnline™ is our most advanced certification in teaching English to speakers of other languages. Unlike the Master Certificate, the course has a structured, 12-week schedule, and trainees form an interactive cohort rather than working independently. The group is guided through the course by a master's level instructor, such as Terry, who hosts live sessions and provides personalized feedback and assessment.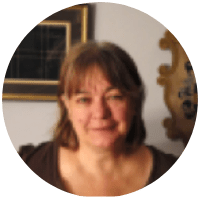 Terry McLean, IDELTOnline™ Instructor
What aspects of the IDELTOnline™ do you find students usually struggle with? How can that be avoided?
Students start out well and most continue to do well, but if something goes wrong in their lives, then the student may lose his or her learning momentum and fall behind in class. The key is to maintain open communication with the instructor in order to work out a recovery plan to get back on the learning path.
What are 3 tips for students to get the most out of the IDELTOnline™ course?
1. Ask questions.
2. Participate deeply in the discussion board – it is an incredible information exchange with teachers and future teachers.
3. Visualize how an instructional strategy or technique will work.
What advice do you have for students to manage the workload of this graduate-level course?
Students will be successful if they break the week into manageable bites of learning in order to read, respond, and write each week. Communication is key to success. Instead of wondering about a concept or an assignment, message the instructor. They want to help you feel confident and competent as you work through the course.
Do not feel you have nothing to contribute because you are not teaching yet. The wonderful part of the IDELT class is not only the international students but the range of experience of the students. A not-yet-teaching student brings inquiry and freshness to the class that can actually help those who are currently teaching reflect on their work. The experienced teacher can share their ideas on what has worked for them.
Is the IDELTOnline™ right for you? Find out.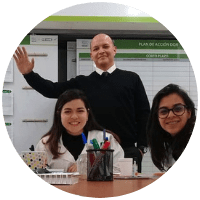 Jorge Vergara, IDELTOnline™ Graduate
How much time did you devote to the course each week, and what personal or professional obligations did you have to juggle with your IDELTOnline™ studies?
As I was taking care of my two-year-old son, it was difficult for me to maintain constant and direct attention in my studies during the day. This is why I decided to study at night for no more than three hours but sometimes it was more, of course. I must say it was hard at the beginning. Nevertheless, I felt excellent and confident after a couple of days.
How did you manage your time effectively to meet the weekly due dates in this graduate-level course?
First, I created a strategy focusing on arranging one of my rooms in my house like an office, with my books and dictionaries, and turning that into a space for study and research. When the physical factor was done, the second point was to schedule the days and the hours of study in conformity to the subjects and assignments.
I printed the syllabus of the course and put it on my wall so every day I was checking my advancement with a self-objective vision – analyzing what was under pressure to be improved and also the factors where I felt more confident to develop my project and ideas. This was a crucial factor in estimating how much time would be invested in each unit.
What do you think are the keys to succeeding in this course?
First of all, discipline – the discipline of being strict with yourself and organized, to push hard beyond fears and disbeliefs, because they are illusions. It's necessary to keep in mind the objective and the goals, as well as the respect you must have for yourself, your teacher, your classmates, and the art of learning. This is the key. If you study with love, passion, and respect, in the end, you'll succeed.