IDELTOnline vs. Master Certificate: Which Course Should I Take?
By Kevin Mermel
October 23, 2018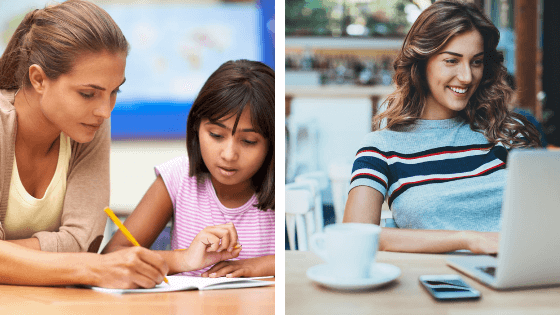 Bridge offers a wide range of online teacher-training options designed to prepare graduates to succeed as teachers of English as a foreign language. Our two most popular  TEFL/TESOL courses are our 120-hour Master Certificate, and our 150-hour International Diploma in English Language Teaching course (IDELTOnline™).  As a program advisor here at Bridge, prospective students often ask me to explain the differences between the IDELTOnline vs. Master Certificate, so they can decide which is right for them.
The courses offer two different learning experiences, each of which can be useful for the right type of student. However, my general advice is to take the 150-hour IDELTOnline if possible, as this academically rigorous, university-level credential offers the most in-depth training, and will also prepare you for the widest range of TEFL positions worldwide. For those interested in pursuing a career in teaching, it can also serve as a pathway to graduate studies in TESOL.
This infographic provides a quick comparison of these two courses, with more detailed information below.   

The 120-Hour Master Certificate is a flexible, self-study TEFL course for the independent learner.
TEFL Curriculum
This course has several components:
Students of this program complete 13 modules (60 hours) of TEFL theory, methodology, and lesson planning practice. Students take a reading comprehension quiz at the end of each module and submit written assignments, such as lesson plans, throughout these modules.
Next, trainees complete training in teaching English grammar through Grammar Advisor (40 hours), which is also a resource to which they have one year's access.
The final two components are a 10-hour Introduction to Teaching Young Learners and a 10-hour introduction to Teaching Business English. These two groups are among the most common student demographics in the TEFL field.
Pace
The course is self-paced, which means students can complete the different components at whatever speed works for them, as long as they finish within the allotted time. Trainees have three months from their date of enrollment to complete the 13 modules and the modules on Teaching Young Learners and Teaching Business English. They also have one year's access to Grammar Advisor, and can take the final exam at any time!
Interaction with Tutor
Upon enrollment, all students are assigned a tutor with experience in the TEFL classroom (and a bachelor's degree at minimum). Tutors grade the students' written assignments and provide detailed feedback and recommendations on the work. Tutors also serve as the primary point of contact for questions about the course material. However, this course does not include interaction with classmates or guidance by an instructor.
Job Placement Resources
Within the course, students have access to a wide range of job resources, including recruiters to contact, professional societies and forums, the Bridge Job Board, and lists of schools in popular TEFL regions around the globe.
Job Prospects
120 is a "magic number" in the TEFL industry, as many job postings will specifically request that applicants have completed this number of hours. As a result, graduates of this program meet the TEFL requirements for jobs anywhere that an online TEFL certificate is accepted.
University Credit Options 
The 120-hour Master Certificate is not directly affiliated with any specific colleges or universities, like the IDELTOnline. However, this course has been recommended for up to 6 undergraduate-level college credits by the prestigious American Council on Education's College Credit Recommendation Service (ACE CREDIT®). ACE CREDIT is an official body, established in 1974, that reviews non-collegiate courses and provides universities with reliable course equivalency information regarding academic credit awards. Graduates of the 120-hour Master Certificate are able to request a transcript from ACE, and the credits can then be transferred to accepting colleges and universities. For more information on Bridge's partnership with ACE, visit this page.
The university-affiliated IDELTOnline is Bridge's highest online credential and offers an interactive learning experience.
This academically rigorous, 150-hour TEFL/TESOL course is instructor-guided and interactive. It is also a university-affiliated course and may be taken for university credit by qualified trainees.
Course Curriculum and Material
This course is an online version of Bridge's classroom-based IDELT curriculum, making it the next best option for those looking for the quality and rigor of an onsite TEFL course in a convenient online format. It was originally developed by our CELTA trainers as a way of streamlining and improving the CELTA curriculum.
The IDELTOnline covers 24 diverse topics across the TEFL field.
In addition to addressing specific skills like teaching vocabulary, grammar, and phonology, the course also addresses such topics as the types of learners you are most likely to find as a TEFL teacher, the influence of culture in the classroom, and how to evaluate and adjust to students' diverse learning styles. This page shows a breakdown of all of the topics covered throughout the course.
Students complete readings from an academic textbook and journals and write weekly reading responses analyzing what they have learned on the course discussion forum. This prompts students to critically examine the material and produce their own original analyses.
The interaction with classmates and the instructor on the discussion forum also exposes students to a diverse range of perspectives and ideas about the topics covered.
At the end of the course, students produce an original research project. Meet IDELTOnline trainees and read about their projects here!
Pace
Unlike the Master Certificate, the IDELTOnline runs on a set 12-week schedule, with specific start dates, end dates, and weekly assignment due dates. Many students prefer this format because it is not self-paced, so procrastinating is not an option!
Typically, there are 1 to 2 class start dates each month. Refer to this page for an overview of upcoming course dates. Students usually devote 8 to 12 hours per week to the coursework, for the duration of their course. However, all students are free to log in and complete coursework at any time of day, as long as assignments are completed by the due dates.
Interaction with Classmates and Instructor
Students enter the IDELTOnline as part of an international cohort with about 12 classmates. Each week, students discuss insights from their weekly readings on the course discussion forum. A Bridge instructor with a master's degree in the field leads the cohort through the course material and participates in the discussion forum. This set-up allows students to move through the topics methodically, and with more of an analytical and theoretical depth than the Master Certificate.
Read student reviews of the 150-hour IDELTOnline Certificate on GoOverseas.com. 
Job Placement Assistance
In addition to the Bridge Job Board, graduates of this program are provided with lifetime, personalized career advising from Bridge, including consultation with a Bridge Job Advisor as well as a resume review.
TEFL Job Prospects
For these reasons, the  IDELTOnline is the closest approximation to an onsite TEFL course, both in terms of the depth and rigor of the material and the benefits to graduates in the job market. The university affiliation makes graduates of this program stand out from the pack in the job market, and alumni are competitive for job placements in the most competitive markets – often including countries that typically require an onsite certificate.
 University Credit Options 
There are numerous ways that qualified graduates of the IDELTOnline can pursue graduate-level university credit for their TEFL training.
Request a transcript from the American Council on Education's College Credit Recommendation Service (ACE CREDIT®), stating that the program has been recommended for up to 9 graduate credits. ACE CREDIT recommendations are considered by over 2,000 universities in the U.S.
Earn a three-graduate-credit transcript directly from the University of Northern Colorado, which can then be transferred to any accepting university.
Use the IDELTOnline as credit toward one of our global university partners' specific graduate certificate, master's degree, or doctorate programs, through the Bridge MA TESOL Pathways program.
Learn more about whether a Master's in TESOL worth it for you.