Bridge Advisor, Kevin, on Teaching in Portugal and His Tips for Job Seekers
By Camille Turner
February 13, 2020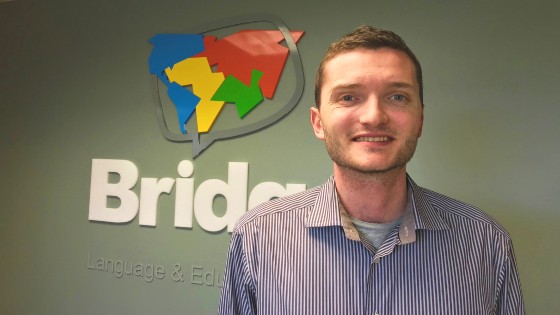 Kevin's experience teaching English in Portugal started a career in international education. He's now a Bridge Program and Job Advisor, helping prospective Bridge students choose which course to take and connecting Bridge graduates to exciting job opportunities. He shares some of his experiences teaching English abroad as well as tips for your TEFL job search.   
Kevin, can you start by telling us a bit about yourself? 
I grew up in Billings, Montana but moved to Boulder, Colorado after graduating high school. I graduated from the University of Colorado with an International Affairs degree, after which I spent some time traveling and also teaching English abroad. I now live in Denver, Colorado, where I work as an International Program Advisor at the BridgeTEFL headquarters.
Before you were a Bridge Program and Job Advisor, you taught English abroad in Portugal. Why did you choose Portugal as your teach abroad location?
I took two years of Portuguese in college, so I was looking to spend time in a country where I could practice the language. After some online research, I found an opportunity to work as an English language teaching assistant in Portugal, so I thought it was the perfect fit! I was excited not only to improve my Portuguese but also to help others learn English.
How did you find your job abroad?
My program was a bit unique in that it was not technically a job. Rather, it was a short-term volunteer opportunity funded and organized by the Portuguese government. The government manages an initiative to bring native English speaking teachers into their public school classrooms and partners with CIEE, a study abroad organization, to recruit American and Canadian citizens for these opportunities.
Can you tell us about your teaching experience in Portugal?
I was in Portugal for 10 weeks. I worked 15 scheduled hours per week in elementary school classrooms. My students were first through fourth graders, and I worked closely with the teacher in each class. As a language and culture assistant, I helped the teacher plan and carry out age-appropriate lessons in English. This meant everything from teaching English colors in art class, introducing "Duck, Duck, Goose" in PE, and even leading the fourth graders through Mariah Carey's "All I Want for Christmas Is You" at the end of the semester.
Because I was only formally scheduled for a full 15 hours each week, I also spent several additional hours per week with high school students. For these classes, I planned a PowerPoint presentation on the history and culture of the United States. Then, I allowed time for questions afterward. It was a great opportunity to help the students learn more about my country!
What kinds of things did you do when you weren't teaching?
Teaching English and working with students was a very rewarding experience, but I also made the most of my time outside of the classroom. I lived near the city of Porto, so I regularly visited it on the weekends. Porto is a lively city with no shortage of things to see or do. I also visited other Portuguese cities like Lisbon, Coimbra, Braga, and Guimarães. Portugal is a beautiful country with a rich culture and history, and I am grateful to have spent my time abroad there.
Read more about Kevin's experience teaching English abroad in Portugal.
As someone who has taught in Europe, what are your tips for people who want to teach there?
Due to strict work visa regulations in the European Union, Western Europe, in particular, can be one of the more difficult markets to find English teaching jobs, at least for non-EU citizens. So, this is why I went on a short-term volunteer basis; I was unpaid and in the country on a 90-day tourist visa. However, because the demand for English teachers is still high, there are plenty of opportunities to teach English in Europe if that's your goal.
Your best bet if you'd like to teach in Western Europe is to find a government-run program with placements in the public schools. Many countries offer such placements, including Spain and France.
For those who are interested in teaching in Central or Eastern Europe, the hiring requirements in countries like the Czech Republic, Poland, Hungary, or Ukraine tend to be more flexible, and you don't necessarily have to be an EU citizen. If you want to teach English in Hungary, the country also runs a well-known program, the Central European Teaching Program (CETP). Here at Bridge, we partner closely with the CETP to help our graduates find placements in Hungary!
Read an interview with the director at CETP and learn why she recommends teaching in smaller towns in Hungary.
Do you have any advice verifying a school's legitimacy when applying for jobs abroad?
This article has some great advice on vetting TEFL employers abroad, avoiding scams, and landing the teaching job you want. It covers things like where to find objective reviews of the school, how to get connected with teachers there, and questions you can ask the school director during your interview to help you learn more about the school.
What are some of the services you provide as a Bridge Program and Job Advisor?
Each day, I communicate with prospective students and graduates of our courses through email, phone calls, and WhatsApp and Skype chats. Many of the people who contact me are just starting out and are specifically interested in teaching English abroad or teaching English online. Others are experienced teachers who are looking to connect with TEFL jobs. Therefore, I have two main responsibilities here at Bridge.
Program Advisor
First, as a Program Advisor, I help people who want to teach English determine which TEFL course they should choose for their specific goals and interests. A good place to start out if you're new to TEFL is our teach abroad page. It has plenty of general information, FAQs, and resources about TEFL, and there's also a form to request information if you still have questions. You can also give me a call to discuss your plans. I can help guide people through the whole TEFL process, from certification to finding your first teaching job.
Job Advisor
That ties into my second responsibility at Bridge, which is helping BridgeTEFL trainees and graduates find the right job opportunities based on their personal background and goals. I encourage all of our TEFL students to start by browsing the Bridge Job Board. Once they have done so, I can offer tips to help them get their position of choice.
Would you like to ask a Job Advisor questions about teaching English abroad or online? Then join one of our TEFL info sessions with live Q&A!