Dreaming of getting TEFL certified and teaching English in Europe? Guest author, Mary Rose, taught English in Hungary, where she is now the director of the Central European Teaching Program (CETP), which places conversational English teachers throughout the country. While she works with many teachers seeking out positions in Hungary's capital city, Budapest, she reflects on her own experience as a teacher in lesser-known Kalocsa, and the many virtues of teaching in a smaller city or town, regardless of the country you choose. 

About Hungary
If you've never considered teaching English in Hungary, let me first sing the praises of this small but fascinating country. Hungary is gloriously rich in traditions, renowned for its folk and classical music, and loved for its delicious cuisine and marvelous, inexpensive wines. Hungary is the size of Indiana, yet bordered by seven other fabulous countries (Croatia, Austria, and the Romanian state of Transylvania, for starters.) Public transportation is exceptional, making it possible for teachers to travel often on weekends and on vacations during the school year.

Budapest, never more than a few hours away from smaller cities in Hungary 
Teach in Budapest or a smaller town?
When teaching applicants contact me to work at our center in Hungary, most state they want to teach in Budapest. Who can blame them? It is one of Europe's treasures and a must-see tourist destination. Situated on both banks of the Danube and home to gorgeous architecture, museums, and a glut of cultural offerings, the city sparkles by day and by night.
But I encourage teachers to also consider choosing a smaller city, town or even a village. After all, by train, Budapest is never more than a few hours away (and often much less). As a teacher in a smaller town, during the week, you will be immersed in traditional Hungarian life. Then, on weekends, voila! You can travel to Budapest, other Hungarian sites, or neighboring countries.
My experience teaching English in Kalocsa, Hungary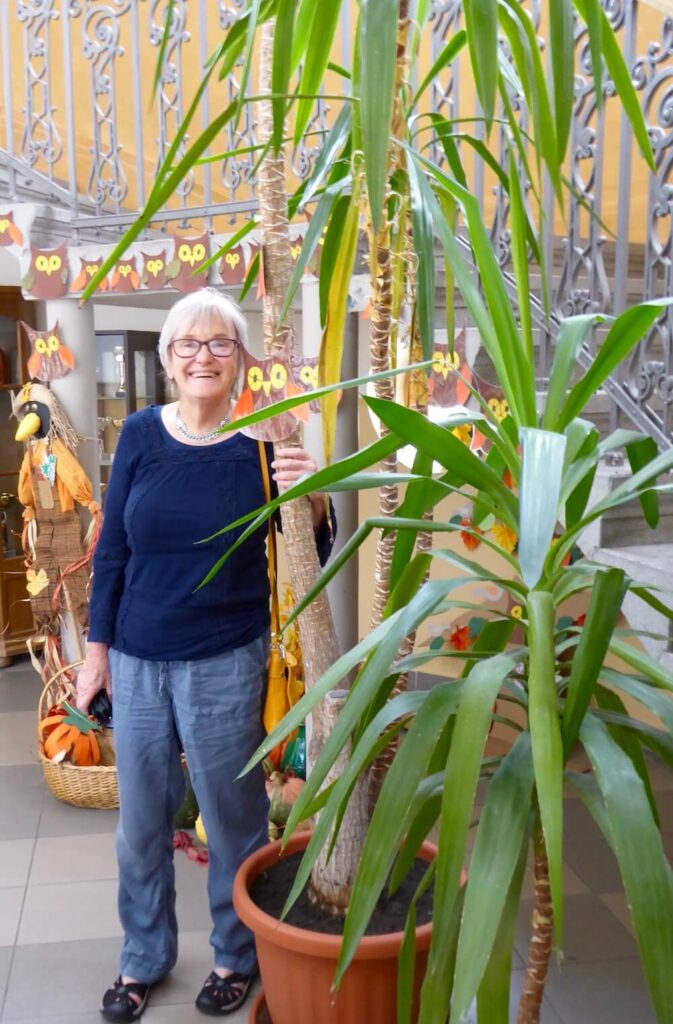 Author, Mary Rose 
I write from experience. Before I became director of CETP, I taught in Kalocsa, a small city of 18,000 and Hungary's paprika capital. During the fall months, eaves of homes are draped with drying peppers (paprika is the Hungarian word for pepper.) In September, there is a two-day paprika festival with folk dancing, Gypsy music, stalls selling traditional goods, and of course, krumpli or csirke paprikas (paprika-flavored potatoes or chicken.) Kalocsa is not unique. Nearly every town has its own special tradition to celebrate, be it lace-making, local wines, or delicious sausages.
The virtues of teaching English in a smaller place
Small places whole-heartedly embrace their native-English teachers in a way not usual in the city, where English-speakers are a dime and dozen. Over and over, people in Kalocsa told me they couldn't believe I would leave my family to fly clear across the world to teach in their elementary school. I was invited into the homes of students' families for dinners and taken by colleagues to join them on hikes and to visit nearby communities. Shortly after my arrival in Kalocsa, I was taken to the wedding reception of a complete stranger, where I folk-danced the night away.

High school in Miskolc, Hungary
My travel adventures in Hungary
I loved my life in Kalocsa, but still, I wanted to see as much of Hungary as possible during my 10-month stay. So, after my last class on Friday afternoons, I often walked to the bus station to catch the next bus for Budapest (one left every 45 minutes throughout the day). I usually met up with fellow CETP teachers, either for a weekend in the city or to train elsewhere– possibly to Eger to experience the wine caves, to beautiful Gyor in the Transdanubian hills—and a short hop to Austria, or to Szentendre, an artist colony on the Danube Bend.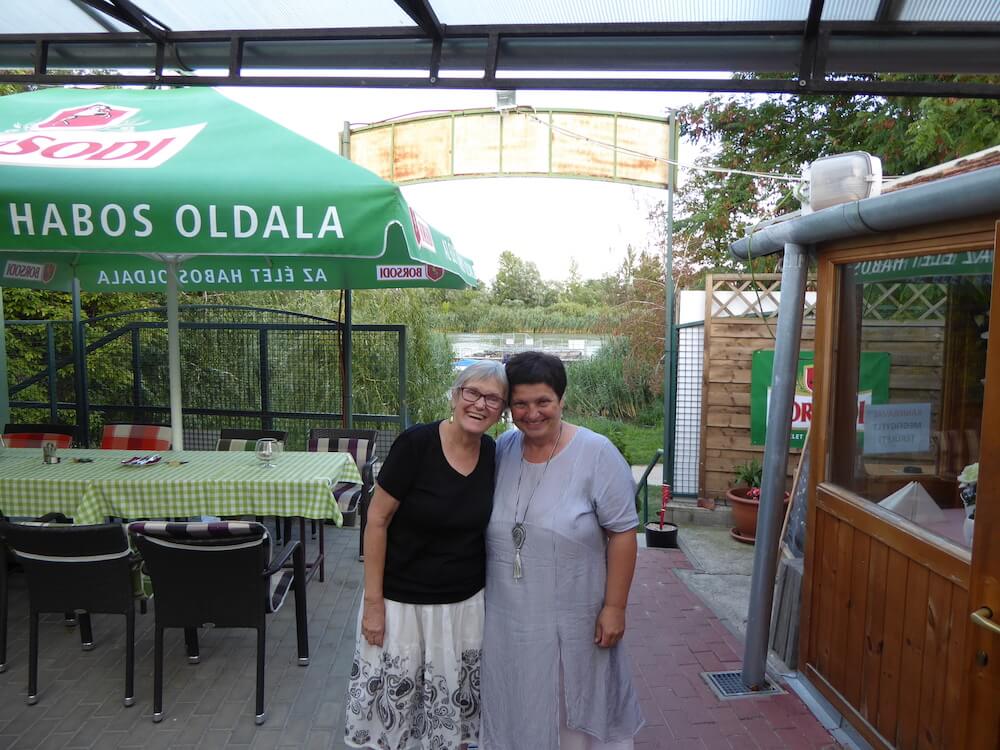 Mary Rose, CETP American director with and Hungarian director Hajni Vancsik at a restaurant on the little Danube in a small city of Szigetszentmiklos
Since Hungarian teachers get a weeklong fall break the end of October, my fellow CETP teachers and I traveled to Transylvania in Romania. Horse carts, Gypsy palaces, fields full of families haying with pitchforks…it's as if time stopped at the turn of the last century. I spent Halloween in the supposed birthplace of Dracula.
During Easter break, we went to Croatia, which I think of as Hawaii meets Italy. On the night before Easter, in Hvar, we witnessed the ancient ceremony of men in hooded robes marching around the totally darkened church square holding candles, chanting and rattling large noisemakers to scare away evil spirits.
And at the end of the school year, we traveled to Slovenia. In the midst of the Julian Alps, we rowed out to a church situated on a tiny island in the middle of a lake. We yanked on the ropes to ring the church bell, and when we succeeded, it meant our prayers would be answered.
You can see, though I lived in a small community, my experiences while an ESL teacher were large.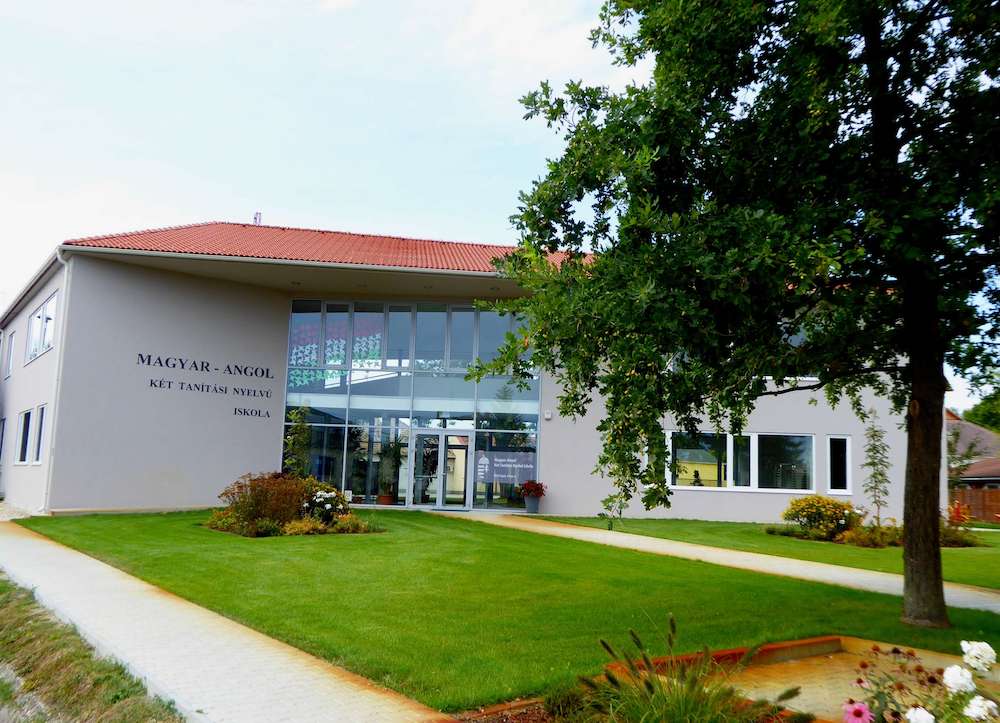 Elementary school in village of Lipot, Hungary
If you're TEFL certified, have a bachelor's degree, and are looking for a wonderful spot to call home while teaching abroad, CETP hires teachers for vacancies in both elementary and high schools. Most positions are in small places that are eagerly waiting for their new teacher.
Browse worldwide teaching positions on the BridgeTEFL Job Board to find your small-town TEFL job, or hear from another TEFL teacher in Europe: Jacob, Peace Corps Volunteer in Georgia!