If you've considered becoming certified to teach English as a foreign language, you're faced with a variety of online TEFL course options. Of course, you're looking for a program that's accredited, internationally accepted, and that fully prepares you for the classroom. But can a TEFL course also be fun and engaging? BridgeTEFL courses are all those things. With over 30 years in TEFL, we've honed our teacher-training courses to make them more interactive, dynamic, and user-friendly than ever. Peek inside and explore the features of the Bridge online TEFL course platform!
Responsive Design
 
You don't have to sit at a desk in front of your computer to complete your TEFL certification course. BridgeTEFL online courses are accessible on any device, including your tablet or smartphone, so you can get TEFL certified when and where it convenient for you.
Interactive Learning

We know it's easier to retain new information when you're actively engaged in the content being presented, so we've made our courses dynamic. The layout isn't a wall of boring text; we've put everything into manageable chunks that link to one another in a logical way. Flip through interactive exercises to check your comprehension of concepts and prepare for tests using real-time practice quizzes that will help you to gauge your understanding of the material.
Personal Tutor in Every Course

You're never working through a BridgeTEFL online course alone. No matter which course you choose, you'll be assigned a trained and experienced personal TEFL tutor. Meet some of our tutors.
Get ongoing feedback and assessment
Unlike some online TEFL courses that don't offer tutor interaction, or that simply assess your progress via multiple-choice quiz at the end of a module, Bridge courses have a real, live tutor on the other side of the LMS, providing detailed, personalized feedback on every lesson plan and assignment you submit.
This tutor feedback helps you develop as a teacher from module to module, and also gives you a record of your improvements to show what you've learned over the duration of the course. One of your favorite things will be looking back at your first assignment and seeing the difference as compared to your last assignment of the course!
Ask questions directly to your tutor via the tutor feed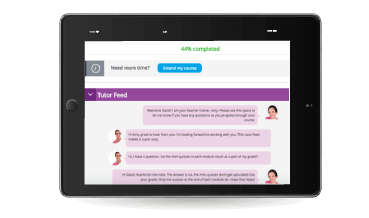 The Bridge online TEFL course platform also provides a messaging function that connects you directly with your tutor. If you have a question about something you're learning or you feel stuck, you can easily message your tutor right from your course homepage through the "tutor feed" function and receive a response within 24 hours.
Discussion Board with Other Trainees
You may be working through your course independently at your own pace, but in BridgeTEFL online courses, you'll still be connected to other trainees and your tutor through the TEFL discussion board. This virtual space is where you will post your own comments and respond to other trainees in order to share ideas and gain insights from peers.
TEFL Videos of Real Teachers  

Video from the Bridge Teaching Young Learners TEFL/TESOL Course
Just because it's an online course, doesn't mean you can't observe real EFL teachers in the classroom! Another interactive feature of the Bridge online TEFL course platform is TEFL video content throughout the training. The videos allow you to see the teaching techniques you're learning in action and to get ideas for new games and teaching strategies for your own classroom.
Internationally-Recognized TEFL Certificate and Stackable Digital Badge Upon Program Completion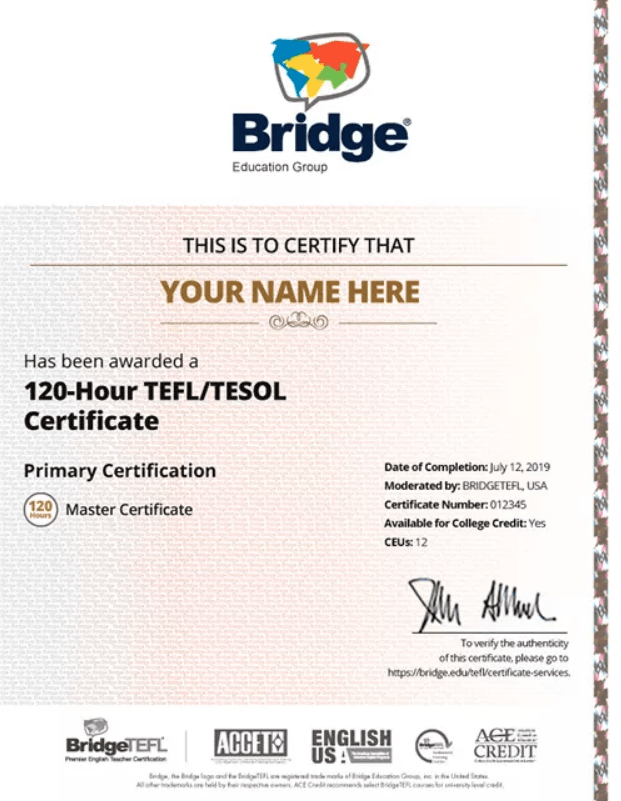 When you've finished your TEFL course, you'll receive a digital version of your internationally-recognized TEFL certificate, verifiable by employers via our online portal (you can also order a hard copy mailed to you). The certificate includes details of the programs you completed, such as the date of completion, unique, verifiable certificate number, college credits or CEUs earned, and Bridge accreditation information.

You'll also receive a  digital badge, our newest feature for graduates! Digital badges are 21st-century credentials that show the full scope of your accomplishments – beyond the certificate you earned – with just a click. Commonly used in the tech industry and higher education, Bridge now brings digital badges to TEFL!
Badges can be shared everywhere employers are looking, including LinkedIn, your resume, and your email signature, easily providing verifiable information, such as core competencies achieved, tasks completed, and program accreditation for the courses you completed.  They're also stackable – you get a new one each time you complete a new course – a great way to highlight your commitment to ongoing professional development.