Niels, from Peru, Creating a Better Workplace Through Technical English
By Krzl Light Nuñes
June 29, 2020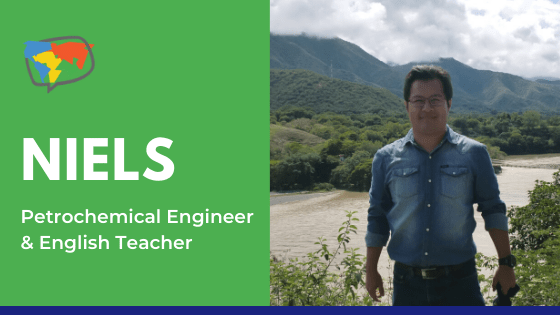 Even as a part-time teacher, Bridge graduate, Niels Mejia, from Peru, has made a difference in his company by combining his two areas of expertise: English and petroleum engineering. He details how having knowledge in a specialized technical field has helped his colleagues and benefited him as an ESL teacher.  
Can you tell us a bit about yourself, Niels?
I am from Lima, the capital of Peru, but I currently live in Piura, a small city in the north of Peru, near Ecuador. I have one formal job. I work as a petrochemical engineer here in Petroperú, a state-owned petroleum company. I also have a Master's Degree in Petroleum and Natural Gas. As a part-time job, I teach English to some colleagues and friends online. I am also an active traveler.
Which countries have you traveled to?
I have been to Latin American countries such as Ecuador, Chile, Argentina, Brazil, Bolivia, Paraguay, Mexico, and Colombia. I've also traveled to Spain and Portugal.
How did you start in the teaching field?
In January 2019, I started teaching a group of adolescents in the summer. We had classes for about four months then they went to university, so we finished the classes.
Then, I have colleagues who are always interested in English because we have operations on the dispatching or shipping of fuels to different terminals. I started supporting them and decided to give online private classes. That is my second activity nowadays.
Aside from this, I am also doing a language interchange with a woman who is from Romania but currently living in France. I met her on the Bridge Teaching English Online Group on Facebook. She asked me to help her with Spanish and I agreed.
How is the ESL market in Peru these days?
I think the market is good. Few people really speak English. However, people don't go to institutes because they don't have time. So, for online English classes, there is a good market. I also think there aren't enough teachers.
What type of English classes do you give?
I teach general English with emphasis on the petroleum industry. I teach every segment of this huge, specialized engineering field. My colleagues asked me to teach them both general and technical English, and they are very pleased with my teaching.
What is the advantage of being able to teach technical English?
I understand everything from my field. This is important because in this world of petroleum, you have to know the terminology – all the words that we use specifically in this field such as "upstream," "midstream," and "downstream."
It's important for my teaching as well because my colleagues are interested in different kinds of vocabulary. It's a kind of surprise when a professional knows his career and English at the same time, so it's a plus for me.
How important is English in your workplace?
Some of my friends have to interact with the staff from the ships that come from other countries, and they need to communicate in English. So, they told me, "Niels, I need English because I couldn't speak with the captain or with the crew."
It's also important for training. For instance, we are now modernizing our refinery. We are building a refinery from scratch here and we have people from various countries like Spain, Brazil, Venezuela, and the U.S. working with us, so each new technology that is going to be applied here has to be studied by our engineers. So, it's the same issue in English: if my colleagues don't understand the units, the processes, and all the equipment that we use here, they could even operate it wrong. If we don't operate them correctly, it could lead to explosions, fires, or a shutdown of the refinery, and this will cost a lot of money.
What materials do you use for teaching technical English for the petroleum industry?
I use the digital and print publications from Hydrocarbon Processing, World Oil and Pipeline & Gas Journal, as well as papers from the Society of Petroleum Engineers (SPE) and books of my profession.
What's your work schedule like?
I work from 7 a.m. to 5 p.m. for my main activity as an engineer. I try to set classes from 6 p.m. onward because that is the time when I don't have responsibilities anymore in my full-time job, although my boss could call me for something urgent. But in theory, I am off. I also try to schedule only two hours of English classes a day from Monday to Friday.
Nowadays, we are in lockdown and I can teach English during the day as well because I am working from home. But once I get back to the office, I suppose I will only have time to teach at night and on weekends.
What do you like about teaching English online?
I like that all the class material is easily accessible on my laptop and I don't have problems with forgetting my books or the materials to go to my students' houses. I have all the information on the Cloud. I have uploaded the books that I need to teach, so I just sign in and I have everything there.
How is the COVID-19 situation in your country these days?
It's really bad. We're in quarantine now, but it's an underdeveloped country, so poor people or those who work on a daily basis to make a living can't stay indoors because they'll remain poor. So, they go out and get infected, therefore increasing the number of cases. However, I suppose there has to be a point where everything gets better.
How has this crisis affected you as an English teacher?
I don't have the chance to go to my students' houses and teach them in-person which, in my opinion, is better because you have real interaction.
I decided to get TEFL-certified because maybe some of my students will require a certification from my part. Once I finish this course, I will take another certification with Bridge.
How has this course helped you professionally?
I learned methodologies, procedures, and techniques to understand learners. I can also improve myself according to these methodologies in order to teach better and for the learners to understand a bit faster, which are my objectives as an English teacher.
What are your plans in the next weeks or months as the world deals with the crisis?
If the lockdown ends, I think I will continue working in the same way as I am working now. I will mainly teach English on weekends but dedicate myself to my career during the week.
Now, I am going to Lima because my company has allowed me to travel. I have also finished my thesis, so I am going to present it. Once I finish, I think I will look for more studies for my career – maybe a doctorate – and continue specializing in English by signing up for courses with Bridge to get certifications for my goals, as I want to become a better English teacher.
What is your advice to someone who wants to teach technical English?
First, specialize in something, maybe a technical career or, even better, a profession, then you'll know the type of English class you could teach.
Also, be involved in the industry in which you want to work, and then teach it in English.
Experience is very important. In my humble opinion, learning English matters a lot but specializing in any specific subject demands time, monetary investment, and effort. This is important, whether it's for medicine, arts, music, cinema, petroleum, architecture, or any other subject.
Teaching English to a specific market is a great way to stand out from the crowd! Learn how you can choose yours in this guide for finding your niche for teaching English online.