Bridge Grad, Patti, on Teaching in Indonesia and Beyond
By Krzl Light Nuñes
February 21, 2020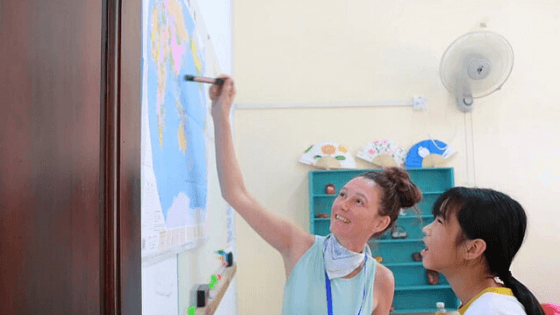 Canadian teacher, Patti Smith, is a BridgeTEFL grad whose holiday escapade landed her in adventure-packed teaching jobs in Indonesia and China, where she taught for two years before flying back to her home country to finish her Political Science university degree. In this interview, she shares her unique experiences teaching English in these countries and how she made the most out of her time abroad.
You first taught English in China, then in Indonesia. What made you want to teach in those countries?
The locations sort of chose me. I stumbled into my teaching job in China through word-of-mouth while I was studying Tai Chi there. Then I took a break from teaching there and went on holiday in Indonesia, where I decided to volunteer with a conservation organization on this little Island called, Nusa Penida, off the coast of Bali. They provided English classes for local schools and community groups in exchange for community help with conservation efforts. However, none of the staff were educators. I knew I wanted to spend some time there and be useful, so I started teaching and helping them develop a curriculum and manual for their staff and volunteer teachers. To be honest, I don't often make plans. I tend to follow where I am led, and opportunity comes from that.
Had you ever worked as a teacher before?
I have always been an educator of sorts. I've taught stop-motion animation in First Nation (Native American) schools and communities, worked onboard a cruise ship as an instructor for Microsoft giving Windows classes to guests, and most recently, taught English in China and Indonesia. I guess you could say I've always been a 'teacher', just not in the conventional sense.
It was recommended to me by a fellow Canadian teaching in China. He highly recommended it and when I checked out the BridgeTEFL Online Certificate and its reviews, I was convinced. It has been an invaluable boost to my teaching skills and experience. 
Can you tell us about your teaching jobs in Asia?
My previous ESL teaching jobs in China and Indonesia have been less 'conventional'. For example, I was doing ESL activity camps in China – basically, students spend a week at the school taking English classes part-time while we spend the days going rock climbing, caving, hiking, and hosting BBQs. My job was to give a couple of ESL classes during the week and then spend the rest of my time helping students with their English in these more casual environments.
In Indonesia, our conservation organization went into local elementary schools once a week for English lessons. We also went to the local hospital and local hotels to give adult ESL industry-specific classes throughout the week. Most of my experience teaching is definitely in less formal settings.
What is a memorable experience you had while teaching abroad?
Oh my, I can't think of just one, but I would have to say one of the most consistent memories is always the smile on the students' faces and their confidence as they improve their English. To be honest, as a teacher, the best memories are seeing your students, whether kids or adults, get that sparkle in their eye when they are engaged and excited about learning. That's the best experience!
Also, I have to say being immersed in the culture of whatever community or country you are teaching in. From traditional Balinese ceremonies to Ancient Chinese writing techniques, there are so many opportunities to engage in locally. Truly, as an ESL teacher abroad, you will be learning just as much as you're teaching if you're lucky.
Do you have any recommendations for someone who wants to teach abroad?
My recommendation, no matter where you want to teach, is to research the school, read reviews, and be sure it is a place you are curious about. Living abroad has many challenges. As much as making a good income can be important, be sure that the location also suits you. For example, I do not like big cities, so I am willing to take less pay if it means I can live in an environment that suits me more outside the classroom.   
Do you intend to return to teaching English after you complete your university degree?
Yes, I would like to return to teaching English after I finish my degree. One of my motivations for returning to finish my degree was to have access to more ESL teaching opportunities. 
Want to read about more Bridge graduates and their teaching adventures abroad? Meet Russell in Africa and Lejla in Egypt.