Filipina Educator, Piya, on Her Journey From Teacher to School Principal in Africa
By Krzl Light Nuñes
September 28, 2020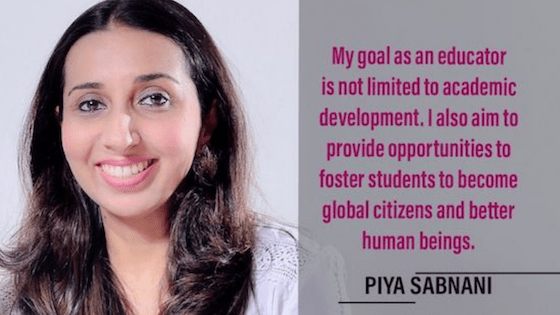 When the TEFL career path of Bridge grad, Piya Sabnani, from the Philippines, steered her toward a principal position at a private school in the Democratic Republic of Congo, she saw a greater opportunity to make a difference in students' and teachers' lives. She filled us in on her journey from starting out as an ESL teacher in China to becoming an academic leader in this Central African country.
Can you tell us a bit about yourself, Piya?
I was born and brought up in the Philippines, but I am an Indian by origin. I have a Bachelor of Science degree in Commerce, major in Marketing Management. I moved to Guangzhou, China after marriage, which was around the year 2005.
Why did you decide to get into teaching?
I sought a career in teaching when I moved to China due to the vast opportunities available in this field. I did some self-study and took up a TEFL/TESOL course to pursue my profession. I was an ESL/EFL teacher for around three years in Guangzhou, China. I taught English to native students ranging from 18 to 40 years old with an average of 25 students per class. I also conducted a few sessions (lecture) with around 150-200 participants per time.
Then, my family and I moved to Kinshasa, Democratic Republic of Congo and I continued my career in the same field. I started working as a kindergarten teacher and Head of Preschool for Institut Aurora institution for three years. There were four classes under my supervision (including mine). At the same time, I conducted private tutoring classes for English/Language Arts after school hours to students ranging from six to 12 years old. I was later promoted as the principal of the same institution and I have recently completed four years of service as a principal.
How did you choose to teach in the Democratic Republic of Congo? How long have you been teaching there?
After I moved from China, I was determined to continue my career in teaching wherever destiny took me. Aside from developing the skills that are required for teaching, I immensely developed a passion for it. So, when my family and I migrated to the Democratic Republic of Congo (D.R.C.) due to business purposes, I was happy to discover the opportunities available for an English teacher in the country. I have been teaching in D.R.C. for almost eight years now.
Piya teaches in Kinshasa, the capital city of the Democratic Republic of Africa (D.R.C.)
What were the things you had to adjust to when you relocated to D.R.C.?
There were many challenges moving to D.R.C. One of the things that I had to learn and adjust to was the language. The country's official language is French, along with the local language, Lingala. In order to overcome the communication barriers, I learned French, as it was the language mostly used socially and in education. I am not quite fluent as of yet in the language, but I can proudly say that I am able to complete my tasks and manage to communicate with native speakers.
Another major adjustment whenever one relocates to another country is adapting to the new culture. Some of the cultural differences I experienced were greeting customs, living situations, food, and limited resources of commodities and recreations.
What is Kinshasa, the city where you live, like?
Kinshasa is the capital and largest city in the Democratic Republic of Congo. Frankly, it is underdeveloped, for being the capital city of a nation. The land is rich – in minerals, in resources, in beauty. Agriculture, mining, and tourism, if supported by government initiatives and proper infrastructure for their distribution and movement, could do wonders for the nation and its people.
How is the ESL market and demand for English teachers in D.R.C.?
There are many opportunities and there is strong demand for English teachers in D.R.C. The majority of the native speakers cannot communicate in English or have minimal exposure to the language. As a result, many professionals and students seek to learn English for further studies abroad, job opportunities overseas, and/or for building a professional market image, especially when dealing with foreign clientele.
More importantly, there is a massive demand for proficient English teachers in schools. More and more native parents are enrolling their children in schools with English curriculum, thus the requirement for English teachers has increased immensely.
Where are the other English teachers you work with from?
The English teachers I work with are from Kinshasa, Zambia, South Africa, and India.
How would you describe working as a teacher in D.R.C.?
A calm demeanor and positive attitude are obligatory to work as an expatriate in D.R.C. At the same time, the sense of accomplishment one gets when one can observe easily the positive change one has created to students is very satisfying. Since the demand for good and qualified teachers – for language or otherwise – is high, the remuneration offered reflects this demand.
How did you land your teaching job at Institut Aurora? What was the hiring process like?
When I moved to D.R.C., Institut Aurora institution was expanding (from French curriculum) into establishing its English curriculum. A couple of months after I arrived, the school was ready to hire its English staff. I happened to be at the right place at the right time – and the nexus has been beneficial to all.
I had to submit my curriculum vitae, pass an interview, do a demonstration, and then clear the obligatory probation period of three months.
What are some of your duties and responsibilities as a principal at this institution?
As a principal, my main responsibility is to provide a systematic direction and management in the school environment.
My duties include:
Structuring policies and disciplinary measures
Integrating, monitoring, and assessing curricula
Collecting school fees
Organizing school activities/events
Hiring staff
Administration of school facilities and day-to-day operations
Most importantly, facilitating students and staff to develop and meet learning objectives.
What are the best things about being a school principal?
The best thing about being a principal is having the opportunity to make a difference not only in the lives of the students but also in the lives of the teachers. I have always believed a good leader is someone who inspires others and brings out the best of their abilities. A successful leader should set an example and create more leaders. And as a principal, it gave me a sense of accomplishment to witness the people I work with grow in many beautiful ways.
Being a principal allows you to spread your vision and help build lifelong learners. My goal as an educator was never limited to providing academic development, but also includes providing opportunities to foster students to become global citizens and better human beings.
On the other hand, what are the challenges involved in this role?
The challenges I've faced being a principal were mainly based on cultural differences. There is a lack of parental involvement and reinforcement towards improving student academic development, respect towards school policies, and etiquette in communication. Recruiting competent teachers is also one of the core challenges I have faced as a principal. Lastly, due to limited facilities and infrastructure in the country, it was a challenge to provide students the exposure to enrich, explore, and apply their learning.
How has the COVID-19 crisis affected your school? How have you adapted to it?
The government declared the closure of schools when the cases started developing in D.R.C. towards the end of March. There was a lot of uncertainty and fear amongst students and parents during the peak of the pandemic. In April, the institution decided to continue schooling until the end of the term through remote learning.
You took the 120-Hour Master Certificate course. When and why did you decide to take this particular course?
I enrolled for the course around July 2020. The main reason I took this particular course was to learn new methodologies and techniques to improve the effectiveness and efficiency of my teaching.
How has this course helped you professionally?

I have just recently completed the course. However, I have started to apply a couple of techniques to my private tutoring classes.
What are your plans for the next weeks or months as the world deals with the global pandemic?
Before the pandemic hit, my family and I had actually made plans to migrate to another country for personal reasons. Once the travel bans lift, we shall continue with our plans.