5-Point Checklist For Planning Online ESL Games for Teens
By Betsy Ramser Jaime
February 5, 2021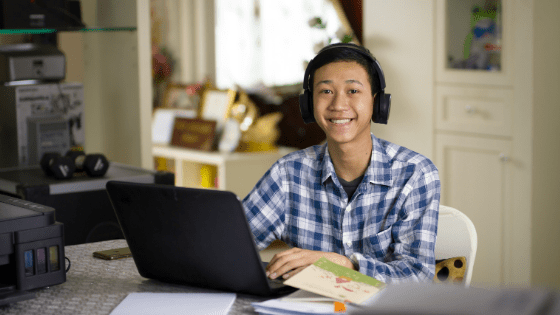 If you teach English online to teens, you know they're not always easy to please, and their attention can be short – in part because they're probably taking their lessons on top of an already busy school schedule and demanding social life. Therefore, online ESL games for teens are one of the best ways to keep these young students engaged and excited to learn. Consider this 5-point checklist when planning your games, and remember that if you need more activity ideas, you can enroll in the Bridge Micro-credential Course in Games and Activities for the Online Classroom for Teenagers.
If you're new to teaching, you'll want to get initial training and qualification with a TEFL certificate. You can explore our online TEFL courses to get started!
#1: Is the online game aligning with the students' big-picture goals?
First, you want to think about why your students are learning English in order to choose which online ESL games for teens are the best fit. While some teens might solely be learning English to appease their parents or as a school requirement, others might be motivated to pass an English proficiency test, like the TOEFL, for university study, or perhaps they want to improve their conversation skills for their dream trip to the U.K. in the future.
For example, a Jeopardy-style ESL game designed to review TOEFL practice questions will be most engaging to a student looking to ace this exam in order to enter an English-speaking university.
Watch a video demonstration from the Bridge Micro-credential course, Online Games and Activities for the Online Classroom, on how to use Google Slides to create this Jeopardy game:
#2: Does the ESL game also focus on their short-term language learning goals?
Once you know each student's big picture reason for learning English, you can work to help them move from where they currently are to where they hope to end up through short-term goals. For example, the student may need to:
Learn a set of new vocabulary
Brush-up on words previously learned
Practice using a new grammar concept, such as past tense
Prepare for an upcoming event at school
Improve listening skills
One of the keys to success when you're using ESL games for teaching online is to be adaptable and use games to meet the student's language-learning goals. For instance, you might start with one game to introduce new vocabulary, and then a different game, later on, to practice what you previously taught if you notice that students are still struggling with the concept.
For example, you might use a song activity, such as a "Fill-in-the-Lyrics," to work on a students' short-term goal of improving her listening comprehension. Just print out the lyrics to your song of choice, and create blanks in place of key words or phrases. Then have the student listen to it a couple of times while reading/singing along and trying to complete the lyrics. Get more ideas for ESL song activities.
When the student finishes playing an effective online game to reach short-term goals, he or she should feel confident that a new concept has been practiced and, hopefully, mastered.
#3: Does the game take into account the students' language level and experience?
Next on the checklist for an online ESL game for teens is to take into account any knowledge gaps that you may have discovered. For example, some students have excellent writing skills but falter when speaking, while others can converse easily in general conversation but struggle to write or spell in English.
A good tactic when choosing or creating online ESL games for teens is to use games that are adaptable, making the vocabulary simpler or more complicated based on how the students are performing during class.
Prepare for the possibility that students might immediately grasp the concept you're teaching or that they might struggle with it. Whether you need to shift to a more difficult topic or continue with the same material in a second class, using games that are adaptable will make things easier.
Also, since teens are in between kids and adults, you can implement some of the same techniques or ideas for teaching English to adults or kids.
For example, a game like "Sentence Maker" in which you give students a list of words and they have to make a correct and logical sentence with them, can quickly be adapted to various grammar points or language levels – even mid-game!
#4: Does the online game utilize their personal preferences and interests?
When teaching English online to teenagers, you'll want to tailor the lesson to accommodate different personalities and preferences. As you discover what motivates your students, and the kinds of activities they enjoy, you can use this information to plan online ESL games that will keep them engaged.
What do they like to do outside of school?
What kind of music do they like?
Are they shy and reserved or more outgoing?
Do they enjoy competitive games or working alone?
For example, if your students are outgoing, play an online ESL activity like "The Bragging Game" (find it here) to practice speaking and using comparative and superlative adjective forms. You start by saying a simple sentence, such as, "I live in a house," then, your student has to "brag," by saying something more exaggerated than your sentence but still within the same topic, such as, "Really? I live in a bigger house, with a pool." Continue this bragging game by going back and forth trying to top each other's claims.
#5: Does the student have the right resources to play the online ESL game you're planning?
Understanding each student's environment will require some patience and empathy from you as the teacher.
To begin, consider where students take their lessons. If they're in school or in a shared space, there might be background noise or other distractions.
It's also essential to keep in mind that your students have busy lives. If they come to your lesson feeling tired or lacking energy, encourage them but also be patient and understanding.
Another factor is equipment. If a student is using a smartphone, an old computer, or has a poor Wi-Fi connection, these will all impact the class experience.
Additional tips for planning online ESL games for teens
Follow a schedule
Creating a schedule will provide some consistency for your classes and will help teens know what to expect from each lesson. This could be as simple as always starting class with a warm-up activity, then reviewing vocabulary, and finally using a game to practice or review.
Incorporate feedback
After completing a game, it can be helpful to get feedback from students. You can ask questions such as, "How could this game be improved for next time?" or "What did you learn from this activity?" When you incorporate student feedback into your online ESL games for teens, they'll feel more ownership over their learning experience.
End on a high note
Regardless of what age your students are, when you're creating online ESL games for teens, you always want to end the class on a positive note. This could be ending with a fun activity, giving encouraging feedback, or anything else that will leave students smiling and excited to come back for the next lesson.
Using virtual ESL games for teens can be the best of both worlds, allowing teens to have a strong academic experience while also enjoying the learning process. By using the steps and tips above, you can tie in goals, levels, experience, resources, and interests to create lessons tailored to each group of students.