A Guide to Teaching TOEFL Test Prep: What It Entails and How to Get Started
By Rashmi Chugani
April 19, 2022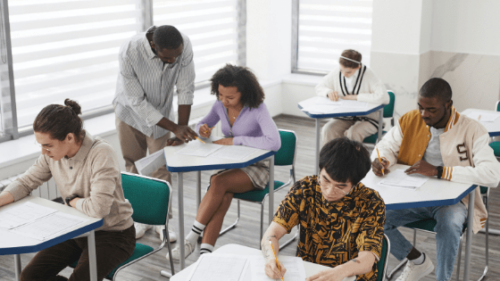 The Test of English as a Foreign Language (TOEFL) is a standardized test used for admissions and placements around the world. Teaching TOEFL test prep is a great niche for English teachers to dive into, as there's a high demand for teachers to help students ace this popular exam. Let's take a closer look at what the exam entails, who takes it, and how you can start teaching TOEFL exam prep.
Master the ins and outs of the TOEFL and learn strategies for helping students score well by taking the Bridge Micro-credential course in Teaching TOEFL Test Prep.
What is teaching TOEFL test prep and what does the exam cover?
TOEFL teacher jobs exist all over the world and online. You can teach TOEFL test prep as a freelancer or work at a language center or university.
The TOEFL is an American test that includes four sections. Teaching prep for this exam means diving deep into each of the following skills:
Speaking
In this section, you are asked to record answers lasting 45-60 seconds to different questions based on short descriptions/conversations. This section of the test lasts around 20 minutes.
Reading
On the TOEFL, there are three to five reading selections of around 20 minutes each, and all questions that follow are multiple-choice.
Listening
For this section, test-takers will have 40-60 minutes' worth of listening selections from lectures or campus conversations. They're supposed to take notes and then respond to multiple-choice questions.
Writing
Two writing tasks are required on the TOEFL. The first involves writing a five-paragraph essay of 300 to 350 words. Note-taking is also important, as the second task asks you to take notes from a reading selection in a textbook and then a lecture on the same topic. You are then supposed to address questions by using your notes to write a 150-225-word response, integrating both the reading and listening selection.
Get tips for teaching English for test preparation.
The test can be taken on paper, on the computer, and online. The first two are to be taken in person while the online one is location-independent.
Find out more about testing in a hybrid world by watching the recent BridgeUniverse Expert Series webinar on the topic. The following clip comes from the webinar and features Srikant Gopal, Executive Director of the TOEFL program at ETS, sharing his thoughts on the subject:
Who takes the TOEFL?
When you're teaching TOEFL test prep, you'll see that there are different kinds of students who want to take the exam for a variety of reasons. Some students may be in high school, while there are also adults looking to take this exam. Here are a few examples of student types you may encounter:
One of the most common types of students you'll see is teens wanting to participate in an exchange program in an English-speaking country. Often, schools will require prospective students to take the TOEFL to guarantee they will be able to cope with the coursework.
There are also cases where your student will need to take the exam in order to gain college entrance. In the US, it is especially common to require a certain TOEFL score in order to be considered for admission.
There is also the case of aspiring immigrants who need to take the TOEFL to get the visa they desire. These students tend to be older.
Why should I teach TOEFL exam prep?
There are many reasons to consider investing in TOEFL teacher training. Here are a few of the benefits of getting into this TEFL/TESOL niche.
Not sure what area of ELT you should specialize in? Get tips for finding your TEFL/TESOL niche.
It's in high demand.
TOEFL exam prep is in high demand given the large number of people looking to take English courses or go to university abroad.
You can teach from anywhere.
Now more than ever, it is very easy to teach TOEFL exam prep online. Ever since the COVID-19 pandemic turned the world upside down, a hybrid way of teaching and learning has become the new normal.
Find out more about English testing at home.
It pays well.
One of the key advantages of TOEFL teacher jobs is that they pay well. Students have a clear goal and want to invest in getting enough preparation to succeed on the exam. Teachers who specialize in this area can expect to earn more, on average, than general English teachers.
It's rewarding.
Teaching is rewarding as it is, and teaching TOEFL test prep is one of the most satisfying niches in ELT. Given that there is a specific target goal (scoring well on the TOEFL exam), it's easy to plan for lessons and orient students so they can achieve their desired grades. Seeing them succeed is one of the best parts of teaching TOEFL test prep.
How can I get started teaching TOEFL test prep?
Step 1: Get qualified.
If you're wondering how to teach TOEFL, then the first step you should take is getting TEFL/TESOL certified. If you're not already certified, then you'll first need general TEFL certification of at least 120 hours. Taking a course like the Master Certificate will qualify you for jobs and help you master the basics of ELT, such as lesson planning and using effective teaching methods.
Once you have general TEFL/TESOL training, consider taking the Micro-credential course in Teaching TOEFL Test Prep, which will provide in-depth training on the exam and give you strategies to help students score high on the test. Having this credential will also help you stand out to students and employers and can even potentially raise your earning potential.
Step 2: Familiarize yourself with the test.
As mentioned above, the test has four different sections (reading, writing, speaking, and listening) that you need to be familiar with in order to gather the appropriate TOEFL teaching material. Make sure you know each section's content and duration in order to adequately prepare students.
Keep in mind that there are also different versions of the TOEFL that you'll need to know. You can adapt your lesson plans depending on which test your student is taking. Here's a breakdown of the test versions, which are covered in the Bridge Micro-credential course in Teaching TOEFL Test Prep:
Step 3: Apply to jobs or search for students.
If you want to work with a company or for a language institute, you can look for open positions on the Bridge Job Board or LinkedIn. If you'd rather freelance, there are many ways to find students looking for individual or group TOEFL lessons. You can use school boards, social media, or an online ESL marketplace in order to attract students who are already looking for a teacher.
As you can see, teaching TOEFL test prep is quite straightforward, but you have to be willing to put in the work! Make sure you have the correct TEFL/TESOL certification, and get to know the test so that you understand who your target students are and what exactly they're looking for as they prepare for this popular exam.
Take the Bridge Micro-credential course in Teaching TOEFL Test Prep for in-depth training on the different versions of the TOEFL exam and teaching strategies to help students ace this important test.