ESL songs are a fantastic and fun way to help students of all ages learn English. Young learners and teens, in particular, enjoy learning with ESL games and activities, and music can engage your students and even "trick" them into practicing new language points! Brendan, a middle school teacher in China, shares his favorite ways to use music in the TEFL classroom.
Music is important in language teaching because our brains naturally process information and new language more easily if it's presented in a given rhythm. As a result, ESL music activities can and should be used in your classroom whenever possible.
Why is music important in language teaching?
When applied effectively, the rhythm of ESL music and songs can be a highly engaging teaching strategy. Songs also grab your students' attention and can even help you develop classroom routines.
Rhythm aids language learning.
Students of all ages are naturally inclined to learn certain information more efficiently if delivered in rhythm. For example, think back to your own time as a young student. Stories, nursery rhymes, and even the alphabet were likely presented in a musical rhythm. Imagine the difficulty in mastering the alphabet with the letters scrambled in random order. Even as adults, we are much more likely to learn the words to a song than we are to learn the words of a speech that we hear a few times. Why? Due to music and rhythm.
Music grabs attention.
Furthermore, few things get ESL students' attention quite like a catchy song. You will inevitably have students that struggle to focus their attention during your lessons. And, sometimes, students will have a more difficult time grasping certain language points that you present. You can help your students by using ESL songs and music to present language points in a more accessible way. Plus, those students who hadn't been focusing? You'll have their attention now.
If you're new to teaching, you'll want to get initial training and qualification with a TEFL certificate. You can explore our online TEFL courses to get started!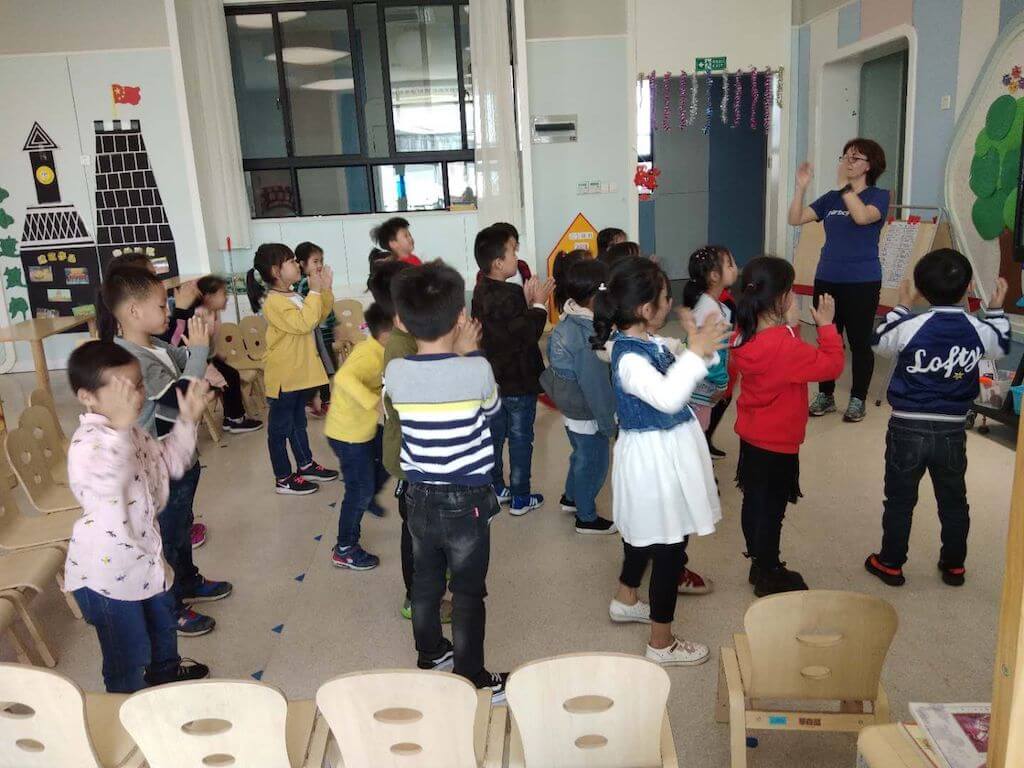 How can music be used in the ESL classroom?
Music as a lesson activity
Music aids language learning, so, it's a good idea to use songs in your lessons to present different language points or vocabulary. One of my personal favorite ESL activities and songs is using the well-known "Macarena" (you'll find the link in the song suggestions below) to supplement my teaching the twelve months of the year to my fourth- and fifth-grade ESL classes in China. It is a fun way to have your students practice the pronunciation of the months, as well as their order.
Tips for implementing music in your lessons:
Music can and should be used in the ESL classroom as a relevant means of supporting your instruction – the keyword being "relevant." Things to consider when choosing what song to use during your lesson are:
How does this relate to the lesson?
Will it enhance my students' learning?
Is the song/music accessible (in other words, will the students understand the language)?
As an added bonus, you're sure to increase student attentiveness during a fun activity like this. As such, try to use it roughly in the middle of your lesson, a time when many students typically begin to disengage.
Learn more about teaching ESL vocabulary.
Music to develop classroom management and routines
Another great use of ESL song activities in your classroom is to indicate when you transition to different parts of the class routine. For example, some of my students have a difficult time preparing themselves for the beginning of class, as they may be out of their seats, chatting, or otherwise distracted. For these classes, I play a routine song that the students recognize as a call to return to their seats and focus on the upcoming lesson.
Tips for implementing music in your routines:
Find songs that the students can easily learn the words to. Use songs that are relevant to the task.
In other words, if it is a morning class, use a song with phrases like "Good morning" and "Welcome to class."
The students can sing aloud with the song while it plays, and you'll be sure to have a very effective beginning to your class.
Learn more about ESL classroom management and routines for young learners.
Music as a reward
The fact is, most ESL students love to sing songs. So, reward a well-behaved class with a fun song during the last three to five minutes of the lesson. They'll be happy, they'll remember the benefits of good behavior, and – without realizing it – they'll be practicing their English!
Tips for implementing music as a reward:
Optimize this approach by occasionally promising them "song time" if they behave well throughout the class.
In this case, you can use any song (regardless of relevancy) that the students really enjoy singing and have fun with.
Bridge's Specialized Certification course in Teaching English to Young Learners and Teens has plenty of other specific techniques for using music in the classroom.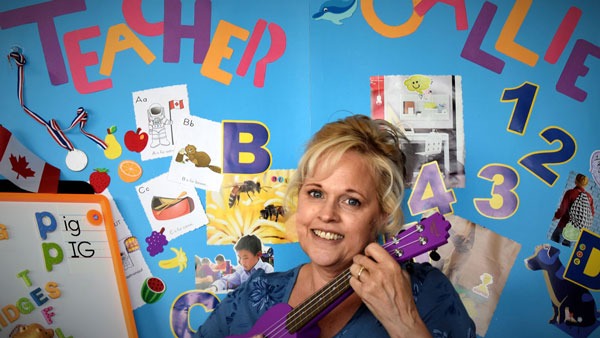 How can I teach English songs? What are some different ESL activities that can be used with songs?
From basic pronunciation practice to more advanced grammar recognition points and analysis, below are some engaging ideas that will grab your students' attention and help them develop their English skills. The activities are labeled as appropriate for teaching young learners or teens, and you can always adapt activities to fit the needs of your students – even adults!
Find out how to get a job teaching English to adults.
Sing-along (kids, teens, or adults)
This activity is exactly what it sounds like, though there are some useful points to keep in mind.
Print out or send a PDF of the lyrics to the song for students, and listen to the song a couple of times while students read and sing along.
Students can simply sing along to the song, but depending on their age and skill, you might have a lyric video (a video that plays the song while simultaneously displaying the words for students to read).
For older learners, relying only on listening, instead of providing the lyrics, is a good way of challenging them.
After the listening, encourage your students to discuss the song and share what language they were comfortable with and where they struggled.
Fill in the lyrics (kids, teens, or adults)
This activity is a surefire way to put your ESL students' vocabulary skills to the test.
Provide the students with a paper that has most of a song's lyrics but with some blank spaces for certain words. Aim for around six blanks, give or take, as you want to provide an appropriate amount of vocabulary.
Students listen to the song and try to fill in the missing words.
For lower-level students, consider including a word bank (possible answers to choose from) on the page.
More advanced students without a word bank may attempt to fill in the blanks before even hearing the song, which will test their ability to read and utilize context clues, amongst other important language points.
Check out other ESL vocabulary games for teaching in person or online!
Draw the song (kids)
Finding different ways to have your students demonstrate their understanding is an important aspect of any classroom, though it can be challenging in ESL classes. Many young students will be able to best demonstrate their learning by way of illustrating it. Drawing the song is a nice break from the usual routine, and you will get plenty of new art that can be hung around the classroom.
Practice listening to and singing a given song a few times.
Then, give students the creative liberty to draw their understanding or interpretation of the song.
You can have students present their interpretations to the class.
Read-along (teens or adults)
A read-along activity using an ESL song follows a nearly identical process to that of the aforementioned sing-along activity, with a more advanced ending. However, it serves to advance the learners' comprehension. Approach the song as if it were a story.
Give students a copy of the lyrics, and listen to the song a couple of times while students read and sing along.
Have a class-wide, "story-time" discussion regarding the students' understanding of the story in the song and gather their responses.
Ask questions, such as: "Did you like the song/story? Why or why not?" "What was your favorite part?" "What do you think it was about?" "Can you think of a similar song or story?"
Find out what Bloom's taxonomy is and how you can use this method in the ESL classroom.
Rewrite the song (teens or adults)
Older ESL students, regardless of their English experience, will need a greater challenge in order to test their language skills.
The first step in the process will require the students to have an initial understanding of the original song that you use.
Then, students will need to rewrite the song entirely.
Many students will simply opt to trade keywords for well-known synonyms, while advanced students may write a nearly brand-new song with the same theme or message as the original.
Be sure to have the students share their work with the rest of the class!
Try out these additional fun games and activities for teaching ESL to kids and teens.
Good Songs for Teaching English to Kids
ESL songs for beginners
"Montherena": Set to the tune of "Macarena," this song is good to use as a sing-along activity when teaching students about the months. Plus, teach them the dance as they sing for added excitement!
"Days of the Week Song" by The Singing Walrus: Similar to "Montherena," this song is useful as a sing-along to help young ESL learners practice the days of the week.
ESL songs for intermediate students
"Good Morning Song for Kids" by The Singing Walrus: My ESL students love singing this song as a staple of our morning routine. It does a great job of getting them excited to learn!
"I Have a Headache" by Michael Ssem: Despite its silly nature, or maybe because of it, students enjoy this song that teaches them key vocabulary about feeling ill. Use a fill-in-the-blank or draw-the-song activity with this one.
ESL songs for teaching grammar
"My Favorite Things" by Rodgers & Hammerstein: This song can be applied to several activities, including sing-alongs, fill-in-the-blanks, and rewrite-the-song activities. Students can practice the provided vocabulary or take things a step further by adding their own "favorite things."
"Transportation Song" by The Singing Walrus: ESL students love the animations that accompany this video and song, and the lyrics are very accessible when teaching transportation vocabulary. Consider using a fill-in-the-blank activity while teaching.
ESL songs for teaching listening skills
"Do You Like Broccoli Ice Cream?" by Super Simple Songs: This song is an effective way to teach listening skills to young students, as it has an interactive element where the song poses simple yes/no questions and the students must respond out loud.
"Stand Up, Sit Down" by Fun Kids English: Your students will have a lot of fun doing a sing-along with this song, while simultaneously acting out the directions from the lyrics. It can be a fun preview for how to do a "Teacher Says" activity (which is the same as "Simon Says," but the teacher assumes the role of Simon).
Good Songs for Teaching English to Teens and Adults
ESL songs for beginners
"I Am a Rock" by Simon and Garfunkel: This song is advanced enough for teenage and adult learners, though it is also slow enough for beginner-level students. You can implement a read-along activity with the song and encourage students to discuss what they did or did not enjoy about the song, as well as words they didn't understand.
"O Christmas Tree" by Aretha Franklin: Using ESL Christmas songs is a great way to teach your students about foreign cultures in a fun, engaging way. You can consider using a read-along activity or having the students rewrite the lyrics with a local holiday in mind.
ESL songs for intermediate students
"If I Were a Boy" by Beyonce: Similar to "I Am a Rock," this well-known pop song is appropriate for teenage and adult beginner ESL learners. Consider including a read-along or rewrite-the-song activity. You can also include a lesson on perspective, where students could rewrite the song in the style of "If I Were a Girl."
Learn more about teaching English to teens.
ESL songs for teaching grammar
"Somebody That I Used to Know" by Gotye: Here is another example of a well-known pop song that can be used in your ESL classroom. There are several routes you can take with this one, such as a lesson on the past tense.
"I Still Haven't Found What I'm Looking For" by U2: A classic song, U2's hit can be an effective way to teach teenage and adult learners about the present perfect tense.
Check out these 8 ways to use pop culture in the ESL classroom.
ESL Songs for teaching listening skills
"Nothing to Lose" by Josh Gracin: This song is only suggested for strong students, due to its fast-paced wordplay. Though challenging, it is an effective song for teaching several verb tenses, identifying key vocabulary, and having fun with a rewrite-the-song activity.
"English is Cuh-Ray-Zee" by Pete Seeger: Lastly, here's a fun song about the peculiarities of the English language. Have students take note of any of the many oddities mentioned in the song. Then, spend time teaching the specifics of three to five of the points Seeger highlights.
Using ESL songs in the classroom when teaching young learners and teens is a means for having fun, re-engaging your students, and teaching them valuable English language skills. Don't be afraid to experiment – turn up the volume and enjoy!