Tips the Trainers! Getting the Most from Your IDELT™ TEFL Course
By Bridge
June 6, 2011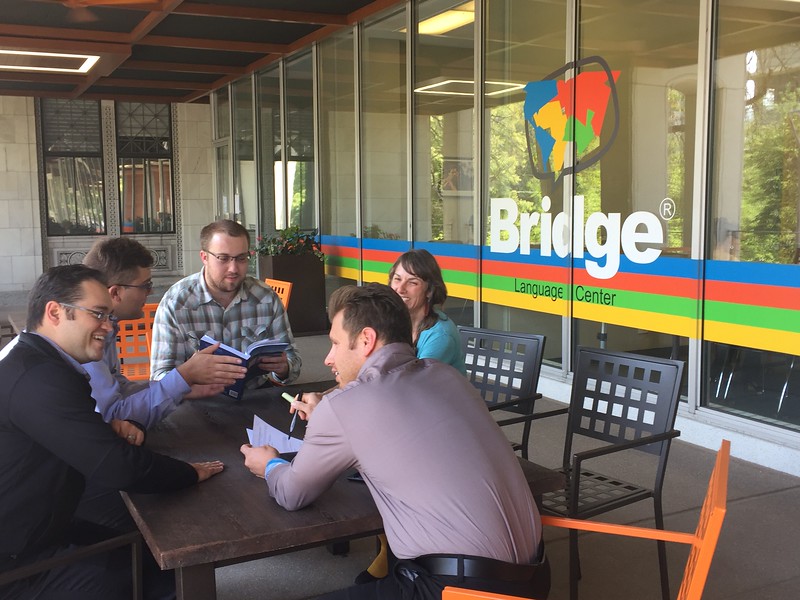 The nature of the classroom-based International Diploma in English Language Teaching (IDELT) course demands 100% of your time and energy. It is fast-paced with high-input and immediate output. Take advantage of your time on the course – that's what you paid for!
Maximize your time and energy
Be sure to read the grading rubrics and the syllabus so you are on top of course expectations and grading criteria. The grading criteria can help you in lesson planning, teaching practice, written assignments, and participation in all aspects of the course. They are not a secret!
Ask any and all questions! If you hesitate to talk to your trainers or peers, you are leaving room for confusion, getting bogged down, and falling behind on the coursework. Chances are someone else has/had the same question. Take advantage of the advising session (i.e. private session with the trainers) to ask questions, talk about concerns, get tips or suggestions, etc. This is your money and your experience.
Get to know your classmates! Although nightly parties are obviously not on the time schedule, connecting professionally and personally with your classmates helps maintain a sense of reality. Be careful of negative classmates – this can ruin your whole experience (i.e. waste of time and money).
Keep an open mind to what you are learning! It may be contradictory to what you've experienced or have done in the past (teaching). The trainers have personal and educational experiences that bring credibility and expertise to the course. Trust them, but ask questions, make comments, get clarification, share personal experiences during input, etc.!
Remember the Golden Rule! The course is stressful and demanding. It's important to be on time, respectful, and courteous to peers and classmates. Even though you are stressed and overwhelmed at times, your behavior speaks to your professionalism.
Obviously you receive a final grade for passing the course. Trainers know that you are concerned about your grades, but don't obsess to the point of sabotaging what you are learning and gaining from a course like this. Grades are intended to reflect how well you are meeting the course criteria for each component. If you have questions or concerns, talk to your trainers (NOT YOUR PEERS) before it's too late.
Timing is everything. Make sure you stay on top of things! Waiting until the last minute to complete your homework, lesson plans, and written assignments is not a good idea.
Make a daily, weekly, and weekend to-do list and stick to it! Try to plan in time to unwind or exercise on the weekend. Make time to eat and sleep during the week. Keep your schedule handy and refer to daily. Remember to include in your plan times to unwind, catch up, eat, or talk to your family.
You only have four weeks to get ready for your first teaching job, so be prepared to work and make the most of the course – resources, trainers' time and experience, and assessed teaching practice.
Get organized 
There are so many acronyms and abbreviations in the TEFL world. You don't have to learn them all, but there is some jargon associated with teaching techniques, methods, approaches, and grammar that you should learn. You receive a BridgeTEFL glossary with your pre-course information from the course trainer. Read it! Then, read it again. Keep your own running log of words, acronyms, etc. on index cards, or in a dedicated notebook.
Keep your paperwork organized. You need to find a way to keep all your handouts, lesson plan materials, cheat sheets, schedules, feedback forms, syllabus, etc. organized and easily accessible. Don't let this be the thing that sabotages your experience and success on the course.
Do the coursework – there's no way around it!
You need to participate in the input, observation, and feedback sessions; think, plan, and prepare teaching practice lesson plans and materials; complete homework assignments and research and write three papers (written assignments). The IDELT™ course lasts for 4 weeks. If you think in 'weeks,' the course makes more sense and you can plan to complete course work more efficiently and effectively. Feeling overwhelmed at the intensity of the course (i.e. the amount of information to be processed in a short time, the workload, demanding pace) is inevitable. Remember to keep in mind that this course is designed to prepare you to become a qualified teacher in a competitive market!
Again, be prepared to tell friends and family that you probably won't be available during the course. However, good timing (i.e. make a plan of attack – attending class, lesson planning, written assignments, eating and sleeping consume most of your time) is the key. If you stick to your plan to complete the course work, you can 'plan some downtime' with classmates or some 'you-time' on the weekends.
Open and read through all homework and written assignments. Make sure you understand the parameters of each assignment and ask the trainers if you don't understand. If sample graded assignments are available, check them out. Don't wait until the last minute to write each assignment.
Read the course text! It is a supplement to what you are learning/doing in input sessions. There are a lot of helpful hints, practical ideas, and resources for teaching practice.
Lesson planning is the key 
Buy/use an advanced learner's dictionary to help you with preparing your lessons. Don't try to guess at meaning. English learner's dictionaries are written to simplify meaning and be inclusive at the same time; use them!
Having a mistake pointed out by a student is one of the most embarrassing things that can happen in class. It's unrealistic to read through and memorize a grammar book (FYI, it's not helpful either without context and motivation for brushing-up on your grammar knowledge). The easiest way to learn and remember grammar rules is by doing language analysis – researching grammar references to a reasonable degree – when you are planning a grammar lesson. At that point, you are motivated by the fact that you must convey the language in a meaningful way to the learners. The course is a jump start in nailing down a few points in your growing language awareness.
Embrace the IPA (International Phonetic Alphabet) and start incorporating it into your lesson planning and teaching practice.
Writing thorough lesson plans is tedious and time-consuming. Try to remember that planning is a thinking process first – then organize and write your thoughts down on the lesson plan. Trainees spend hours 'fretting' over writing plans. Be sure you understand what the language skill, system, or item is that you are supposed to teach. Do any necessary research – 1) test yourself: what do I say vs. the rules/patterns, 2) read through the relevant input notes or course text passages, and 3) identify the lesson format that works best. Think first (plan roughly on a separate paper), then write your plans more thoroughly on the provided form.
There is a vast amount of English resource material at your disposal. If you are using an integrated course book for teaching practice, know the coursebook. Look at what other trainees are teaching around your lesson. How does it all make sense? Use the materials at your center – you don't have to reinvent the wheel! There may be an activity that needs only a small change to fit your level and lesson.
Embrace teaching practice 
The IDELT™ teaches language and language learning theory for the purpose of practice teaching. Other than reading quizzes, trainers are not testing your 'recall' of facts and information. The point of all the information is for you to implement/practice what you are learning – the skills, techniques, methods, ideas, etc. You are taking notes, participating in interactive lecture sessions, observation and feedback, and planning lessons for teaching practice.
Get to know your practice students (language learners). Talk to them before class, during class, after class. Pay attention to them! Keep a running log/record of what you observe – this is crucial to writing one of your assignments, planning appropriate lessons, and builds confidence and rapport.
Make the most of observations and feedback 
You are required to observe your peers teach. Even though they make mistakes in their teaching practice, you can learn from observing both good and bad teaching moments.
Remember to read the feedback forms from your peers and trainers after every teaching practice and feedback session. You are responsible for reflecting on your teaching practice and implementing the suggestions and recommendations from your course trainers the next time you teach.
Feedback is not a personal attack, so be receptive! You are getting feedback from your peers as they are also in the process of learning, so filter what they say through what you are learning and course content. Your trainers are experienced language teachers and want to see you succeed. Take into account what they say – they are trying to help you be an effective teacher based on their own experience and best practices in the field.
Expect and accept when a lesson 'derails' in one way or another. You are here to learn! Listen to feedback, especially from your trainers and make a concrete plan to avoid making the same mistake next time you teach.