Alejandro, From Venezuela, English Teacher and College Student in Argentina
By Krzl Light Nuñes
November 30, 2020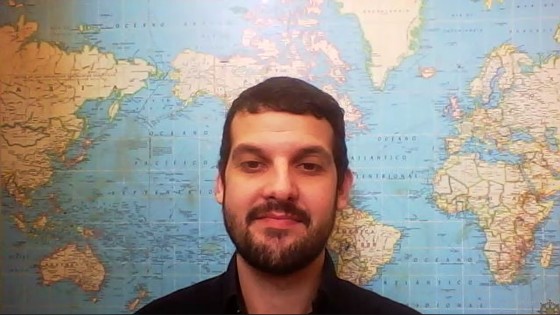 When Bridge grad and Venezuelan ESL teacher, Alejandro Olivares, immigrated to Argentina, he chose to pursue his two passions: teaching and writing. Now, he's working for various language centers throughout Buenos Aires and as a freelance teacher, while completing a journalism degree. We spoke to him about his TEFL career in the region and how he juggles his time between working for several companies and studying in college.
Hi Alejandro! Can you tell us a bit about yourself?
I'm from Venezuela, but I'm currently living in Buenos Aires, Argentina. I've been teaching English for six years now. I'm also currently completing a degree in Journalism.
How did you get into the teaching field?
When I was 20 years old, I was studying economics in Caracas. However, after three semesters I realized that I wasn't happy studying that. I had an appointment with a psychologist, who made me take a test to find out more about my interests, skills, etc. The results of the tests revealed that I could have good aptitudes to be a teacher. At that moment, I had recently arrived from Vancouver where I studied English for three months, although I have been very good at English since I was a child. This psychologist told me she managed a group of tutors for kids and teenagers and asked me if I would like to work for her as an English tutor. I decided to give it a shot, and that was how my English teaching career started six years ago.
How did you grow your private teaching business while still in Venezuela?
Before I arrived in Argentina in 2018, I worked as an English teacher for four years in Venezuela. I grew a network of private English students by posting my services on Mercado Libre and through word of mouth recommendations. I was even hired to teach English to a class of professional baseball players in Venezuela. It was my first time teaching a class of 20 students! I did this for seven months. Baseball is the most popular sport in Venezuela, so it was a very unique experience!
How did you choose to work in Argentina?
In 2018, I was in Caracas talking with my best friend, Ulises, in my grandmother´s house, and he told me really big news: he and his brother had decided to move to Buenos Aires to look for opportunities. It was very shocking at the moment. They traveled to Buenos Aires in March of that year. They were able to find a job, and Ulises also decided to take his other brother and his girlfriend to Argentina. When I told that to my father, I was surprised when he said, "I think you should go with them." My parents gave me a lot of support, even though we've dealt with the difficult economic and social situation in Venezuela.
At the time, my only regret was that I was still studying in college. I had to decide between taking this opportunity and finishing my degree. Nevertheless, I finally decided to come to Buenos Aires, and I am very happy that I made that decision.
How did you land your teaching jobs in Argentina?
Teaching jobs with companies
When I got to Buenos Aires, I started to look for work as a teacher. I sent my resume to many institutes and schools, but I couldn't find a job. Some weeks later, I finally found a tutoring job, which involved me helping students with their homework or an exam. After that, I found a temporary job for a very good company, as a recruiter. However, it wasn't what I love –I love teaching. Seven months later, I decided to look for a job as an English teacher.
After I got my teaching certification, someone recommended Craigslist, a website where many institutes upload job postings. I started sending out my resume and, after a couple of interviews, I finally started working for a company called Language Market, as a freelance online teacher. I started with only two hours of classes per week, and now I'm teaching for 11 hours with them.
I continued sending my CV to other companies until I got an interview with another language institute, Fisk, located in La Plata. After that, and being invited to participate in some classes, I started working for them too.
I also started working freelance for Bridge Argentina this month.
It has been a long path to be where I am right now, but it has made me value all the effort I have made in the last two years.
Private classes
I have also published class posts on various platforms, such as LinkedIn, Facebook, and Mercado Libre, and I've gotten students because of these online advertisements.
Learn how you can make use of social media to get ESL students as a freelancer.
How do you organize your classes with three different language institutes?
Actually, it is not that hard – it is all about being organized. Imagine that instead of working for only one company for 20 to 30 hours per week, you work for several companies. I have to be smart in choosing my schedules, depending on the clients the language institutes have. Based on that, I also choose my college schedule. For example, I know that most of the clients of one of my employers are companies. This means that they usually choose schedules from 8 to 11 a.m. or from 2 to 3 p.m. Meanwhile, the other institutes work with teenagers and adults, so the courses are from 4 to 6 p.m. and 6 to 8 p.m. They don't have courses on weekends. Therefore, I know I can have private students after 8 p.m. and on weekends.
Should you teach ESL online for a company, for yourself, or both? Read this guide.
Can you tell us more about your teaching job?
I am currently teaching adults of different nationalities. I have students from Argentina, Venezuela, and Chile.
Nowadays, my schedule is a bit strange. As I'm also studying to obtain a degree in journalism, I have to organize my working schedule carefully. I mostly teach in the morning, from 9 to 11, and in the afternoon, from 2 to 8 p.m. I can have between four to eight hours of classes daily, depending on the day.
How has your English teaching style or the strategies developed over the years?
I love to innovate and modify my strategies a lot depending on the personalities of my students, what they like to do, and why are they learning English.
I had two adult students from Spain who wanted to learn English because they wanted to travel around the world. In one class, we did a very fun role-play exercise. I used a restaurant background on Zoom and we simulated a situation wherein they were customers and I was the waiter.
I also had a teenage student and we read Batman comics in class. I always use things they like in order to motivate them in class. With more similar successful experiences, I got more and more creative and developed more activities. My results gave me the confidence to never stop innovating.
What do you like most about teaching in Buenos Aires?
I would say, my bosses and coworkers. I've been blessed because I've been surrounded by amazing people who have opened doors and trusted me. They have supported and taught me a lot as well.
Why did you decide to pursue a degree in journalism?
I decided to study journalism because I've loved writing and reading stories since I was a little child. My parents used to tell me stories before going to sleep. I love those stories. I started reading novels for fun when I was eight years old. From that moment, my passion for writing started growing. I had excellent teachers who encouraged me to write stories at school, and I was good at it from a very young age.
When I was 23 years old, I realized that besides working as a teacher, I wanted to write stories. I decided to study something that could improve my writing. That is how I decided to study journalism. I also think, in a way, that I want to write stories to say thank you to all the novelists who inspired me when I was a child.
How do you balance your time between work and college studies?
It is hard, but nowadays I can do both online because of the pandemic and that saves me a lot of time. I don't have to be moving around the city, therefore I can have back-to-back classes without issues.
It's also about being organized. Additionally, you must not bite more than you can chew. I need to know myself and my levels of energy. It also takes a lot of mental work. I have to convince myself that the reward is big and that all the effort I'm putting in is worth it.
How has the COVID-19 crisis affected you as an English teacher?
I don't think the crisis changed my work-related dynamic that much. I started working online many years ago, so I didn't have to go through a period of adaptation. I've always found teaching English online very interesting and enjoyable, although I sometimes miss the classroom. Being in the same room gives the classes a dynamic that is difficult to replicate in an online environment.
Find out how other global English teachers have adapted to the global pandemic.
When I was looking for an English teaching job, I realized that this task was difficult for me because I didn't have a certification. So, I started to look for online certifications for teaching English. One day, my father called and told me about Bridge. I read about Bridge's certification and I found it very interesting. I decided to get the 60-Hour Educator Certification, then the Specialized Teaching Business English certificate later.
How have these courses helped you professionally?
I think Bridge courses help a lot in giving my classes more structure. When I started teaching, I researched a lot of different teaching methodologies. I guided myself by the question, "How would I like to learn?" With that question in mind, I started developing my own method of teaching. The 60-Hour Educator certification and the 40-Hour Teaching Business English certification helped me bring all these ideas together and put them in a logical structure that would help my students learn and improve my classes. I also learned about classroom management, class planning for each language skill, and so much more.
How have you used your Bridge digital badges for your courses?
I have them on my LinkedIn profile.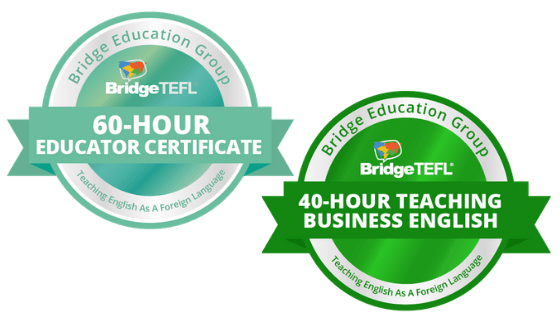 What are your future career plans?
I am still thinking about it. After I finish my degree, I want to write and continue working as a teacher. I think I'm still going to be in Argentina for at least two years. I should complete my degree and start the process of getting Argentine nationality next year. After that, I have a huge decision to make: staying in Argentina or going abroad one more time. I haven't thought a lot about it because I'm currently doing a lot of things. But wherever I go, I am going to continue doing what I love: teaching and writing stories.
Do you have any advice for English teachers who want to work in Argentina?
First, try to look for any kind of teaching experience, which could be freelancing or working as a private tutor, because it is difficult to be hired in a good institute without experience.
Second, having a TEFL/TESOL certification is a huge advantage. Recruiters will look at your resume with different eyes, especially if you don't have a degree related to education but you want to work as a teacher.
Always remember that as a teacher, it is important to build a good relationship with your students. I know that in this world of virtuality, it can be sometimes hard to do that but it is going to make a huge impact on the development of your classes.
Finally, never be afraid of being creative. Students value it a lot when you bring something different or fun to the classroom, especially if it helps them learn something new.