Anastasia Griazeva, From Russia, Teaching Business English
By Jennifer Maguire
August 4, 2023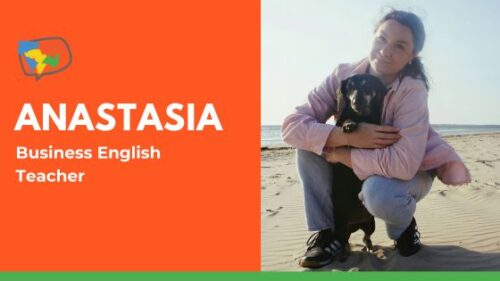 Inspired by her mother, a primary school teacher for over 30 years, Anastasia Griazeva, from Russia, has been teaching for five years. A teacher with BridgeEnglish for the last two years, Anastasia believes learning is a lifelong process with milestones but no finish line. Her faith that everyone can learn a language with the right approach, lots of practice, and an open mind provides motivation for her Business English students to achieve their best results.
Hi, Anastasia! How long have you been a language teacher and what inspired this career path?
I have been teaching for five years, and I was inspired by my mum. She has been a primary school teacher for more than 30 years, and I took after her in my ability to explain things briefly and clearly and to be patient, adaptable, and empathetic. There is one more person who inspired me, first of all, to learn the language and indirectly become a teacher – the British writer, actor, and playwright Stephen Fry. His intelligence, wit, sense of humor, and attitude toward life played a huge role in my own language learning and teaching.
Read about the growing demand for Business English and the ins and outs of this lucrative ELT niche for teachers.
What is your educational and professional background?
I am Russian and I am based in Arkhangelsk, Russia. I have a bachelor's degree in ecology and a Cambridge First Certificate in English. Through Bridge, I have also completed the Master TEFL Certificate, Teaching Business English Specialized Certificate, Teaching English Grammar (Grammar Advisor) Specialized Certificate, and Teaching English Pronunciation Micro-credential. I have been teaching with BridgeEnglish for two years.
Want to teach Business English with an elite team of highly trained teachers from over 100 countries? Apply to teach with BridgeEnglish!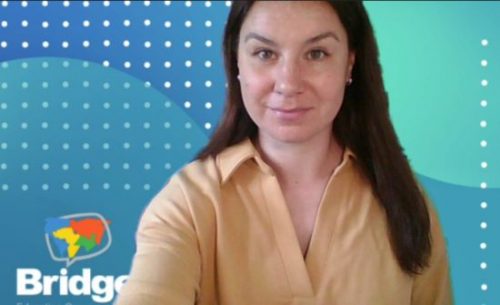 What languages do you speak?
Apart from Russian and English, I speak Italian at an intermediate level. I started learning it on my own with the help of self-help books, podcasts, and series with subtitles. In 2018, I spent four wonderful weeks learning Italian at a language school in Florence. That immersion into the culture and the supportive atmosphere that surrounded many like-minded people boosted my knowledge of the language and my confidence a lot. Since then, I have been maintaining my level by taking classes with tutors.
Learn about the essentials of teaching Business English online or in person.
What do you believe are the key skills and language areas that students should focus on when learning Business English?
Of course, it depends on each particular student and their needs, but it is always important to focus more on listening and speaking skills when learning Business English. Business English students frequently communicate with their peers from other countries, so it is crucial for them to understand different accents. Moreover, they need to be able to express themselves clearly and confidently.
As mentioned earlier, the specifics of some students' jobs may require good writing or reading skills, so every course should be tailored to correspond thoroughly to the learners' needs. In addition to the main skills, we cannot forget about sub-skills that are crucial for all English students, such as business-related vocabulary, grammar, and pronunciation. All of these aspects should be taught in combination to achieve the best results.
Read more on preparing Business English students for career success and employability with 21st-century skills.
How do you incorporate your culture and background into your language lessons?
Almost everyone knows that Russia is a place with a fascinating history and culture. It is a huge country with many regions with their own features, from nature and climate to festivals and traditions. Most of my students are genuinely interested in learning more about my country and I have a lot to share with them.
We discuss and share our opinions about many aspects of our motherlands, which is especially entertaining to do with my Latin American students because we literally live in opposite parts of the world. Unfortunately, recently Russia has become an infamously known place but it also sometimes becomes a ground for a thought-provoking conversation.
Read about six Business English lesson plans that can be used for all learner levels.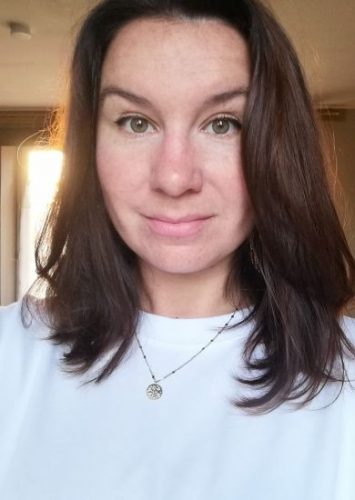 What is your teaching philosophy or approach to helping students learn a new language?
I believe that learning is a lifelong process; it is a journey with milestones but no finish line. When teaching my students, I always express this opinion: It is okay to make mistakes, feel demotivated at times, want to give up, and feel self-conscious while speaking, etc. Everyone can learn a language; we just need to find the right approach and change our way of learning if there is no progress, and – I often remind my students about this – practice is the key.
Read about effective learning methodologies that support the needs of Business English students.
What tips or advice do you have for professionals looking to improve their business communication skills in English?
Use the internet. There are plenty of resources that can help improve Business English skills, such as business-related magazine articles, podcasts, YouTube videos, and more. These tools offer a wide range of choices that coursebooks cannot provide, including various topics, specific individuals, and different accents. Surrounding yourself with a Business English context will enhance your skills. However, my main advice would be not to focus solely on the business aspect. Read current news, find a speaking partner on websites for business learners, or watch a series or videos that interest you. In other words, be open-minded, and you will soon see the results.