Demand for Business English Continues to Grow Exponentially – Learn the Ins and Outs of This Lucrative ELT Niche for Teachers
By Shelynn Riel
July 4, 2023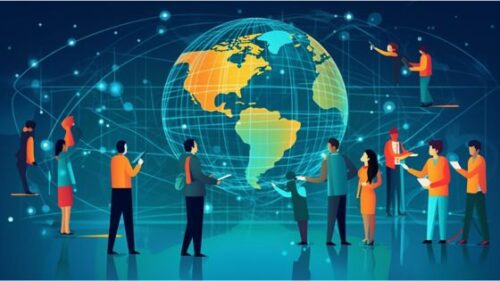 In today's competitive world, acquiring proficiency in the English language has become essential, and learning Business English is fast becoming a necessity, as English is the lingua franca, the international language of business. The education industry's shift towards digitalization has resulted in the emergence of various online platforms for learning English. And as Business English learners make up the largest portion of online learners, this language learning market is one of the most in-demand, creating incredible opportunities for English language teachers.
Research shows the projected growth of the English language learning market could reach nearly $70 billion by 2029. A large portion of the market is made up of Business English instruction. According to a Business English Language Training Market report published in May 2023, the market for Business English Language Training is expected to experience a compound annual growth rate (CAGR) of 5.75% from 2022 to 2027. Furthermore, the market size is projected to expand by USD 4,581.68 million during this period.
These projections spell increasing opportunities for teachers of Business English. The growth of the Business English Language Training (BELT) market is primarily influenced by the increased need for vocational English training. This type of training encompasses different forms of English language skills necessary for various business sectors such as aviation, hospitality, finance, law, medicine and engineering. To meet this high demand, numerous vendors have introduced personalized and tailored training programs that cater to specific country requirements, delivered through diverse learning methods.
The demand for Business English teachers tends to be higher in countries with a significant international business presence or those aspiring to develop their global business connections. Key players in the BELT market are capitalizing on the increased need for Business English training, and now it is high time for teachers to do the same. Business English is one of the most in-demand teaching niches within the broader field of English language teaching (ELT).
Considering the varied demands and contexts of Business English learners, current or aspiring Business English teachers must be prepared with the tools, strategies, and resources to effectively meet the needs of learners, many of whom are already experts in their specific fields but need the training to communicate in their work-specific setting.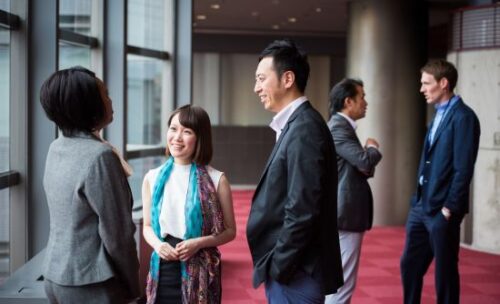 BridgeEnglish, the Latin American branch of Bridge Education Group, specializes in corporate language training, providing Business English training to international companies. Leveraging the expertise of Bridge's 30-year history of ELT Foundational, Professional, Specialized, and Micro-credential training, including a Teaching Business English Specialization Certification, Bridge has researched some of the best tools for effectively teaching Business English, gathering insights from both teachers and students to provide an overview of best practices in teaching Business English.
Bridge believes in a teacher-centric model of learning but also embraces all the advantages of today's technologies. The Business English corporate language program uses a state-of-the-art online learning platform coupled with teacher-led video-conferenced courses in private, small group and English immersion options. While teachers are the primary method of instruction, a variety of digital tools are used to support learning, provide methods of additional practice and study and encourage engagement and enjoyment of learning.
Let's dive into the resources and expert advice identified for teaching Business English.
Learn more about continued online English language market growth post-COVID.
Tools for teaching Business English
The resources teachers use to teach Business English vary substantially depending on the context, the learners' goals and the level of personalization offered by the language provider. Let's start with the more traditional resource of textbooks.
There are several options for textbooks available within this area, and some of the prominent players in the publishing industry continue to revolutionize the content and the delivery format.
Bridge Teacher Experience Manager Karina Zew recommends ensuring that "materials are updated and come from serious publishers." Her recommendation is the textbook series, Business Partner, by Pearson.
"Business Partner is the series of books we currently use in our classes in Latin America. It comes as an e-Book, and you can connect the student's book to the teacher's portal. It's quite updated, full of videos, current and relevant articles and interactive activities that allow students to manipulate language. It is very communicative and fosters creative thinking."
Business Partner provides students with the practical training they need to transition from the classroom to the workforce. Each course level is developed in alignment with the Global Scale of English learning objectives for professional English, aiding teachers and students to effectively measure progress.
Pearson Languages is a leading global publisher of English language curricula and resources, courseware and assessments, and is a great example of a "serious publisher," Zew said.
Oxford, Longman and Cambridge are also leading publishers, all of whom offer extensive works geared toward learning Business English.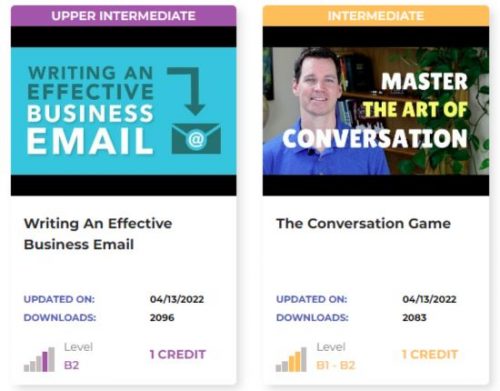 While textbooks can provide scope and sequence, and ultimately serve as foundational curricula where desired, it's also important to think about day-to-day activities and supplemental resources.
Zew mentioned the ready-made lesson plans she uses from Ellii (formerly ESL Library) and Fluentize.
Fluentize is an online lesson-planning resource dedicated to ESL teachers. All the lesson plans on Fluentize are video-based and there are a wide range of engaging topics and lesson materials to choose from.
Business Partner is the series of books we currently use in our classes in Latin America… It's quite updated, full of videos, current and relevant articles and interactive activities that allow students to manipulate language. It is very communicative and fosters creative thinking.
"We have a wide variety of Business English lesson plans with a focus on helping students develop their business and career skills in English, and where teachers can find unique ESP topics that could fit the niches of their students," said Jake Young, Founder and Lead Materials Developer of Fluentize.
There are also interactive learning platforms, pedagogy-based blogs and content-specific journals teachers suggest as Business English resources. In other words, the resource landscape is fertile with potential tools.
You can learn more by downloading our Guide to Business English: Empowering Teachers With Dynamic Resources.
Several teachers praised podcasts as a tool for learning. Among the crowd favorites was Down to Business English, a podcast that reports on current business news headlines and examines linguistic elements that support individuals in having conversations about these topics.
Skip Montreux, Executive Producer and Co-Host of Down to Business English, shares that as a corporate language trainer, it was ultimately his disenchantment with textbooks and existing materials that led to the creation of the podcast, sharing that "Down to Business English aims to rectify this deficit of relevant industry-specific content by reporting on business news stories that span the complete spectrum of global industries and markets."
We have a wide variety of Business English lesson plans with a focus on helping students develop their business and career skills in English, and where teachers can find unique ESP topics that could fit the niches of their students.
These media clips pique learners' interest in a way that reading doesn't and offers them exposure to other ways of speaking English, including a variety of accents. Teachers often assign students TED Talks or podcast episodes for homework, and then facilitate discussions or comprehension activities related to the content. This form of engagement helps improve listening skills, exposes students to different business perspectives and stimulates critical thinking.
But beyond that, students expressed appreciation for acquiring new tools that they can use on their own.
Business English Pod is another great example of this. Originally founded in 2007, Business English Pod offers podcast-based lessons covering essential Business English language and skills. "The original idea behind BEP was to develop materials for blended learning, specifically something we could provide students with outside of classes," said Peter Atkinson, Co-Founder and Director of Business English Pod.
When there is alignment between what students are doing outside of the classroom and in teacher-led lessons, instruction proves engaging and efficient.
Learn how the large, global ELT publishers are innovating to meet the evolving needs of students and teachers.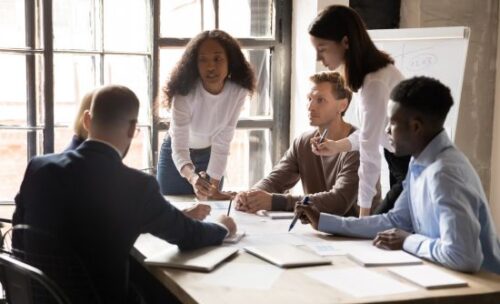 Teacher perspectives – challenges and recommendations
Like instructors in any area of English, the student population is often heterogeneous in terms of proficiency – that is, teachers can expect varying degrees of comfort and language skill levels within a single classroom.
Meeting learners' needs typically requires a more thorough understanding of industry-specific terminology, which might even mean additional study or research on the part of the teacher.
And it's not just about the learners' desires in this context; communication with all stakeholders is of utmost importance. For Business English teachers new to operating in the corporate language training environment, it's important to communicate progress and results to corporate language program sponsors.
Employees engaged in a corporate English language program often struggle with finding the time to commit to coursework. "Sometimes employers funding the instruction have unrealistic expectations of what learners will be able to accomplish," said a Business English teacher based in New York City, USA.
Ultimately, it's up to instructors to effectively communicate what is feasible given time constraints.
Zew maintains that this explicit negotiation of expectations is also necessary with the learners themselves. "We're working with a lot of Latin American students, and most come from very structured instruction. When they learn English in school, the subject is taught in Spanish with a list of words and grammar rules. This is the Grammar Translation Method that dates back to the early 1920s, and the teachers still believe you can learn the language by learning the rules of grammar and lists of words."
The Grammar Translation Method represents a stark contrast from Communicative Language Teaching, which has been found to be not only more effective in teaching language but more engaging.
Zew shared that sometimes when students come across a global English teacher who doesn't speak Spanish, their response can be negative, insisting they don't understand the teacher or that they want a teacher who also speaks Spanish.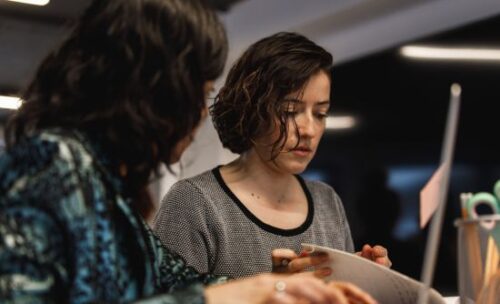 This limited perspective about how individuals best learn a language is common among adult learners; often students are most comfortable with what they experienced in prior learning contexts, believing it's the only way to learn a language. Zew said students need to allow themselves exposure to different learning methodologies. They need to "push through the struggle to communicate" and see that it's through that challenge that language is acquired.
Many people have learned English through movies, songs and social media, and lack the knowledge necessary for the workplace.
After speaking with Business English instructors across a wide variety of contexts, there are certainly recurring themes in terms of challenges that learners face.
"The stakes are higher," says Albert Shaheen, a full-time instructor at Mission College in California in the U.S. Shaheen has worked primarily in university-based language programs. "It feels safer to go from high intermediate ESL into English Composition 101. That transition can be daunting for some students, of course, but it's not as daunting perhaps in the same way as it would be if you're moving from ESL classes into a new workplace." He highlighted the lack of confidence that students often experience in those transitional moments.
Monika Zebrauskyte, Bridge Business English course alumna and current Business English teacher operating out of Lithuania, also cited confidence as one of the greatest hurdles that students encounter.
"They worry about making mistakes, being misunderstood or lacking the necessary fluency to engage in professional conversations," she said. Finding words to accurately convey their meaning tends to be a roadblock. "Expanding their vocabulary is a priority for them, as it allows them to articulate their ideas more precisely," she added.
Amir Hossein Khoobru, a Business English teacher located in Tehran, Iran, like Zebrauskyte, has spent significant time working in corporate environments. He agreed with Zebrauskyte's point about students' common fear of being wrong. "It's hard for them to make mistakes. They assume they are being watched and as soon as they make mistakes, people will start laughing at them."
Khoobru highlighted the need to focus on English learning specific to the industry to support his students. "Many people have learned English through movies, songs and social media, and lack the knowledge necessary for the workplace," he said.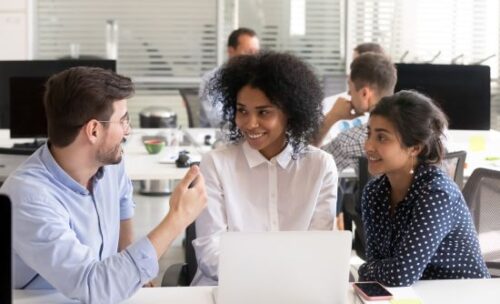 Khoobru also drove home the point that students in Business English environments have responsibilities outside of learning the target language that limits their focus and energy. "Many are busy people and it's difficult to practice the language as much as they need to."
While I have a course book as a guide, I often supplement it with additional authentic materials that I source myself. These materials may include articles from reputable business publications, case studies and real-world examples relevant to the industries my students work in.
Despite most Business English students having a clear idea of what they're looking for, teachers can't rely solely on students' expressed interests.
Not unlike English teaching of any other type, effective Business English training begins with a thorough needs analysis to understand the specific language requirements and goals of the learners. This initial step helps teachers tailor the instruction to their specific needs, whether it's improving presentation skills, writing formal emails or participating in meetings.
Zew said that "needs analyses allow for personalization based on language needs and authentic interactions," explaining that understanding how students are expected to communicate in the workplace needs to be understood before any instruction can occur.
Another critical piece of effective Business English delivery is formative assessments or ongoing evaluation of student progress. BridgeEnglish utilizes Pearson's Global Scale of English (GSE) to evaluate and monitor language skills. Aligned with the Common European Framework of Reference for Languages (CEFR), the GSE is used to interpret test results and identify learner progress – even micro-progressions – that are transparent to the teacher, learner and company sponsor. The GSE employs a performance-based method for language learning, allowing the identification of the learner's proficiency level in all four skill areas, establishing specific learning objectives, guiding instructional approaches to achieve those objectives and tracking progress along the way.
One of the benefits of using competencies-based assessment in a Business English program is the clear connection between student learning outcomes and language and skill sets relevant to the workplace.
The incorporation of authentic interactions and the use of authentic materials transform the learning environment and are motivating for students. "While I have a course book as a guide, I often supplement it with additional authentic materials that I source myself," Zew said. "These materials may include articles from reputable business publications, case studies and real-world examples relevant to the industries my students work in."
Authentic material isn't limited to text-based content; the use of multimedia can make topics more enjoyable and relatable for learners. Zebrauskyte said she incorporates visual aids to "help illustrate concepts, spark discussions and add excitement to the learning process."
When teachers integrate authentic resources, students receive practical exposure to the language and terminology they will encounter in their professional lives. Authentic interactions often include role-plays and simulations, merging context-specific interactions with ample opportunities to increase proficiency across the language domains.
"Every exercise is an excuse for speaking," says Zew.
Assign students different business roles and scenarios to act out in pairs or groups. Making sales pitches, conducting interviews, client consultations, negotiations between a buyer and suppliers and boardroom discussions – all of these scenarios are meaningful in a Business English context.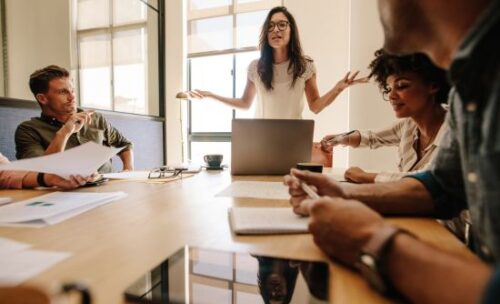 Many teachers also see the advantage of getting their students to think about how they might continue up the corporate ladder or seek out other opportunities.
For many, it's not just about teaching students English for the job they have now, but rather, English for the job they envision having in the future. That means thinking outside the boardroom in terms of professional contexts in role-play scenarios. A little imagination goes a long way.
A Business English teacher working at a university in New York City in the U.S. shared a fresh take on mock interviews: role-model interviews. First, the instructor introduces successful professionals or entrepreneurs from various industries through interviews or video clips. From there, students prepare interview questions and conduct mock interviews with each other, emulating the role model's experiences and strategies.
Every exercise is an excuse for speaking.
There has also been increased focus on aiding learners to become more effective and comfortable in their networking. A session at the TESOL International Convention in March 2023 examined how teachers can organize a mock business networking event in the classroom where students practice introducing themselves, exchanging business cards and engaging in small talk.
"By simulating these situations, students gain confidence and learn to apply their language skills effectively in professional contexts," said Zebrauskyte. Business English is not only the technical language workers need to be successful in their roles; it extends into professional socializing that happens in the breakroom or on business trips.
And of course, these context-specific simulations offer the opportunity to reinforce business vocabulary, idioms, expressions and commonly used phrases. Practicing using targeted vocabulary in a controlled classroom setting before individuals are expected to do so autonomously augments learner fluency and confidence.
There is also much to be gained from collaborative learning models in this environment. "Interactive exercises enable students to learn from each other, share their experiences and develop their communication skills through meaningful interactions," said Zebrauskyte. In addition to practicing the target language and content, collaborative learning fosters a supportive environment for individuals to experiment with the language.
Another common strategy for engaging Business English students is using case studies. Teachers often provide students with real or fictional case studies related to business situations. They can analyze the information, discuss possible solutions and present their recommendations to the class. This activity promotes critical thinking, problem-solving and the application of business concepts.
In case studies, teachers can choose distinct elements of the case study to hone in on. One area where students often need additional support is cross-cultural interactions. To facilitate this, an instructor for the Neoscholar Education Group who works with Chinese university students recommends beginning with perspective-taking activities.
"Start by having students attempt to identify how a particular character in the case study would interact in the situation," she said. To glean cultural insight, engage students in research that examines cultural norms specifically related to business exchanges.
"A great starting place to understand how culture shows up in a business environment is examining communication models. How does communication strategy differ when cultures value direct communication? Or when what is left unsaid actually conveys a great deal of meaning?"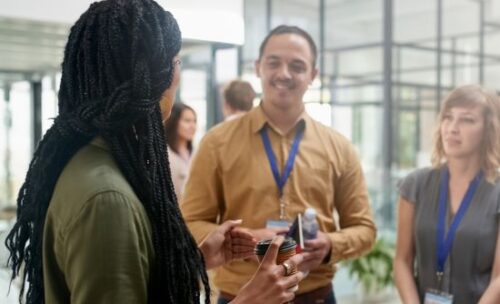 For students to participate in role-plays and have some accuracy, these concepts need to be familiar to them.
In addition to a better understanding of cultural norms for communication, learners will build empathy through perspective-taking and role-playing. Being able to imagine how others feel streamlines communication and facilitates the achievement of shared outcomes.
By simulating these situations, students gain confidence and learn to apply their language skills effectively in professional contexts.
It's also crucial to get students to think outside of their immediate surroundings. This can be facilitated with the incorporation of current events specific to learners' industries. Many teachers described selecting current articles or news stories about business-related topics and having students read and discuss them in class. Not only does this improve their reading comprehension, speaking skills and ability to discuss business issues, but it also gives them space to express their opinions, analyze implications and engage in debates with one another in a controlled, safe environment.
Zebrauskyte described how she typically uses current events with students. "I always allocate the initial minutes of my lessons to discuss the latest news and trending topics worldwide," she said. "This encourages small talk practice, which is essential in professional settings and business trips. By dedicating time to current affairs, I enable my students to stay updated on global events while enhancing their conversational skills."
This notion of being "current" is a recurring theme among Business English teachers. Current events and other "hot button" topics can also be explored through business podcasts or TED Talks.
Read about how today's global and digital evolution is driving the need for 21st-century, transferable skills in today's employees.
Recommendations for new Business English teachers
If you're just starting out teaching Business English, seasoned educators also provided some strategies to get you started on the right foot.
First of all, ensure that you are already competent in teaching general English.
"Take one of our TEFL courses before taking the Teaching Business English Specialized Certification. Some teachers believe that taking Business English courses is enough for teaching. But they also need to recognize Business English as a specific part of general English. We still need to be aware of the methodology," Zew said. Having a solid TESOL/TEFL background is instrumental in knowing how to help learners achieve goals.
Zebrauskyte shared how she used Bridge's Business English course to upskill and better serve her clients.
"One of the most significant takeaways from the course was learning how to plan my lessons more effectively," she said. "In the course, I gained insights into the importance of lesson planning and the impact it has on student engagement and learning outcomes. By thoughtfully planning each minute of the lesson, I can create a dynamic and engaging environment that maximizes student learning and participation. To me, Business English encompasses more than just linguistic fluency in the language. It represents the ability to effectively communicate and navigate the professional world using English as a tool."
Zebrauskyte describes learning Business English as a form of empowerment through the development of linguistic skills and confidence. "It goes beyond simply teaching grammar and vocabulary; it involves equipping them with the necessary language skills to excel in their careers."
Business English encompasses more than just linguistic fluency in the language. It represents the ability to effectively communicate and navigate the professional world using English as a tool.
Shaheen shared the reminder that it's impossible to go into any new teaching environment feeling fully prepared, and as Zebrauskyte demonstrated, there's always an opportunity to add to your knowledge base.
"Most English teachers aren't experts in a lot of the contexts that they teach, right? So, if you're comfortable teaching English and competent in teaching English, then you can be competent in teaching Business English too. It's just a different context," he said.
To become more comfortable in the environment, Shaheen recommends taking extra time to familiarize yourself with the material. "At the end of the day, students are really just looking to communicate."
Read more about how to get a job teaching Business English.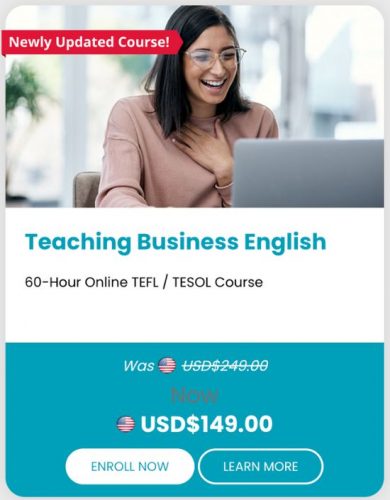 Student perspectives – what do they want in a Business English class?
Despite operating in distinct fields and learning contexts, students of Business English have a lot in common in terms of expectations for their learning experience and desired outcomes.
Students want the course content to be relevant and practical, with an explicit connection to their roles and professional output. They want to learn vocabulary, expressions and communication techniques that are applicable to real-world business situations, such as writing professional emails, making presentations, participating in meetings, negotiating and engaging in business conversations.
"I want what we're doing in class to translate to work after the class concludes," shared a Business Negotiations student at a university in China. "I want to feel confident in my ability to communicate with peers."
An oft-expressed primary goal for Business English students is to enhance communication skills. They want to be perceived as articulate when expressing their ideas and opinions in a professional context, and they want to improve their aural proficiency through targeted, constructive feedback.
A Business English student and lawyer based in New York City in the U.S. shared a desire to participate more in group conversations outside of the office. "I really need to get more comfortable with my social English. I was at a dinner with Irish and English clients, and it was hard to follow the conversation." This student, originally from Spain, wants to understand her colleagues and clients with greater ease.
Indeed, an arm of workplace communication includes sporadic interactions that take place before business can happen – small talk. Shaheen, who has worked with Neoscholar Education Group, an education company that brings together international scholars and Chinese universities for short-term, workshop-style offerings as well as semester-long virtual lecture series, highlights how cultural differences can inform communication.
I want what we're doing in class to translate to work after the class concludes.
"Small talk was really important to these students. The way you communicate in China is quite different. For example, somebody might say to you 'Have you eaten?' And that's sort of like the American equivalent to 'How are you?' or 'What's up?' So just getting them used to making small talk with people – what's appropriate, when it's appropriate, how to keep the conversation going – all of this is an area of concern for students," Shaheen said.
Another area of focus for Shaheen is written communication, specifically emails, especially with younger students. "Even for business communication, they're using WeChat," he said. "Email communication is just not that common for them, so it's important to teach it, from structure to content to level of formality. I can't tell you the number of times students told me they'd 'be honored' to receive my email response."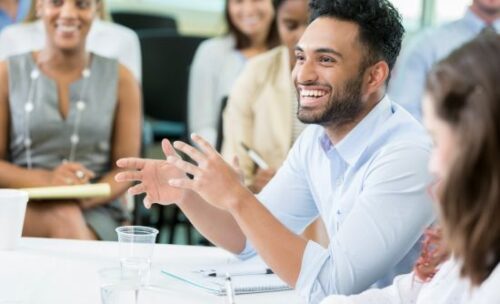 Shaheen's students aren't unique in this. Business English learners want to improve their writing in all workplace correspondence. Students appreciate strategies for organizing information, using appropriate tone and style and ensuring clarity and concision in Slack messages and other quick, informal communications, as well as formal letters of interest and reports.
Nargis, a former student of in-house Business English training offered by her employer, shares her desires.
Learning about culture is also important in the workplace. People communicate differently than I think they're going to.
"I needed to be able to respond to inquiries and announcements via email, and share weekly and monthly reports with staff about budget expenditures and requests. I wanted my writing to sound professional and friendly to the reader." She adds that it's often challenging to create messaging that is concise but doesn't come off as too curt.
This idea of how written communications are perceived by the recipient speaks to the importance of building elements of culture into a Business English curriculum. Students recognize the importance of cultural understanding in business interactions, and that developing cultural competence will lead to more effective and efficient communication. Students like Nargis express a desire to learn about business etiquette, norms and customs in English-speaking countries, and in diverse workplaces, to avoid cultural misunderstandings and establish positive relationships.
"Learning about culture is also important in the workplace. People communicate differently than I think they're going to," says Nargis.
Beyond polishing their communicative abilities, students want the opportunity to practice the skills they have been taught. Information retention has a lot to do with the review. "It would be good to have refreshers and a chance to practice material previously taught, instead of just learning something new each session," Nargis said.
Learn more about the essentials of teaching Business English online and in person.
Options for teaching Business English
There are a variety of options for teachers of Business English, including language schools, universities and private-sector corporate language training companies. Teachers should consider whether they wish to teach in person or online, hours of availability and intent to teach full or part-time when reviewing job opportunities. Let's explore some of the options.
Teaching for language schools and universities
At the request of students, many language schools and universities create offerings specific to the needs of their enrolled students. This means courses offered by many language schools and universities are niche offerings. Most of these positions will require an advanced degree, and additional training or certifications in niche subjects may also be required.
The English Language Institute at Pace University in New York City, for example, partners with a university in Germany to offer courses specific to International Business Management and Marketing majors. Courses that are a result of international university partnerships include Global Workplace Communication and Consumer Psychology.
Shaheen described programming at Johns Hopkins Business School that caters to graduate students, most of whom are working toward their MBA (Masters in Business Administration). Programmatic options such as these highlight how universities and language departments are evolving to better prepare students for life beyond their academic careers.
Bridge Education Group partners with many universities worldwide to offer courses as part of their degree programs, creating new, flexible pathways for aspiring teachers of Business English to pursue a master's degree. For example, Bridge and the University of St Andrews in Scotland partnered to create Pathway Programs for students pursuing postgraduate TESOL and International Education programs at the Scottish Institute. Other universities include the University of Northern Colorado, Westcliff University, Azusa Pacific, Huntington University, the University of Rhode Island, Bond University, SIT Graduate Institute, American College of Education and Crown College.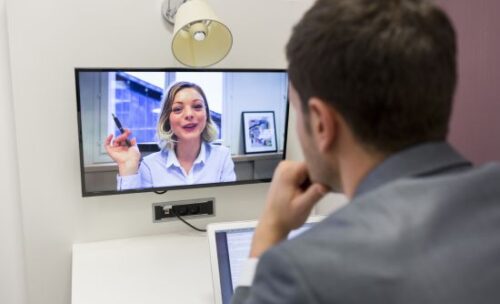 Teaching with private-sector corporate language training companies
Bridge's corporate language training program is teacher-centric and online. Courses are completed on an online learning platform through video conferencing with a live instructor. Program management solutions, flexible scheduling and the Language Proficiency Indicator (LPI) dashboard are some of the biggest draws for companies that partner with Bridge. Teachers also benefit from flexible scheduling and the ability to teach from anywhere in the world.
The explosion of online learning through video conferencing and sleek, integrated platforms has expanded the reach of online Business English teachers, creating opportunities for part or full-time employment, as well as private instruction. While some corporations prefer in-house language offerings, others appreciate the flexibility that comes with a teacher "dialing in" to reach their constituents.
Bridge Language Programs include one-to-one, small group and English immersion options for Business English courses, as well as English for Specific Purposes (ESP) courses with tailored instruction and activities specific to the learner's industry.
Teaching English geared toward specific industries or professional fields, such as finance, marketing, hospitality or even aviation, is in demand. While it may not always be required, many Business English teachers who teach ESP courses are experienced in that industry. In order to successfully achieve learning outcomes, context is king. Teachers need to consider how terminology, communication style and expectations for documentation differ greatly from one industry to another.
Providing private instruction
Given how niche some of these areas of expertise tend to be, there is an increased opportunity for professionals to offer freelance services. Students of Business English often turn to private instruction when corporations don't offer language services as a form of professional or personal development for their employees.
The tutoring sector is projected to hold the major portion of the English language learning market. This dominance is attributed to the increasing investment in e-learning tools and technologies aimed at improving the teaching experience, the growing demand for education and the need for affordable programs that can bridge the knowledge gap in students.
Bridge offers a variety of specialized certification and Micro-credential courses that range from the Teaching Business English Specialized Certification to a suite of Teaching English Online Certifications. Micro-credentials in 21st-Century Skills also provide training to teach the important soft skills needed by today's professionals.
The uptick in individuals interested in studying Business English coupled with technological advancements in online learning platforms creates an array of incredible opportunities for teachers looking to make Business English their niche.