Carolina, From Colombia, Teaching in China Amid the Pandemic
By Krzl Light Nuñes
May 25, 2021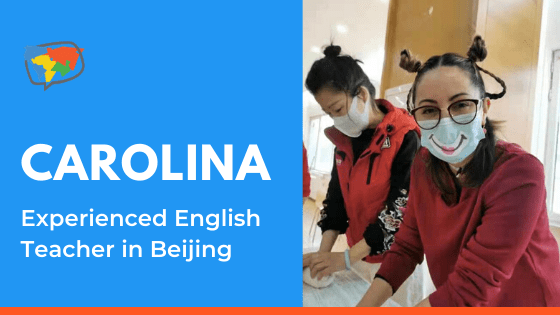 When the COVID-19 crisis first shook China last year, Bridge grad Yeymy Carolina Londono, from Colombia, chose to stay in the region and press on with her English teaching work at a school in Beijing. Years after we first interviewed her, we checked in on how she's adapted to the changes brought by the pandemic, the country's efforts to return to normal, and updates on the crisis situation in the city she's living in.
Can you tell us a bit about yourself, Carolina?
I'm from Colombia. I have been working in China since 2017, so I've been here for about four years now. I came after my contract finished in the United States. I was teaching a Spanish immersion program.
Currently, I'm working as a classroom teacher with the New Oriental Education and Technology Group. I'm also a classroom teacher and a coordinator in IPC (International Primary Curriculum), a British curriculum program that focuses on project-based learning. I help the school to implement the program properly and support teachers in their planning and assessment.
How has your teaching experience in China been so far?
It has been an interesting experience. I have learned a lot from the culture, and I've also learned about myself. I am currently learning Chinese, but I have to confess, it is a challenging language.
China was one of the first countries to be hit by the COVID-19 crisis. Can you give us an update on the pandemic situation in your city?
There haven't been newly reported cases in Beijing for more than three months. As Beijing is China's capital, it has stricter measures here than the rest of the country. Because of this, coming to Beijing from abroad can also be difficult. People coming to Beijing are required to do 21 days of quarantine.
Nevertheless, life looks normal here. We are all working. We still wear a mask on public transportation and for indoor activities. There is also massive vaccination, and everyone can get the vaccine. I haven't gotten the vaccine yet because I had a little cold when I went and the doctor advised me to wait until I recover from the cold.
Can people go out of their houses without restrictions nowadays?
Yes, we can all go out. Restaurants and other venues are also available, although there are still some restrictions, especially when it comes to holding massive activities.
These also depend on new cases. We know that if the cases rise, we'll have to quarantine or take some more measures.
How has the COVID-19 crisis affected you as a teacher?
The COVID-19 crisis affected all the world. But it hit here first, so it was scary and sub-real initially. It was like one of the news stories that you hear from far away, only I was too close to it. I was actually in the Philippines for the Chinese New Year when the news became more unsettled. I was debating with my brother, who is also living in China, on what to do.
We decided to come back to China because I had a job here and health insurance. Besides, my school had the online platform ready, plus we wouldn't like to bring the virus to our family members, and we didn't know if we could be infected (we weren't, but the information was clear at the time). Also, China had experience dealing with this situation, which gave me some sense of safety.
We came back on February 4th, 2020, I believe, and started quarantine right away. China had a good information system. We were looking at how many cases were reported daily. We just had to stay home, and that's what we did.
While in quarantine, I had to report my temperature three times a day and talk to my bosses if I had any symptoms. I also was teaching online from home.
How did you adapt to online teaching during the pandemic?
As the company that I work for had the platform ready, it wasn't too difficult for me. We had a platform called Roombox, which is an interactive platform that allowed me to teach young students.
In the beginning, we divided our classes into small groups, so I could teach them according to their level of understanding. I uploaded books, materials, videos, and worksheets into the program. The platform was interactive: students could circle, color, underline, and write on the screen while I was teaching. Honestly, it wasn't too difficult because of the platform we had.
Read how other English teachers around the world coped with the coronavirus crisis.
When did your school reopen?
The Chinese government staggered the comeback of students, so the older children started first. Then, as the cases dropped, younger children returned next.
We, the teachers, came back in April, but with no students; we worked online and prepared for an eventual return of students, which didn't happen. We ended the school year online. Then, we went on summer holidays and waited for news. We couldn't travel at that time, so we stayed in Beijing.
After the summer holiday, new cases were reported, so we started about three months after the initial tentative date. I believe we opened at the end of August 2020, but with strict measures. In January, new cases were reported too, although they were few, which forced schools to close for a month in February.
We came to a kind of normality in March 2021.
We caught up with other EFL teachers in Asia on returning to the classroom during the pandemic.
What were some of the protocols that were implemented to ensure the safe return of students and teachers?
Something important to mention is that the schools for young children opened when there were virtually no new cases reported in the city. We've had to observe the following protocols:
Everyone has to wear a mask all day long.
We had an emergency room where students would be placed in case they had a fever. If students have a fever, they would be transferred to a hospital, where they would be tested. If the test came out positive, the school had to be closed. Luckily, that didn't happen.
We had students sitting by themselves in the cafeteria.
Cleaning personnel had to disinfect surfaces three times a day.
We took students' temperatures three times a day.
We tried to keep students one meter apart.
We left windows open most of the time too. In winter, we opened them when students weren't in the classroom.
We reinforced masks, and lunch was served in disposable containers.

You took Bridge's 120-Hour Master Certificate course. Looking back, how has that course helped prepare you or develop your skills as an EFL teacher?
I'm not a native English speaker, so I know that I have to study more and understand the English language better to teach it. The course helped me to do that and also to understand the differences among ESL students. For instance, students in China will have different struggles with English than students in Spain or Japan due to their respective native languages and sounds. It's important to understand that in order to teach English.
How long do you intend to stay in China?
So far, I think I'll be here for a couple of more years until the pandemic situation gets better. I also want to explore other countries and teach in other places.