TEFL and Coronavirus: 7 Reasons to Teach Online Now Before Going Abroad in 2021
By Krzl Light Nuñes
February 15, 2021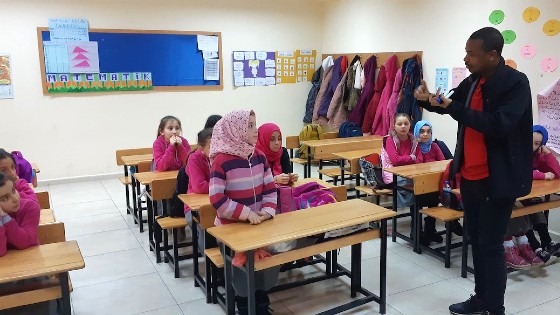 Are you planning to teach English abroad this year but have concerns about TEFL and coronavirus? Travel is still limited, but while you're waiting for global restrictions to ease, there's another option to consider: teaching English online. As an online teacher, you'll gain valuable experience, enhance your resume, and earn extra money! Let's look at TEFL and coronavirus and 7 reasons to teach English online before going abroad.
How has coronavirus affected the TEFL industry?
The TEFL industry and COVID-19 at the beginning of the pandemic
In the wake of the COVID-19 crisis, most schools and educators worldwide have had to adapt to a lot of changes, from government policies to new learning methods. These, in effect, definitely impacted teachers' TEFL/TESOL careers right from the start. Travel restrictions and the shutdown of schools temporarily halted the hiring of English teachers, while those who were already teaching in the classroom had to rise to the challenge of shifting their lessons online.
Read about how coronavirus impacted these six teachers' TEFL/TESOL careers at the start of the pandemic.
TEFL and COVID-19: Adapting ESL classes
As early as May of last year, however, schools and language centers in several regions began slowly reopening, with protocols in place to ensure everyone's safe return. Those who succeeded in heading back to the classroom could either hold regular lessons with smaller class sizes (like at Mark Lee's English school in China) or implement a hybrid, in-person and remote learning plan.
Meanwhile, a lot of schools completely switched to e-learning and will likely continue to work in the same mode while the crisis situation in their countries remains uncertain.
Read how moving to the virtual classroom helped Krzl, an EFL teacher in Chile, weather the COVID-19 crisis.
Why should you teach online now before going abroad?
If TEFL and coronavirus complications mean that the right moment to hop on a plane to your next teaching destination hasn't come yet, now may be the perfect time for you to get into teaching English online. Check out these 7 reasons why!
1. You have time to invest in your education.
If you want to teach English abroad, you need to make sure that you're qualified and ready once an opportunity opens up for you. So, you should make the most of the downtime you have at the moment by getting a TEFL/TESOL certification and gaining knowledge and skills in teaching English.
To qualify for the widest range of jobs, take a comprehensive course that'll prepare you both for the physical and the virtual classroom, such as Bridge's new 240-Hour TEFL/TESOL Certification bundle. This is a great option for you because:
To dig deeper into which training and certification path is right for you, check out this article: Which TEFL/TESOL Certification Do I Need to Teach English Online?
2. You can get qualified to work in very little time.
The good news is that you can earn a comprehensive, versatile TEFL/TESOL certification in little time. For instance, you can complete the 240-Hour Certification Bundle to Teach Worldwide or Online in about 8-12 weeks, though the course allows you to finish it within a period of up to six months.
Once you earn your certificate, you can work straight away or use it later, since TEFL/TESOL certificates don't expire.
3. As an online teacher, you can get teaching experience that'll look great on your resume and help you get TEFL jobs abroad.
You don't have to wait to teach English in a real classroom to build experience — online English teaching
Enhance your TEFL/TESOL resume by highlighting your work as an online English teacher! You'll stand out more and boost your prospects of getting hired abroad when you start sending out your applications.
Using the experience you gain from teaching English online, you can also ace TEFL/TESOL job interviews by drawing talking points, teaching examples, and TEFL buzzwords from your experience that'll show that you're a great fit for an English teaching job abroad.
4. With the right certification, you'll qualify for a wide variety of teaching jobs.
There are many reasons to become an online English teacher before teaching abroad, including that with the booming demand for online English teachers, there is a wide variety of job opportunities for teachers with the right training. Here are a few of the types of online English teaching jobs you can get:
You can teach adults or kids English with an online ESL tutor company.
You can create a teacher profile and advertise your freelance tutoring services through an online teacher marketplace, such as Preply.
5. You can keep teaching online as a side gig when you do go abroad.
Even when you're already teaching ESL overseas (whether for a chain school or an independent school), you can still moonlight as a virtual English teacher to supplement your income. Depending on the cost of living where you teach, the salary you make teaching English online can even be quite high!
For example, Jennifer taught English online while teaching abroad in Morocco.
"I was already an online teacher when I got hired to teach English abroad at a school in Morocco, so I kept my online job as a side-gig. Since teaching online actually paid more than my in-person job, working just a few extra hours a week made it possible for me to worry less about money focus more on traveling and experiencing the country."
Plus, teaching English online lets you work with a flexible schedule, you can choose to do it after your regular work hours or on weekends, for instance, right in the comfort of your new home abroad.
Here are more reasons why teaching English online is the perfect side gig.
6. You might decide to become a digital nomad as an online English teacher.
When travel bans are lifted and it's safer to explore other regions again, who knows if you'll choose to globe-trot while teaching English online! After all, living the digital nomad lifestyle as an online ESL teacher allows you to be location-independent, experience new cultures, and live and work in countries with a lower cost of living.
If you're dreaming of ticking off the countries on your bucket list while earning consistent income, here's a guide by Mari, a GoGoKid tutor, on how to teach English online as a digital nomad.
7. You can get a glimpse of other cultures even if you haven't traveled yet.
Meeting people and discovering different customs and traditions are just some of the most exciting aspects of teaching English abroad. But while you're waiting to embark on a TEFL/TESOL adventure, you can get an idea of what's in store for you in your next destination while you teach English online.
As an online English teacher, you can choose to work with students from all continents
This gives you a chance to learn about different countries and their culture, language, and traditions.
You can even get tips on traveling or living in their countries, to help you choose where to teach abroad or so you don't experience as much culture shock when you finally get there.
When it comes to TEFL and coronavirus, the global pandemic may have hampered your plans to go abroad, but you can make use of the time you have now by becoming an online English teacher. In doing so, you can acquire experience, have a financial safety net, and gain more confidence as you prepare to pursue your dream of teaching English abroad.