Are Freelance English Teachers Born or Made?
By Josefina Castillo
April 12, 2021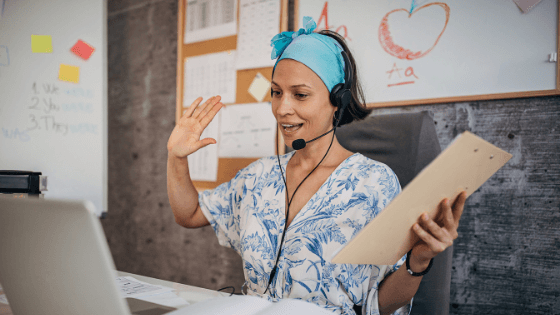 Josefina Castillo, from Argentina, is a freelance English teacher who has been in the ESL business for eight years. She began her career at a language institute but launched her own English teaching business when she realized that she wanted more flexibility than a traditional teaching job offers. She previously shared her reasons for becoming a freelance ESL teacher with us, and now she talks about whether or not the skills needed to freelance are ones that people are born with or ones that can be learned.
"Leaders are born, not made," the saying goes. But what about freelancers? Are they also born, or can any teacher who's passionate enough to set out on this adventure become a freelancing leader?
Becoming a freelancer is not a mystical calling. You need passion, determination, and motivation. In the same way that some people are more extroverted than others, some people have more entrepreneurial vision or more of a willingness to take risks. But even if your style doesn't match the stereotype, that doesn't mean that you can't become an incredible teacherpreneur yourself.
Remember that the key elements for success are your conviction and drive. Actually (and to your benefit), most of the skills needed to become a freelancer are not ones that you're born with. They can be learned and developed. Let's take a look at some of them!
1. Marketing skills
Freelance teachers need marketing skills in order to create and manage their website, use social media to target their student niche, advertise themselves and their classes, and network with other teachers.
Born or made?
Sure, some people are naturally more tech-savvy or comfortable on social media. They feel confident uploading and sharing content, and that can be an advantage. However, there are plenty of both free and paid tutorials for newbies who want to learn how to market themselves via various channels. So, although the born advantage might come in handy, marketing skills can be learned by anyone.
Check out these tips to attract and retain students as a freelance online English teacher.
2. Operational skills
These skills include dealing with payment methods and financial platforms, cancellation policies, refunds, and teaching platforms, and they are going to be necessary when you decide to go for a hands-on teacherpreneurial career.
Born or made?
No one was born knowing about platforms, currencies, and financial policies, so all of these skills are purely acquired. No worries, as everyone has had to learn them, and taking it step by step is the best way to do so. As with (almost) everything nowadays, there are many videos, tutorials, and courses you can take a look at to better understand these areas and start developing these skills.
Find out how to manage cash flow as a freelance English teacher.
3. Creative skills
You might need to start doing your own graphic design and making your own videos at first before you can hire a professional designer, so developing some skills in these areas can prove to be beneficial.
Born or made?
As said before, some people are born with natural creative skills, and for them, this task might prove less challenging. But worry not, since creative skills can be learned too. You may have already had a chance to be in contact with your creative skills in order to design some classroom materials. Tutorials and courses on how to use different programs and make videos abound. And one of the best parts is that once you know exactly what you want, trying out different programs and styles might even be fun!
Find out how to create a self-introduction video for teaching online.
4. Time management and organizational skills
Since you'll be your own boss, nobody but yourself is in charge of your schedule and general organization. It's important to develop these skills so as not to feel overwhelmed or at a loss.
Born or made?
Yes, it's true that some people are naturally more organized than others. However, even they had to learn methods and techniques to achieve this. You might already have some experience in this area since time management and organizational skills don't fall far from the planning skills needed to teach several courses at the same time throughout a school year. But, if you don't feel like you have it in you, don't worry just yet. A good place to start is by asking for advice from an especially organized friend or colleague.
Get tips for creating your ideal online English teaching schedule.
5. Business development skills (branding, pricing, expansion, etc.)
These are questions that you will ask yourself once you become a freelancer: What will my brand be? How will I choose the course prices? And, once your business is going and thriving (which we are sure will happen), how do I scale it?
Born or made?
If we're sure about one thing, it's that nobody was born knowing how to run a business. There are different styles and ideologies — there's not one single way to do it. So these skills can definitely be developed, improved, and changed throughout the years. If you've never had professional business training, you should seriously consider getting some before launching a business.
The Specialized Certification Course in Teaching English Online as a Freelancer is a great way to learn how to find your teaching niche, promote your brand, handle accounting and other business logistics, scale your business, and more.
6. Communication and relationship management skills
Since you'll be working with people, communication and rapport will be key.
Born or made?
Although some people are born with more interpersonal skills than others, we humans are social beings, so we all have what it takes to develop good communicative skills. If you've taught at schools before, you already possess the communication and relationship management skills you need to establish rapport with your students and keep them engaged.
If you're used to working in-person, it might be more challenging for you to build relationships without the face-to-face component or physical contact, so teaching English online as a freelancer might require some practice and getting used to, but you already have the skills so you only need to put a twist on them.
To draw the point home, we would like to take the words of a former student of ours, Krzl Nuñes, freelance teacher and entrepreneur: "Being a freelancer is about being patient and confident about your skills. There may be days when you doubt yourself, especially when it comes to your ability to attract and retain students. If this ever happens, it's important to remember that you're a great teacher and that you have a lot to offer."
And, just in case you're feeling overwhelmed by all of this information, by how much you'll have to do, and you're having second thoughts, let me tell you something: If you're reading this, it's because you're already into this, and that means you have what it takes. You have the passion, you have the drive, and you can do it all. Trust yourself, and that will be your best ally.
Although it is true that bearing all of this in mind can be quite challenging, you'll have time and you'll not be alone. You can always turn to a teachers' community for support and guidance (you might consider starting with the Bridge Teaching English Online Facebook Group).
To leave you with one final saying, always remember the following: Freelancing (very much like success) is 10 percent inspiration, 90 percent perspiration.