5 Tips for Creating Your Ideal Online English Teaching Schedule
By Betsy Ramser Jaime
November 27, 2020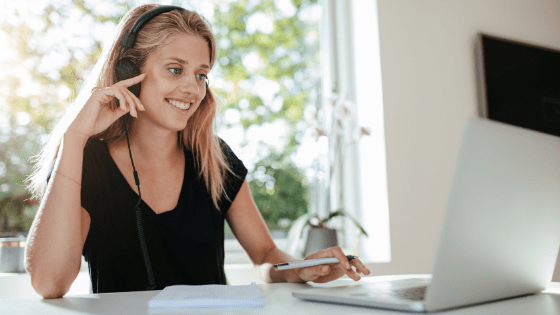 As an online English tutor, creating your ideal schedule is one of the best ways to design a teaching career you love. With the tips below, you can discover how to maximize your earning potential, avoid common scheduling mistakes, and create an online English teaching schedule that complements your life.
If you're new to teaching, you'll want to get initial training and qualification with a TEFL certificate. You can explore our online TEFL courses to get started!
1. Consider factors that affect your online English teaching schedule.
Depending on where you live, online English teaching doesn't always follow the typical 9-5 hours. If you're a night owl or an early bird, this might be great news for you! Here are some factors to consider when it comes to types of schedules for teaching English online.
Peak hours
When you're interviewing for a job with an online tutoring company, or if you're recently hired, it's important to find out what the peak teaching hours are for that specific company. "Peak hours" simply refers to the time of day (or night)  when the company has the highest volume of students. If you're working with children, this will mostly be after school hours or on the weekends, in the children's local time zone.
For example, let's imagine that you have been hired by an online English tutoring company located in China, teaching children. The company may tell you that the peak teaching hours are from 6:00 p.m. to 9:00 p.m. Beijing time during the week and from 9:00 a.m. to 9:00 p.m. Beijing time, on the weekends. Then, you'll want to convert from Beijing time into your own time zone.
Knowing the company's peak teaching hours is important because this is when you'll be able to book the most classes and you'll also receive a higher rate of pay with most companies if you teach during their peak hours.
Browse online teaching jobs worldwide on the Bridge Job Board.
Preferred schedule
In addition to considering peak hours, if you have specific hours that you want to teach, consider what time zones or regions would accommodate the online English teaching schedule you prefer. For example, if you live in North America and want to work from 9:00 a.m. to 5:00 p.m., you might try working with Chinese students in the morning (when it's the evening in China), and then with European, or Central or South American students in the afternoon.
Class length
Another factor to consider is the class length. Typically, classes are either 20-30 minutes or 40-60 minutes. Each company is slightly different so you'll want to do your research. Some teachers love teaching short classes and others prefer the longer ones.
2. Maximize your income potential through your teaching schedule.
Regardless of whether you're teaching part-time or full-time, it's important to make the most of your earning potential when creating your ideal online teaching schedule.
Make yourself available to teach during peak hours
Taking advantage of peak hours is an easy way to start. As mentioned, some companies offer bonuses for teaching peak hours allowing you to earn more money than you would if you were teaching the same class at a different time.
Teach online for more than one company
If you're not able to teach as many hours as you would like with your primary company, consider adding a second or third company. You could even add a company from a different time zone, which can open up additional hours for you that might not be available with your primary company.
Learn other ways to make the most money you can as an online English teacher.
Look for opportunities to take on other roles beyond tutoring
If you're happy with your company, you could also look into doing recruiting or other supplementary positions with them, like creating content or developing materials.
3. Always triple-check your online English teaching schedule – don't double book!
Since we just talked about teaching with multiple companies, we can't overlook the importance of knowing your schedule. Teaching with multiple companies is one of the best ways to increase your bookings and income; however, it also requires you to be very organized. You never want to "double book," meaning arrange bookings from two companies for the same day and time. Remember that some online English companies have strict cancelation policies and that canceling multiple classes could compromise your teaching contract.
There are 2 strategies for avoiding double booking:
Strategy 1: The first is to teach with companies that have different teaching schedules or are based in different time zones. For instance, you could open your schedule with company A for 3 hours in the morning. Then, you could work with company B for 3 hours in the afternoon or in the evening. This way, because you're opening your schedule at completely different times, you never risk double booking.
Strategy 2: The other strategy is to teach with different companies on different days. This is a good strategy if you want to work for multiple companies that offer the same peak teaching times or are located in the same time zone. For example, you might work with company A on Monday, Tuesday, Wednesday, and then work with company B on Thursday, Friday, Saturday.
4. If you teach online with a company, supplement your schedule with freelance teaching.
As a new teacher, working with a company is a great way to gain experience and understand how the online English industry works. However, once you understand the industry, you might consider becoming a freelancer.
Some of the biggest advantages of freelancing are:
You can create your own schedule, build your own lesson materials, and set your own prices.
If you have specific hours that you want to work, you can either offer lessons locally in your community or find regions with complementary time zones.
Freelancing can also give you the opportunity to specialize and reach a specific market of students. You could specialize in teaching IELTS exam preparation, accent reduction, writing, or public speaking, or work with a specific demographic, such as college students or business professionals.
Bridge's 30-hour Specialized TEFL/TESOL Certificate course, Teaching English Online as a Freelancer, is focused on the business and marketing skills experienced ESL teachers need to launch their own freelance career.
5. Remember to schedule downtime to avoid burnout. 
One of the most important tips for scheduling online English students is to put relaxing hobbies or activities in your schedule. While teaching English online is an enjoyable and rewarding job, it can also require a lot of energy. Plus, if you're working late nights or early mornings, this can take a toll on your mental and physical health. Whether it's taking a daily walk after your classes are finished, reading a book, doing yoga, or chatting with family or friends, you must schedule some time to decompress. Make sure that you have at least one relaxing or fun activity to look forward to each day to avoid burnout when teaching English online.
As you can see, creating your ideal online English teaching schedule will require planning. Fortunately, if you use these tips for scheduling online English students, you'll find that you'll also have a lot of flexibility to create the teaching schedule that is best suited to you.