A "Teacherpreneur" Shares 6 Reasons to Become a Freelance ESL Teacher
By Josefina Castillo
March 16, 2021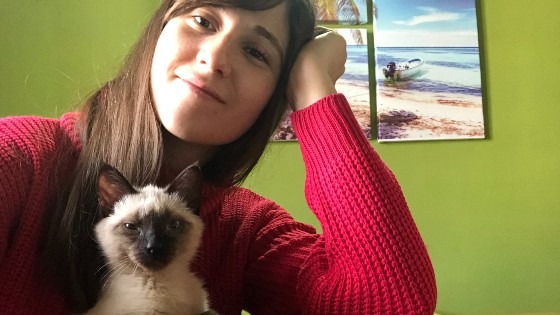 Josefina Castillo, from Argentina, has been teaching English for eight years. She got her start working for a language institute but soon found that the structured environment of being an employee was not the best fit for her, so she made the leap and became a freelance ESL teacher, launching her own English institute. She shares the benefits of becoming a freelancer for anyone considering teaching on their own terms. 
Maybe you're an experienced English teacher who has taken countless TEFL courses and worked in the industry for years. You get up every day, lessons ready, and head out the door to the institution you work for. You still feel passionate about what you do… but something is amiss. You don't want to work for others anymore. You feel the need to work for yourself, to be in charge.
Or, maybe you've just finished your online TEFL course and are a new teacher at a school or online tutoring company. You've long wanted to teach English, but now you're feeling disappointed. This structured environment is not what you imagined it would be You want freedom; you want to be at the wheel of everything.
If you're reading this, the freelancer spark is probably already burning within you, and one of these descriptions might hit close to home. I understand because some years ago, before I decided to take a leap of faith to do what I loved, I had been the main character in these stories for a while. I felt frustrated, overwhelmed, and trapped in a safe, regular, teaching job at a school. My heart just wasn't in it, and I knew I wasn't giving one-hundred percent.
So, I became a freelance teacher, or "teacherpreneur," specializing in teaching Business English and English for Specific Purposes for adults, and I never looked back.
The benefits of becoming a teacherpreneur abound. Here are some reasons I recommend you take the leap:
1. All types of freelance English ESL teachers are in demand.
There are potential students all over the world, from all walks of life, looking to learn English, and they all have different goals. That means you're going to find a match between what you love doing and what students are hoping to achieve.
Personally, I love working with adults in general, and retirees in particular. I enjoy every class that we have and how much energy they put into everything they do. I feel like I always get the chance to fulfill my passion as a freelance teacher!
2. As a freelance English teacher, you are your own boss – teach who, what, how, where, and when you like.
You can not only choose your ESL teaching niche and preferred student age, but you have the freedom to establish your own rates, curricula, and teaching location (whether  home, a café or an Airbnb while you're traveling!)
For example, when I worked for a language institute, I was teaching kids, but that wasn't exactly my cup of tea. So I changed to freelance teaching adults, offering an in-person (and then online) conversation group that was centered around having coffee together. Now, these "Coffee Talks" are a favorite at my institute!
Check out Josefina's institute on Facebook: Idiomas: ARGOT Soluciones Lingüísticas.
3. You can feel free to let your "teachernality" out.
As a freelancer, your preferences, style, and personality can permeate your teaching materials, methods, and processes, which is something that you often can't do when you work for others.
I have an active personality; I'm very energetic and enjoy games a lot. Working for myself, I always try to transmit this style to my students: being passionate, taking the lead, and never being afraid to make mistakes!
4. As a freelance ESL teacher, you're always allowed to have fun and opt for a change.
Freelance teaching jobs are versatile; they keep you constantly challenged and learning new things. Maybe in the morning, you choose to teach English to children and in the afternoon, you teach a group of marketing professionals! Variety is the spice of the freelancer's life.
Read another teacherpreneur's advice: 10 Things I Wish I'd Known Before Becoming a Freelance ESL Teacher.
5. You're able to make some time for yourself – at last!
Since you're the one calling the shots as a freelancer, you decide your daily schedule, meaning you now have the chance to finally take that ceramics course you wanted, go hiking, or start baking.
I, for example, finally made the decision to buy my first mountain bike, and start riding it to the mountains – and beyond!
What's important is to stay organized and set your own rules from the start.
Learn some tips for maintaining work/life balance as an online English teacher, working from home.
6. You will always feel welcomed and included in the ESL freelancer community – there's room for everyone.
English schools, institutions, and companies that hire teachers can have firm requirements, such as a university degree and teaching experience, or even that you're a native speaker or have certain citizenship. By becoming a freelancer, on the other hand, there's no need to fit standard job qualifications. Instead, you can highlight your unique background and skills and determine the course of your own career.
My advice? Don't ignore the freelancer spark burning inside you – ignite it! Whether it's because you want to take the reins of your existing teaching career or flip it 180 degrees, once you've experienced the benefits of becoming a freelancer – and the possibilities have taken root – you may never want to go back. (If you have questions about becoming a freelancer, I invite you to contact me via my LinkedIn profile!)
Are you an experienced or qualified EFL/ESL teacher looking to make the leap to freelance teaching, like Josefina? Learn the marketing and business skills you'll need to succeed in the Bridge Specialized Certificate in Teaching English as a Freelancer course.