Gabriela, From Mexico, Teaching English at an International School
By Krzl Light Nuñes
June 9, 2021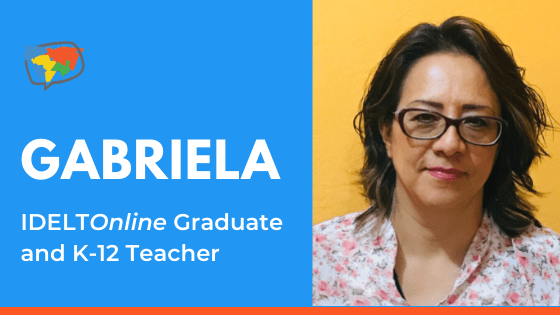 Gabriela del Carmen Sanchéz, from Mexico, turned her fondness for the English language into a career. Already an EFL teacher with years of experience under her belt, she recently completed Bridge's graduate-level TEFL/TESOL course, the IDELTOnline, to advance her career. Now, with her latest credentials, she hopes to transition from her current role as a substitute EFL teacher at an international school in Mexico City into a full-time teaching position there.  
Can you tell us a bit about yourself, Gabriela?
I'm from Mexico. I hold a bachelor's degree in English language and literature. I began learning English when was I was young, and I loved it! Then, little by little, I got involved in courses, programs, workshops, etc. that had to do with English.
How did you get into the teaching field?
I started teaching English at 21 so I have basically always been an English teacher. I was studying English at a language institute and then I got a job at the same place, which gave me the opportunity to revisit several courses I had taken before to improve my level of the language. Then, I decided to enroll in the teacher's course and began my first lessons. It's been 40 years since then and I am still learning.
Where do you currently live?
I live in the Xochimilco area in Mexico City. Xochimilco is famous for its canals, where visitors have a great time enjoying a short trip on a boat while listening to Mariachi music and eating some typical food.
What do you like most about teaching in Mexico?
Mexico City is my hometown and I feel proud of it because it is an amazing place where culture, gastronomy, joy, beautiful landscapes, and friendly people join together to make this a fantastic place for living.
Tell us about your teaching job
I currently work as a substitute teacher to middle school students at a K-12 international school in Mexico City, where English is the main language spoken. I got the job while I was finishing my bachelor's degree so I was looking for an administrative job in order to have more time to complete my studies. Since then, I've had three different positions at the same place. I am very happy now that the school is considering me for a teaching position.
Find out what types of job opportunities you can grab as a TEFL/TESOL-certified teacher.
What do you like to do when you're not working?
I like reading, swimming, walking my dog to the park, and eating ice cream
How has the COVID-19 crisis affected you as an English teacher?
I was about to lose my job but fortunately, I have been confirmed that I am returning next school term.
A colleague recommended this course.
I loved it. It made me learn about English teaching techniques, principles, and theory, as well as identify a better way to help students when learning. I think it helped me keep my job and have the opportunity to be considered for a teaching position as an EFL teacher. Before this, I had been an ESL teacher.
What's the difference between an EFL and ESL teacher? Here's an explanation.
What was your main strategy to ace this course?
Constant reading of the different chapters in the book as well as the extended readings, along with submitting my assignments on time.
Read other IDELTOnline grads' tips on succeeding in this course.
What are your plans for the next weeks or months as the world deals with the global pandemic?
It's very likely that I'll start teaching English as an EFL teacher, which makes me happy and enthusiastic about continuing my learning adventure.