What Is an ESL Teacher?
By Krzl Light Nuñes
October 16, 2020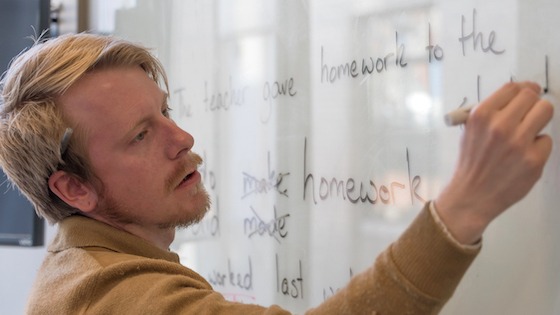 Whether you've set your sights on teaching English or just started in this field, you'll likely come across an alphabet soup of abbreviated terms related to the English-teaching profession. One of these buzzwords you'll have to be familiar with is ESL, and chances are, you'll be teaching it in a classroom or online. But what exactly is an ESL teacher and what is this job all about?
What does ESL stand for? Is it the same as EFL?
In the English-teaching world, the terms ESL and EFL were coined to describe how English students learn the language. Understanding these types of learning is important because it affects the lesson content and language instruction techniques you'll use as an English teacher.
ESL
ESL stands for English as a Second Language. When a non-English speaker learns ESL, it means that he or she is studying in a country where English is the native language. For instance, a Japanese professional who relocates to the U.S. for work needs to understand and speak English in order to communicate well with his colleagues, do his daily tasks, and blend into society easily. He is learning English as a second language, or ESL.
EFL
On the other hand, EFL is an acronym for English as a Foreign Language (add "teaching" and this is where the term TEFL comes from). Contrary to ESL, EFL is taught in a country where English is not the mother tongue. An example of this would be a Brazilian woman who's taking English classes at a language center in Rio de Janeiro. She's learning English as a foreign language and may be doing so in part because she doesn't have many opportunities to practice the language in her day-to-day life, outside the classroom.
ESL/EFL
Though these two terms have distinct meanings, in reality, they're often used interchangeably and sometimes even together. For example, you might hear someone refer to an American teacher abroad as an ESL teacher, or you might see a job posting for an EFL/ESL teacher. This is so common that it's become acceptable, but as an English teaching professional, it's still important to know the difference.
What's it like to be an ESL teacher?
An ESL teacher may choose to work in a classroom or online, but the fundamentals of his or her role remain unchanged.
What does an ESL teacher do?
ESL teachers have a primary goal: to help English language learners achieve fluency in English. With this objective in mind, ESL teachers work with learners so they can communicate in English more effectively, both in spoken or written form.
Since ESL students may have a hard time transitioning to life in an English-speaking country, another role of ESL teachers can sometimes be to bridge their student's native culture with that of their new home and help them integrate into a new environment where their native language isn't spoken.
What are the duties and responsibilities of an ESL teacher?
An ESL instructor's job doesn't stop at teaching new vocabulary and grammar. Rather, teaching ESL entails other planning and assessment-related tasks, which includes, though is not limited to:
Evaluating learners' English language proficiency level and needs.
Preparing lesson plans and obtaining materials aligned to students' needs and goals.
Providing support and motivation to students' learning
Checking and grading tests
Creating progress reports and providing feedback on the learner's English skills
In some cases, assisting adult students with English-related tasks outside class, like writing an email or preparing for a presentation
Helping students who are learning English for specific purposes (referred to as ESP), such as passing English proficiency exams like TOEFL or IELTS
 Taking a Micro-credential course in teaching IELTS Prep is the first step to thriving in this ESL niche.
Why do people choose to teach ESL?
It's no surprise why more and more people are drawn toward teaching both EFL and ESL, as this field offers attractive benefits and opportunities. The following are some of the reasons people teach English as a second language.
Rewarding Job
Perhaps your next ESL student gets admitted to an American university, or maybe that professional you're teaching lands a job in a multinational company. In any case, your learner's sense of pride and achievement will certainly be shared with you!
More than simply teaching a language, you're making a difference in students' lives because you're helping them get a chance to explore the world or advance their academic or professional prospects. And although teaching ESL may have its share of challenges, they will easily be outweighed by the priceless feeling of seeing the rewards and impact of your work.
Online Teaching Opportunites
Do you want to feed that wanderlust of yours but still have a steady income stream? While TEFL (Teaching English as a foreign language) is the most common way to teach and travel abroad, you can also travel while teaching ESL.
For example, digital nomads teaching ESL online have the flexibility to work from anywhere in the world. Traveling while teaching allows you to explore a new country for an extended period of time, get better immersed in a foreign culture, and even make new friends.
Allie is an online ESL teacher who has enjoyed the benefit of traveling while teaching for a company called Palfish. "I knew I needed a remote job that would give me the freedom to work from anywhere. I love teaching and I figured it was the best way to be able to work remotely on my own schedule and still do something that I'm passionate about," she says.
Flexibility
Is it possible to make a career out of teaching ESL online? Certainly! Take the success story of Carla, from Brazil, who has chosen to work full-time as an online ESL teacher and has even built her own client base through social media.
On the flip side, you can also teach virtually as a side hustle. For instance, Niels, from Peru, works as an engineer for a company but teaches technical English as a side gig.
New skills
From time management to becoming an excellent leader, you can gain a myriad of skills from being an ESL teacher, which you can apply not only in education but also in any other professional field.
If you're just starting out in the field and looking to pursue an English teaching career, teaching English online is a great way to build your ESL expertise and abilities as many online jobs don't require applicants to have previous teaching experience. Aside from teaching ESL virtually, you could also gain new skills and experience by becoming a freelance ESL teacher, working with language learners in your community.
Your ESL teaching experience, either online or in-person, can lead to career opportunities abroad in the future, teaching English as a foreign language (EFL).
To whom will I teach ESL?
As an ESL teacher, you have the possibility to work with students of all ages and proficiency levels.
Students of various ages
ESL teachers may teach very young learners, kids, teens, or adults. The kind of learners you'll teach will depend largely on where you work. Most ESL teachers work at language centers catering to adults who may be studying English to acclimate to a new culture, advance professionally, or prepare for admittance to university.
When you teach ESL online, you'll also have a chance to teach various kinds of students. For instance, you could work for online ESL companies like PalFish, which caters to young students, or teach adults in online companies like English First.
While you can choose to have ESL students from all age groups, you can also specialize in a certain niche, like teaching English to kids or business English to professionals.
Students of different English levels
From absolute beginners to intermediate to advanced level students, your ESL learners may be of various levels too. And, depending on the company or your own preferences as a freelance teacher, you could choose to give one-on-one or group lessons. So, make sure to determine which teaching format works best for you.
Find out what types of jobs you can get as a TEFL/TESOL-certified teacher.
Do I need to be a native English speaker to be an ESL teacher?
Definitely not! Gone are the days when teaching ESL was reserved only for native English speakers. As long as you're qualified and your English level is high, you'll find teaching prospects online and in various regions of the world.
Read a recent BridgeUniverse News article about this topic: Native Speakerism: Discriminatory Practice or Response to Market Demands? 
Do ESL teachers need to be bilingual?
You don't need to know a foreign language to teach ESL. A lot of ESL employers actually have a strict English-only policy in place so that students can get fully immersed in English.
However, if you do know another language, it can help you:
Get a deeper understanding of your students' culture.
Compare the structure of their native language to that of English,
Walk a mile in your learner's shoes.
These advantages not only enable you to teach English better but also to build better rapport with your learners. However,  even if you don't know your students' first language, you can still connect with them in many ways and, most importantly, through English!
What qualities and skills does an ESL teacher need?
Do you have what it takes to teach English? Here are some of the key qualities of successful ESL teachers.
Good communication skills
From giving task instructions to solving class problems, an ESL teacher must be able to communicate with his or her students well, regardless of their English proficiency level. This also means finding ways to overcome language barriers and using body language effectively to convey messages.
Patience
Part of an ESL student's learning process is making mistakes repeatedly, listening to audio clips over and over again, and asking limitless questions about the language. As an ESL teacher, you should be patient with your learners – as well as with yourself – as you work with them towards achieving their English goals.
Flexibility
As an ESL teacher, you should be able to adapt to many situations, such as teaching different student levels, following a school's syllabus, or helping students with special English-related tasks.
Time management
Tasks such as organizing class schedules and completing activities within the allotted time require an ESL teacher to manage his or her time well. Doing so is important in order to make the most of the day and class hours, in addition to preventing burnout and stress.
What are the requirements to be an ESL teacher?
Requirements to teach ESL vary depending on the type of job, the location, and the particular school or employer. These are some of the typical qualifications needed:
ESL teachers are usually required to have a bachelor's degree, although it is not a prerequisite in some online ESL companies.
For teaching in a classroom or online, a TEFL certificate of 120 hours or more, such as the Bridge Master Certificate, is commonly required. Browse online TEFL courses.
Most of the requirements for teaching ESL online are the same as those for teaching in a classroom, but it's recommended that you also earn Specialized Certification in Teaching English Online.
In addition, to teach ESL online, you'll be required to have the necessary technical equipment, which includes a working computer, a headset with mic, a webcam, and a stable Internet connection.
Teaching experience is not always required for teaching ESL. However, it may be necessary for applying to jobs teaching in a traditional classroom.
If you want to gain a competitive edge as an English teacher, add specialized certification courses or micro-credential courses in specific teaching areas to expand your skills.
Is TEFL the same as TESOL? Check out our detailed explanation of these two teaching certifications.
What challenges do ESL teachers face?
Teaching in person
While teaching ESL in a classroom allows students to interact more and do a variety of hands-on activities, English teachers have to prepare their classes, look for materials, and do administrative tasks like grade assignments and tests – all of which consume a lot of time and require good organization and time management skills.
Teaching online
Internet connection problems, software glitches, and students' lack of knowledge about using certain technologies are just some of the technical issues that online ESL teachers may have to deal with. Additionally, online ESL teachers have to learn how to use platforms and software functions they'll need to use for teaching.