Gedisa, born in Belize and raised in California, was already a teacher before making the decision to go abroad and teach English in South Korea, where she's now been living for five years! She shares details such as how she chose this location and what the hiring process involved, as well as giving us a glimpse into a day-in-the-life as a teacher there – both in the classroom and online.
Can you tell us a bit about yourself?  
My name is Gedisa Avella and I grew up in a multicultural household. I was born in the beautiful country of Belize but spent most of my childhood and adolescence in Southern California. In my youth, I was always interested in nature, animals, and the protection of our environment. I also had a love of history and how the past has shaped our present.
When it was time to choose a major, I studied Environmental Science and Archaeology. Though I loved these areas of interest, my first job after graduating from university was as a high school science teacher. This was not my first experience teaching. I had worked as a tutor before and substituted elementary school classes. However, it was my first time having my own class to plan, direct, and monitor the results. It was there I first discovered the satisfaction that a teacher feels when her students learn new things. The light of discovery in their eyes is what inspires me to continue teaching 8 years later.
You're currently teaching in South Korea. What made you decide to teach there?  
After 2 years of being a high school teacher, I wanted to experience life abroad and found that using my own skills and experience I could get a job in another country.
Most of the options I looked at were in Asia. I debated between Vietnam, Cambodia, China and Korea but in the end, Korea was my first choice due to the stability, low crime rate, and let's be honest, salary. I knew that I could comfortably make a living with the salary provided, and save. Many schools also offer free housing since the apartment rental system in Korea is not really feasible for those who don't plan to stay for many years.
Download a free Bridge Country Guide to learn more about TEFL in South Korea or other locations.
Most teachers who work in Korea are hired through recruiters, but some schools, such as mine, are open to direct application. When you live in Korea, it seems like 1 out of every 4 foreigners in an English teacher.
Koreans have a passion (and it might be almost considered an obsession) for English. There are English kindergartens and academies (hagwons) on every corner and many public schools have a foreign teacher or 2 to give the children direct instruction and interaction with foreign teachers. Most students learn English from elementary school and continue on up through university.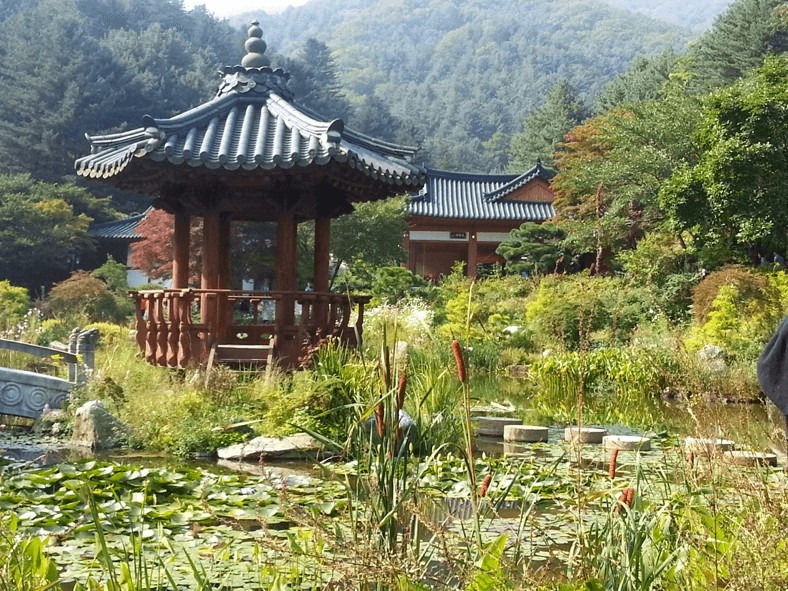 Exploring one of the many palaces in Korea with beautiful summer gardens and traditional pagodas.
How did you go about finding your position and what was the application and interview process like?
My experience being hired in Korea is atypical since I expressed interest in the school of my choice and was offered the job over the phone 7 hours later.  It was a sign, an answer to prayer, if you will.
However, the usual recruitment process usually takes a few weeks and sometimes will include the need to make a mock teaching video uploaded to YouTube or Vimeo. Teaching experience or teacher certification from your home country is not a must but could make you more sought-after.
I should mention that the government of Korea is quite strict about who they allow to teach. Often, to teach English in Korea you must hold a bachelor's degree, TEFL certification of at least 120 hours, and be a citizen of one of the following countries: The US, England, Australia, South Africa, New Zealand, Canada or Ireland.
Once you've been interviewed it could take another 2 months to actually get to Korea since the country requires criminal background checks, stamped documents, and medical forms.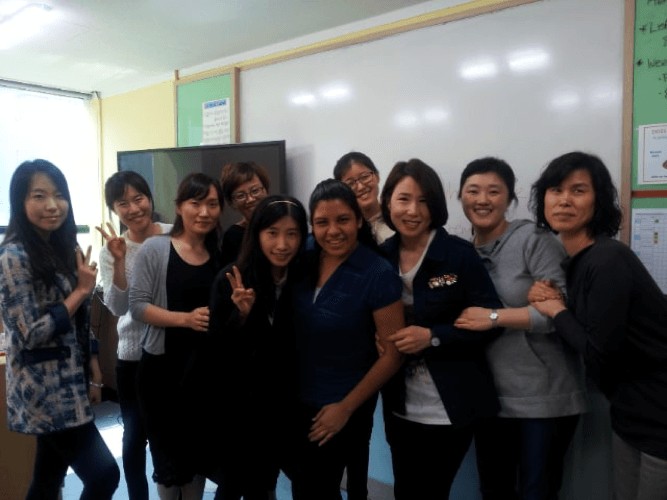 Gedisa with her adult morning students on the last day of class
We'd like to hear more about your teaching position. What type of learners do you work with? What might a typical workday look like for you?
The major focus for English schooling in Korea is on children. Most English positions will be for teaching elementary school children and, to a lesser degree, middle and high-schoolers. Most teachers work for private academies that have a variety of classes.
Students
My academy offers classes for adults as well as children and the adult students make up about half of the academy's population. An 'adult' student could be anywhere from a high school senior preparing to enter university to an elderly grandma with a foreign daughter-in-law who wants to be able to communicate better with her extended family.  This group is divided by skill level rather than age.
Schedule
Classes for adults are taught in the morning and evening. Busy office workers prefer to have classes before or after work. For those people, we offer classes as early as 5:50 am at some locations so that they can go to work afterward. Others come at night and have classes as late as 9 or 10 pm. The mid-morning students include housewives looking for a hobby, retirees keeping themselves sharp, business owners who can set their own schedule, and university students trying to prepare for studying abroad.
Children come in the afternoon after their normal school day has ended. It is completely normal in Korea for an elementary school student to have 5 or 6 different after-school academies ranging from music to math, to taekwondo.
Teachers usually teach about 25-30 hours a week with a few more hours of preparation required. Some schools may have extra activities during school holidays and weekends, so teachers should be very careful to ask questions before accepting a job so that they know everything that is required of them.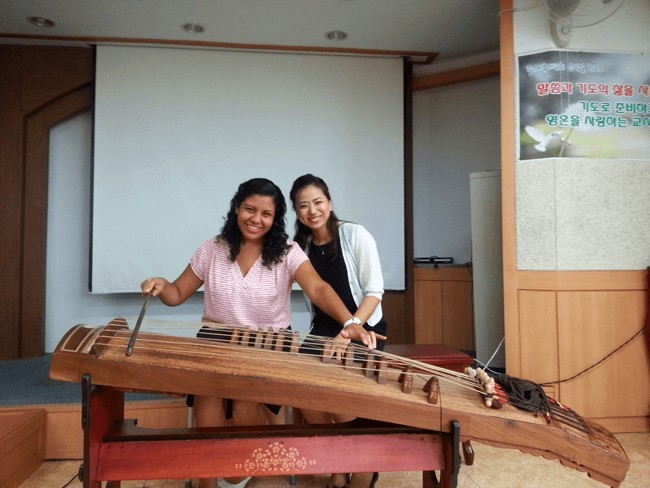 Gedisa receives a lesson on the "gayageum," a traditional Korean instrument
I had already been teaching for about 3 years in South Korea before I decided to enroll in the Bridge online TEFL course. My main motivation was 2-fold; the first of which was to be eligible for different jobs in the ESL field. Most universities in Korea require teachers to have a master's degree to teach English, but some would accept an applicant with a bachelor's degree who has TEFL certification and years of experience. I wasn't quite sure I wanted to make the switch, but I wanted to be prepared if the opportunity arose.
My second reason for taking the course was to improve my own teaching. Years of being in the field had taught me skills just through experience. When I took the Bridge TEFL course these skills were reinforced and the reasoning behind them explained. I found the assignments, especially lesson planning, to be very helpful since I rarely do this at my current job but go through some of the same steps in my head as I come up with new class material.
The instructors at Bridge TEFL were helpful and communicative. I really appreciated the feedback I received.  There are cheaper options available if all you want is a piece of paper that says you have a TEFL certificate. I chose BridgeTEFL thanks to the specialized care I received from the attentive instructors, helpful videos, and useful tools that they offered.
How do you feel this certification has helped you in your teaching career?
With my TEFL certificate, I'm now eligible to work as an online English teacher and I've been doing this along with my full-time job for the last year. Because teachers in Korea rarely work over 30 hours, I have enough time to dedicate an additional 15-20 hours a week working online. It's not the most stable industry, but as a part-time job it is a big help and I find it enjoyable to work with students via the internet.
Learn more about teaching English online.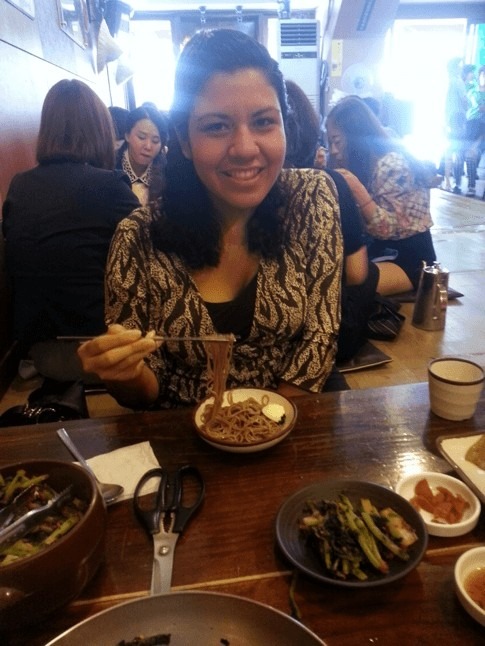 Gedisa enjoys a meal of cold buckwheat noodles called "Naengmyeon" 
What more would you like to tell us about living and teaching in Korea?
Korea is an amazing country. Having lived here for 5 years, it's home. There are many things to love about it, the changing seasons, the kindness of the people, and the lively atmosphere all around.
Wherever you go there is always something going on. Walking down the street, you may meet street performers or come across a festival. Also, remember to always look up – lots of signs are not at eye level, so you could miss a lot!
It is convenient to live here and the average teachers' salary is more than adequate to meet the needs of a single person. When you take chances, you may be richly rewarded. Take a leap of faith.
Considering teaching English in Asia but not sure which country is right for you? Read this next: Asia Overview: Where Should I Teach?