How to Create an ESL Podcast: 4 Crucial Components of an Inspiring Show
By Lindsay McMahon
October 5, 2021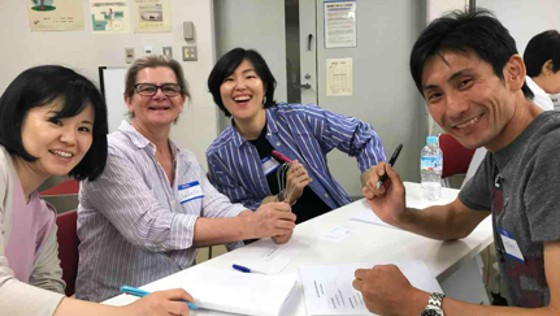 This guest post is by Lindsay McMahon, founder and co-host of the All Ears English Podcast. Lindsay and her team host live events and create courses, apps, and other technology to help learners focus on "Connection NOT Perfection."
If you're new to teaching, you'll want to get initial training and qualification with a TEFL certificate. You can explore our online TEFL courses to get started!
ESL students want to be inspired! In order to teach our students how to put English into action in real life, we need to capture their hearts, and we can no longer do this using a textbook.
I started the All Ears English Podcast in 2013 because I wanted to show ESL students how to focus on connecting and not being perfect when it comes to learning English. Over the past seven years, our podcast has helped hundreds of thousands of listeners shift the way they think about learning English. There is nothing more satisfying than helping students achieve their fluency goals.
In my last article, I showed you what an ESL podcast is and why you should consider starting one. When you make the decision to launch a podcast, you should take some time to plan. You will want to look at current gaps in the market and how you can fill those gaps. You will also need to choose a format that suits you, set up a schedule where you can consistently deliver quality content, and strategize how to use your personality as a differentiator. In this article, I will fill in the details of how to create an ESL podcast and set your show up for success from the start.
Take a Bridge Micro-credential course in Teaching English Using Podcasts to learn more!
1. Address holes in the market
Before you launch your show, put some thought into the gaps in our industry. You have to think like a marketer. Identify the "sacred cows" in language teaching or the unquestioned rules and norms that are not working for students. Once you identify these norms and rules, break them! Be provocative. Offer something new and different. Here are some of the ways we did this from the start.
Human-centered branding
When we launched All Ears English, we noticed at that time that none of the ESL podcasts had the teacher's face on the cover art or in the branding. It seemed like teachers were hiding, but we knew that students wanted to connect with a human being, so we put our faces front and center in our branding and it made a huge difference from day one. Branding elements can be used in your podcast's cover art, on your website if you choose to build one, on your LinkedIn profile, in your email signature, and in many other places.
Colors that surprise
Colors matter. When we launched, we noticed that most of the ESL brands seemed to use bland or corporate colors, as if they didn't want to stand out. They thought they had to be serious and academic, but this is not what students want. We knew this, so we did the opposite. We chose yellow as our color because it reflects the personality of our show and we don't apologize for it.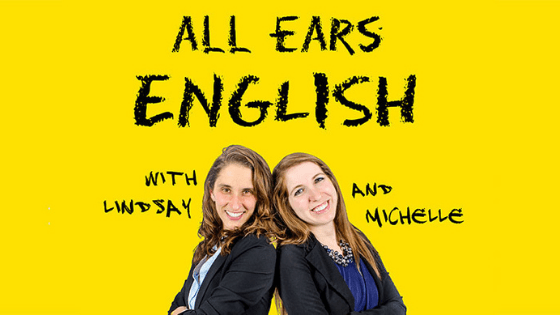 2. Be consistent
Even if you are just experimenting with your podcast as a hobby, nothing builds loyalty like consistency. One of the major reasons that All Ears English has built an audience of 75,000 listeners is because we are consistent. Publishing four days a week is non-negotiable for us. We create a weekly workflow that allows us to show up for our audience on time, as they expect. This creates trust, loyalty, and subscribers.
How should you set up your publishing schedule? In the beginning, it's okay to experiment with different schedules. For example, you could try three times a week and if it's not working, go down to twice per week, but always communicate with your audience. Tell them what to expect. This shows respect for your listeners. It is a privilege to be a thought leader in your community, and you have to earn that privilege by sticking to your word about your publishing schedule.
As a bonus, being consistent and publishing more often also helps your show gain more credit in the algorithms in Spotify and other major platforms because the more downloads and subscribers you accumulate, the more the platforms will favor your show.
Check out a teacher's top 10 favorite ESL podcasts.
3. Lead with your personality as your differentiator
While the ESL industry is crowded, if you take the time to consider what makes you unique as a person and use that as part of your differentiator, then no one can compete with you.
What makes you stand out is not what you teach but how you teach it. No one else has your personality, stories, examples, tone of voice, or angle on language teaching. Lead with your personality. This is how you de-commoditize your brand. It will be the best way to stand out now and in the future.
Here are 5 ways to set yourself apart as an English teacher.
4. Choose a format that feels natural
The game of content creation is long-term. You will not gain thousands of subscribers when you publish your first episode. You need to be in it for the long haul, so you'd better enjoy the work.
What you need to enjoy the act of content creation itself is specific to each person. For example, while many teachers enjoy creating YouTube videos alone, I know that I need to work off of chemistry with another person. I love natural dialogue, inquiry, and conversation, so I always podcast with a co-host. By creating a podcast that allows us to engage in content creation in the way we want to, we have been able to create more than 1,500 episodes.
Experiment with different formats, but then settle into one that works for you. Do you enjoy telling jokes? Create a podcast based on humor and stand-up comedy. Do you like storytelling? Build the format around stories. The key question to ask yourself is this: What is the format that you would enjoy so much that you would do it for free, forever? Do that.
Now, it's time to get started! There has never been a better time to start a podcast. Whether you want to use your podcast as extra material for your classes, a way to become a thought leader in the language learning industry, or even a way to pivot into your next career move as a freelance teacher, it is one of the best things you can do personally and professionally. Good luck, and enjoy the process!