5 Ways to Set Yourself Apart as an English Teacher
By Rashmi Chugani
March 29, 2022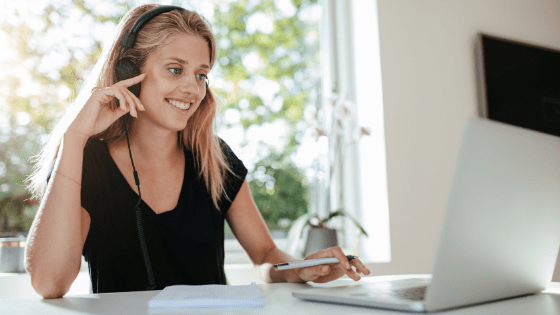 If you're looking to work as an English teacher, you'll soon realize that it's a very competitive environment. International academies and schools and online companies are looking for the best. In order to snag a coveted position in an international classroom or online, you have to set yourself apart as an English teacher. Here are five ways you can do that.
1. Choose an advanced-level TEFL/TESOL certification course
How do English teachers stand out? First of all, by completing the most advanced TEFL certification they can. This will show hiring managers that you have comprehensive training, and you'll undoubtedly stand out in competitive markets such as the Middle East.
One of the most advanced online TEFL certifications is the Bridge International Diploma in English Language Teaching (IDELTOnline™), which will enhance your resume with 150 hours of accredited training. The IDELTOnline™ is different from other certifications in that it's interactive, so you'll be part of a cohort of about 10-20 trainees from around the world. Similar to other university-level online courses, you'll have the opportunity to have live sessions and classroom discussions.
This course is unique in that it can not only be taken for graduate-level college credit (more on that in the next section) but it may also be taken as a first step toward a master's degree in TESOL through Bridge's university pathway partners.
Want to know more? Find out how the IDELTOnline™ can help you stand out in the most competitive markets.
2. Earn college credit and CEUs through your TEFL/TESOL course
Some TEFL/TESOL programs may be taken for college credit, and such programs are another way to set yourself apart as an English teacher. Many Bridge TEFL/TESOL courses are eligible for college credit. For example, the IDELTOnline™ has been recommended for nine graduate-level credits by ACE CREDIT®. Those credits are transferable to more than 1,600 universities.
Continuing Education Units (CEUs), which are nationally recognized units of measurement for participation in education programs, are often required for professional teachers. They're a great way to stay up-to-date with the latest developments in English Language Teaching (ELT). Plus, they will definitely catch a hiring manager's eye when reviewing your TEFL resume.
Reputable online TEFL/TESOL certifications will help you earn CEUs. For instance, you can earn one CEU for every 10 hours of Bridge course instruction.
3. Prioritize and highlight professional development
There are many TEFL professional development opportunities out there. Here are some examples of things that will grab employers' attention.
TEFL/TESOL conferences
Always keep an eye out for TEFL/TESOL conferences. Not only will you learn about the latest trends in the industry, but you'll also impress your future employers if you bring them up, as it shows your continued commitment to growing as an educator.
Specialized certificates
Whenever you're applying to an ESL teaching job and want to stand out from other teachers, make sure you talk about any specialized TEFL/TESOL certifications you have. For example, if you're applying to an elementary school abroad, highlight your Specialized Certificate in Teaching Young Learners. Or, if you want to work for an online company, get a Specialized Certificate in Teaching English Online. Showing that your credentials are geared toward the job to which you're applying will definitely help you stand out.
Micro-credential courses
Micro-credential courses provide short, targeted training in specific areas of teaching. For example, you can take a 20-hour course in Teaching English Using Podcasts or a 10-hour course in Games and Activities for the Online Classroom (Young Learners). These courses are a great way to continue earning new credentials, and they aren't time-consuming. Plus, you can choose a topic you're already interested in!
4. Choose a TEFL/TESOL niche
Employers and students will really value your skills when you're a specialist in a certain type of ESL teaching. For example, do you want to focus on teaching business English? Or, maybe you'd like to teach IELTS exam prep classes. Perhaps you'd like to just focus on offering English lessons to teenagers.
Whatever your interests are, choosing one or two TEFL niches to target can:
Increase your chances of getting hired by employers looking for specific skills
Help you stand out from other teachers on ESL marketplaces
Potentially help you earn more, as you'll be a specialist in your chosen topic
Reduce the time it takes to prepare lessons since they'll all be related
5. Gain relevant experience
It's no secret that past professional experience is a big factor when applying to jobs. In order to set yourself apart as an English teacher, try to get as many lessons under your belt as you can before you reach out to hiring managers for a coveted position.
Even if you've recently completed a TEFL/TESOL certification course and are brand new to teaching ESL, you can still get valuable experience through a Guided Teaching Practicum. This certification incorporates five hours of hands-on teaching practice in a real EFL classroom (plus you'll spend time observing other teachers in action). There's even a Practicum for Teaching English Online that will leave you with a portfolio of recorded classes that you've taught to show to potential employers or students.
Of course, you can also always scout for private students in different social media groups or volunteer to teach at refugee centers or local churches.
Here are even more ways to get TEFL/TESOL experience.
Following these five ways to stand out from the crowd will certainly help you land the teaching job you want. So, get certified, polish that resume, and apply away!