Bridge graduate Camille Turner taught English abroad in Europe before landing in Colombia, where she's currently teaching in both a traditional classroom setting and on the side as an online teacher. We asked her to share her insider's perspective on what it's like to live and work in this beautiful South American TEFL destination. 
Teaching ESL in Colombia has given me the opportunity to connect with the greater ESL community, learn from fellow educators, and have a positive impact on students' lives. If you're considering going abroad, Colombia is a great place to do so, and there are hundreds of new ESL teaching opportunities springing up in the country every single day. I'll tell you exactly how to find a job teaching in Colombia, why it's a great country to teach in, and what you can expect from the schools there — information I wish I had! Plus, I'll give you the low-down on how you can supplement your income with an online English teaching job.
Why teach ESL abroad in Colombia?
Teaching ESL in Colombia can be a rich and rewarding experience. Not only will you gain exposure to a brand-new culture, but the country itself has some very diverse environments, and you'll have the opportunity to explore everything from the coffee country to the Caribbean to the Andes Mountains to the Amazon Rainforest. Plus, you'll get to brush up on your Spanish!
Requirements to teach English in Colombia
The basic requirements to teach in Colombia are similar to the typical requirements of the region in general: TEFL certification (120+ hours preferred) and sometimes a university degree. For example, I took the Bridge 120-Hour Master TEFL/TESOL Certificate, which is widely accepted, and also chose to add on the Guided Teaching Practicum course because I wanted some hands-on teaching experience, in addition to the online training. (Previous teaching experience is generally not a requirement for jobs in Colombia, though some schools may prefer it.)
Browse online TEFL certification options.
How to find an English teaching job in Colombia
You can certainly find some ESL jobs in Colombia online via online TEFL job boards or social networks (such as the Bridge Jobs Facebook group). Also, many larger language institutes that have multiple sites throughout Colombia will often advertise on places like LinkedIn. However, for many of the private schools, tutoring institutes, and smaller site jobs, you won't find ads online but will rather get jobs by word of mouth. In fact, since living in Colombia, I've discovered that most things (job opportunities, apartments for rent, furniture for sale, etc.) are discovered this way.
The good thing is that getting to Colombia isn't so difficult since the government tends to be lenient with visas, and once you're here you're likely to find an ESL teaching job very quickly as there are a number of opportunities in just about every city. I found the school where I currently teach because a neighbor works there and informed me the school was in desperate need of English teachers. I've since had countless individuals, friends of friends, etc. tell me about similar opportunities and ask if I'm available to teach. Honestly, it seems like I get a new job offer (not that I'm in the market) to teach English here just about every month simply by someone overhearing me speak English!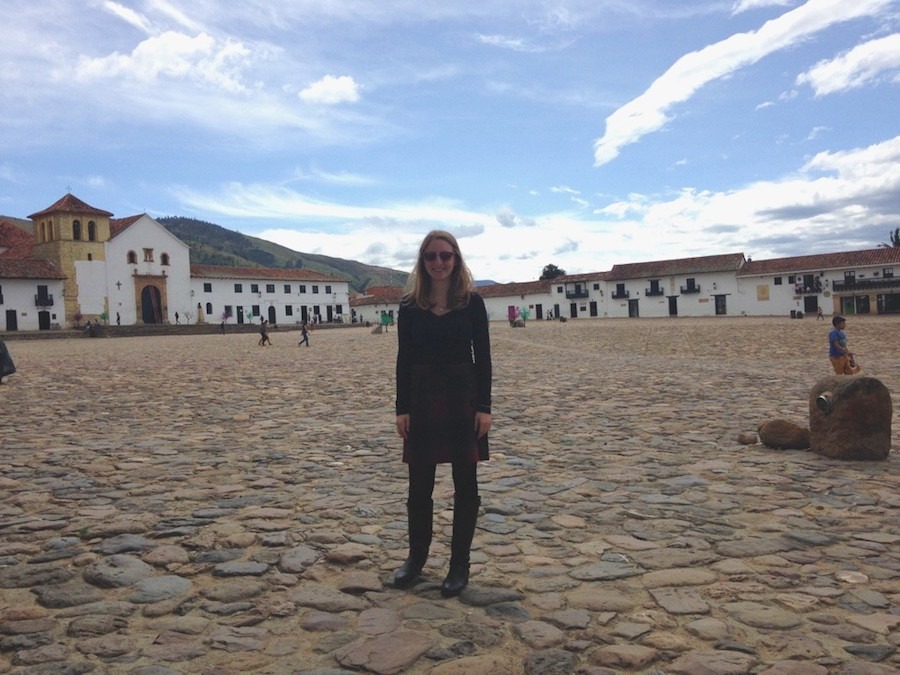 Main square in Villa de Leyva
Where to teach English in Colombia
If you're going to teach English in Colombia on your own (in other words, not as part of a specific program that takes care of logistics for you), then I highly recommend you teach in a bigger city. This is because transportation and resources are often limited, and in smaller towns or rural areas—even the touristic ones—you can't always find what you need, and the job opportunities are immensely reduced.
For example, when I first moved to Colombia, I decided to live in the small touristic town of Villa de Leyva because it's so quaint and quiet. While I loved the town itself, there were constant issues with the amenities, including the water, electricity, and Internet, at my house. Plus, if I wanted any basic teaching resources, such as a small whiteboard, I had to take an hour-long bus ride to the city of Tunja just to hunt one down. Even items like poster board or markers were difficult to find in the tiny town.
On the other hand, once I moved to Tunja, a smaller city and the capital of the region known as Boyacá, everything became much easier, and this is when the job opportunities started presenting themselves. Colombia has tons of great bigger cities like Medellin, Bucaramanga, Cartagena, or the capital, Bogotá, but also some wonderful smaller cities like Tunja and Manizales where you can find plenty of ESL teaching jobs.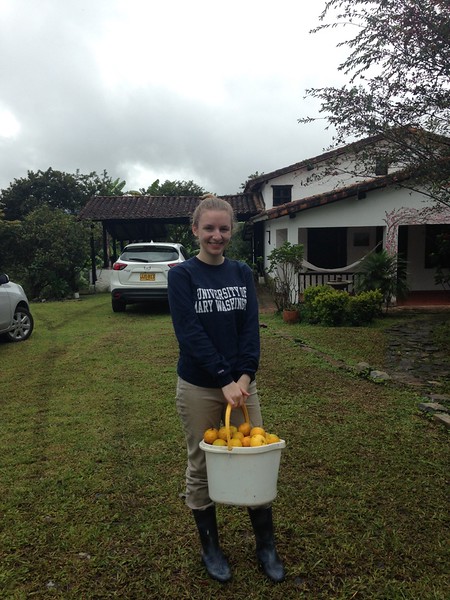 Picking oranges at my in-laws' family finca (countryside house) in Moniquirá
What is it like to be a TEFL teacher in Colombia?
School system
The school year in Colombia typically runs from February to late November or early December, and the students' Christmas break is sort of the equivalent of the European or North American summer holidays. (Keep in mind that there are no actual seasons in Colombia!) Many students attend private schools, as they are far more affordable than their North American counterparts, and many of these private schools are bilingual and focus on language learning.
The schools in Colombia usually break for lunch, when kids and teachers go and eat at home and return about two hours later. Every school has its own system when it comes to grading, curriculum, disciplinary actions, etc. At the private school where I teach, I am allowed to design my own curriculum, which I really enjoy as I can teach using the materials I want and cover the topics I think the students are struggling with the most. As I teach in an immersion setting, no Spanish knowledge is required.
The school year itself usually models what's done around most of the world, with four quarters, known as periodos, dividing up the year and final exams given at the end of each one.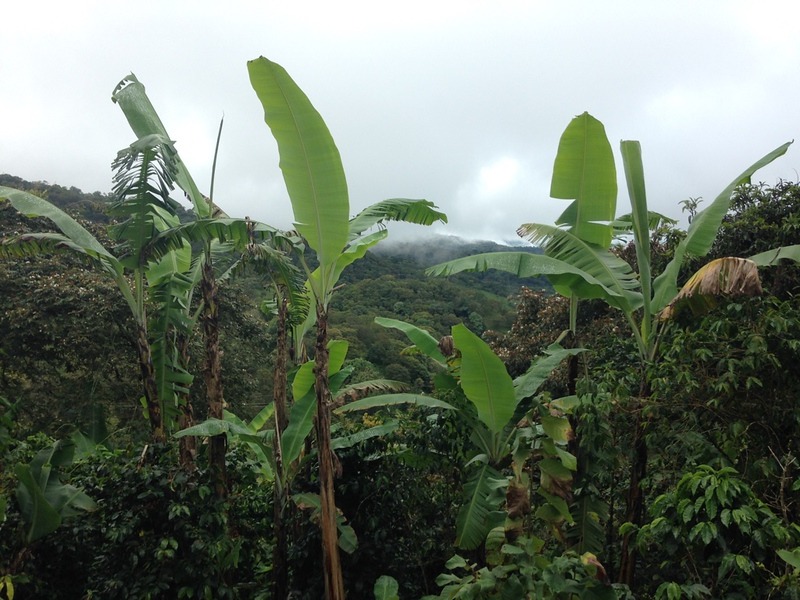 The view from the finca in Moniquirá (plantain and banana trees)
Culture
The Colombian culture is a vibrant and colorful one. Expect to see vendors selling handmade baskets and hats on every street corner, people paying for bands to come and serenade their loved ones in the middle of the night, and invitations to snack on cheesy, fried arepas.
Just as each culture around the world is highly unique, there are certain things that you have to get used to when you move abroad to Colombia. In particular, I've had to make peace with a difference in personal space (that personal space bubble is much smaller here) and noise levels (from music, vendors, parties, dogs, and more at all hours). The funny thing is that one of my tenth-grade students was recently preparing for his student exchange in the U.S. and told me his welcome packet mentioned both noise levels and spatial awareness but from the opposite point of view of how to adapt to them in the U.S.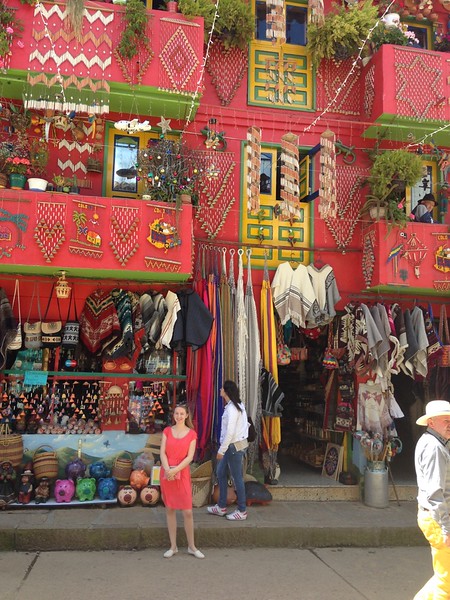 In the town of Ráquira
Cost of living vs. salary
The cost of living is quite low in Colombia, and you can make it on a salary of no more than $700 USD/month in many cities. The average salary in Colombia is probably between $700 to $1,000 USD/month, but you can certainly negotiate rates.
Teaching ESL online from Colombia – Why it makes sense
Teaching English online can be a great way to work while traveling or supplement your income in lower-income countries, such as Colombia. I have worked online for both Speaken and Magic Ears (where I currently hold a position). Magic Ears is similar to many of the other online Asian ESL companies that cater to students in China. With these companies, teachers usually teach students ranging from ages 2 to 15 and of all different levels.
Learn about getting qualified to teach online with the newly updated Bridge Certification in Teaching English Online + Virtual Practicum!
Minimal prep and lesson planning
In my own experience working online, the curriculum is set and my preparation time is very limited, which makes the job even more worthwhile. After I got the hang of teaching online, I started being able to easily prep for a class in about five minutes, mainly by quickly previewing the lesson and setting aside a few props to go with it. At Magic Ears, each class is only 25 minutes long and contains four students. The students are always changing, so you don't have regulars. Some similar companies function slightly differently with regular students booking your classes instead of an automated random system, and some classes are only one-on-one.
Flexibility
Teaching online is extremely flexible. You can essentially teach from anywhere as long as you've got a stable internet connection and a quiet, clean space. This is yet another reason to consider living in one of Colombia's cities rather than a small town. If you're going to teach online, you have to have good internet, which isn't something that's available in the more remote places of the country.
Hours
For the company where I work, you can choose your own hours each day, something that I highly value as it allows me to change my schedule depending on the week. I don't have a minimum number of time slots I have to open — another perk if I go on vacation, get sick, etc. Other online companies do make you choose a set number of weekly hours.
Remember that as most of these companies cater to Chinese students, you could find yourself teaching in the very early hours of the morning or the very late hours of the night depending on the time difference. The only other thing to keep in mind when working online is that booking rates may fluctuate depending on the season. If you are going to be dependent on your online teaching income, it's best to spread yourself over several companies so as not to suffer when one of them has a booking drought.
Pay
Teaching online typically pays quite well, with most companies offering between $10-$26 USD/hour. As I mentioned before, this is a great way to supplement your income in low-income countries or to fund your travels.
Browse online teaching jobs on the Bridge Job Board!
Teaching in Colombia – An overall unique experience
Teaching English in Colombia is a great opportunity for anyone looking to start or advance their ESL teaching career abroad. The country is an affordable place where you can work both in the classroom and online if you're looking for a way to supplement your income. Colombia offers a unique experience and has plenty of ESL job openings available, making them an up and coming big player in the ESL world market.
Want to hear more about Camille's TEFL adventures in Colombia and around the globe? Check out her BridgeTEFL Teacher Interview or browse TEFL jobs on the Bridge Job Board!