Getting her start teaching EFL, the career of Egyptian English teacher, Mai Baddar, took on a distinct path when her knack for languages led her to become an English language consultant for Cambridge English and a virtual exchange facilitator with the intercultural Erasmus+ program. We interviewed her about how she's progressed professionally and how she's adapting to online teaching during the pandemic.
Hi Mai! Can you share a bit about yourself?
I'm from Egypt. I have a Bachelor of Arts degree in English and I'm currently completing a Master's in Applied Linguistics and Translation Studies at Alexandria University. I'm currently working as a project-based English language consultant at Cambridge Assessment International Education and as a virtual exchange facilitator in the Erasmus+ program, which fosters cross-cultural dialogues for young adults around the world, and is conducted by Soliya, an international non-profit organization.
How did you get into the field of teaching?
I'd say I didn't really plan it – it was my lucky break. Since an early age, I've admired learning English and foreign languages. I was really a unique student and I've had a flair for learning language, in particular. For me, languages were the most enjoyable subjects. Then, I studied English during my undergraduate years. When I started learning about teaching methodologies, I admired the field and I got started. I worked as an ESL teacher in various learning centers, and later as an English professor at Pharos University in Alexandria. I was also an examiner for Cambridge international exams and taught IELTS prep at a language center.
Get started in teaching IELTS prep by taking a 10-hour Bridge Micro-credential course.
You speak Arabic and English. How has being bilingual helped you tailor your teaching approach?
Being bilingual helped me a lot. I know exactly the most common mistakes Arabic speakers make and the source of many of those mistakes as well. In addition, I can figure out how students are influenced by their mother tongue.
I've also started to learn Spanish recently. Experiencing the acquisition of a new language helped me a lot to put myself in my learners' shoes, and to know the difficulty they experience while learning. It was also very useful to know the best practices for teaching and learning. I'd definitely advise every teacher to try learning another language while teaching at a certain point in their career, even if it will be for a very short period of time. It will give you a taste of how the process of learning takes place with its ups and downs, difficulties, and achievements.
How did you get into the Erasmus+ program?
It was my lucky break when I found one of my colleagues posted about it. I checked the website and I was interested because I was already interested in cross-culture education. The program is a very good chance for college students to improve their listening and speaking skills too.
As a highly qualified teacher, you also conduct workshops and trainings. Can you tell us about a memorable one?
The most unforgettable training I've conducted so far is presenting at the NileTESOL conference this year. It is the biggest conference in Egypt, and I was really thrilled that my proposal was accepted for the first time. I presented on how to use Ted-Ed videos for integrating listening and speaking skills. It was really a more successful presentation than I expected, and I was very happy to receive wonderful feedback from attendees.
I'm also looking for opportunities to "cascade new knowledge" from what I constantly learn from several professional development resources, along with what happens in my classes.
How has the pandemic affected your teaching job and your work as a virtual exchange facilitator with Erasmus+?
The pandemic was really surprising and shocking! However, I'm familiar with working remotely and I adapted to online teaching easily. These are some of my tips:
What works offline also works well online in terms of teaching techniques and strategies.
The success of online classes depends on mastering technology and knowing which tools to use.
Sometimes, less is more. This is a secret formula for online teaching. We shouldn't bombard ourselves with too many tools.
In addition, we need to keep the classes shorter because some people have short attention spans. We should put in our mind that online learning is a new culture for many students and the whole situation is new.
On top of that, we should take care of our students' welfare and our welfare as well.
We should also build a good rapport with students.
Prep yourself for the virtual classroom by taking a Specialized Certification course in Teaching English Online.
How has teaching online been different from classroom classes?
Teaching methodologies are the same. However, the main difference is the medium and therefore the patterns of interaction.
The very huge difference is also preparation. Online teaching requires more preparation because you don't have a physical space to move or conduct any activities. You need to digitize all your materials and it is really time-consuming.
Online teaching has its own takeaways too. It saves time in transportation and enables students to take classes in various time slots, at their convenience. It offers flexibility in setting your schedule, too.
What are the most challenging things about teaching online?
The most challenging things are:
Spending a lot of time in preparation and/or encountering tech issues.
In an online setting, you don't have the chance to move around or to have real eye contact with your students.
You need to build a good rapport and not move too fast.
You need to choose a convenient platform that enables you to screen share your content. Google documents and Google Jamboard are simple, easy to use, and effective.
It is very important to check students' understanding through different types of assessment.
Most importantly, it is very important to use visual aids and pictures and to maintain the "fun" elements in the lesson, and to make up for not using a classroom board.
In the end, I find it challenging yet enjoyable and it is my pleasure to observe my students' progress and to see their problems solved and still learn during the lockdown.
I was applying to be a language examiner and I wasn't TEFL certified yet. The recruiter recommended Bridge to me among many other acceptable options. I truly liked Bridge from the first glance, and it stood out among many other options. I'm truly grateful for the genuine support I received from the Bridge team. The website and the team helped me to choose the most suitable course for my needs. I still appreciate their honesty and integrity.
I also think the course content was very smart. It provided me with several hands-on teaching ideas along with a solid theoretical background. The various exercises, the videos, and the different assessment techniques, like the tutor's feedback, were awesome. I wouldn't say I benefited less because it was an online course. It had all the components I needed, and I was able to study at my own pace, which is a great privilege.
How have you used your digital badge for this course?
I claimed it and used it on my LinkedIn profile.
Find out how you can use LinkedIn to get a TEFL/TESOL job.
You've taken various teaching and language training courses, such as those under the American English E-Teacher program. Why do you take these professional development courses?
It is important to take language training every now and then. We all learn from each other and we teachers and language trainers sometimes run out of ideas or experience what we can call "teacher burnout." Training programs provide us with fresh ideas. We need to be selective of what we need to maximize our learning outcomes.
Training programs also give me various resources that I can try. Everything we learn, we can tailor and adapt to our settings. It is also a way to stay updated and know what's new in our profession.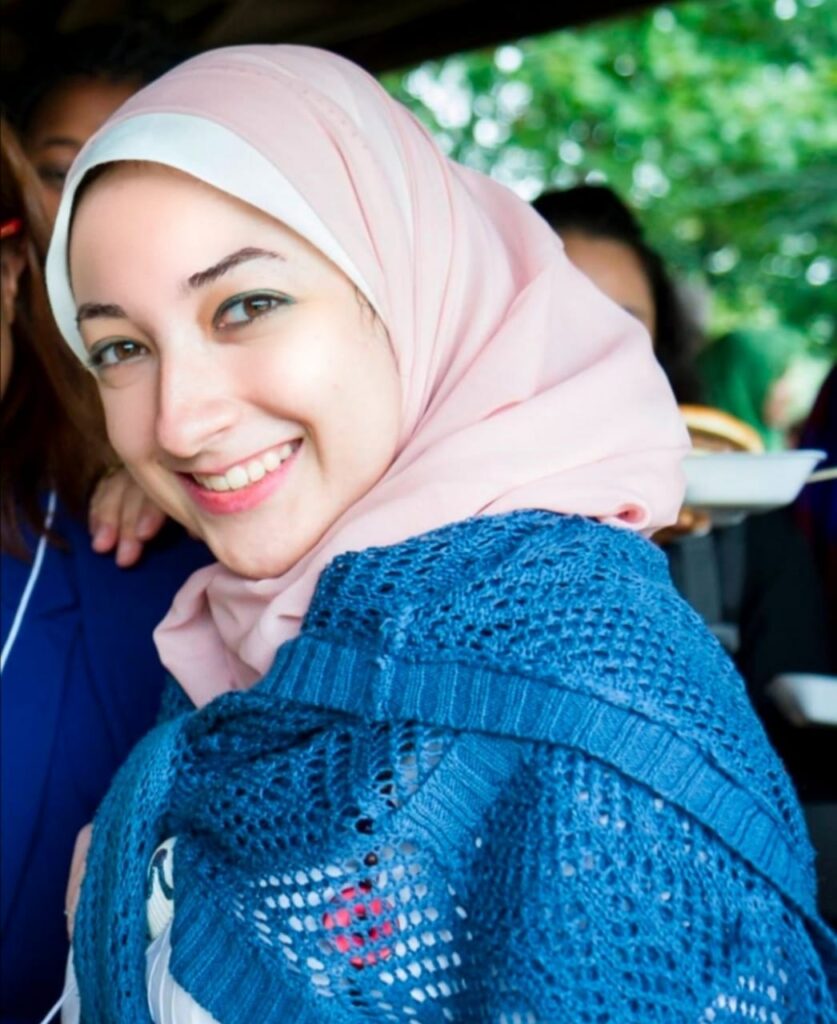 What are you looking for next in your career?
I'm looking for a more stable job and to teach online more. I want to have the experience of teaching English to students from various places around the world. With the rise of the pandemic, it is very difficult, or even impossible, to move. Teaching online agencies also require natives and it is a constraint for me as a non-native speaker. I may create my own startup one day.
Check out the job opportunities you can get as a TEFL/TESOL certificate holder.
What are your other career plans?
I have a lot of aspirations. I want to work in something related to the ESL field, especially in assessment, training, and test design. I also want to study and to know how artificial intelligence is used in the field of education and ESL in particular. It will be a dream to come true!
I don't want to stick to only what I want to do. I want to be flexible and grasp the opportunities available. Perhaps it will offer me something even more pleasant than what I have in mind.
Do you have any advice for English teachers who want to work in Egypt?
Egypt is an amazing country to visit. However, prospective teachers should also consider the country's very different culture. It wouldn't be a place to save money as much as it would be a place to discover and to engage with those differences. We have a highly collective culture. Egypt is a high-context culture as well. Generosity, smiling faces, and energetic vibes are everywhere. Egypt's weather is sunny and refreshing.