LinkedIn is a popular social network that allows professionals to connect with one another, find jobs, and highlight their achievements and qualifications. The English language teaching (ELT) industry has a large presence on the platform, and you can easily use LinkedIn to get a TEFL/TESOL job. From joining professional groups and following organizations to adding digital badges to your profile, LinkedIn provides plenty of opportunities to showcase your skills and qualifications to potential employers.
What is LinkedIn?
Simply put, LinkedIn is a social network for professionals. It's used to showcase your professional skills and achievements and to search for job opportunities. LinkedIn is free to use but does offer a premium plan, which gives you access to special features, such as additional information on salaries and job postings, the ability to send messages to people outside of your connections, and access to courses in subjects like business and technology.
Find out how teachers are using social media platforms like LinkedIn to get more online English students.
Is LinkedIn still relevant?
LinkedIn is definitely still relevant, and chances are nearly all potential employers will look for your profile on LinkedIn before moving forward with your candidacy. Recruiters actively use LinkedIn to search for potential candidates, and most businesses post job vacancies on the platform.
Want to teach virtually? Check out these job tips for teaching English online.
Who uses LinkedIn most?
Employers and recruiters frequently use LinkedIn to look for good candidates to fill job vacancies. Professionals across all fields also use LinkedIn to promote themselves and search for employment. The TEFL/TESOL industry is certainly well represented on LinkedIn, and you can find the latest English teaching jobs using this social network and career platform.
Ready to apply to your dream job? Here's how to write a TEFL/TESOL cover letter.
How can I use LinkedIn to get a TEFL/TESOL job?
There are countless ways to use LinkedIn to connect with TEFL/TESOL employers around the world. Follow these suggestions to utilize this versatile platform and get the in-person or online teaching job you want.
Watch a video about three ways to use LinkedIn to find your next job:
1. Focus on connections
As a social network, LinkedIn is chiefly about building connections, specifically business connections. You can connect with people that you've known for years, people in your industry that you meet at networking events or TEFL/TESOL conferences, secondary connections (connections of your connections), and so on.
The more relevant LinkedIn connections you have, the more opportunities you'll have to network online and support other teachers in the TEFL/TESOL industry.
2. Add your digital badge to your LinkedIn profile

Digital badges are an innovative tool used across various industries to showcase your credentials online, and LinkedIn allows you to easily add digital badges to your profile. Badges serve as a testament to your certifications, demonstrate your commitment to professional development, and set you apart from the competition on LinkedIn.
Recently, Bridge brought TEFL/TESOL into the digital badge sphere. Now you'll earn Bridge's digital badges by completing any of the online TEFL certification programs Bridge offers. These digital badges highlight your TEFL certifications and provide additional information about the skills, competencies, criteria, and accreditation that went into completing your credentials.
Watch a video to learn more about digital badges:
3. Showcase your skills and gain endorsements
LinkedIn also offers a space to list your skills so that employers can see where your strengths lie. The platform goes a step further by allowing connections to endorse skills, which essentially gives you more credibility. Getting endorsements from connections, such as previous employers or others in the TEFL/TESOL field, validates your decision to highlight these skills and lends more weight to your claims than is possible when using a traditional resume or cover letter.
See which non-teaching skills apply to teaching English online jobs.
4. Join professional groups
LinkedIn boasts many professional TEFL/TESOL groups that you can join. Some examples include groups dedicated to helping teachers find jobs, certification alumni groups, and groups for ESL educators looking to share resources with one another. These professional groups connect you to other teachers, schools, and institutions and offer an additional space to look for professional development opportunities.
5. Follow TEFL/TESOL organizations
You can also follow Bridge on LinkedIn, as well as other groups and organizations, to stay up to date with the latest news and to see when new teaching conferences are being hosted. Following groups and organizations ensures that you're keeping up with relevant industry news and job openings.
You can also follow job placement organizations or schools that you'd love to work for so that you're among the first to see any new job postings they advertise.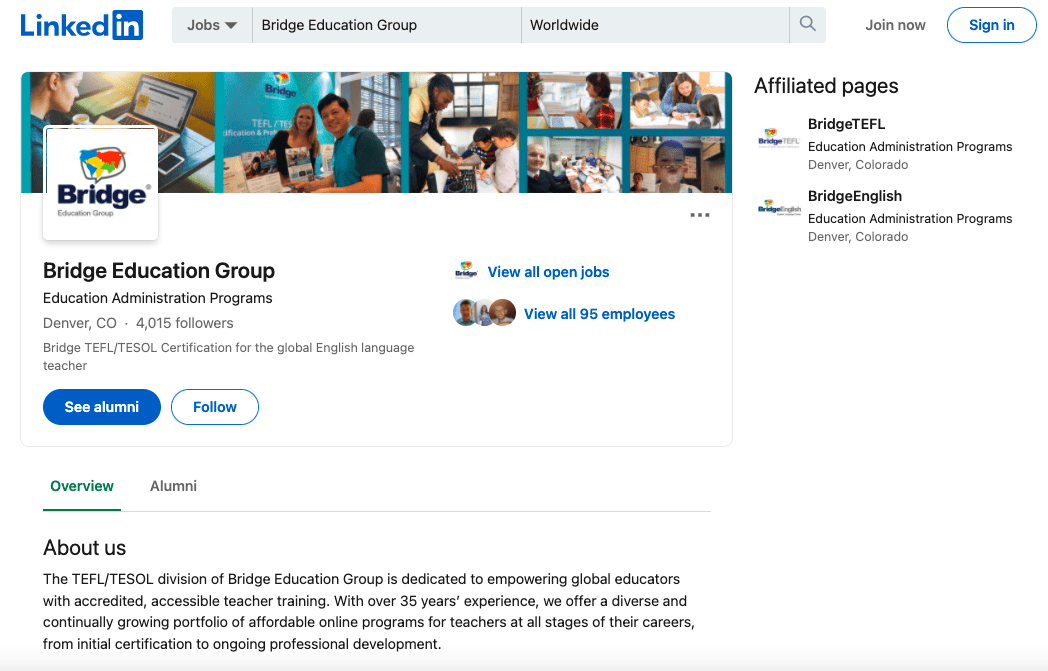 6. Let recruiters know when you're job hunting
LinkedIn has the option to select when you're open to being contacted about job opportunities. This information will appear on your profile to let recruiters know whether you're in the market for a new position or not.
You can further customize your profile to indicate which job titles you're interested in, at which locations you're willing to work, and what type of job (full-time, part-time, contract, etc.) you're looking for. Letting employers know all of this right from the beginning means connecting to more opportunities that are suited for you – and less wasted time.
Check out Bridge's top tips for landing a TEFL/TESOL job.
7. Share your resume and portfolio
LinkedIn isn't just for those currently looking for jobs. It's also a great way to maintain a professional presence online and organize your accomplishments in one place. Upload your TEFL/TESOL resume, your portfolio, and any other documents you have that showcase your professional achievements.
If you take professional development courses, such as targeted Micro-credentials, to learn new skills and stay current in the field, LinkedIn is the perfect place to list those accomplishments and stack the digital badges you earn.
8. Highlight your accomplishments
Any time you post an article, earn a digital badge for certification or professional development, or update your profile to highlight a promotion, you're letting your connections celebrate your accomplishments with you. This is a large part of the culture on LinkedIn, and it's a wonderful way to continue to let employers and others know that you're developing your teaching skills and hitting important career milestones.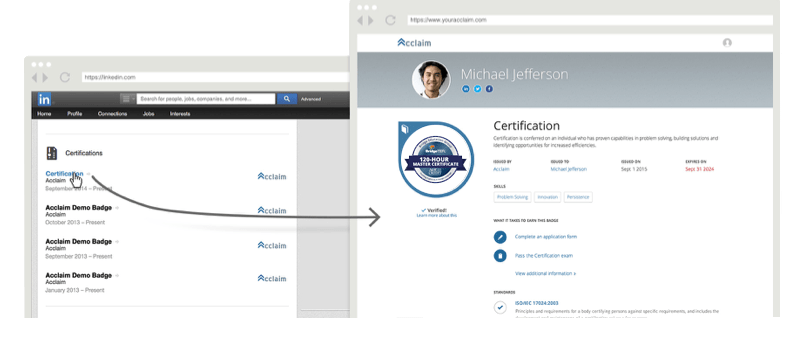 What about privacy – does LinkedIn show who viewed your profile?
With a free LinkedIn account, you can see how many people have visited your profile and the number of times you've appeared in search results. You'll also be able to see the last five people who viewed your profile, though sometimes their names or other information may be hidden due to their profile settings. If you have a premium account, you can see anyone who has viewed your profile in the last 90 days, though some of their information will still be restricted if they've selected certain privacy settings.
What types of TEFL/TESOL jobs are posted on LinkedIn?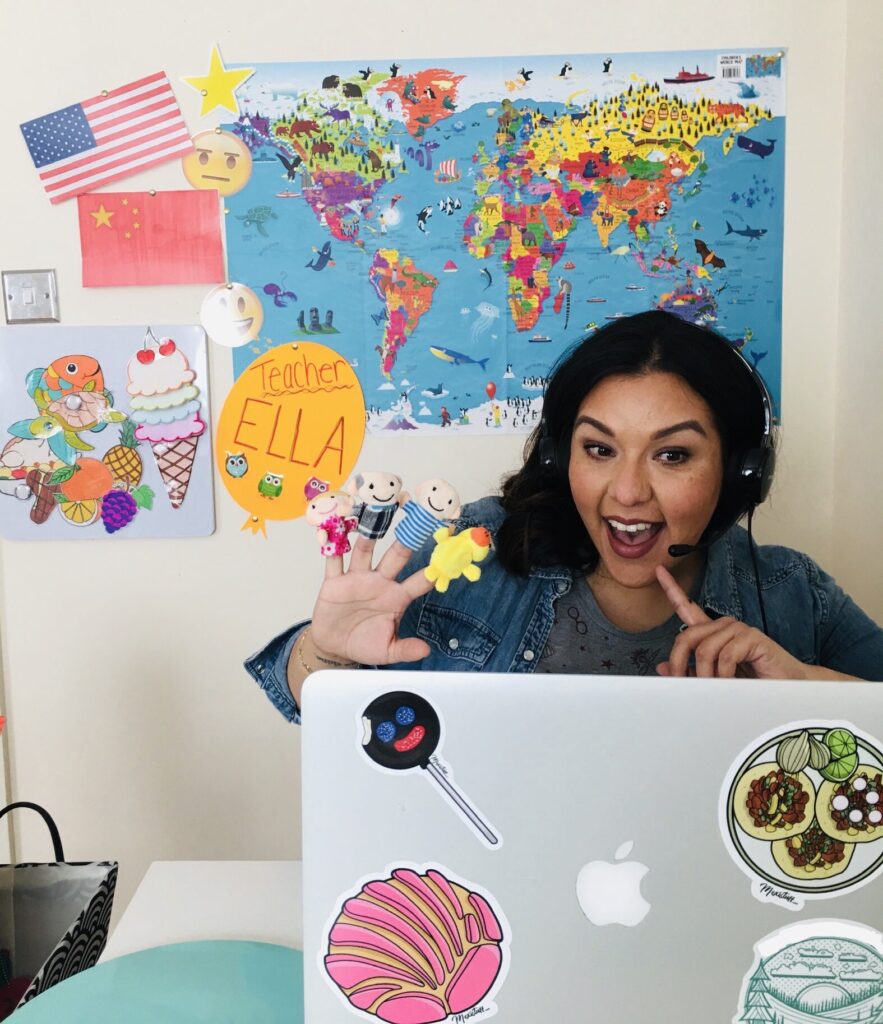 You can use LinkedIn to get a job abroad or to find online ESL teaching jobs. Use the LinkedIn job search feature to look for jobs at specific organizations or browse TEFL/TESOL jobs by location to see countless listings. For online jobs, you can either search for "online/remote TEFL/TESOL jobs" or simply look at the listings for major international cities, as the majority of big online English tutoring companies will post their ads for teachers under all of the big cities.
How do I apply to TEFL/TESOL jobs on LinkedIn?
Whenever you click on a job listing, you'll be able to read the company's instructions for how to apply. Oftentimes, they'll list a link to their site where you can apply directly. Other times, you'll have the option to simply submit your LinkedIn profile to see if they're interested in having you as a candidate. Keep in mind that LinkedIn can also lead to recruiters or employers finding your profile and simply messaging you first to see if you're interested in a vacancy.
Read about the typical hiring process for online teaching jobs.
How else can LinkedIn help teachers' careers?
LinkedIn can keep you up to date with relevant industry news and professional development opportunities, such as new certification courses you can enroll in or upcoming TEFL/TESOL conferences you can attend.
It can serve as a platform to connect with other teachers around the world and support one another by answering questions, providing helpful resources, and sharing experiences. You can use LinkedIn as a space to develop your reflective teaching practices or find articles that discuss the latest teaching methods.
Additionally, the social network can serve as a space for you to record all of your professional achievements, such as new certification or professional development, in one place.
Find out other ways to advance your EFL career.
LinkedIn is a widely recognized and innovative tool that can help you get a TEFL/TESOL job and showcase your professional skills and achievements. Be sure to take full advantage of this versatile platform by using its many features to stand out to employers and highlight what makes you an exceptional English teacher.