5 Innovative Online Tools for Teaching English Pronunciation
By Krzl Light Nuñes
July 20, 2022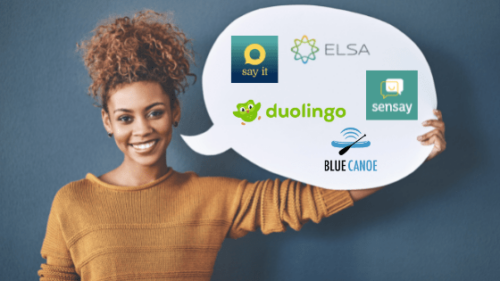 Have your ESL students been mixing up their vowel sounds or stuttering with unfamiliar words? Chances are you need new ways to teach English pronunciation or get your learners working on their speaking skills outside of class. The good news is that there are many apps nowadays that can help students brush up on their pronunciation, word stress, intonation, and more. Check out the following online tools for teaching English pronunciation that your students will surely love!
Master the skills you need to get students speaking clearly and confidently by taking a Micro-credential course in Teaching English Pronunciation.
What kinds of tools can you use to teach pronunciation?
Gone are the days when English teachers could only rely on charts, texts, or drills in class to teach students how to fine-tune their Rs and Ws or talk with a more neutral accent. Now, there are different types of mobile and computer apps that not only train students in pronunciation but also make learning more fun! Let's take a look at some of these digital tools and how you can use them.
Check out these online ESL teachers' favorite tech tools.
Online tools for checking and correcting pronunciation
A lot of online pronunciation apps work with artificial intelligence (AI)-powered speech recognition features that can identify and analyze human speech. For instance, users can read phrases shown onscreen, and after listening to the students' voices, the app matches what they said with the correct English pronunciation. These apps can also give real-time feedback by pointing out mispronounced words or giving tips on how to say certain sounds or where the word or sentence stress should be placed.
As an after-class activity, you can recommend that your students work with these digital pronunciation "coaches" so they can continue their pronunciation and listening practice. You can also assign certain tasks in the apps to complete and check students' progress in your class.
Apps with pronunciation guides
Looking for other ways to familiarize your learners with new English sounds? Some apps come with an International Phonetic Alphabet (IPA) chart or their own guides on consonant and vowel phonemes and diphthongs. By pressing a specific phonetic symbol, for instance, the app can model the sound and even provide word examples.
You can use these visual guides as a supplement to your class materials or to make your lessons more interactive. For example, you or your students can press the audio buttons and they can repeat the sounds. Having this guide will also be handy in case students need to review what they've learned in class.
Platforms that provide pronunciation activities
There are also online pronunciation tools that let you create quizzes or games. These platforms usually come with self-recording and grading features, so you only have to worry about writing your own questions and coming up with speaking exercises for your ESL students.
These apps are a great way to gamify your pronunciation lessons, and you can opt to use them during class or outside of class as an evaluation tool. Who would've thought that speaking tests could be less scary?

Online pronunciation games
Another feature of pronunciation apps that attracts users is the games and challenges that make learning even more engaging! Students can choose to complete tasks based on their English level, for instance, and earn points. Some apps also let you play with users around the world and see your position in the global rankings – your learners may bring out their competitive sides!
By recommending these fun activities, your students can be more motivated to practice English. They can play ESL pronunciation games in their free time, for instance, or start a habit of completing one challenge per day.
Take a look at what games you can use to teach the International Phonetic Alphabet (IPA) during a pronunciation lesson in this clip from a BridgeUniverse Expert Series webinar:
In-app dictionaries with audio pronunciation
Some apps also have built-in dictionaries that students can use not only to look up the meaning of words but also to see how the words are pronounced. Sharing this go-to reference with your students will be helpful when they need to check pronunciation outside of class.
Top online tools for teaching English pronunciation
Now that you know how most online English pronunciation tools work, here are the top apps from which to choose. These apps are easy to download and use on mobile devices (and on computers in some cases), so you and your students can use them anywhere, anytime!
Get pronunciation activity ideas and learn the best methods for teaching this important skill in the Micro-credential course in Teaching English Pronunciation.
ELSA, which stands for English Language Speech Assistant, is an app that helps students improve their speaking skills through speech recognition. Aside from evaluating students' speaking performance, the app also gives feedback on articulating words and offers tips for how to speak more naturally.
Here are some of the features of this app:
Students can practice specific consonant and vowel sounds through bite-sized lessons.
The app can determine your English-speaking proficiency level based on your pronunciation, fluency, intonation, accent, and ability to recognize specific sounds.
ELSA's in-app dictionary lets you check the pronunciation and definition of words.
You can create your own study lists by choosing the words you'd like to practice.
Students can also practice with the lessons created by other users, some of which are created for various topics like food and business or specific purposes like TOEFL preparation.
Bridge grads and trainees get a 20% discount on ELSA Pro! Sign up here.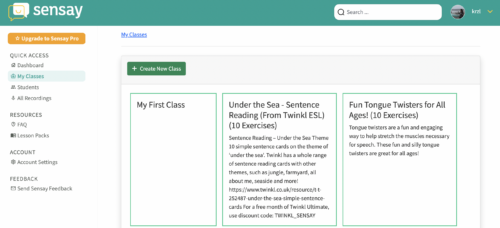 Sensay is an online resource for pronunciation practice that lets teachers create online courses, lessons, and exercises for their students. Through its AI-powered tools, you can make your own pronunciation practices, speaking activities, and even listening comprehension quizzes or tests.
Teachers can benefit from Sensay with the following features:
Sensay allows you to set up different exercises on the platform using text, images, and even videos.
In order to share an exercise, teachers can simply send a link and PIN code to their students' emails.
Students can record themselves right on the platform, and teachers can see the list of all the learners' recordings afterward.
Sensay takes care of scoring the students' answers and provides detailed feedback on their pronunciation.
The app also offers pre-made lesson packs that you can download and use right away.
Bridge trainees get an exclusive, free 30-day trial (as well as access to 10 tongue twister speaking activities!) by entering the code BRIDGE on the sign-up page.
Through the Say It mobile app, students can practice phonetic sounds and words through listening and repetition. A key feature of this app is a sound wave graph that shows intonation and which part of a word should be emphasized.
Let's take a look at Say It's best features:
Say It includes a phonetic chart that shows English vowel and consonant phonemes.
Students can challenge themselves by completing the pronunciation tests for different English levels.
The app breaks down a word into syllables and shows the phonemes used.
Students can record their voices to imitate the pronunciation of the words. Afterward, they can play the audio back to evaluate and rate their own pronunciation.
Students can save their recordings to a list and even share them with their teachers or peers by email.
Duolingo is a game-based app that can help language learners practice their speaking, reading, listening, and even writing skills through a variety of fun activities such as word matching, reading practice, and sentence completion. Students can learn about different topics through mini-lessons. These include everything from basic verbs to complex grammar structures to useful expressions.
These are some of Duolingo's features:
Students have to complete the exercises in a lesson in order to level up, earn points, and unlock the next lesson.
Students can read vocabulary or grammar tips that can help them ace each exercise.
Users can follow and compete with players from other countries.
Duolingo rewards students for achieving their goals and completing challenges.
Blue Canoe is a language learning app that provides pronunciation training using the Color Vowel System, which associates the names of colors to the 14 vowel sounds in the English language, such as "green tea" or "white tie." If you're not familiar with this method yet, a tutorial on the app's homepage can guide you on how you can use it to teach pronunciation.
Teachers and students alike will love this app because of the following features:
The highlight of the Blue Canoe app is the Color Vowel chart, wherein users can tap the name of a vowel sound to listen to how it is pronounced.
On the in-app dictionary, students can look up a word and listen to how it's pronounced. It also indicates its corresponding color vowel sound.
Students can practice saying useful expressions for different situations like traveling or shopping through short lessons. When practicing these expressions, students have to read the phrases onscreen. Then, the app provides a score based on the students' pronunciation.
A calendar on the app lets students schedule their English pronunciation practice and set a daily goal.
Don't let teaching English pronunciation make you nervous. Now, ESL teachers have more tools and resources than ever to help their students communicate more fluently and confidently. By using the apps above, you can boost your learners' speaking skills and help them have some fun in the process!