The Best Digital Tools for Teaching English Online
By Krzl Light Nuñes
July 24, 2023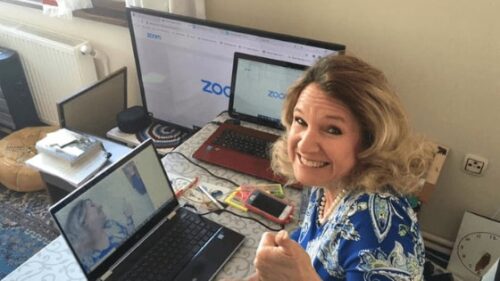 As an online English teacher, setting up a fun-filled yet organized virtual classroom may be puzzling. You might have a goldmine of ideas for how to plan lessons and grab students' attention, but you're unsure which online programs are fit to make them happen. If this has been a challenge for you, don't fret! We're here to help by presenting the best tools for teaching English online.
If you're new to teaching, you'll want to get initial training and qualification with a TEFL certificate. Explore our online TEFL courses to get started!
What are digital tools for teaching English online?
When teaching English virtually, technology is essential in carrying out your tasks successfully, from scheduling classes to storing materials to sending exams to students. Fortunately, there is a plethora of software, apps, and platforms nowadays that aid online teachers in enhancing learners' experience and reducing your work in the long run.
A digital teaching toolkit typically includes:
Schedulers
Programs for creating and presenting content
Software for editing images and videos
Quiz makers
Online game platforms
Cloud storage and file-sharing providers
While a lot of these online tools are free, most of them offer a paid version if you want to unlock more features and get a better quality of service. The good news is that you don't have to be tech-savvy to be able to use these apps or platforms – you can just learn as you go by exploring them or watching tutorials online.
Learn the essential online teaching tools and the skills to use them in the virtual classroom by earning Specialized Certification in Teaching English Online.
What technology tools can you use for teaching English online?
Whether you work with an ESL company or teach English as a teacherpreneur, you'll definitely need to equip yourself with the right tools for giving classes. Let's break down these digital programs based on their functionality.
Teaching platforms
While a number of online ESL companies have their own online English teaching platforms for managing and running classes, most virtual teachers use video conferencing software to communicate and hold meetings with students.
While teleconferencing programs vary in the features they have, they should at least enable you to use your video camera, share your screen, and chat with your students. They should also be stable, user-friendly, and able to accommodate groups.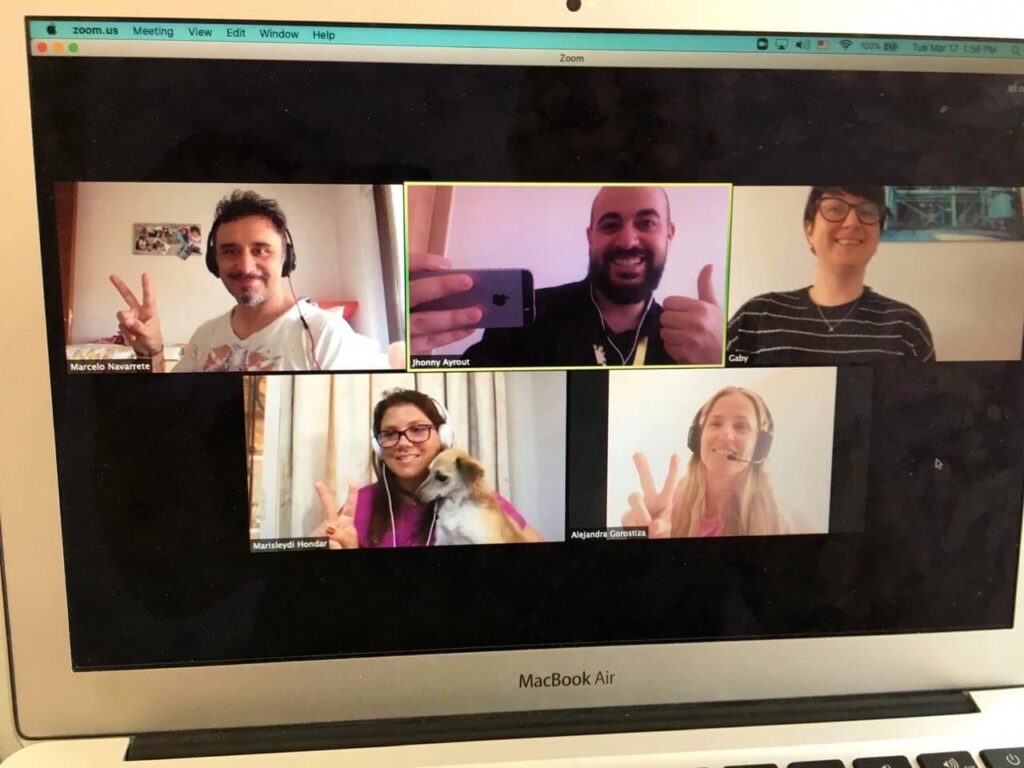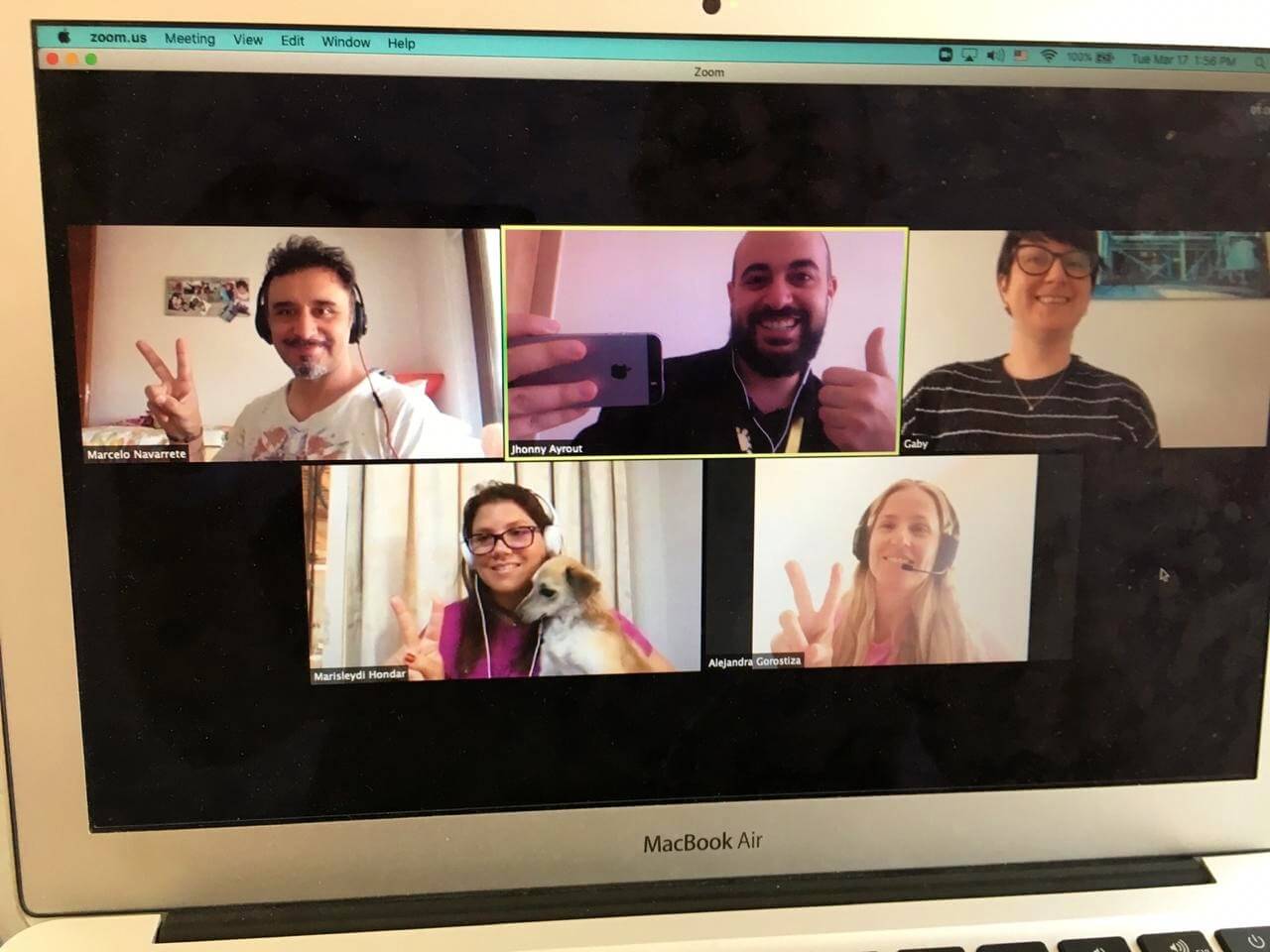 The most popular video calling software, Zoom is a great fit for teaching English online because it is easy to use and provides the following features:
A built-in virtual whiteboard
Breakout rooms to split students up for group activities
A chat box that allows you to send messages to the entire class or individual learners
Screen share function that allows you and your students to share not only your materials or documents but also audio from your computer
Cute emoji buttons that let participants raise their hands, send virtual applause, and react to others
Zoom comes in a free version, which you can use for one-on-one lessons without a time limit or for group classes for a maximum of 40 minutes.
Another communication platform is Microsoft Teams, which is commonly used by professionals. So, if you have Business English students, chances are they have this software already installed on their computers!
Niels, an online Business English tutor from Peru, delivers his classes through Microsoft Teams. "I use this program because it is connected with a variety of other apps, and I can use my digital pen and avoid typing so much," he said.
Online teachers can benefit from using Microsoft Teams through the following features:
Screen and audio sharing
Chat function that lets you communicate and share documents with everyone in the virtual room
A variety of fun and professional-looking backgrounds
Easy-to-use scheduler
You can make use of all of Microsoft Teams' features and have online meetings with an unlimited number of participants using its free version. Meanwhile, you can also upgrade to the premium version to get cloud storage and Microsoft Office apps.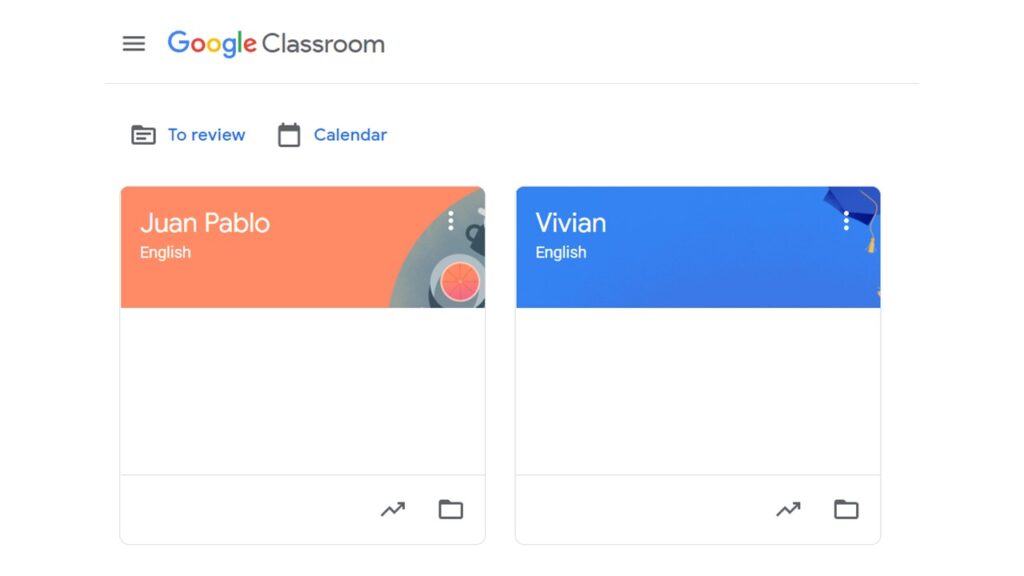 Organization apps
Especially since remote learning became the trend during the pandemic, online ESL teachers have turned to class organization platforms to manage their students better. Imagine these apps as a one-stop-shop where you can assign homework, post class announcements, and give feedback to individual learners.
When choosing the best organization platform, make sure that both you and your students can access or navigate it easily. It should also let you share materials or documents with ease, either through email or via a link.
One of the top blended learning platforms these days, Google Classroom helps make managing classwork easier by letting you:
Create, distribute, and grade homework
Organize your lessons into modules or units
Upload materials and store them on Google Drive
Track students' progress
Post comments and class announcements
While Google Classroom does have a free version, you can opt to upgrade to obtain more space – which could be useful if you have lots of files!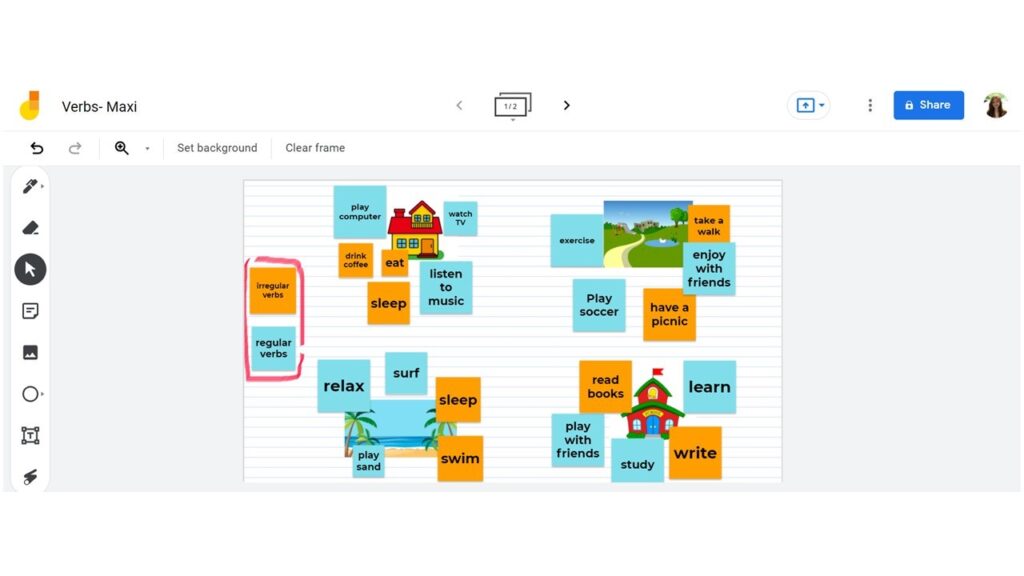 Tools for creating lessons and content
Make your presentations, infographics, and other class materials more engaging by customizing them with collaborative design apps and workspaces. In addition, you can use these tools for brainstorming ideas with students or assigning group tasks, such as creating a presentation.
A good design tool should be user-friendly and provide a variety of options for building and styling content. Collaborators should also be able to share and access the workspace.
Meanwhile, another type of digital tool that can be used for creating content is AI-powered chatbots that not only respond to questions but also perform tasks that can help you generate ideas, provide prompts, and enhance your assessment methods.
From posters to Zoom backgrounds to slides, Canva lets you design many different types of graphic materials. Among its many fun and useful options, it allows you to:
Choose from a wide range of professionally designed templates
Upload and edit photos from your computer
Customize text, graphics, layout, and colors
Organize your creations into folders
It's possible to use Canva for free and enjoy its basic editing features. Or, you can also get its premium version, which gives you access to more templates and design tools.
Google Jamboard is a free, collaborative, digital whiteboard that lets you illustrate and show ideas or content easily. As an interactive tool, you can share your Jamboard with many other users by simply adding their email addresses or sending them the link to your workspace.
Although Google Jamboard does not offer templates to base your designs on, its toolbar offers the following for content creation and presentation:
Various pen styles and colors
A laser pointer for highlighting items
Sticky notes and text boxes
Customizable shapes
You can also insert photos taken from your computer, mobile device, or Google Image search
Create multiple Jamboards on one workspace
A chatbot that uses artificial intelligence to give human-like responses and conversations, ChatGPT is your one-stop-shop for planning your lessons and crafting content. It can assist you with a variety of tasks that may usually take up much of your time. It can help with everything from gathering information to composing letters to proofreading texts.
You can make the most out of this AI tool by:
Searching for facts quickly
Generating reading passages such as stories
Creating questions for class discussions
Creating writing prompts for students
Teaching vocabulary by making word lists and demonstrating how to use words in a sentence
Teaching grammar by showing sentence examples
Finding mistakes in sentences (you can paste a student's written work into the chat and ask the bot to identify the errors)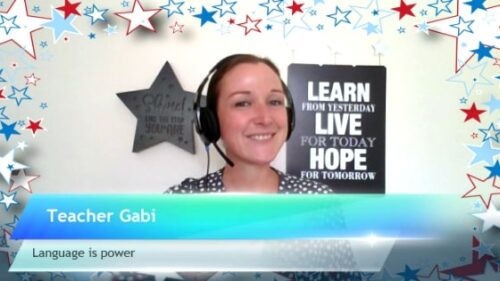 Webcam software for creating special effects
Spicing up a virtual classroom may be challenging for teachers, especially if you need to be creative in setting up your teaching background and capturing youngsters' attention in class. If you're looking for a digital tool that does all these tricks and more, you can rely on webcam and streaming apps that can add filters and effects to your videos.
Make sure that your webcam software is compatible with the video conference platform you're using for classes. Additionally, webcam apps can usually slow down your computer because of high CPU usage, so check that your desktop computer or laptop meets the platform's system requirements.
ManyCam is the go-to webcam app for most online English teachers nowadays. You can use it to add elements to your teaching backdrop, play games, show virtual objects onscreen, give rewards to your students, and more!
Through this user-friendly program, you can:
Replace your background with an image or a video
Add fun borders, banners, text, and stickers to your video frame
Use face masks to appear as a different character or animal onscreen
Choose multiple video sources
Display time tools, such as a digital clock, stopwatch, and timer, onscreen
Zoom your camera straight from the app
ManyCam offers free, standard, studio, and enterprise versions. While you can use the app's basic functions with its free version, you can enjoy more features and add more video sources when you upgrade to a premium version.
Check out this guide to using ManyCam when teaching English online.
Platforms for playing games in class
Hoping to make learning more engaging for your students? Why not turn tests into games? For this, you can take advantage of interactive apps that make it easy for you to generate your own quizzes and convert them into fun challenges for your students.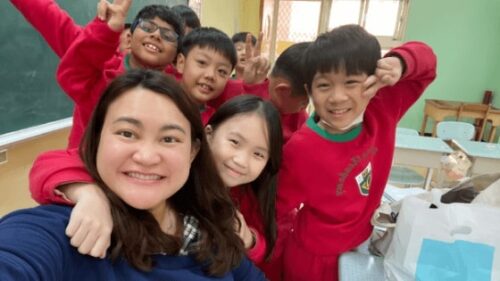 An online, game-based learning platform, Kahoot! lets you create and share your own educational games quickly and easily. Teachers can use it as a warm-up activity, to review concepts they've taught, or as a form of assessment. What's more, it's totally free to use!
Shella, from the Philippines, is an English teacher to primary students in Taiwan. When they shifted to online classes, Kahoot! became her favorite digital tool, not only for motivating her students but also for checking their understanding of the lesson. "I would tell them that I'd know if they were listening in class because their Kahoot! scores would show me!" she shared.
Making your own learning game on Kahoot! is pretty straightforward:
You can choose to add text, images, and diagrams to your quizzes
Once your game is ready, you'll get a unique PIN to share with your students
Any student who has the PIN can play the game on their computer or mobile device
Check out more ESL games for teaching online.
If you're looking to make learning and memorization more fun for your students, Quizlet could be your online platform of choice! This free education app makes it easy for teachers to create flashcards, study guides, and interactive games for any age and level.
On the Quizlet platform, you will be able to:
Make customized flashcards
Build study sets that students can use for reviewing past lessons
Craft various types of student assessments, such as a written quiz or a spelling test
Add your own list of terms and definitions for your learners to study or memorize
Working as an online English teacher may require you to be up to date with technological trends. By using the best digital tools for your classes, you can streamline processes, boost productivity, facilitate learning, and deliver your lessons like a pro in the virtual classroom!