Part Four: Surviving the IDELT™ Course – Tips from IDELT™ Graduates!
By Bridge
September 20, 2011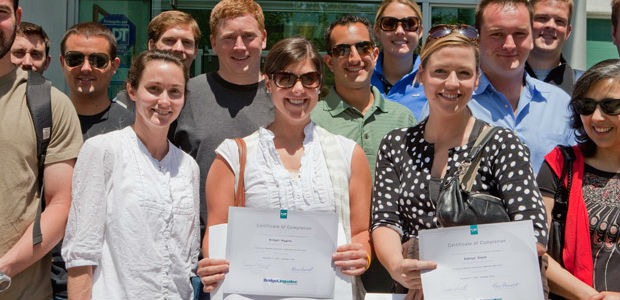 This post was written by Susan Weymouth
Tips from IDELT™ Graduates
So far, the Denver IDELT™ trainers have given you 'tips' on choosing, planning for and getting the most from the IDELT™ course. As promised, I asked several recent graduates to also weigh in on the topic. More specifically, I asked them to write the top 10 tips for getting the most from the IDELT/passing the IDELT successfully. After reading through each set, I've compiled them into the following short list.
DON'T underestimate the intensity. Above all else, treat this class like a challenging, graduate-level course from the very beginning.
DO as much preparation as you can before you start–read everything thoroughly, take time to orient yourself to the materials and take good notes in class. This course is not a snoozer. You will gain incredible knowledge and skills for teaching from serious professionals. The more you can do to prepare yourself in advance, the better off you'll be.
DO make space in your life for this course. It demands lots of work outside of class in lesson preparation, writing papers, etc. If you work another job or have serious responsibilities, you will likely be stretched by the course. This is not to say it would be impossible to do these other things, especially if you're strong, healthy and enthusiastic. But know yourself and your limits.
DON'T get defensive or waste time worrying! Your IDELT trainers really want to see you succeed. Make the best of their help by asking good questions inside and outside of class and by respecting the time and energy they give to the IDELT course.
DON'T waste the resources available from the course trainers. Learn as much as you possibly can about internet resources. These are the ones you can access anywhere you go to teach. (Trust me!) You do not want to carry any books.
DO take your assignments seriously. You will be graded seriously.
DO read (and mark) through as many assigned chapters/sections as you can prior to arriving to class. This will become a huge plus and a time saver when swamped with course work. Review is a snap for daily quizzes.
DO (if possible) complete GrammarAdvisor before starting the course! You'll be glad you did.
DO anticipate working daily and on the weekends. It's a sacrifice; make it.
DO utilize worthy classmates to bounce ideas off of (get their #s).
DO take the criticism and retool your next lesson.
DO believe the pre-class description, which states that a student should expect an average of five hours of homework per day, including weekends.
DON'T fall behind in your lesson planning. They only become more complex and detailed, and completing each one thoroughly will make the subsequent ones more manageable.
DO take advantage of your teachers as resources to answer any questions. They will continually expect you to become increasingly independent in your preparations.
DO start making written observations of practice students immediately, based upon suggested methodology in the class description of Assessing the Learner. Read it and take note of student behavior(s) that will inform your written assignment.
DO take the opportunity to rewrite your Language Analysis written assignment. It can make a difference in your assessment.
DON'T ignore teacher and peer evaluations. They are your best resource for constructive criticism. Incorporate specific suggestions into future lesson plans.
DO focus on minimizing "teacher talk" from your first lesson. This is a difficult but most crucial concept to master and needs attention from the beginning.
DON'T forget that the student is the star of the show. Your mission is to discover the way to facilitate their acquisition of the language.
DO make yourself participate in class. It contributes to your grade and keeps you engaged.
Tips are from recent Denver, Colorado Bridge IDELT™ graduates. In case you missed it, read Tips from Trainers Part One: Choosing the IDELT Course, Part Two: Preparing for the IDELT Course and Part Three: Getting the Most from Your IDELT™ here!