How Teacherpreneurs Can Leverage Storytelling To Grow Their Business
By Bryn Bonino
May 20, 2020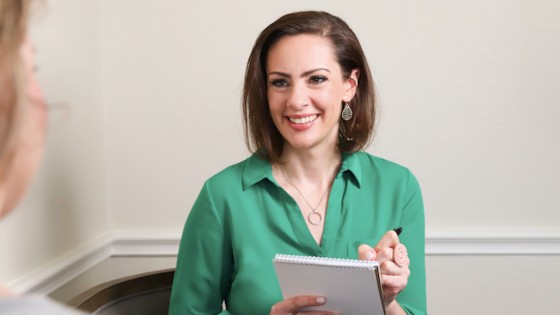 In her first guest article, 3 Tips for Success as a Teacherpreneur, former teacher and ed tech trainer turned brand strategist, Bryn Bonino, offered advice for ambitious entrepreneurs looking to build the English tutoring business they dream of. In this, her second article in the series, she dives deeper into the topic, providing a strategy for using your personal backstory to market yourself as a freelance online English teacher. 
Are you excited about the idea of having your own teaching business? Do you dream of working anywhere with an Internet connection? I'm a pretty big dreamer myself. But I don't always know how to make these dreams a reality.
To give you an example, several years ago, I was a year out of college, working at an office job, when I quit to live out my dream of becoming an English teacher in Rome. However, once in Rome, I found it hard to make ends meet working only for English schools. So I decided to take on private clients. But it was hard for me to convince clients to work with me. There were thousands of other English teachers in the city, and most of them had more experience than me.
Since that time, I've learned that you need to know how to brand and market yourself so that you can run a successful teaching business. The best strategy that I've leveraged is storytelling as the basis for my business structure, brand, and all of my marketing. Once I pivoted my business to use storytelling, all of a sudden I started getting brand "love letters." One of my email subscribers even said that she consumed my blog entries like she was "binging on Netflix."
In this article, I'll show you how you can access your own story so that you can leverage that in your brand as an online teacher entrepreneur. This way you won't have a brand that looks like everyone else's. You'll stand out as a teacherpreneur that people want to work with.
Discovering Your Backstory
If you work as a TEFL/TESOL teacher, you probably were at least kind of interested in literature in school. You may have learned that the backstory is often not actually written down for the reader, but it informs the entire story. Take "Game of Thrones," for example. We're not explicitly told of the long history of conflict between the humans and the White Walkers, but this conflict underlies all eight seasons.
Similarly, you have a personal backstory that informs all that you do. But you may not know what your backstory is yet. So to discover this, take some time to write down all your most salient memories from when you were a kid to now. If you're like most people, these memories may be short. But collectively they say a lot about who you are, and together they form your backstory. This will be pivotal to your business success as a freelance teacher.
Want an example of what this looks like? I told you one of my own memories in the introduction of this article; I worked for a year after college in an office job. Then I quit and moved to Rome to work as an English teacher. This isn't a lot of information, but you can infer quite a bit about me from this, including my worldview and my personality. In the next step, I'll show you how to analyze your backstory to get meaning out of it.
Analyzing Your Backstory
Now that you've written down your strongest life memories to form your backstory, what can you glean from them?
Whenever I coach someone through this process, I always remind them that negative memories stand out more strongly in our minds than positive memories. This is a survival mechanism and helps us to stay safe. But you don't want a brand that sounds like Negative Nancy or Complainer Carl.
So, as you reread each of your stories, write down the positive lesson you learned from any negative experience. Then identify the world values that the story demonstrates that you hold dear. For example, the snippet of my backstory that I told you says a few things about me. I value resilience because I didn't settle for a job that made me unhappy, and I moved halfway around the world to find a life that made me happy. I also value human connection. This is evidenced by how much I liked teaching. For me, there was no greater position than giving small group lessons where I could get to know my students' personalities.
Once you reread all of your stories to find your recurring themes, identify your top lessons and values. Ideally, you'll have three to five values and about three life lessons to support each value. For example, for my own value of resilience, my life lessons were:
"With resilience in personal relationships, you can see the whole person and not one part. This allows for deeper and more meaningful relationships. Resilience also helps you move past temporary setbacks to achieve larger goals. With resilience, you also learn valuable life lessons and soar to even greater heights."
Leverage Your Values and Stories
Now that you've identified your stories, life lessons, and top values, leverage this to build your brand, business, and all of your marketing content. One way to use your stories is in your social media posts. For example, I wanted to share my most recent blog post with my Facebook followers. Instead of telling them what they could learn from the post, I decided to give them some of the backstory. When I did this, people messaged me saying how they liked seeing my Facebook posts.
I also used one of my other world values, empathy, to guide me to write the blog post. I knew that the whole world was aching amid COVID-19 challenges. So I decided to write out a process that I use to reach my own goals and dreams, and I entitled it How To Reverse Engineer Your Hopes And Dreams. This is because I knew that a lot of people needed help pivoting their plans for a new future. When I shared this with my email list, a number of people responded back to me.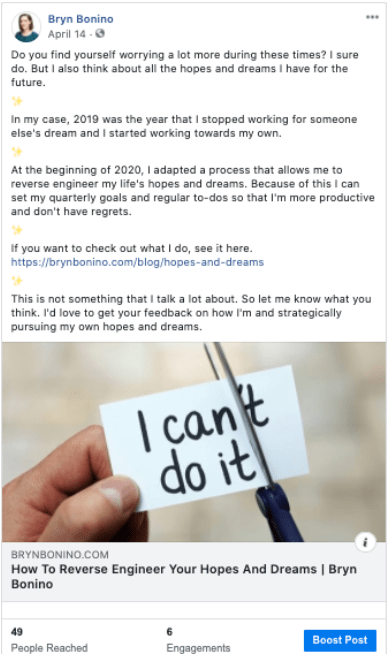 You should also use your backstory, life lessons, and values to set up your business model. If you download my TEFL teacherpreneur branding guide, that will give you a framework to get you started with branding and marketing your teacherpreneurship.
Then, when you use your own unique story to structure your business, marketing content, and products, you'll build a brand that will be unique and set you apart from all the other thousands of English teachers in your city or in the online space. You'll create a consistent brand narrative that will make it easier to sell. You won't have to convince people to hire you or take classes with you, you'll attract the people who want to work with you. Discover your own Unshakable Brand Story at https://brynbonino.com/your-unshakable-brand-story.
To learn more marketing and business skills to launch a successful online teaching business, get certified with the newest Bridge Specialized TEFL/TESOL course, Teaching English Online as a Freelancer.