Bridge Grad, Joseph, is "Living the Dream" in Italy!
By Bridge
August 22, 2018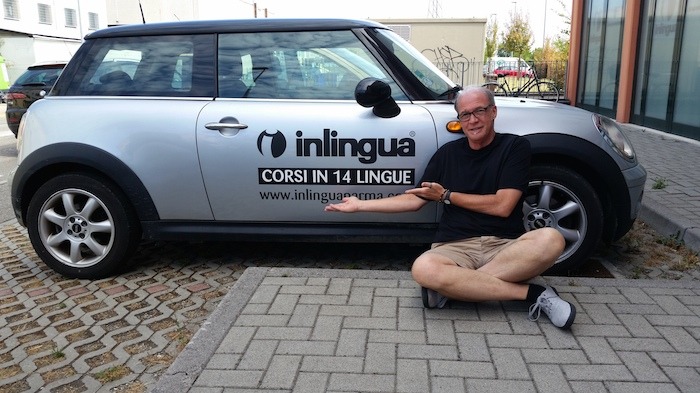 Bridge online TEFL course graduate Joseph recently relocated from New Orleans to Parma, Italy, fulfilling a long-time dream to live abroad in the country that captured his interest years ago.  
Why was it your dream to teach in Italy? 
From my first visit to Italy to the city of Florence in 2012, I had a unique connection. After traveling for over 30 hours I went out to explore the city. Being dark and not knowing where I was going I soon became lost. After many attempts to find it back to my hotel, I turned a corner and saw the lighted carousel in the Piazza di Republic and thought this is where I want to be. After several other visits in the coming years to different parts of Italy, I  knew I needed to find a way to live here.
How did you choose your TEFL course? How was it?
After exploring different options, I decided that getting certification as an English teacher was a way of obtaining my dream of living in Italy. Doing the course online was the only option because there was not a TEFL school nearby. After checking online I found that the Bridge TEFL online course seemed to be complete and had what I needed. Also, it gave me the opportunity to do it in my spare time. So I registered for the 120-hour BridgeTEFL Master Certificate course with the Grammar Section. I immediately started and found the course was very straightforward and easy to navigate. I also found that with the help and comments of my assigned tutor I was able to finish the course in 5 weeks with an "A." The only difficult part for me was the grammar section since it has been a while since I studied it in school, but with the use of the website, I managed to pass the test on the first try.
How did you find your job and apartment, and what was the visa process like?
After receiving a copy of my TEFL certification I got to work and found a list of English Schools in Italy. I then sent out by email over 250 resumes and certificates. Since my past work experience has been in merchandising and retail I did not know what to except. But to my surprise, I got 6 responses for interviews. I then booked a trip back to Italy in March of 2016 to meet with these schools. From these interviews, I got 2 solid full-time offers and 1 part-time offer and decided that the Inlingua School of Parma was the right fit for me.
From the very first meeting with the Inlingua School, I found the atmosphere friendly and inviting. With the big help of the school's administration, I set off getting the proper paperwork together, which at times was very difficult. For a visa, I had to have a signed lease for an apartment for the length of my stay– one year. To do this I went online and with the help of the leasing agent I was able to get the lease required. From insurance, to banking statements, to plane reservations, I found the best way to get through the visa process was to have patience and to always have a plan "B."
The visa process took about 5 weeks and I was back in Parma in June. To my great relief, my apartment is more than I expected, and in a great location with easy excess to the school. Although I did study Italian back in the States, the language is very difficult to understand, so again with the help of the school administration, I began getting all the paperwork needed for my apartment, electric, gas, trash, and the required Italian documents to stay in the country.
Tell us about your English teaching job so far.  
After a week of training, I have already started teaching. So far the experience has been very enjoyable. Most of my students need to know English for their positions at work so they are ready to learn. I also travel to the companies and conduct classes on site. Also, a lot of the classes are individual conversation classes, where there is no textbook, so what the Bridge Course taught me is very useful to adapt to each student's needs.
How has your experience in Italy been? 
I was only in Parma for 8 hours before I accepted the position, so it's been fun exploring and finding my way around the city. Since I do not have a car or bike I have to depend on the Parma bus system which at times can be very confusing. But with a lot of patience and help from strangers, so far I have not missed a class. Coming from New Orleans, Louisiana, where the city is dependent on tourists, it is a welcome change to live in a city that is not. Not knowing the language that well has not been a problem because you can always find ways to communicate. I also found that the cost of living is much lower here than New Orleans or other bigger Italian cities. The location is very central so I have already taken small trips to Florence, Bologna, and Venice.
How long do you think you'll stay and what do you plan to do next?  
Since I have a standard Italian lease and a year contract with the school I know I will be here for that length of time. But if these last 2 months are any indication of my life in Italy, I believe at 61 years old that I found exactly where I want to be. This has been a dream of mine for the last several years, and with the training I received from the BridgeTEFL course and the help from my new friends at Inlingua, Parma, I can finally say, Sto vivendo il sogno!!!!! ("I'm living the dream!").
Want to teach in Italy, like Joseph? Consider getting a head start by earning your TEFL certification in the country. And remember, you don't have to be a 20-something recent grad to teach abroad – anyone can TEFL!  Read Wes' story: TEFL Through the Eyes of a Late Bloomer.