I have been teaching English online for a few years now, a job that has allowed me to travel as a digital nomad. Though I've lived in many countries, I'm now based in Scotland, and I can safely say that teaching while living in the UK has been my favorite so far! Currently, I teach for two online teaching companies (including GoGoKid) and am working on a book, and have a few side hustles, so time is of the essence! This is a snapshot of a week in my life as an online teacher.
If you're new to teaching, you'll want to get initial training and qualification with a TEFL certificate. You can explore our online TEFL courses to get started!
Monday – Preparation Day
9:-00 a.m. – 3:00 p.m.
Mondays are my designated prep days in terms of my classes for the week ahead. I start my day by taking a look at the list of classes I will be teaching in the coming days and make notes of what some recurring themes are for the week so that I can begin organizing my ESL props and supplies for the week. When you teach English online with a company, after using their platform for an extended period, you'll start memorizing some classes, so this will become easier and easier with more experience on that platform.
On these days, I will only schedule one online teaching session per hour so that I have plenty of time between classes to prepare for my next lesson and complete my class notes. The beauty of teaching English online is that you can tailor your schedule to your lifestyle needs. On Mondays, I am in charge of our brand new puppy all on my own, so all of the potty breaks fall to me! This is another great perk of having a designated "prep-day" when you have a lighter teaching schedule than usual.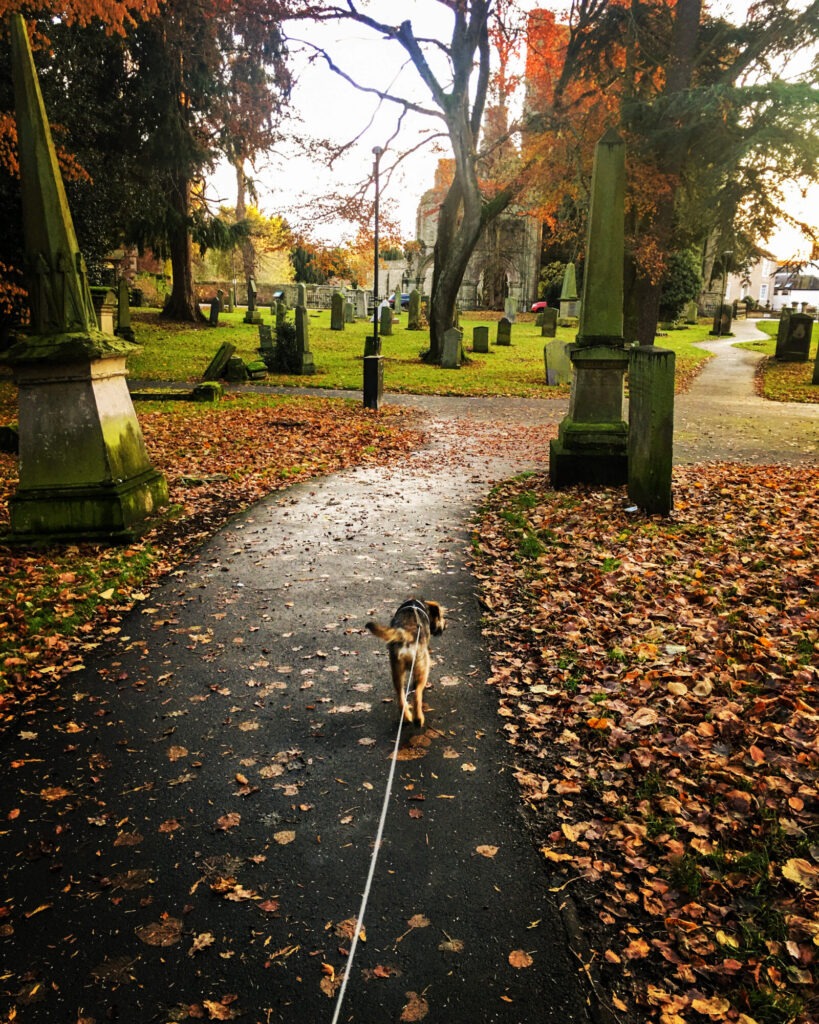 By 3:00 p.m. I have my weekly props/notes done for the week, my class notes are all done, and I am ready to meet the week ahead of me both prepared and with zero stress!
Tuesday – Friday: My Teaching Workweek
8:00 a.m.
I am a lucky gal and have a fiance who regularly brings me a coffee to bed at 8 a.m. as I begin to attempt the waking up process. After 15 minutes of sipping on the sweet nectar of life that is caffeine and mindlessly scrolling or answering texts, I am ready to "commute" to my classroom, conveniently located in the corner of my living room. Once in front of my virtual classroom, I log in to my teacher platform and layout the props and supplies I will need for the next few hours. Time for a quick shower before I begin as this wakes me up significantly!
9:00 a.m. – 12:00 p.m.
During these hours, I have classes booked twice an hour. These hours go by very quickly, so I don't try to complete class notes during this time. Instead, I keep a notebook nearby to write some quick notes after every class because it's easy to have all your classes become a complete blur once it comes time to complete class notes.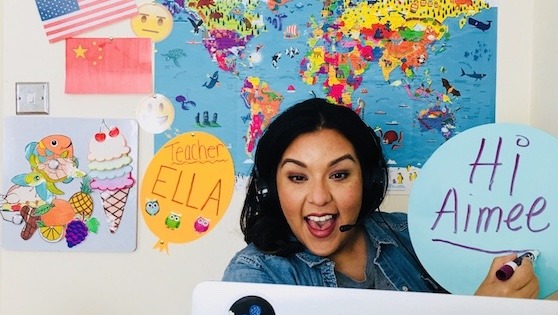 12:00 p.m. – 1:00 p.m.
I take a break! Trust me. If you are doing this 6-7 days a week, you will come to love this hour of peace! I try not to do any work-related activities during this hour, and instead, go outside or eat a quick lunch. I thoroughly enjoy every one of the students I am lucky enough to teach, but classes can get stressful. You need this time to decompress and get energized for the home stretch!
Learn tips for maintaining work-life balance when teaching English online from home.
1:00 p.m. – 3:00 p.m.
It's time for my last classes, 2 per hour, once again. There are times that I open or close session times during the week, depending on if there are any appointments I may have or previous plans, so this block of teaching times may sometimes be more like 1 pm-2 pm.
3:00 p.m. – 3:30 p.m.
After my last class, I like to take an extra 30 minutes to finish all of my class notes for the day while they are still fresh in my mind. At this time, I will also take another look at my schedule for the next day. This is super important as you may have a cancellation you can re-open, or are teaching a class you have not prepared for before, and need to review some of the points.
Saturday and Sunday – Ending the Week on a High Note
Unless I have a special occasion I'm saving up for and am working extra hours, I try only to teach one day of the weekend. Many teachers will do most of their classes on the weekends, which is an excellent option for someone with a regular 9-5 job who is looking to make some extra money on the weekends. However, since teaching English online is my main job, this is what my Saturday or Sunday will look like:
5:30 a.m.
I'm unsure how I am awake, but I am, and I'm also on my own for coffee on the weekends. It is only fair, I suppose. I wash my face, brush my teeth, and begin my commute.
6:00 a.m. – 10:00 a.m.
Depending on how confident I was feeling when making my schedule a couple of weeks before this moment, I will either be teaching two classes per hour or taking it easy with only 1 class per hour. Students are especially antsy and excited on the weekends, so prepare yourself for a good time! I am always wide awake after a few minutes into those first lessons of the day.
12:00 p.m. – 1:30 p.m.
I am not going to lie. There is typically a nap involved here. But during this time I also have lunch and some more coffee. Also, another confession, sometimes I don't do the second round of classes on the weekend. Sometimes I decide to give myself an easy day. It always makes me very thankful for past me.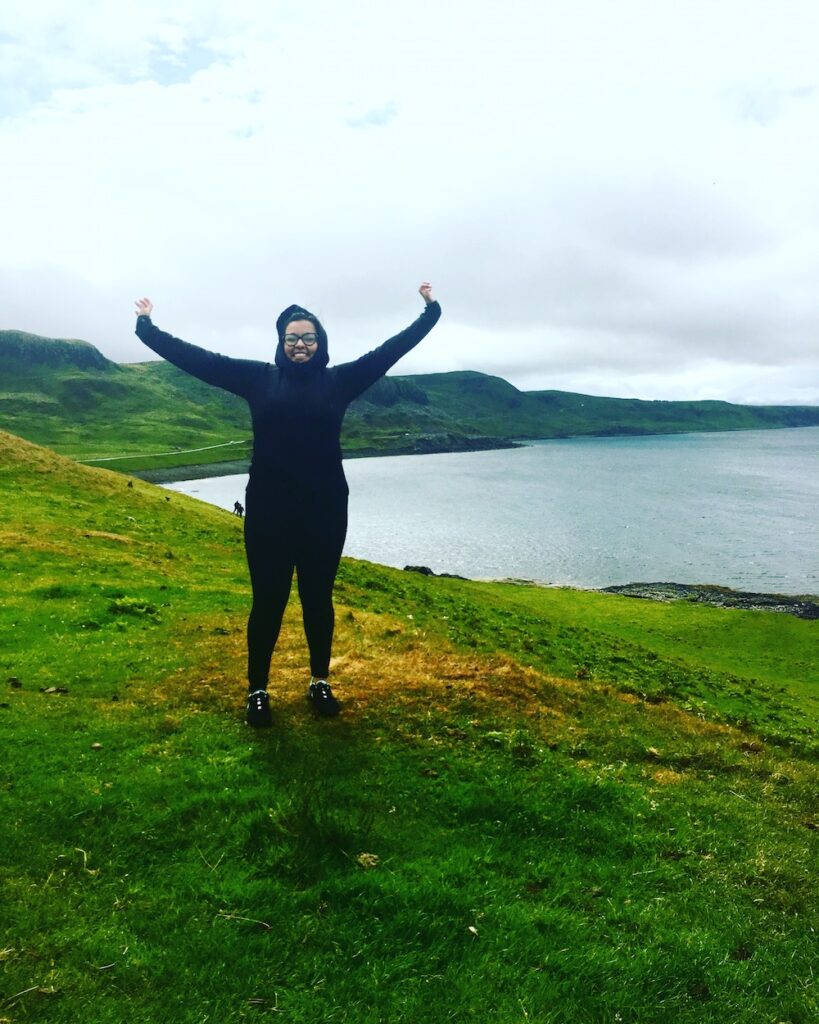 1:30 p.m. – 3:00 p.m.
These classes usually go by very quickly, and the kids are generally quite hyper and can be hard to keep engaged at times, but that only adds to the high note these days usually end on. When I sign off for the weekend, and my notes are all done, it is time to put it away until the next exciting day of teaching English online!
Along the way as an online teacher, I've had my share of experiences with challenging schedules, and have learned from my many mistakes, such as not planning ahead, when it comes to organizing my time in and out of the virtual classroom. Now, my weekly schedule is set up to keep sane and organized while working from home!
If you'd like the flexibility of teaching English online from home, qualify for jobs in as little as three weeks with the training Mari took: Bridge Specialized TEFL/TESOL Certification in Teaching English Online.