Behzad, From Iran, Online ESL Teacher and "Lingo-Musician"
By Krzl Light Nuñes
September 13, 2022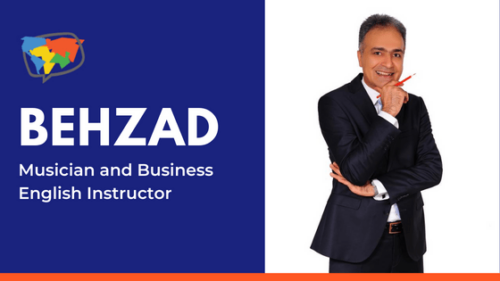 Drawing from his extensive career as a violinist and composer, Behzad Limooie, from Iran, used music's link with language as the groundwork for developing his own English teaching methods. An online Business English teacher and English test trainer, he also created a music-based training course for EFL teachers. He details how English made him excel as a musician, how music is similar to language, and how he has built his skills for these teaching niches.
Can you tell us a bit about yourself, Behzad?
I'm 44 years old. I'm from Iran but I live in Istanbul at present, although I'm going to relocate to Poland because I've been hired to teach English for Specific Purposes (ESP) to a football club there.
I have a Bachelor's in Violin Instruments and a Master's in Music Composition. Also, I was a member of the Tehran Philharmonic Orchestra as a violin player and ranked first in a national competition for music composition.
I'm CELTA certified. As a second job, I'm teaching English. I was a lecturer in music in my country.
How is English beneficial for you as a musician?
The knowledge I gained through the language actually gave me the confidence to stand out. In my career, in music, most of the literature or knowledge comes from translated books, and everybody knows the materials. But since I have this knowledge of English, I know much more. This gives me more confidence because I can actually access any information around the world that some of my colleagues can't.
What inspired you to get into English teaching?
I was teaching music in English for over 20 years, and learning English was initially a hobby for me. I also tried learning other languages like German, Italian, Spanish, and French, and German became my third language other than Farsi, English, and other languages.
As a music teacher, I had good communication skills. Because of this, I figured that teaching English wouldn't be a hard job for me. Because of my experience in teaching music materials with original resources, I also found that this knowledge of English would help every learner to become a master in their job. So, I found learning English to be an essential procedure for people who want to progress in their jobs.
How has your background in music shaped you as an English teacher?
There are many similarities between language and music and arts. When I was an undergraduate student, I was interested in finding the origins of music. I found evidence that in ancient times, music and language had the same rhythm-like accents, intonation, and pronunciation. This drove me to the belief that maybe the difference between music styles around the world is based on languages. So, language and literature became more important to me, and I wrote my master's degree dissertation on this.
I compared poems in the Farsi language with music literature that we have, and I could match every single element of music with an element of language. I could also translate every single note into words.
For my dissertation, I wrote symphonic music based on language accents. What came through this is that we can talk through music. I also found similarities between accents in Persian music with other languages and other music styles. This also led me to know more about how people around the world express themselves through music, arts, and languages. Although music is for expressing your feelings, it has something to do with language, like the alphabet, grammar, and different styles of writing. So, everything we have in language, we also have in music.
Take a Micro-credential course in Teaching English Pronunciation to delve deeper into the components of speech, including intonation, stress, and rhythm!
How can teachers use music to help English learners?
When we talk about pronunciation, intonation, and word stress, we're also actually talking about music. But as teachers, our knowledge remains here and it's limited to this part of the practice. As a musician, I have learned how to actually turn a sentence into music and how to write a symphony out of that sentence. For example, if I take a sentence of yours, I may be able to write music in your name. So, if we expand our knowledge on this, we see that part of language is music, although we take it for granted.
In addition, you don't urge anybody to go to music classes. Students love it because they enjoy it. But when it comes to language, we know that many people wouldn't come to English classes if they didn't need them for university admissions, their careers, or immigration purposes.
So, I think we lack something here. Students know how to use English, but they use it just for communication. But if you actually combine it with some creativity and give them practices that they can use to be more human, that they can use in their everyday lives and enjoy, they will miss you as a teacher. I have many students who still come to me after 20 years and who have sent me hearts and paintings and shared their stories with me because they loved what we were doing together.
Bridge partnered with Lo-Fi to mix hip-hop and English teaching. See how it went!
You created a music-based English teaching training. How do you train ESL teachers to teach the language?
First, they are taught some basics of music.
The second part is about teaching different approaches to adapt a music-based context stage of lessons. So, this focuses on how we present that music lesson to the learners.
The third part is about tasks and practices to do in class.
The last part is about personalized and peer practices.
Learn how to incorporate songs into your ESL classroom.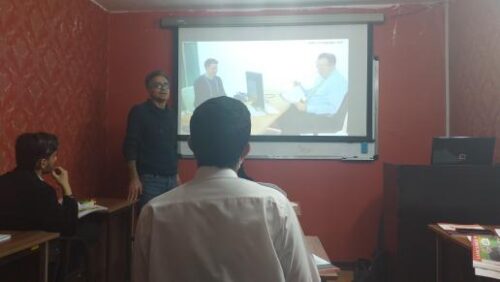 Where do you teach English?
I give one-to-one lessons on Preply. It's a marketplace, and you should advertise yourself and raise your value in that market. Also, you're free to teach your own material. You don't have to use those prepared materials on the platform.
Also, I'm working with Learnlight, where I teach Business English classes to groups.
I have some online students in Iran too.
I have private students for IELTS and TOEFL exam preparation courses.
Business classes and exam preparation classes have more customers these days because students want to go to universities or prepare for certain meetings, interviews, or lectures.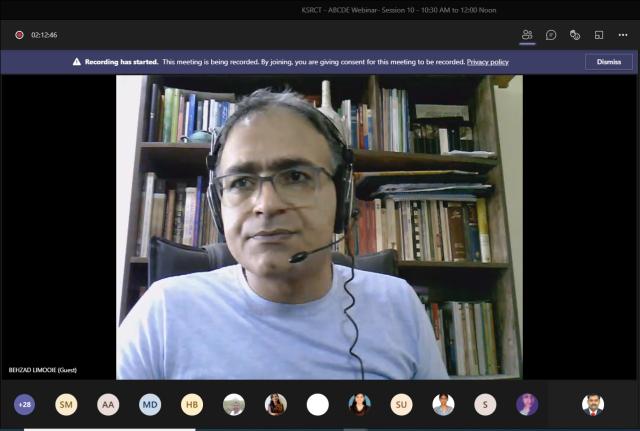 After completing my CELTA course, I found that I could teach my material properly and to a good standard. I could actually deliver my lessons in a satisfactory way, but I also realized that I lacked some knowledge as a teacher. I prepared a list and found that I didn't know anything about needs analysis, syllabus writing, course design, assessment, and giving ESP lessons.
So, I tried to find courses or materials. Then, I found BridgeUniverse and saw that Bridge TEFL course prices are affordable. After passing some of them, I found the courses really useful.
Browse all Bridge online TEFL courses.
How did these courses help you professionally?
The business class was really useful for me and I really enjoyed that course. I got everything I needed through that 60-hour course. Also, I learned a lot about TOEFL and IELTS.
I also had a good relationship with my tutors and found a lot of flexibility in them. Every day, I was exchanging messages with my tutor. For instance, we exchanged some cultural differences between Americans and Iranians. It was really joyful.
What's next for you?
I'll try to become a course designer for teachers and for students in the future. As I'm interested in philosophy, maybe I'll pursue a Ph.D. in Philosophy based on arts and language. Besides music and language, I also went through psychology and philosophy too. I actually translated a music book of 700 pages and translated and published a book in psychology. So, these four areas – music/arts, language and literature, psychology, and philosophy – all come together to give me this idea of how people express themselves and how we can improve it.
Do you have any tips for English or ESL teachers who want to go independent?
They need to take responsibility for their learning because nobody is going to urge them to do this, so they need to learn every day.
They need to consider themselves students, not teachers or masters. If you consider yourself a student, you will try to learn, not to answer people or defeat them. So, if you want to learn from students and embrace this culture of being a student everywhere, you will have a better life, grow every day, and enjoy communicating with people.
As a person who teaches communication, they need to have good communication skills, find unique ways to communicate, and grow their circle day by day. Having this in mind may give them more pleasure, happiness, enjoyment, and satisfaction with their jobs.