How Can I Start Teaching IELTS Exam Prep?
By Krzl Light Nuñes
March 30, 2022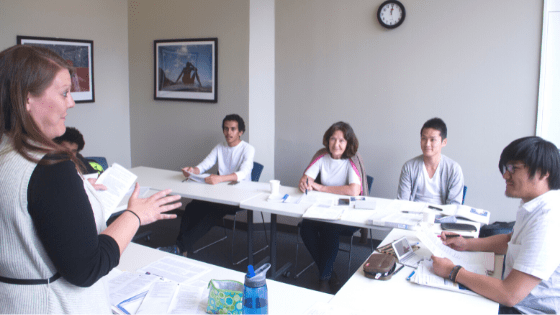 You want to stand out as an English teacher, you say? A good way to expand your career prospects is by adding an area of expertise to your general TEFL/TESOL skills. One such area of specialization is preparing students for English proficiency tests, such as the International English Language Testing System (IELTS), the world's most popular English language test. Luckily, it's not difficult to start teaching IELTS exam prep! Here are the basics of teaching IELTS test preparation (and to dive deeper into this topic, you can check out Bridge's Micro-credential course in teaching IELTS exam prep).
What is teaching IELTS exam prep?
When non-native English speakers (and even native speakers, in some cases) plan to migrate or pursue work or a university degree in an English-speaking country such as the US, Canada, or the UK, they usually have to achieve a certain score on the IELTS exam to demonstrate their English proficiency level. Teaching IELTS exam prep is simply tutoring students specifically to achieve their desired score on this test. This preparation can include familiarizing students with the various test components, offering test-taking strategies, and providing feedback on practice tests.
Read about how the pandemic has affected English proficiency exam providers or watch a recent BridgeUniverse webinar on the topic. Here's a preview of the discussion, in which Ariel Foster, Executive Director and CEO of IELTS USA, provides insight into computer-based testing:
Who takes the IELTS exam?
IELTS test-takers tend to be young adults or working professionals, though their English level can vary from beginners to near-native speakers. Regardless, they all aim to achieve the highest IELTS "band score" (composite score on all four exam components) or at least surpass the minimum required by the country or institution they're applying to. And because IELTS students will take this test with a specific goal in mind, you can expect their level of motivation and class participation to be high!
Many English language proficiency exams are now available to students online. Find out more.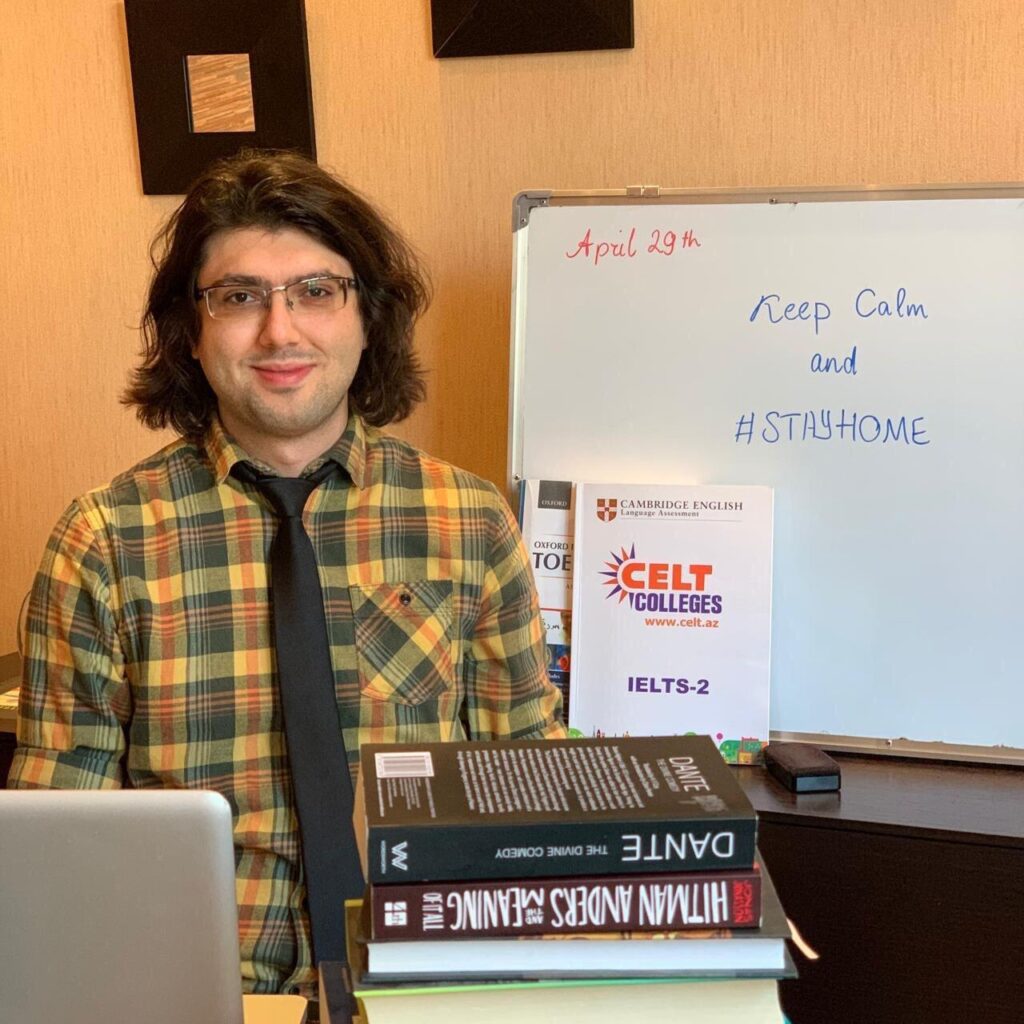 Why should I specialize in teaching IELTS exam prep?
Making yourself visible in a sea of English teachers comes down to having an ESL teaching niche, a particular area of instruction in which you specialize. With the knowledge and skillset you possess in teaching a specific subject, your value and possibilities as an English teacher increase.
Make more money
As a freelance English teacher, expertise in IELTS exam prep can make it possible to charge a higher hourly rate, boosting your earning potential. IELTS exam prep tutors can earn anywhere from $25 to as high as $65 per hour, so specialization can definitely pay off.
Learn about setting your rates as a freelance English tutor.
Target specific students
Another advantage of teaching IELTS exam prep, especially as a freelance English teacher, is that you're not casting a wide, general net in your search for new students. Instead, you're able to zero in on a specific type of student – one who wants to succeed at the IELTS. Therefore, you can narrow the places where you advertise your tutoring services and you can send a targeted marketing message to your audience. Getting more students via word-of-mouth is also easier when you're working with a very specific student demographic.
When teaching IELTS exam prep, you'll be working with older students, so specializing in this EFL niche is also a great idea if you want to get a job teaching adults English.
To learn how to launch and run a successful online tutoring business, check out Bridge's Specialized Certificate: Teaching English Online as a Freelancer.
Broaden your job prospects
Because the IELTS exam is in high demand – over 2.5 million people around the world take this test every year – being a teacher who is certified and prepared to deliver preparation courses to students is a niche that can open many doors for you at language institutes worldwide. Be sure to highlight training/certification in teaching IELTS exam prep on your TEFL/TESOL resume to really set yourself apart.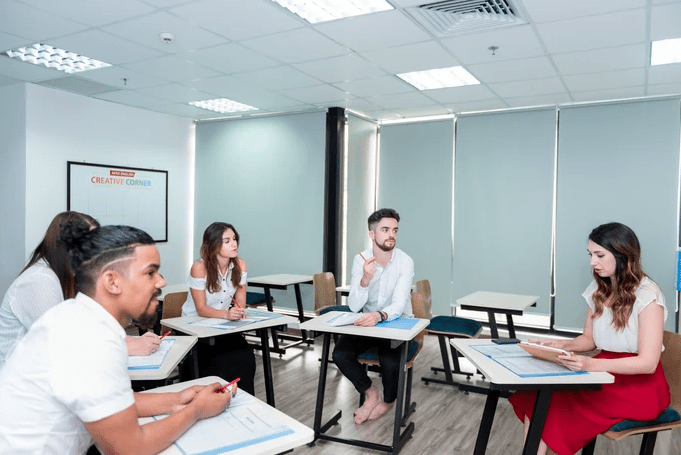 What qualifications are needed to start teaching IELTS exam prep?
Although there are no official prerequisites or license requirements to start teaching IELTS exam prep, most instructors have general TEFL/TESOL certification of 120 hours as well as previous English teaching experience.
Additional certification specific to teaching IELTS exam prep is not a requirement but helps your online tutoring profile or teaching application stand out. TEFL/TESOL-certified or experienced teachers can add the Bridge Micro-credential Course in Teaching IELTS Exam Prep to their resume, for example, to learn the skills needed for this niche and to get a competitive edge.
Acquire even more skills as a TEFL/TESOL teacher through the variety of Micro-credential courses Bridge offers.
Where can I teach IELTS exam prep?
If you want to teach English online or be a globetrotting ESL/EFL teacher with plenty of job opportunities worldwide, teaching IELTS exam prep is the way to go.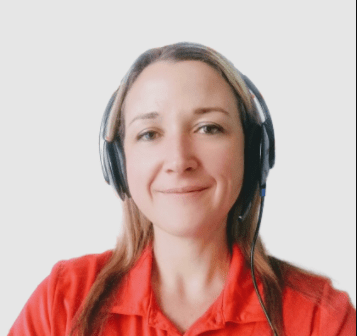 Global demand
You can find IELTS test centers in 140 countries, including places where the demand for IELTS instructors is particularly high, such as Asian countries like China, South Korea, Thailand, and Japan. Another great option is working in the most popular destinations for international students, like the US, Canada, and Australia, during the academic year.
ESL teacher and teacher trainer Gabrielle, from South Africa, works with students in Asia. She remarked, "With the market in China and the exams that they have to do, being able to speak English really is going to determine the rest of their lives and their career. And to give somebody that opportunity is just so rewarding, and I love it."
See how the pandemic affected ESL teachers in Asia.
A variety of settings
While most IELTS instructor posts are offered in language schools, you can also teach for a short stint in colleges and universities. For instance, Iranian ESL teacher Nasim found an opportunity to teach IELTS prep in a college in Azerbaijan.
She said, "I was so lucky to find this college, as they are one of the best in Baku. I was searching for a more challenging place to work when my husband (he is working at CELT Colleges too but in another branch) said one CELT College was looking for a teacher. I came to them, had an interview, and got the job."
Options for freelancers
Alternatively, you can work as an independent tutor or, better yet, start your own business as a specialist in preparation for the IELTS and other certification exams like TOEFL (Test of English as a Foreign Language) and CAE (Cambridge Certificate in Advanced English). You can offer in-person private classes or teach online.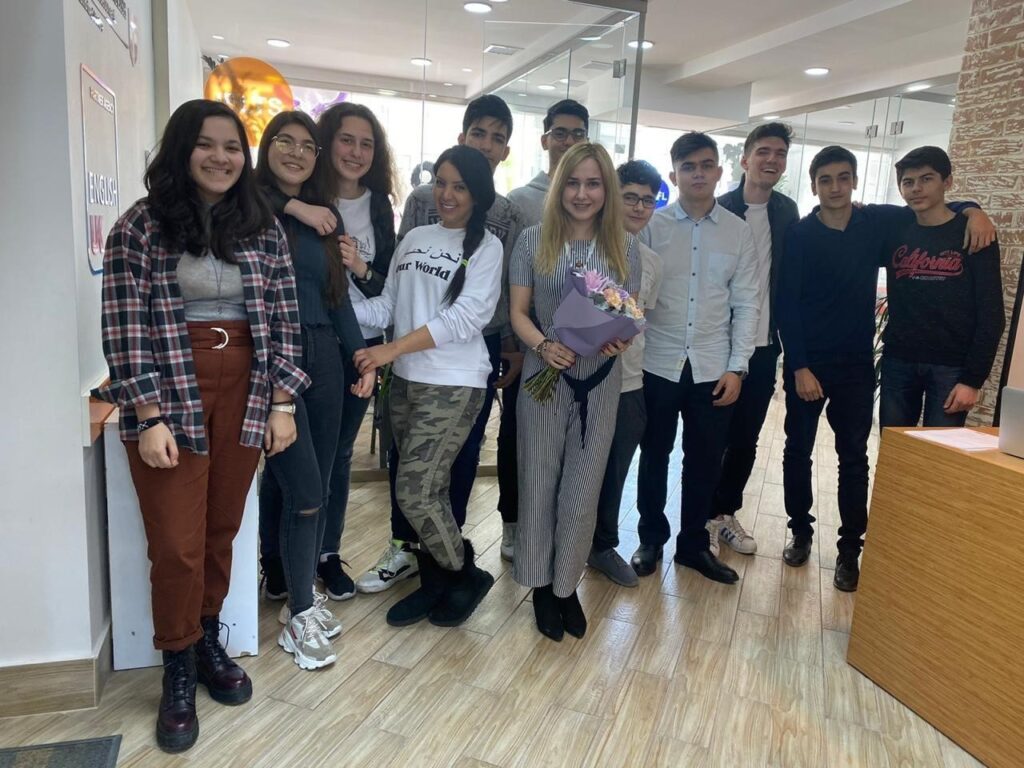 How are IELTS prep courses taught?
Depending on the school or the instructor, IELTS preparation courses can be taught in small groups, as a workshop for a greater number of test-takers, or in one-on-one tutoring sessions. While an IELTS prep course normally lasts for weeks, its length could also differ based on how it's organized as well as the student's English level and target test scores.
Compare teaching one-on-one to teaching group online English classes.
What would I teach in IELTS exam prep classes?
When you prepare students to take the IELTS exam, your first task is to familiarize yourself and your students with the exam and how it works.
As IELTS measures a student's proficiency in various English skills, the test is divided into listening, reading, writing, and speaking sections.
Each section of the exam has different types of tasks.
The exam can be taken on paper or on a computer.
The exam duration is three hours, except for the speaking test, which is always conducted as a short, face-to-face interview with a certified IELTS examiner.
IELTS exam preparation requires teaching your students strategies to ace each section, administering practice tests, and helping students manage their time effectively, especially in sections or tasks that may overwhelm test-takers easily.
IELTS exam prep instructor Nasim says, "The most challenging parts of the exam are speaking and writing for my students. I spend most of my time focusing on these two skills and try to help them to write more confidently and coherently."
Aside from equipping students with skills to master the test, you will take on the role of English teacher as you help them improve their English skills throughout the process. For instance, you may need to review some grammar concepts that students struggle with or suggest resources to improve their vocabulary or writing style.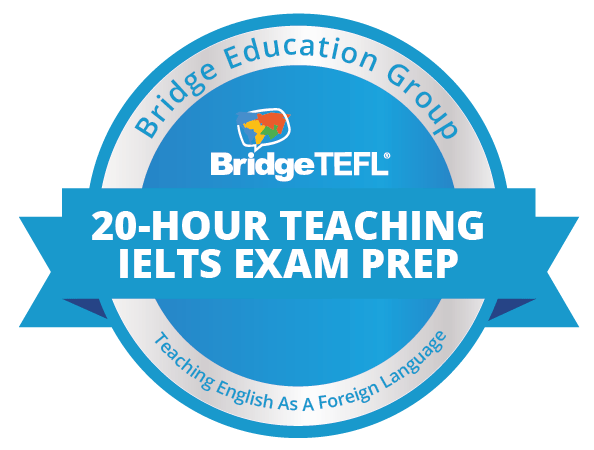 How can I get started teaching IELTS exam prep?
Teaching IELTS exam prep is a TEFL/TESOL specialization, meaning you first need a strong foundation in the methodology of teaching English as a foreign language. If you're new to teaching, you should first get TEFL certified with a course of at least 120 hours, such as the Bridge Master Certificate.
If you've already earned your TEFL online certification or you're an experienced English teacher, take the first step in your specialized training by enrolling in the Bridge Micro-credential course: Teaching IELTS Exam Prep.
Get to know the test. Aside from getting acquainted with the exam format and scoring system, make sure that you know the ins and outs of the test, which includes information about exam centers, registration dates, and costs.
Spread the word about your IELTS prep courses! You can do this by promoting yourself through online ads, social media, or word-of-mouth. Don't forget to connect with ESL learners so you can build a network and get more recommendations for potential IELTS prep students.
Learn ways to use social media to get more English students as a freelancer.
You may choose to build a career as an IELTS exam prep instructor or simply tutor within this niche as a side gig to your regular job. Either way, having the training and skills to prepare students for success on the IELTS exam puts you head and shoulders above the crowd in this sought-after field.