Which TEFL Courses Are Legitimate? The Ultimate Checklist for Choosing the Right Program
By Camille Turner
November 8, 2019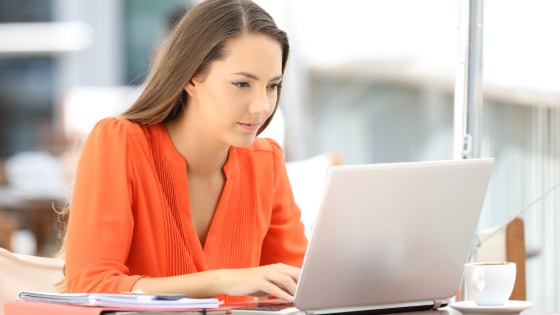 With so many choices out there for TEFL certification, it can be frustrating trying to weed through the different options and choose the right course for your plans to teach English. You've likely been warned to beware of fly-by-night course providers and to make sure you choose a reputable course. But, if you're new to teaching English, how can you determine which TEFL courses are legitimate? Knowing what to look for in a teacher training course is key! To help, we offer the ultimate TEFL/TESOL course checklist. Does the course you're considering meet these criteria? 
1. Can you verify that the course is accredited?
It may be hard to understand the importance of accreditation since there is no single accrediting body for all TEFL/TESOL courses and in fact, not all courses are accredited! Adding to your confusion, you may not have heard of the accrediting bodies you do find in your TEFL research. Yet, accreditation is still very important! 
Why is accreditation important for establishing legit TEFL online courses? 
Because accreditation lets you, the consumer, know that a professional, outside body has reviewed the in-person or online TEFL course and certified that it meets a set of academic standards. You should be able to go to the accrediting body's website to read about those standards and verify that the course you're considering is listed there.
Accreditation also lets schools you apply to know that you didn't just take any TEFL certification course; you took a high-quality, verified training course and earned a certificate that is internationally accepted.
Avoiding accreditation scams
One thing that's vital is to go beyond just checking that a provider is accredited – and to actually make sure that the accrediting body is also reputable. This means that the accrediting institution is widely recognized and that it's not otherwise affiliated with the same provider administering the TEFL course.
Some sneaky companies own both the TEFL course institution and the so-called accrediting body, making the accreditation a sham. In order to see through this type of scam, check the accrediting body's reputation and see if any government or top-quality educational institutions recognize it. 

Bridge accreditation
Bridge is accredited by two trusted, outside bodies. The first is U.S.-based ACCET, the Accrediting Council for Continuing Education and Training, which is recognized by the U.S. Department of Education. Our other accrediting body is U.K.-based Aqueduto (Association for Quality Education & Online Training), which is dedicated to evaluating blended and online training courses in terms of institutional, pedagogical, and technological quality.  To receive initial accreditation by ACCET and Aqueduto, Bridge had to meet rigorous quality standards and we must also undergo periodic reviews to keep this accreditation current. 
2. Is the course provider well established? 
When deciding which TEFL courses are legitimate, you'll want to find a provider who's honest, experienced, and genuinely dedicated to providing quality teacher training.
Check the provider's history and professional affiliations
To determine this, one of the very first things to research is how long a TEFL course provider has been in the business and with whom they are affiliated. Check the institution's "About" page for information on when and how they were founded and research whether they have partnerships with other reputable institutions, such as universities. 
For example, Bridge has been in the international language industry for over 30 years and began as a provider of English instruction in South America. As educators, Bridge developed a top-quality training and certification program for teachers, which led to the wider development of BridgeTEFL online and classroom-based courses for aspiring teachers worldwide. 
Bridge online TEFL programs are even recommended for college credit by ACE CREDIT®, and the IDELTOnline TEFL/TESOL course may be taken as a pathway from TEFL certification to a master's in TESOL with Bridge-affiliated universities.  
3. Is the TEFL course at least 100 hours?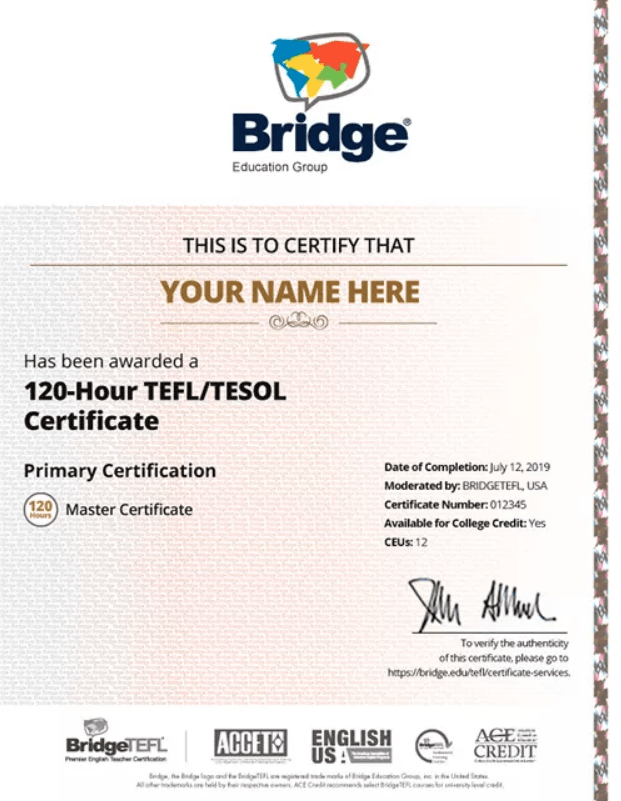 When researching TEFL course options, you'll soon see that they are delineated in hours, and many providers offer a range of TEFL course options, from 40 to around 150 hours. Usually, when teaching jobs require applicants to have a "TEFL certification," what they mean is that your certificate should meet the (unwritten) international standard of 100+ hours of training.
Why does the course need to be at least 100 hours? 
Most employers consider courses of at least 100 hours comprehensive enough training, on average, to adequately prepare teachers for the classroom.
The fact that a TEFL course is fewer than 100 hours doesn't mean it's not a legitimate course, as long as the provider offers the option to upgrade and add more hours anytime.
Will the course actually take 100 hours to complete?
Just because a course is listed as 100 hours doesn't necessarily mean that it will take you that long to complete. Most courses are self-paced, and if you're a really fast learner you may be able to complete a course quickly. However, the important thing is that the course is valued at 100 hours of study and will be listed as such on your certificate.
Updating your BridgeTEFL certificate
Bridge students and graduates can always upgrade their TEFL certification to add more hours or specializations and make themselves more marketable to worldwide employers. BridgeTEFL certificates automatically update in the online portal to display the total number of hours a student has completed, including general TEFL training, upgrades, and specializations. Instead of having multiple certificates to show employers, you'll have one updated TEFL certificate.
4. Are the course tutors qualified?
It's strongly recommended that you choose an online TEFL course that includes a personal tutor who will review your coursework, since getting feedback on lesson plans is a big part of your development as a teacher. 
For any TEFL course you're considering, you should be able to find the bios of the available tutors on the provider's website so that you can get a sense of their qualifications and experience before you sign up. Ideally, tutors should have taught abroad themselves and hold at least a bachelor's degree (and preferably a master's) in TESOL (Teaching English to Speakers of Other Languages), English, or education.
5. Is the course price so low you can't believe it? 
Then don't! You might be tempted to buy an online TEFL course on one of those online coupon sites where you can find deep discounts that seem too good to be true. However, this is ill-advised. Instead, take a comprehensive, fully-accredited TEFL course that teaches you how to plan lessons, refreshes your memory on English grammar (what's a gerund, again?), and offers tutor feedback on your work. When you're standing in front of your first class full of eager English students, you'll be glad you did!
6. What are graduates saying about the course?   

When planning to make any big purchase, most people read online customer reviews of the product first. Luckily, you can do this to find legit online TEFL courses, too! 
Start with a well-known site like Trustpilot, where customers can rate TEFL courses and leave detailed reviews about their experiences. Filter reviews by rating and see the overall average score for each company. Trustpilot also calculates a company's "TrustScore" using a carefully designed algorithm that takes into account the frequency of reviews, the time span of the reviews (more recent reviews are more weighted), the reviews themselves, and more.
Another great way to find out which TEFL courses are legitimate is to check out where the alumni are teaching. If alumni went on to find great TEFL jobs with reputable schools and language institutes, then you know that the course is legitimate. If there's absolutely no information on alumni, then you can bet the course isn't all it appears to be at first glance.
7. Can your TEFL/TESOL certification be easily verified by employers? 
Having a certificate in-hand to offer employers is impressive, but how much information can employers verify? Ideally, the TEFL provider you choose should provide graduates with access to their certificate via an online certificate verification portal that makes it easy to share TEFL credentials with schools. 

Bridge takes this access a step further as a pioneer of digital badging in the TEFL industry. Now, in addition to verifiable certification, Bridge graduates earn digital badges for every TEFL course completed. These stackable, dynamic credentials can be added to graduates' LinkedIn profiles or resumes, easily giving employers more detailed information about their TEFL accomplishments with just a click.  
If you'd like to learn more about which accredited TEFL course is right for you, this article by a Bridge advisor asks 5 questions to help you decide: Which online course should I take?