The first rule of teaching any class, and especially teaching English to young learners and teens, is to have strong classroom management skills. This can be difficult for novice teachers, but it is something that develops quickly if you are willing to experiment with different styles and tactics. Setting classroom rules from the start, diversifying activities, and reviewing class rules regularly are a few ways to effectively manage your class of young learners or teens. Learn more strategies below!
If you're new to teaching, you'll want to get initial training and qualification with a TEFL certificate. You can explore our online TEFL courses to get started!
Who is considered a young learner?
When venturing into the world of EFL, the term "young learners" may be broadly used, leading to some confusion for new teachers. However, this is because young learners can be many ages! This group can include pre-school, kindergarten, and elementary school children (ages 2-10), as well as children in middle school (about ages 11-13). Middle schoolers can also fall into the teen category.
High schoolers (ages 14-17) are sometimes considered young learners, but teenage students really require different strategies than those you'd use with younger kids. If you teach at a language institute, you may also have some teens in your adult classes as well.
Find out more about teaching English to adults vs. kids.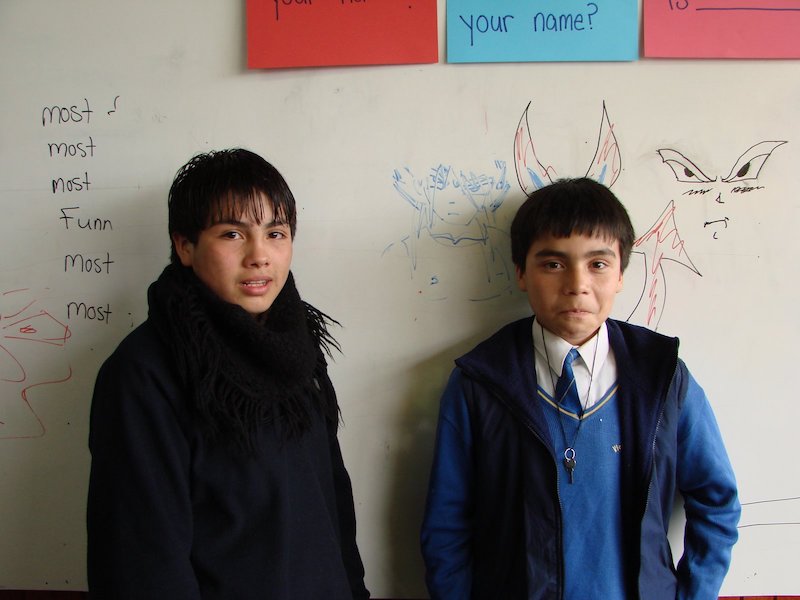 What are some techniques for teaching English to young learners?
Set classroom rules from the start
You should aim to introduce a set of classroom rules and standards during the very first lesson you teach to each group of students. Do not be afraid of spending the entire first class establishing these guidelines instead of teaching a genuine lesson; it will serve you well for the remainder of the course.
Rules should be presented in a specific and positive manner. For example, "Raise your hand if you wish to talk" is more specific than "Do not be rude" and more positive than "Do not speak out of turn." In general, it is better to tell students how they should act instead of how they should not act.
Below is a list of common rules and standards in EFL courses:
Only speak English in this class (or, for very young learners, speak English as much as possible).
Look at the teacher and listen while they are speaking.
Wait until you are called upon to speak.
Remain seated unless instructed otherwise.
Arrive on time for class.
Arrive prepared for class (with pencil, notebook, textbook, or other materials).
Learn more classroom management skills, teaching techniques, and activities by earning Specialized Certification in Teaching English to Young Learners and Teens.
Keep up the pace
When teaching younger children, activity and engagement are very important – remember, language learning is play! Younger learners have shorter attention spans, which means you need to keep the class moving at a decent pace. For very young children, even a brief pause between activities may cause them to become distracted. To retain their focus during transition periods, try having them stand up and stretch or sing and dance to a song while you quickly prepare the next activity. This way, their energy and excitement will be guided.
Learn how to use ESL songs when teaching kids and teens.
Keep directions brief
Another important guideline to remember is to always keep your instructions short. Not only will this help younger students remember what you said, but it will make directions easier to understand since students are still learning English.
Incorporate these routines with your young ESL learners.
Use a reward system
Don't forget to reward good behavior and effort as well! You can recognize positive behavior with prizes, special privileges, the chance to choose what the class does, or other methods of encouragement such as those outlined in this infographic from the Specialized Certification in Teaching Young Learners course:
Review the class rules with students regularly
Lastly, begin each subsequent lesson with a quick review of the rules and guidelines in the class. In many cases, your students may only see you once per week. Further, your guidelines as an EFL teacher may vary significantly from those of their native teachers. As a result, it is useful to establish a sense of consistency in every lesson by covering the standards you expect your students to uphold.
Try out these fun ESL games and activities for kids and teens!
What are some classroom management strategies for teaching English to teens?
Create a respectful learning environment
Teenagers, on the other hand, pose a different set of challenges. While they can retain more complex information and work more independently, many students in this age group also tend to be more self-conscious about actively participating in class (in contrast to children, who tend to be very energetic and open).
Helping to foster a positive classroom environment and assuring that your students feel comfortable participating can go a long way towards getting them to learn the language. This can be done by setting clear rules with your teen classes, such as providing guidelines on respecting classmates when they're speaking or interacting with the teacher. If you're teaching in person, putting together a seating arrangement that is conducive to the activities you plan to do with the class and does not encourage too much side talking is also helpful.
Need inspiration for your lessons? Take a Micro-credential course in Games and Activities for the Online Classroom.
Diversify activities
Once again, keep in mind that not every student learns the same way, and it's important to vary the types of classroom activities you plan. This way, you'll appeal to more students and encourage different kinds of participation. For example, if you plan a class largely based on group speaking activities, try incorporating some written or listening tasks during the next lesson.
Below is a demo of a game called Balloon Sentence Jumble, which is a great activity to enliven your classroom and get your teen students participating. You can get more ideas for engaging and fun games and activities like this one in the Specialized Certification in Teaching English to Teenagers course.
Plan filler activities
It is also important to be cognizant of your students' needs and treat them as independent and autonomous learners. Consider having individual tasks that students can complete quietly if they finish the main activity before their classmates. This will help avoid behavioral problems due to boredom.
Check out these filler activities for teaching online.
Address issues privately
Another piece of advice is to discuss any problems with a student's behavior or performance privately with them after class. Never reprimand them in front of their classmates!
Learn classroom management strategies specifically for teaching English online.
The key to classroom management while teaching English to young learners and teens is to be willing to try new methods for the sake of testing their effectiveness. Don't be discouraged if something falls short and you need to adjust the class rules or introduce new types of activities. It'll all pay off in the end!