Teaching English to Adults vs. Kids – What to Know
By Bridge
September 18, 2020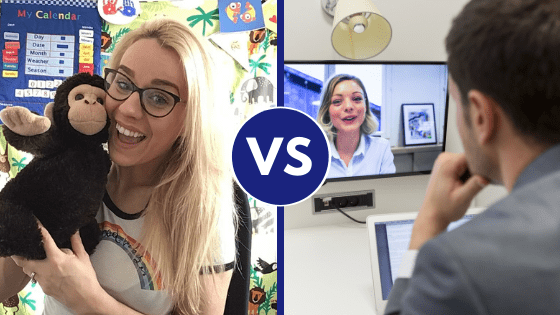 When you think of teaching English as a foreign language (TEFL), either in person or online, do you picture yourself in front of a class of children, adults, or a mix of both? Did you know that the age group you prefer to teach should factor into your choice of teaching location if you plan to teach abroad, and is also a consideration for teaching English online? This overview of teaching English to adults vs. kids covers this and other topics related to deciding the type of students you'll teach, where you'll teach, and what type of teaching environment is best suited to you.
If you're new to teaching, you'll want to get initial training and qualification with a TEFL certificate. You can explore our online TEFL courses to get started!
Teaching English to adults
If you've already considered teaching English to adults vs. kids and realized that teaching kids is not for you, don't worry. There are plenty of TEFL/TESOL positions available, both in-person and online, that focus only on adult students.
While adult students will often be professionals interested in boosting their language skills for the workplace (this is referred to as teaching Business English), it's possible to have students from all walks of life, including college students, homemakers, or retirees.
Some advantages to teaching adults are:
You'll spend less time on discipline and class management and more time on learning.
Adult students come from various professions, industries, and educational backgrounds, providing interesting topics for class discussions.
It's sometimes possible for EFL teachers to befriend students, allowing more opportunities for cross-cultural or language exchange.
Learn more about earning Specialized Certification in Teaching Business English to qualify for more jobs teaching adults!
Where it's common to teach adults English
If you plan to teach abroad in the future, it's not too early to start planning and researching! If you prefer teaching adult students, know that TEFL/TESOL jobs in Central and South America usually involve working at language institutes that cater to adult students rather than kids. Some popular countries for English teachers in this region include Costa Rica, Chile, Argentina, and Brazil.
It's also quite common to teach adults in Middle Eastern countries, such as the UAE, Saudi Arabia, and Oman. In this region, jobs can typically be found at colleges, technical schools, and universities, in addition to the more typical language institute setting.
Ready to start planning future adventures? Check out this TEFL/TESOL timeline for the coronavirus age.
Teaching English to adults online
Work with a company
Although most online TEFL/TESOL jobs involve teaching English to kids, there are also opportunities for teaching adults English online. For example, companies like italki and Preply are popular online tutoring sites where you set your own rates and hours for teaching English. Other sites, like Cambly, and EF English First, offer a fixed rate per class taught.
Learn more about teaching English to adults online- no puppets required!
Become a freelance online English teacher
Another option for anyone interested in teaching English online exclusively to adults is to become a freelance online English teacher. As a freelancer, you can target the student demographic you prefer, and also choose your teaching style and platform and set your own hourly rate. Read more about getting started as a freelance online English teacher.
How to qualify for TEFL/TESOL jobs teaching English to adults
Regardless of whether you plan to teach online or in the classroom, most teaching jobs with adults will require general TEFL/TESOL certification of at least 120 hours, and some positions may also require a bachelor's degree and/or teaching experience.
If you don't have teaching experience, don't worry! Many positions involving teaching adults English can utilize other skills you may have acquired in your professional career, such as knowledge of business or another specialized field. This specialized knowledge may even allow you to carve out an ESL teaching niche related to your background, such as teaching business English, or English specific to finance, law, or medicine, for example.
In the classroom
One of the best ways you can get a job teaching English to adults is by getting a specialization in teaching business English to show employers that you've had specific training in this area. If you're planning on teaching business English, it also helps to have some background in business or in the specific field in which you'll be teaching (for example, English for medical professionals or for marketing specialists). To achieve this, consider taking online courses to expose yourself to specific workplace language. You can even audit business courses for free on sites like Coursera.
Online
If you're wondering how to teach English to adults and planning to teach virtually, earn a specialization in teaching English online to demonstrate a high level of competency in the area.
The majority of jobs hiring for online positions will conduct interviews over Skype and expect you to teach a trial class. For both interviews and trial classes, boost your chances of getting hired by making sure you have a professional teaching background (a clean space with a whiteboard, some related English posters or materials, etc.), a quiet space, the appropriate equipment (webcam, headset, etc.), and a strong Internet connection.
What teachers say about teaching English to adults
Jorge, in Chile
"I want to develop my career by teaching based on andragogy principles. From my personal and professional perspective, teaching adults is vital because our children are always learning from us, not only from our verbal and cognitive assignments and classes but also by our actions and behavior."
Teaching English to children and teens
Some people are afraid that teaching kids or teens will be too challenging, but there are actually many advantages to working with young students. For example, teaching English to children is incredibly rewarding and best suited for teachers with lots of energy and passion. While it does require a great deal of patience, teaching English to kids is a lot of fun and ensures a lively, engaging career.
Here are just some of the benefits of teaching English to kids:
Kids, especially elementary-aged, tend to have an unbridled enthusiasm for learning and are always ready to jump in and play any fun English games you present to them.
Young learners tend to lack the hang-ups of adults, so they are not as shy about pronouncing new words or afraid of looking silly in front of the class.
It's easy to see substantial progress in young learners' and teens' English level since they are able to absorb so much so quickly.
Learn more about earning Specialized Certification in Teaching English to Young Learners and Teens.
Where it's common to teach kids and teens English
Asia
The main region where teaching jobs involve working with children and teens is Asia, in countries such as South Korea and Thailand. The Japan Exchange and Teaching (JET) Programme, is a historically popular program that places qualified teachers in positions in schools throughout the country.
Europe
TEFL/TESOL  jobs can involve teaching kids in certain countries in Europe, as well. This is typically through government programs like the Teaching Assistant Program in France (TAPIF) and the Cultural Ambassador program in Spain, that sponsor English teachers from North America to teach various grades in K-12 public schools.
Teaching English to children and teens online
Now, more than ever, there is a strong demand for teaching English to kids online, especially to younger learners in Asian countries like China. These online TEFL/TESOL jobs usually entail becoming familiar with a company's teaching software and teaching pre-made lessons with build-in videos, ESL songs, interactive games, drawing tools, and other dynamic digital features. Some companies require you to teach set hours each week while others are more flexible and let you choose your own hours on a weekly or monthly basis.
You can teach English to kids online with companies that are among Bridge's Preferred Employment Partners or with other leading companies in the industry.
Do your research before choosing which company to apply to, as each has a slightly different pay rate, vacation limit, and company policy. Also, keep in mind that since the majority of these online jobs teaching kids are based in Asia, you'll probably be teaching really early or late hours because of the time difference.
Qualifications to get a TEFL/TESOL job teaching English to children
When teaching English to children, it's important to be certified, as almost all jobs (both in-person and online) require a TEFL/TESOL certification, usually of 120 hours or more. It also helps quite a bit to have targeted training tailored to the students you want to teach, such as Specialized Certification in Teaching English to Young Learners/Teens or Specialized Certification in Teaching English Online.
What teachers say about teaching kids English
Kimmy, in Hungary
"I taught at an international kindergarten— it was a blast! It was a summer camp, so each week, we had a different theme. One week, we learned about cooking; we cooked all sorts of different foods at the school, and at the end of the week, we all got to go to a sushi restaurant. My students were 5-6 years old, and they were fascinated by the sushi restaurant. That summer, I grew so close to the summer camp students because we got to learn and discover new things together. They were wonderful students, and I loved teaching them!"
Teaching English to all ages
If you can't decide between teaching English to adults vs. kids, you can get a job teaching classes of adults and classes of young learners and have the best of both worlds!
Where it's common to teach a mix of adults and young learners
Online
When it comes to teaching English to adults and children, online TEFL/TESOL jobs can offer a great way to do both. You can easily teach for more than one company and divide your time accordingly.
Also, since most jobs teaching English to children online are going to be based in Asia and probably result in teaching very early or late hours in your timezone, you can easily dedicate daytime and afternoon hours to teaching adults who are based in Europe or the Americas online.
Alternatively, you could work for a company that has both young learners and adult students.
Europe
In Europe, it's not difficult to find positions that involve teaching both young learners and adults. Countries such as Italy, Spain, and Russia have a high demand for teachers who are willing and able to teach all student ages.
Asia
Other regions where you can teach English to adults and children/teens include Asia (particularly in Japan and Indonesia).
Africa
Looking for something a little different? In North African countries such as Morocco, it's quite common to a mix of young children, teenagers preparing for college entrance exams, and adult professionals.
Qualifications to get a TEFL/TESOL job teaching English to children and adults
If you want to teach English to both kids and adults, you'll need to show employers that you're adaptable. One way you can do this is by earning specialized certificates to showcase that you have advanced knowledge of teaching English to different ages. If you're not teaching online, make sure you apply to TEFL/TESOL jobs in regions where it's common to have both young and adult English learners.
What teachers say about teaching English to adults and kids
Meredith, in Japan
"The adult students are usually very open to talking about themselves, and the classroom provides an opportunity for both learning English and engaging in conversation about each other's cultures. The kids I teach are very funny and energetic, they are always eager to use what English they do know and talk with me during and outside of class!"
How to get TEFL/TESOL jobs teaching kids or adults
When it comes to finding jobs, take advantage of tools like the Bridge Job Board to find reputable schools or online companies in regions where it's common to teach children who are currently hiring.
Download our free eBook, Teaching English to Adults, with games & activities, teaching tips, and firsthand advice straight from teachers who've been there!