How to Get a Job Teaching Adults English Online or Abroad
By Camille Turner
December 30, 2021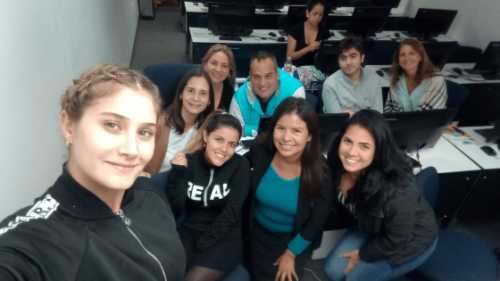 If puppets, silly songs, and colorful reward systems aren't your cup of tea, then perhaps you're best suited to teaching English to adults. The good news is that it's possible to get a job teaching adults English online or abroad, as more students than ever are seeking to learn English for personal or business reasons. Follow these simple steps to set yourself apart from the competition and find a good teaching position!
Learn about the differences between teaching English to adults vs. kids.
Step 1: Make sure you're qualified.
The first thing you should do once you decide to pursue a job teaching English is to get TEFL certified. Making sure you have the right training and certifications is essential if you want to get a job with an ESL company or if you want to find more online students as a freelance teacher. Below are your certification options.
TEFL/TESOL certification
Regardless of whether you want to teach adults or kids, online or in person, you need to have a general in-person or online TEFL certificate.
Usually, ESL schools and companies require certification of at least 120 hours, so a course like the Bridge Master Certificate is a good option no matter where you want to teach. Your TEFL/TESOL course should cover the basics of teaching English, such as TEFL/TESOL theory, methodology, and lesson planning.
If you want to make a long-term career out of teaching English, it's a good idea to consider a more advanced course, like the university-affiliated IDELTOnline™, which allows you to pursue a master's in TESOL later on.
Finally, if you're not sure whether you want to teach English online or abroad (or both!), an option like the 240-hour Master Certificate + Teaching English Online Certification Bundle qualifies you to teach both online and worldwide and ensures that you're ready for any job that comes your way.
Read more about the IDELTOnline™ vs. Master Certificate to find out which is right for you.
Specialized certification
One of the most popular ways to work with adults is to teach business English. This ESL niche is in high demand, and jobs teaching business English usually pay quite well. Whether you're a freelance teacher or you work for a language institute that has contracts with businesses that need to hire ESL teachers, you should get a Specialized Certificate in Teaching Business English. This will show potential employers and students that you have the special skills needed to teach adults how to speak with clients, give formal presentations, have proper phone etiquette, and meet other business-specific goals.
Step 2: Get the right equipment if you're teaching online.
Apart from the basic requirements of TEFL/TESOL certification, a bachelor's degree (sometimes), and English proficiency, you'll need certain tools if you're planning to pursue teaching English to adults online. You'll need the following basics:
A desktop or laptop computer
A high-speed internet connection (often wired, rather than wireless)
A headset with a mic
A webcam
Being super tech-savvy is not essential to teach English online, but you should be comfortable using a computer and various software. The Bridge Practicum in Teaching English Online (included with the full, 180-hour Teaching English Online Course suite) will familiarize you with a typical online teaching platform and the software and tools you'll use in the virtual classroom.
Take a look at the best digital tools for teaching English online.
Step 3: Prepare to apply for jobs.
Choose a TEFL niche
A great way to make yourself more marketable is to specialize in a specific TEFL/TESOL niche that is popular among adult students. Teachers who target specific fields within the English language teaching industry have a better chance of getting hired by high-paying companies or attracting students who are willing to pay more for classes.
Apart from business English, which is perhaps the most popular niche for teaching adults, you can also teach English for specific purposes or professions, such as technical English, medical English, or English for the hospitality industry. You can even specialize in teaching IELTS exam prep or helping to prepare students for other English language proficiency tests.
Get tips for finding your TEFL niche.
Update your TEFL resume
Before you begin applying to teaching English to adults jobs, it's important to update your TEFL resume so that it's geared toward teaching adults. Include all of your qualifications, recent TEFL/TESOL professional development, and any specializations you've completed. You can also include digital badges on your resume, which provide a dynamic way to showcase all of your qualifications and accomplishments to employers at a glance.
Prepare for the interview
To prepare for your interview, make sure you reflect on how you're going to answer the interviewer's questions, research the ESL school or company, and also think of some questions you want to ask the recruiter about the job.
Additionally, be sure to research what to expect in a video-based job interview, as many schools and companies (both online and abroad) conduct interviews virtually. If you're applying for a position teaching online, make sure that you have all of the requirements (a clean teaching background, a fast and stable internet connection, a headset, etc.) ready beforehand, as recruiters will be looking for these during the interview.
Learn more about how to prepare for a TEFL/TESOL interview.
Step 4: Search and apply for jobs.
Useful online job search tools
You can use popular sites like LinkedIn to get TEFL/TESOL jobs or, to make things a bit easier, try searching for opportunities on job boards dedicated solely to teaching English, such as the Bridge Job Board, where you can find opportunities with preferred employment partners who have been heavily vetted.
Regions where teaching English to adults is popular
If you want to get a job teaching adults English abroad, focus on searching for jobs in specific regions where this is popular. Latin America has one of the best markets for teaching English to adults, especially business professionals. Countries like Chile, Peru, and Argentina have a high demand for English teachers of adults.
It is possible to get a job teaching adults English in other parts of the world, like Asia and Europe, but if you're going to consider these regions, it might be best to focus your job search on the largest cities in these parts of the world, as they will have bigger companies with international clients and, therefore, a greater need for their employees to learn English.
Learn how to get ESL jobs abroad by region.
Online companies and marketplaces where you can teach English to adults
It's also possible to get a job teaching English to adults online with certain companies and ESL marketplaces. Here are a few popular ones that cater to adult students:
Explore other companies where you can teach English online to adults.
Freelance English teaching
Whether you want to teach online, abroad, in your home town, or some combination of these, getting started as a freelance teacher is always a viable option. With the right marketing skills, you can find private students online or in person, and freelance teachers have the freedom to set their own rates and teaching schedule. Taking a course like the Teaching English Online as a Freelancer certification can help you learn the business skills you'll need to choose a TEFL niche, find students, scale your business, and more.
If you want to get a job teaching adults English, there are plenty of options for you! Having the right qualifications and adequately preparing before you begin looking for jobs or students can help you have success in this area of the TEFL/TESOL industry.
Ready to get started? Get teaching tips, lesson ideas, and more by downloading this eBook: Teaching English to Adults.