Are you a global English language teacher interested in taking part in assessment-related research with your students? ETS, the world's largest, nonprofit educational testing and measurement organization, is calling for qualified educators to apply for the 2023 TOEFL® English-language Researcher/Practitioner Grant Program.
ETS provides research-backed products, conducts high-quality research, and offers assessments such as the TOEFL® and TOEIC® tests at over 9,000 locations in more than 180 countries. They are committed to ensuring quality and equity in education for all learners worldwide.
Here's all you need to know about the award, the work it entails, and the application process.
Master the ins and outs of the TOEFL and learn strategies for helping students score well by taking the Bridge Micro-credential course in Teaching TOEFL Test Prep.
What's the purpose of this grant program?
The 2023 TOEFL® English-language Researcher/Practitioner Grant Program has three main objectives.
The first objective is to provide language teachers who have direct contact with English learners in classrooms with opportunities to conduct and collaborate in research.
The second is to accumulate additional information about the effectiveness of using TOEFL® test scores for decision-making in various contexts.
And the third objective of the grant program is to build a better understanding of the complex relationships among learner characteristics, the English language learning environment, and learning outcomes.
The grant, therefore, sets out to involve selected participants in ETS's efforts to promote English-language learning and to support education and professional development for English-language teachers worldwide.
Who can apply?
ETS welcomes applications from teachers in a variety of contexts, including (but not limited to) universities, high schools, middle schools, primary schools, private language schools, study-abroad programs, and other programs in which students are learning English.
"Prior research experience is not required," says Laura Ballard, Senior Research Project Manager at ETS. Evaluation criteria are more focused on the relevance of the English class and its relation to the program. "Plus, ETS staff are available to support grantees in their research project," Ballard told Bridge.
However, keep in mind that practitioners with advanced degrees in language instruction or a related field will be given preference.
What's the value of the award?
Each successful grant recipient will receive between US $5000-$10,000. The exact amount is determined by the scope of the research project.
Some key metrics to consider for each project are the length of the instructional period, the number of tests to be carried out, the number of students to be tested, and other performance data. ETS will provide the research materials (e.g., research forms for the TOEFL iBT® test, the TOEFL ITP® test, the TOEFL Junior® Standard test or the TOEFL Primary® Listening and Reading tests) for all test administrations in addition to the award.
What will grant recipients do?
Grant recipients will mainly investigate changes in English-language proficiency levels in relation to teaching and learning in their particular contexts. This includes but is not limited to:
Administering a research form of the TOEFL iBT® test, the TOEFL ITP® test, the TOEFL Junior® Standard test or the TOEFL Primary® Listening and Reading tests at least once before and after an instructional period.
Conducting student background surveys (provided by ETS).
Collecting student performance samples, where possible (e.g., audio or video recordings of speech and/or writing assignments).
Organizing and analyze the test and survey results (technical assistance from ETS is available if needed).
Writing a final report that provides detailed descriptions of the instructional program, the test and survey administrations, any performance samples collected, and analysis results.
It's worth noting that if the instructional period extends beyond one academic semester or quarter, grant recipients are encouraged to administer the tests more than twice and collect performance samples throughout the entire period.
Why should you apply?
The 2023 TOEFL® English-language Researcher/Practitioner Grant Program is a great opportunity for teachers around the globe to take part in research with students in their own English-language programs.
"The program is designed for teachers who want to grow professionally, to better understand their students' English abilities, to better understand the effects of their own teaching techniques, and to be involved in the assessment of their own students," says Ballard.
"This grant program further underscores the value of quality English-language assessment and provides valuable insight into how the TOEFL® Family of Assessments measures students' skills and abilities."
One of the biggest perks is that grantees are encouraged to consider research dissemination activities. With prior ETS technical review and approval, they will be allowed to submit proposals for presenting results at different conferences and seminars. Getting a spot in this cohort will only further your career advancement as an English language professional.
Oluyemisi Adebola Oladejo, from Nigeria, was awarded the 2022 ETS TOEFL® English-language Researcher/Practitioner Grant. She remarked, "This prize has given me visibility and cast the spotlight on me. For once, it seems the world is looking in my direction, and a lot of people are genuinely interested in what I do in the low-income community secondary school 'somewhere in Africa.' Since this win, I have had the privilege of telling my story on some international platforms. Just last week, I was a panelist on the TESOL Black History Month Webinar."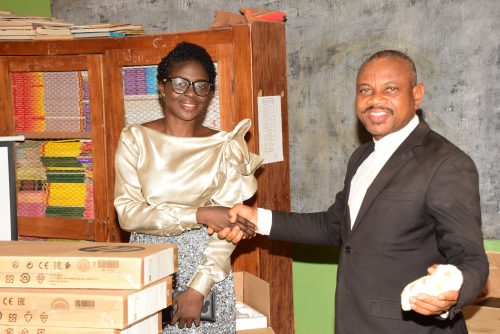 What's the application process?
Interested applicants should submit an application package (including their completed application form and CV) via email to TOEFLAwardsandGrants@ets.org by 11:59 p.m. U.S. Eastern Time on July 15, 2022. The email must include the following subject line: "TOEFL English-Language Researcher/Practitioner Grant Program Application."
If needed, ETS will contact applicants for any sort of clarification or if additional information is required.
ETS Research Associate Florencia Tolentino offers these tips for applicants:
"Applicants should clearly state their study plans and goal(s) and provide clear reasoning for why they choose to use a specific TOEFL test and the type of instruction they plan to implement with their students. For example, it could be helpful if applicants share their research questions, so we can have a better interpretation of their proposal study. Even though it is not a requirement that applicants have previous research experience, it would be helpful to show why their proposals would benefit the process of English-language learning."
Need help updating your TEFL resume? Check out this guide.
What are the evaluation criteria?
All applications will be evaluated using the following criteria:
Relevance of the planned English-language class in relation to the goals of the grant program.
Length of the instructional period: longer-term programs — e.g., more than 60 hours of instruction and/or more than one academic quarter or semester — will be given priority in selection.
Amount and relevance of student performance data that can be collected.
Regional diversity of the applicants.
If you're new to teaching, you'll want to get initial training and qualification with a TEFL certificate. You can explore our online TEFL courses to get started!
When are applications due?
Here are some important dates to keep in mind:
July 15, 2022 – Deadline for receipt of application materials.
August 15, 2022 – All applicants notified of selection.
September 1, 2022 – Successful applicants confirm information about their research design and the TOEFL® test they will use.
January 1, 2023 – Research project commences.
December 1, 2023 – Deadline for submission of collected data, classroom materials and summary of study results (the deadline will be extended accordingly if the project is planned to last more than 1 year).
Where can I get more information?
Visit the program page to learn more. If you have any questions, you can email TOEFLGrantsandAwards@ets.org. Make sure to use the following in the subject line: "TOEFL English-Language Researcher/Practitioner Grant Program Inquiry."