Tips for Using Games When Teaching Adults English Online
By Betsy Ramser Jaime
October 23, 2020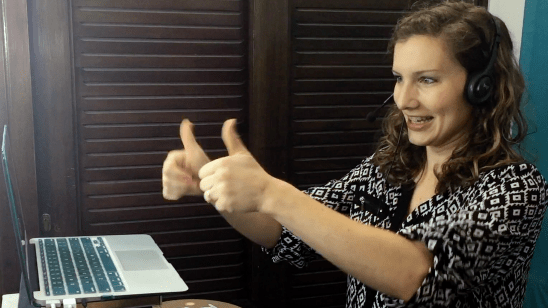 Teaching adult ESL students doesn't mean that you always need to be serious or follow a strict PowerPoint outline in your classes. I've been teaching adult learners online for almost six years with EF Education First and have seen firsthand that the more excitement and fun I bring to my lessons, the more invested my students are in learning. One creative way you can do this is by using games for teaching adults English online. And if you're not sure where to start, don't worry. It's much easier than you might think.
If you're new to teaching, you'll want to get initial training and qualification with a TEFL certificate. You can explore our online TEFL courses to get started!
Can I play games with my adult online ESL students?
The short answer is, yes! ESL games are not just for kids. Using online English games for adults can be a great way to break the ice and get your ESL students warmed up. Starting the lesson with a game is an easy way to help your students relax and to show them that language learning can be fun, and is more than just memorizing vocabulary or cramming grammar points. Students tend to perform better when they feel at ease and games are one way to create a comfortable atmosphere.
What are the benefits of playing games with adult students?
If you're new to using games with your adult students, you might be surprised to know that there are numerous benefits.
Games make language learning interesting.
Remember that not all of your adult students are learning English because they're passionate about the language. Instead, it's probable that they need to improve their English because they work in a multinational company, or are working towards a promotion.
Knowing this about your students, and taking some time to make the lesson interesting can really go a long way toward helping your students enjoy the English learning process. Your students are choosing to spend their precious free time in your class so make it something that they will look forward to.
Games allow you to test for student understanding (in a low stakes way).
Having taught online for almost six years, I've found that most adults enjoy taking quizzes and tests as much as children do, meaning not at all! However, testing is an important way to gauge understanding and see how your students are progressing. When you can take the recent concepts that you've taught and incorporate them into a game, you can test for understanding without making your students feel pressured or put on the spot.
Games build trust and rapport with students.
As a teacher, especially a new teacher, building trust and rapport is the foundation of your teaching career. As online teachers, most of us are responsible for maintaining our own client base, even if we work for a company. The more that you're able to build rapport when teaching English while also allowing students to learn in a fun way, the more students will want to re-book with you over and over again. 
What kinds of games work best when teaching adult students English online?
One of the keys here is to tailor the game material to your students' interests or professional desires. For example, if you're playing the game ESL Jeopardy, you could use categories that your students enjoy (movies, travel) mixed with important professional topics (job interviews, negotiating).
Remember that while you want your classes to be engaging, your students or their employers (or other stakeholders in their success) are likely paying a significant amount of money for their lessons. Therefore, always remind students of how the games or material are beneficial to their language growth.
Where can I find online games and activities for my adult students?
If you've never incorporated online games or activities into your adult English classes, start small. Just choose a few that you enjoy and that work well with your students.
BridgeUniverse
One place to find ESL games for teaching adults online is BridgeUniverse, in articles such as this one: Low-Prep ESL Games for Teaching Online. Click the link to learn more about these online ESL games and many more:
ESL Jeopardy: Inspired by the popular TV game show of the same name, this category-based game is a fun way to incorporate reading comprehension, grammar, and vocabulary.
Tic-Tac-Toe 2.0 – A twist on this classic game adds a twist to your regular verb tense practice and can be adapted to various grammar points.
Sentence Maker – A good game to review parts of speech that involves building correct and logical sentences with given words.
Browse more BridgeUniverse articles featuring games and activities for teaching English online and in the classroom.
Bridge Micro-credentials: Games and Activities for the Online Classroom
Another source of online games for adults is Bridge's 10-hour Bridge Micro-credential Certificate: Games and Activities for the Online Classroom – Adults). You'll also get a downloadable eBook with 16 games for teaching online.
Here's an example of one of the games you'll learn about in the course:
Bridge offers a variety of Micro-credentials on various teaching topics, which are a great way to learn new activities for your classes as well as enhance your skills and put you ahead of the competition with future employers! 
What are some tips for using games with adult online English students?
As teachers, we've all had the experience of facing teaching a student or class of students where getting them students to speak was like pulling teeth. Depending on the culture, students might be accustomed to the teacher doing 90% of the talking. Many adult students also fear speaking because they worry about making a mistake or are afraid that their teacher or classmates will laugh at them. With this in mind, it's important to be as patient as possible when incorporating online ESL games into your English classes with adults.
From my own experiences teaching adult learners online as a tutor with English First, here are 5 more tips for using ESL games with adults:
Start with a "practice round" to give students an example to follow.
Manage your time well by using a timer.
Have a "plan B" in case you are over or under with time.
Provide feedback for students during and after the activity.
Assess the game afterward to see what you can improve for next time.
Whether you're new or seasoned with online teaching, using games or activities can be a pleasant addition to your online classroom, for both you and your students. Don't be afraid to switch things up. If your students are growing in their language learning and having a great time, you have a winning formula!