ESL Stakeholders – Who Are They and Why Do They Matter?
By Camille Turner
December 4, 2022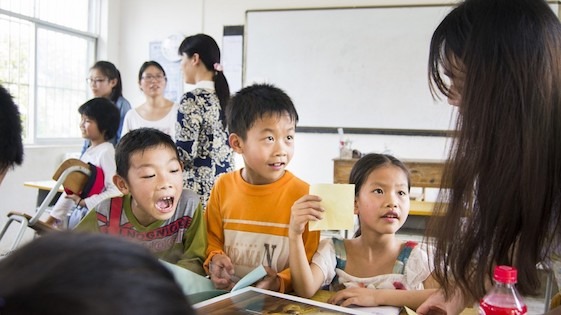 In education, the term "stakeholder" refers to anyone who is invested in the welfare and success of a school and its students. Knowing who your stakeholders are, especially when teaching young learners or teens, and how to build good relationships with them is vital to your success as a teacher. Let's dive deeper into ESL stakeholders to help you foster a positive teaching experience with your colleagues and supervisor and have happy students, satisfied parents, and more career opportunities down the road.
If you're new to teaching, you'll want to get initial training and qualification with a TEFL certificate. You can explore our online TEFL courses to get started!
Who are the stakeholders in teaching ESL?
When teaching English as a second language (ESL), stakeholders are any of the people who have a vested interest in the outcome of the students you're teaching. These stakeholders in the educational process include the students themselves, administrators at your school, fellow teachers, staff members, parents and other family members, or businesses that send students to a language institute. Who the stakeholders are will depend on where you're teaching ESL and what type of students you work with. Let's take a closer look.
Stakeholders when teaching ESL to young learners or teens
The students
Whether you teach young learners or teens at a language institute (where students attend classes after school or on weekends), teach in a traditional K-12 setting, or teach English online, the students you teach are stakeholders in their own education. Of course, these students may or may not be intrinsically motivated to learn English, as they most likely don't have a choice in whether or not they take English classes. However, they may want to earn a certain test score, succeed in school, or get into college. Other, more personal goals for these stakeholders include reaching an English level that allows them to communicate with friends or being able to understand their favorite TV shows in English.
The parents
Other important stakeholders when teaching young learners and teens are the students' parents. Parents will have similar goals as the students you teach and are likely the driving force behind the students' motivation. These stakeholders may emphasize passing certain tests or getting into specific colleges as the primary goals for their children.
Kids who attend language schools or online classes after their regular school day are essentially seeking additional instruction beyond what they get in their everyday classroom. Their parents typically put a strong emphasis on language learning and expect them to do well on English exams. These parents might also be looking for faster improvement in their children's language skills, as they are putting in extra time, effort, and money to further their language studies.
Your supervisors
Your direct supervisor is the person who oversees your work as a teacher. At a language institute or online company, this could be a head teacher, the director or owner, or anyone to whom you answer directly regarding your teaching.
In a traditional K-12 setting, you may also have a head teacher or there may be an English language department chair; however, the principal holds the highest position and is responsible for making sure the entire school runs efficiently and meets educational standards. Occasionally, certain private schools may have owners or directors who play a more direct role in the way the school is run, and it could prove equally important to develop a good relationship with them as with the school principal.
Stakeholders when teaching ESL to adults
The students
Adult students who attend a language school or online classes are stakeholders who are motivated by a number of factors, including seeking a better job or a promotion at their current job, traveling to an English-speaking country (or just traveling in general), assimilating to a new culture, communicating with a friend or loved one, or other personal goals.
The company where adult students work
Many adult English language students are specifically interested in learning business English and have been sent to the in-person or online language institute by the company for whom they work. Their place of business has most likely paid for their English classes and, therefore, as a direct stakeholder, expects to see concrete results.
Your supervisors
The center director or your head teacher is a stakeholder in the adult student's success. This is logical when you think of the language institute or company as a business. Like any business, the success of the institute hinges on its customers (individual students or the companies that send their employees) being satisfied with the results of their financial investment in English classes. For this reason, your supervisors are deeply invested in the success of your adult students.
Why is it important to consider ESL stakeholder relationships?
Consideration of stakeholders allows you to better understand why your students are learning English
If you recognize your students' learning objectives and motivation, you can develop lessons that target specific language points to help them meet their goals. Without this knowledge, you won't be able to support your younger students and their parents in achieving their learning goals, nor will you be able to help your adult students further their professional ambitions and meet their company's standards.
Knowing what each of the stakeholders expects from you right from the beginning will help you set realistic goals
This will allow you to work more effectively when planning lessons based on student objectives and choosing teaching methods and will help you to develop amicable relationships with your colleagues, supervisors, and students' parents or employers. Stakeholders in education all have the same overarching goal: the success of the students. By communicating expectations, challenges, and victories, you and your ESL stakeholders will develop a mutually beneficial relationship driving the success of your students.
Setting realistic goals helps you achieve them, resulting in stakeholder approval
Achieving the goals you and your students set forth results in an environment of success in which the students and other stakeholders, such as parents, the school, or the company that sent the students, are satisfied and happy.
How can I form good relationships with ESL stakeholders in education when teaching adult students?
ESL stakeholders for the adult student, including the company they work for and your supervisors, are most interested in seeing the students achieve their language goals. To do this, you need to identify those goals early on and be upfront with stakeholders about what you can reasonably achieve.
While you will obviously interact directly with your adult students during each class, you can communicate and build relationships with the other stakeholders in a number of ways.
Find out what specific goals the company has for the students in your class. For example, should they advance one or more levels, maintain a certain grade, or pass a particular proficiency test? First, ask your supervisor for these goals, since they may have been provided by the company. Another option is to contact the company directly to ask about goals for students. If possible, get them in writing.
Follow all guidelines set forth by the school or the company sending students to class regarding how often and in what way to assess your students.
Take this a step further by openly communicating about students' progress toward meeting their goals. Provide the company or the school director with periodic feedback and assessment on students' progress, according to the goals that have been outlined. This ensures that everyone is kept in the loop throughout the learning process and results can be tracked.
Finally, if you teach students onsite at the company where they work, you can take advantage of opportunities to interact with stakeholders through personal interactions. Introduce yourself to your students' supervisor and make yourself available for any questions or feedback he or she may have.
Download an eBook about teaching English to adults.
How can I establish good relationships with my young students' main ESL stakeholders – parents?
When teaching young learners and teens, whether in the K-12 setting or at a language institute, you will interact regularly with the students' primary stakeholders, their parents. What are the best ways to foster and maintain an effective relationship with them?
Establish open lines of communication with parents
One way is to begin communicating with your students' parents from the very beginning of the semester or school year. Parents will appreciate this transparent approach for several reasons:
Open communication will allow you to set forth standards for how often and in what ways you'll be communicating throughout the school year.
You can come to an agreement regarding any expectations, which helps avoid dissatisfaction and conflict later on.
You can establish policies for resolving future issues so that parents know exactly who they should speak to about problems they might encounter during the year.
Ways to maintain good communication with parents
Have regular parent-teacher meetings
To ensure all your students' parents are aware of the progress their children are making in class and any issues they're facing, it can be beneficial to work within the guidelines of your school to schedule parent-teacher meetings. This type of face-to-face, individualized meeting can be especially important for parents of students you don't have much daily interaction with or for when you need to discuss lengthier topics.
If you teach English abroad, then you'll want to be sure to consider any cultural norms for this type of interaction in the country where you're teaching, so that you and the parents can have a productive and appropriate conversation.
It's also extremely important to have a translator present if you don't speak the language where you're teaching. Do not use the student as a translator, as he or she might not feel comfortable with this or have the level to translate successfully. Additionally, you may want to have a conversation without the student present if you're going to be talking about sensitive information that deals with that student's progress.
Maintain written correspondence
Apart from meetings, you can also interact with parents through written correspondence in the form of emails or notes sent home with students. You can provide assessments and grades so that they stay abreast of their child's progress. You could even send out periodic newsletters or keep a classroom blog that lets all parents stay current with what's happening in the classroom without you having to tell each one of them the same thing individually.
Share positive feedback
While there are a number of ways to establish a good relationship with your students' parents, you want to ensure that, however you communicate, you're not just reaching out when something is wrong. This can create a negative perception surrounding your communication. Instead, try and let parents know when their child is succeeding and provide information about what you're working on in class. This will impress parents and make them more open to hearing less positive feedback if and when the time comes.
Make yourself available
Finally, you want to make yourself available to answer their questions and address parents' concerns when they initiate contact. If you want them to be receptive to what you have to say, it's only fair that you receive their communication openly as well. Let them know at the start of the semester or term how they should contact you (via a certain email address, by phone, or via a platform provided by the school, for example).
What are some challenging parent types and how can I handle them?
Just as there are challenging student types, unfortunately, not all parent-teacher relationships will be easy to navigate!
You may encounter parents who try to pressure you into advancing a child who isn't ready to move on.
Some parents don't acknowledge their children's academic or behavioral issues in class, no matter how many times you try to make them aware of them.
Other parents may create the opposite problem, trying to constantly contact you and speak about every single concern, positive or negative, that's on their mind.
Set up communication guidelines
To handle each of these types of difficult parents, it's essential that you establish communication guidelines and classroom expectations upfront. That way, you can refer back to the information you gave them at the beginning of the term or year that outlines when and how often you are available to communicate outside of class and what their child needs to do in order to be successful in your class.
Document your communications
Additionally, be sure to document each and every conversation so that you have a record of what you've contacted parents about in the past. This ensures that parents cannot claim that they weren't made aware of a situation or that they didn't know what was expected of their child.
Why is it important to establish a good relationship with my supervisors?
Establishing a positive relationship with your language institute or company director, head teacher, or school principal is beneficial for all teachers and crucial for the development of newer teachers.
These stakeholders can provide practical advice and resources to help you grow as a teacher and take advantage of professional development opportunities.
Strong communication and good rapport with your superior means that they're more likely to trust you and support you when problems come up.
Finally, a good relationship is necessary if you want to advance at your job, receive a positive reference for future career opportunities, or take advantage of networking opportunities. Connections like these will help you achieve your career goals.
How can I foster this relationship with my supervisors?
Follow the rules
The first step to establishing a good relationship with your principal or school director is to carefully follow the guidelines and expectations set forth by the school. This will ensure that you're in good standing with your superiors, which makes them more receptive to resolving issues you may need help with in the future.
Show up on time, every time
It's also important that you attend all teacher conferences or meetings to show your principal or director that you are dedicated to contributing to a positive learning environment and furthering the school's success.
Be professional
Finally, maintain professionalism in every aspect of your job, including attire and the way you speak. Be friendly when addressing your colleagues and the school director or principal, and continue to build positive relationships with your students and their parents. The director or principal is sure to notice!
What are some issues I might face with supervisors and how can I handle those?
Issues you could face with school directors or principals range from a lack of professionalism to problems with communication. Other problems include directors who take advantage of you and your time or those who show favoritism among teachers.
Just as with handling difficult parents, you should always keep documentation of your communication with the school principal or director. This way, you protect yourself from any mistreatment or inappropriate behavior.
While some issues, such as favoritism, may be things you just have to endure, other problems, like a director who doesn't return your calls or emails, can be dealt with by scheduling a meeting for the two of you through the school secretary. Most principals and directors will prefer an open discussion about how you can amicably resolve the issue and meet your teaching goals. Bigger issues should be addressed sooner rather than later to avoid frustration and misunderstandings.
Successful teachers are not only aware of the different types of ESL stakeholders involved at their school but know exactly how to build positive relationships which each of them. Stakeholders in education care deeply about the learning experience the students are receiving. Communication, professionalism, and good listening skills will ensure an effective dynamic for you and your ESL stakeholders both inside and outside of the classroom.