Joshua, From the US, Teaching English to the Military in Saudi Arabia
By Krzl Light Nuñes
February 16, 2021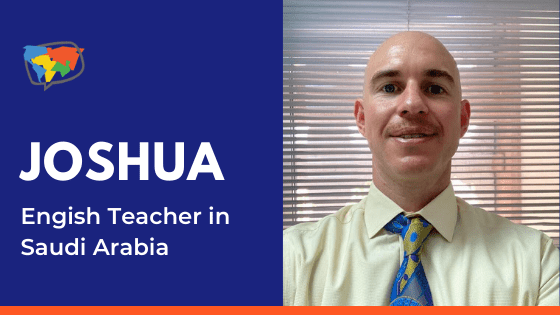 Following a five-year EFL teaching stint in South Korea, Joshua Sohn, from the U.S., got a break in his career when he landed a position as an English instructor for soldiers in Saudi Arabia. Meanwhile, he's also been improving his craft by taking professional development courses. Are you wondering what it's like teaching military English? Read on to find out, or scroll down to watch the video of our interview with him below.
Hi, Joshua! Can you tell us a bit about yourself?
Hello! My name is Joshua Sohn. I'm from Simsbury, Connecticut in the northeast part of the United States.
You relocated to Saudi Arabia four years ago. How have you adapted to the new culture?
I don't know if this the first place I would've moved abroad. Definitely having six years experience of teaching abroad prepared me for personal situations and how to react to cultural situations. But I think the main thing is to be open-minded. Obviously, anybody that teaches abroad should be prepared to adjust their living style to the customs and cultures of that country. So, Saudi Arabia is definitely different than America but once I got used to living in this kind of environment, I haven't had any problems.
What type of school do you work for?
I'm currently working for a private defense contract company and we work mainly with the Royal Saudi Air Force in Khamis Mushait, Saudi Arabia.
Find out the job opportunities available to you as a TEFL/TESOL-certified teacher.
Who are your students?
I mostly work with mechanics. In the Air Force and military field, everything is taught in English. English skills are important in order for the mechanics to communicate with the American soldiers here, and all their procedures are done in English. So, my job is to make sure that they have the ability to read the required documents and communicate with their coworkers in an effective manner.
How did you prepare to teach military-related English?
What I would tell everybody is it's really not all that different teaching adults versus children because you still need to find ways for them to enjoy the material, relate to the material, and understand the material. So having teaching experience helped, but also just making relationships with the students and working with their interests. And I think in any classroom environment, the students can tell if you're invested in their education. It's the same thing here with working in the military environment: The students want you to put your best effort into improving their career, and that will go a long way.
Are there any special strategies for teaching students in a military environment?
Most of what I'm doing right now is test-taking skills. Sometimes students, especially in the military environment, have never been taught specific test-taking skills, so what I try to do is just break down the sentence into what they're actually asking for and have the students try to narrow down the wrong answers and then maybe give them a possibility of a few correct answers. So, not only am I just teaching English language but I'm also teaching specific test-taking skills and how to use the sentence clues and the sentence structures to choose the correct answers.
Learn how to prepare students for a specific English proficiency exam, the IELTS, in Bridge's Micro-credential course.
What are your tips for building rapport with students?
For me, I really got into teaching ELL and teaching English as a second language specifically to be able to travel abroad, so the way I build rapport with students is:
Learn a little bit about their culture and their language. I'm not, by any means, fluent in Arabic, but I use the little I know in class to make them laugh or to show what I know.
Just find out what they like and their hobbies. That way, when you go over something like a grammar point or vocabulary, you can draw it back to a personal experience that they might be able to understand and draw a conclusion from. For example, football is a big thing in Saudi Arabia. It's a big sport here – football, or "soccer." So being American, I always have to draw the comparison.
Get more tips for building a good relationship with your online ESL students.
What do you like best about your job?
Like every teaching job, there are difficulties and rewards. But the best thing I like about my job right now is working with adults. So, we have the in-class lessons involved in real-world training, so everything that we use in the classroom is directly related to things that they directly need while they are performing their job.
Would you like to teach English to adults? Download this free Bridge eBook to learn more about this TEFL/TESOL subfield.
How has the COVID-19 crisis affected your classes?
Starting back in August, we went back to teaching in class.
But in the height of the pandemic – I should say from March, April, May, June, and July – we had switched to online lessons.
I had 10 years of teaching experience but switching over to teaching online is definitely a different breed of its own. So, I took some online professional courses to help me adjust to teaching that way, and it was kind of learn-as-you-go. But the courses that I took definitely helped me implement effective procedures as well.
If you're new to teaching, you'll want to get initial training and qualification with a TEFL certificate. You can explore our online TEFL courses to get started!
Why did you choose Bridge?
I've taken quite a few professional development courses and when I came across Bridge, I liked that first of all, they had affordable classes. Second of all, the courses were specifically designed to what I was looking for – online teaching. Third, it allowed me to work full time while taking my courses online, so that worked out well with my schedule.
What was your favorite part of the course?
I really enjoyed the courses. Obviously, I've done some online professional development courses so I was familiar with this kind of work-at-your-own-pace course, as it gives you time to be flexible with your schedule.
The best parts about the Bridge courses were two things:
The classes were directed towards what I was looking for – teaching online English.
I really enjoyed the quick responses from the instructors, and they really provided positive feedback that was effective in understanding the material.
Were you able to interact with your classmates in the course?
Yes, I was. They had a good message board where you could communicate with colleagues, and there was an introduction board that, even though everybody was not required to use, was very useful to see everybody's background. In the online professional development courses, most of the people are from all over the world, so it was interesting to see each person's teaching situation and how it affected them.
What other professional development courses did you take? Why did you decide to take them?
I'm always trying to advance my teaching skills, so I've taken a lot of professional development courses because, with the flexibility of doing them online, it can definitely boost your resume. I've taken courses on teaching exams, online teaching, and teaching ELL students with disabilities.
Boost your TEFL/TESOL career further by taking Bridge's Specialized certification courses.
What's next for you?
I'm pretty content with my current job situation, so I'd like to stay here for the foreseeable future. But I definitely will take some more professional development classes. I know Bridge has a lot more online classes, so I'd like to take some of those in the future and just always develop my teaching skills and try to advance my career.
Watch the full interview with Joshua: