Margarida, From Portugal, ESL Teacher and Globetrotter
By Krzl Light Nuñes
March 16, 2021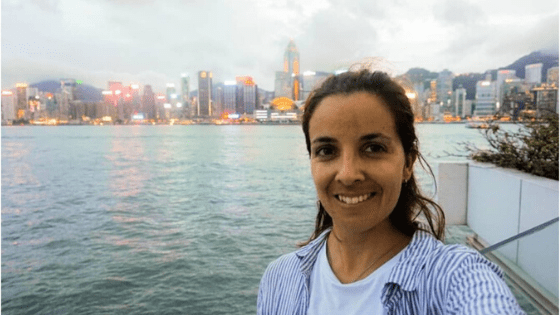 Out of pure wanderlust, Margarida Coelho, from Portugal, traveled to more than 50 countries while working on a cruise ship. After her seafaring stint, she steered toward a career that would let her work from just about anywhere: English teaching. She tells us about how she kickstarted her freelance online ESL business, her marketing tactics as an independent teacher, and the opportunities she's looking forward to in the near future.
Can you tell us a bit about yourself, Margarida?
I have a degree in Marketing and Public Relations, but I've never worked as a marketer. I have been abroad since 2015. I started by going to live in England to get a C1 English level from the British Council in order to get a job on a cruise ship.
You've traveled to many countries while working on a cruise ship. Where have you been?
I've visited 51 countries, including Hungary, Austria, Brazil, Mexico, and the Bahamas. When I stop at the same place for too long, I feel suffocated — it seems that I need to move around to feel happy. You can see photos of my travels on my Instagram account @os51paises.
After living and working on board the cruise ship, I took a gap year to visit Asia and could definitely see myself living in that region. Then I came back to Portugal in March of last year.
What made you decide to teach English?
For the last two years, I've been trying to see where I could live, trying Barcelona and Athens, working with different customer service companies. However, my mind was just blown by 9-to-6 jobs, doing the same thing all the time, and I didn't even survive for two months. After that, I realized I couldn't have this kind of job.
The option to help students, or more specifically children, with their English came when I was in my country. In September of last year, I took a break in the countryside to think about what I should do. That was when the idea of taking a TEFL/TESOL course to teach English as a Second Language came to mind. After searching for some days, I found Bridge.
What are you doing now?
Nowadays, I'm giving private online English classes to individual Portuguese students. I started teaching kids, but now I have more than 10 adults and only one young student.
I also have a contract with EF Education First in Xi'an, China, and I'll start as soon as I get the Chinese visa. I'm very glad about this because my English learning journey started in Malta in 2009 when I studied at EF. After 12 years, I will be part of the same company, but as a teacher this time.
Here are the reasons why you should teach ESL online while waiting for your chance to teach abroad.
How did you find your new teaching position at EF in China?
I found the job offer on the Bridge Job Board and I applied.
As a freelance ESL teacher, how do you find your online English students?
I normally do network marketing. I also advertise to my followers on Instagram, Facebook, and on sites where you can offer your services as a teacher, painter, etc. The majority of my students came from the results of my advertising work.
Read how other independent online ESL teachers have successfully built their client base.
I decided to take the 120-Hour Master Certificate course after a long search on the Internet regarding my desire to become a teacher. Also, I have the goal to return to China to live longer and immerse myself in their culture. Aside from that, I also wanted to be able to work from my computer on my own. So, it was the perfect mix.
How was your experience with the course? Has it helped you professionally?
My experience was great and positive in general. I worked hard and learned new things in every module. Even if we may be a little lazy at home these days, I was only thinking of finishing the course. Getting the certificate doesn't mean you don't need to study anymore — it's only the first step of your journey. When you decide to become a teacher, be prepared to study and take lessons, probably your entire life.
The Bridge course helped me become a teacher, work online as an English teacher, and get a job at EF. So, it was definitely the best thing I've done in the last three years.
What do you like to do when you're not teaching?
I like practicing yoga, hiking with friends, meeting new people, practicing sports in general, and going cycling or running, among many other things.
What are your plans for the next weeks or months as the world deals with the global pandemic?
Nowadays, I'm feeling okay. We are on lockdown and I have students. I'm also studying and preparing English lessons for my students. Additionally, I'm preparing posts for my network marketing and Telegram page (English_with_Margarida), where I give extra tips to keep my English students motivated.
I hope I can inspire you, and I'd like to share my journey in China and around Asia as soon as the COVID-19 situation allows us to travel.