Randy, From the U.S., Aspiring to Teach English Online in Retirement
By Krzl Light Nuñes
September 28, 2021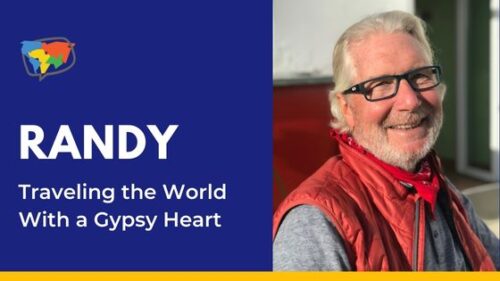 A backpacking experience abroad inspired Bridge grad Randy Rudloff, from the U.S., to rekindle a past career in English teaching. He shares the story of how he got TEFL certified on the cusp of COVID-19 and completed an online teaching certification and practicum to prepare for his next adventure and "career in retirement."
Can you share a bit about yourself, Randy?
I live in Austin, Texas. I'm in my mid-60s. I have lived in a lot of places, and to answer the most commonly asked question when I say that, no, my father was not in the military and no, I was not in the military. I just happened to be a bit of a gypsy!
I've lived here in Austin for 11 or 12 years now and it's the longest I've been in any one place since my early life. I grew up primarily in Waco, Texas, which is about 100 miles north of Austin, and I have lived in Dallas, the Texas Panhandle, Missouri, Michigan, and Arizona.
What was your career before you decided to become an online English teacher?
I was a high school coach and an English teacher way back in my 20s. I've also been a systems engineer and worked in the tech world before there was the internet – and that was with mainframe computers and such things. For the past 20-plus years, I've been a massage therapist and bodyworker.
A couple of years ago, I had the wonderful experience of walking El Camino de Santiago in Spain. It takes approximately 35 to 40 days to walk from the Pyrennes on the eastern border of France and Spain and then all the way across to Santiago de Compostela, which is in the northwest corner of Spain. That's a backpacking experience!
I had a lot of time to think and really reflect on my life as a whole, as I walked that pilgrimage. I thought about the things that I had either not yet accomplished or had not given enough attention to. One of those things that came up was the time I spent in the classroom in my 20s.
I was a high school coach and that's what school districts paid me to do, primarily. The teaching was about taking care of one or two classes a day, but I didn't really have the time to give my full attention to it, and I really found that to be something I felt I would regret someday.
I started looking for ways to get back to teaching English, basically, and not within a traditional classroom here in the U.S. Teaching abroad or teaching online to students abroad was really attracting me. That led me to seek out one company that actually was offering in-person classes at a university within two miles of where I live here, in Austin. It was kind of a no-brainer to just go to those in-person classes. I took those classes in January and early February of 2020.
That was a very fortunate choice to schedule back then because roughly one month after I completed the in-person portion of the training, COVID showed up and everything that I have done since then has been training online, finishing my classes with that company, and then finding Bridge, who offered the component that I knew I would need (training in teaching English online) as I was pivoting from primarily teaching in person in a foreign country.
I knew I was tech-savvy but I didn't have the specifics to do that kind of teaching in the way that I would feel comfortable doing it, with the integrity and the authenticity that I would really want in a classroom experience for a student that came to me.
As I reviewed some of the course options, I knew I didn't need to go all the way back to square one and start with the basics of teaching English in general. I felt very comfortable doing that. The components that I was looking for were specifically tech-related in terms of working in this environment and having a basic skill set with room to grow. As I started through the first two courses in the set, all this software was being offered, all these different options. And I have to say I was happily overwhelmed, and I'm looking forward to really diving into those in more detail.
The reason I specifically chose those courses out of everything that was available is because those classes fell into the niche that I needed specifically to train in.
How did this course help prepare you to teach virtually?
The thing that Bridge prepares you to do is have a plan for the what-ifs: What if this happens? What if that happens? What is your backup plan? That was very helpful to know how to shift if something didn't work exactly as you expected it to. So, I felt very prepared to move into this environment.
In addition to what I already know about teaching in a live classroom setting, I feel like this sets me up for years of success.
It was a very good experience. The funny thing is as I started into it, there was a plan that lays out step by step how to secure students, and the Off2Class software that integrates into a teaching platform was offered early on, and I was really happy to have that so I wasn't completely thrown out there to have to create teaching materials right off the bat.
At first, it was just getting comfortable to have a mouse nearby so that I could click the things I needed to click, and having a keyboard in front of me.
I can be easily distracted, just like students can, and those things at first were a bit of a distraction. As I got comfortable with those, I realized it's just like having chalk in my hand or an eraser nearby for me to write things on a board for a student. I really started enjoying it at the end. I got comfortable with it. We did five actual sessions with my student, and as we progressed through it, by the third or fourth session, it was completely comfortable to teach like that.
Learn more about the benefits of completing an English teaching practicum.
You intend to search for a teaching job soon. Is there a specific learner profile or TEFL niche you hope to work with?
I'm considering the niche area of teaching in a business environment, to business learners who want to expand their English skills because they have customers or they have to communicate with English-speaking businesses on a regular basis. And, were I to seek employment in a school situation, I think it would be in a secondary school. Those are starting points. We'll see where the adventure goes.
Discover the latest online English teaching opportunities on the Bridge Job board.
Aside from starting your job hunt soon, what's next for you?
Now at 66, what do you call a career in retirement? It's about enjoying life. I want to mix travel and experience parts of the world that I have not had the pleasure of experiencing yet, and just find a way to be helpful to anyone who is looking to expand their English-speaking skills. And who knows, maybe I can teach other people who want to teach English
Hopefully, if all things go well, one of these years after things die down from COVID-19, I hope to be living somewhere abroad. That's part of what drew me to want to teach English online. I'm open to travel. I've got a gypsy heart from all the traveling I've done and the different places I've lived throughout my life. I don't mind having new experiences in other countries teaching English.