You're Never Too Old to Teach English Abroad or Online!
By Krzl Light Nuñes
September 14, 2020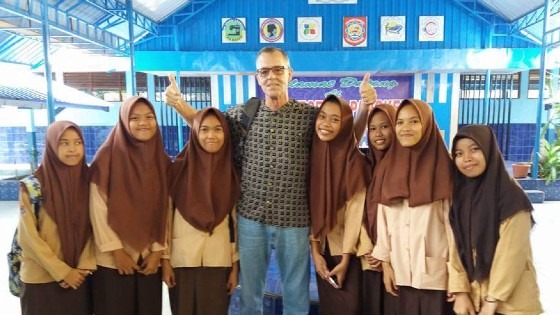 While the typical profile of a TEFL/TESOL teacher is someone in their twenties, fresh out of college, or taking a gap year abroad, does it mean that teaching English is reserved for the young? Definitely not! Even if you're a career changer or a retiree, you're never too old to teach English abroad or online. Let's straighten out some age-related concerns about entering the English teaching field later in life.
Is there an age limit to teach English abroad or online?
Generally speaking, there are no strict age restrictions for teaching English abroad or online. As a matter of fact, many schools or online companies are looking for mature and experienced teachers. With flexibility and determination, you can always find a classroom or virtual ESL job that matches your abilities and background, especially if you've already got qualifications for teaching English.
However, you can come across challenges when finding teaching work in certain regions, like Asia, if you're past your 30s (though it's not impossible!). More often than not, the age requirement to teach abroad stems from a country's rules for retirement age and visa requirements for foreign workers. Make sure to research these specific regulations in the countries where you want to find employment and focus your job hunt on markets you're eligible to work in.
Learn more about qualifications to teach English abroad, by region 
What are the advantages of being an older teacher?
As a mature teacher, you bring a goldmine of experience into the classroom. Through teaching English, you have a chance to showcase the wisdom you've gained through the years, which will certainly be respected and valued by your learners and co-workers.
Broad experience
You also have a wealth of class conversation topics in-hand and invaluable insights to share with your students, based on your life experience. Whether it's about your family, trips in foreign lands, or your past careers – you'll bring a range of TEFL discussion topics to the table.
Professional expertise
Furthermore, if you're coming from a different professional background, you can use your knowledge in a particular field (finance, medicine, or engineering, for example) to your benefit by specializing in teaching Engish related to that field. By developing a TEFL/TESOL niche, you can expand your job prospects and stand out as an applicant with in-demand skills.
Are people my age really teaching English abroad or online?
Yes, they are! People of all ages get TEFL/TESOL training and certification and find English teaching jobs overseas or online. It's not difficult to see why older people pursue an English teaching career; it's is a great option for those above their 30s seeking a change of pace or for seniors who want to stay active during retirement.
Michael, a former language teacher from the U.S., is one of these retirees who embarked on a new adventure as an English teacher in Ecuador. Asked why he hasn't let go of teaching yet, he points out: "I was reluctant to cut myself off from the classroom because I had enjoyed being with students for over 40 years and still believed that I had something to offer to eager learners."
Where can I find employment as an older English teacher?
Be it in a classroom or an online setting, there are a number of options when it comes to finding a TEFL/TESOL job as a teacher beyond the traditional age.
Classroom-based English teaching
In-person teaching positions abroad (or even in your home country) can be at a variety of institution types.
Online English teaching
Many doors are also open for you with online English schools, where age is usually not a restricting factor.
Already an experienced teacher? Gain the business and marketing skills to launch your own freelance tutoring business!
Is there age discrimination in TEFL/TESOL? In what parts of the world are older teachers most welcomed?
While many countries don't place rigid age constraints for hiring foreigners, it's not uncommon for certain job markets to have some bias against older teachers, whether due to local hiring laws or general customs regarding age of retirement. Nevertheless, you can still achieve your goal of teaching English if you know where to look.
Best regions for finding ESL jobs as an older teacher
If you want to find TEFL/TESOL job prospects abroad without worrying about the age factor, your best bets are Latin American and Eastern European countries. For example, Mexico, Costa Rica, and Ecuador are popular destinations for older English teachers looking to explore new cultures or redefine retirement life. Likewise, there are opportunities in countries such as the Czech Republic, and Russia for those who dream of living in this region.
More challenging ESL job markets for older teachers
For teachers of retirement age, landing ESL jobs may be tricky in some parts of Asia, such as China and South Korea. Although not always a black and white issue, this difficulty in getting hired as an older teacher can often be a result of the country's restrictions on issuing visas to teachers who are beyond the compulsary retirement age for that country.
However, exceptions abound, and some Asian locations, such as Japan, actually have such a strong demand for qualified and experienced teachers that there are more opportunities for older teachers, who often fit this description.
In the Middle East, it may be challenging for teachers over 50 to find work in some countries like Saudi Arabia and the UAE.
Teaching Online
Similarly, online English teaching positions usually don't have an age limit, although you may find some exceptions. For example, some China-based tutoring companies, especially those that specialize in teaching kids, sometimes prefer their teachers to be in their 20s or 30s.
Regardless, there are scores of online ESL companies that employ teachers, even in their senior years, so you can scan the Bridge Job Board and find the right position for you, or focus on online teaching companies based in other regions, such as Latin America-based Open English.
How can I give myself an edge when applying to TEFL/TEOSL jobs as an older applicant?
What do I have to gain from teaching English?
It's not unusual for career changers, empty-nesters, and retirees to see teaching abroad as the fulfillment of a longtime dream that may have been put on the back burner over the years. Getting certified to teach abroad offers the opportunity to pursue a new career, learn a foreign language, or simply experience immersion in a new and different culture. Most of all, teaching English is a chance for adventure–and you are never too old for that!
Teaching English online, on the other hand, is a flexible and fun job that can be done from the comfort of home, or while traveling. People of all ages find it rewarding to help students young and old improve their English and meet their learning goals.
Don't let your age make you sidestep your dream to teach English abroad or online! Finding employment as an older teacher may require some dedication and persistence on your part, but once you succeed, you'll be granted a worthwhile and rewarding experience, no matter where you prefer to teach.
Interested in teaching English overseas in the future? Start preparing now! Check out this teach abroad timeline.